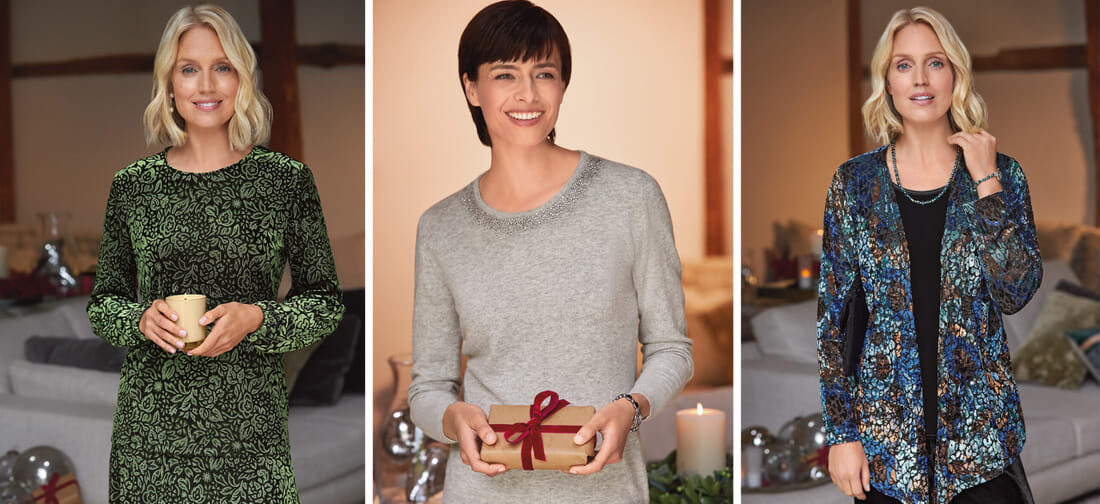 If you're unsure of which items to add to your wardrobe from our Christmas 2020 collection, our buyers have shared their favourites to help you decide...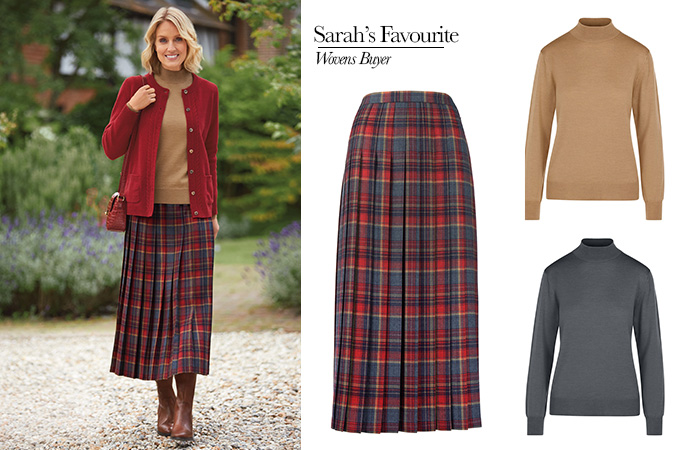 My personal favourite is our striking checked pleated skirt, the perfect classic piece to dress up or down. We are supporting the British industry, more important than ever by having this beautiful skirt woven for us in Scotland. This stunning versatile skirt can be worn with a grey or camel coloured top with a red cardigan for a seasonal look.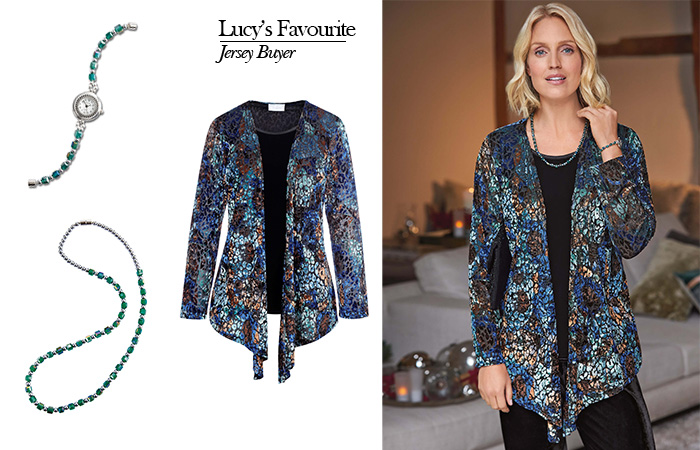 Our devore mock-front cardigan is one of my favourites this season. The amazing peacock colours will make you smile over these colder months and perfect to wear on Christmas day, even if you're staying at home. This lovely cardigan can be glammed up even more with the peacock coloured necklace and watch.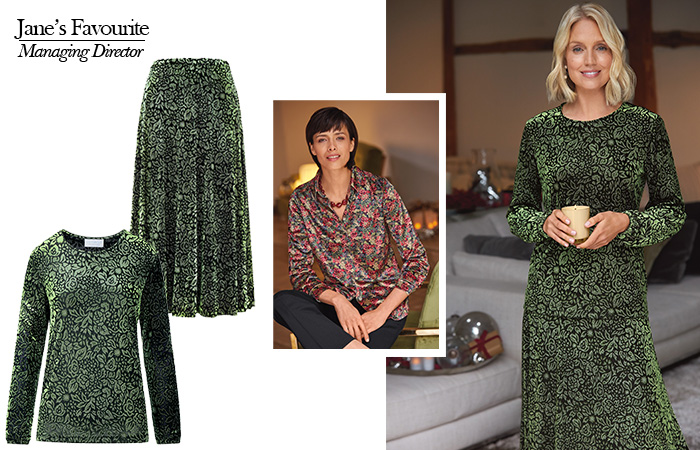 My favourite pieces from the Christmas range are all about colour. The fashion palette has moved on at this time of year to include sumptuous jewel tones. Our velour floral print blouse embraces this trend which highlights rich ruby colours within its sophisticated print. Another favourite from this season is our opulent devore jersey top and skirt, I like how the jewel inspired green tones radiates from the lovely pieces. This beautiful matching outfit is a wonderful go-to for any occasion over the festive period.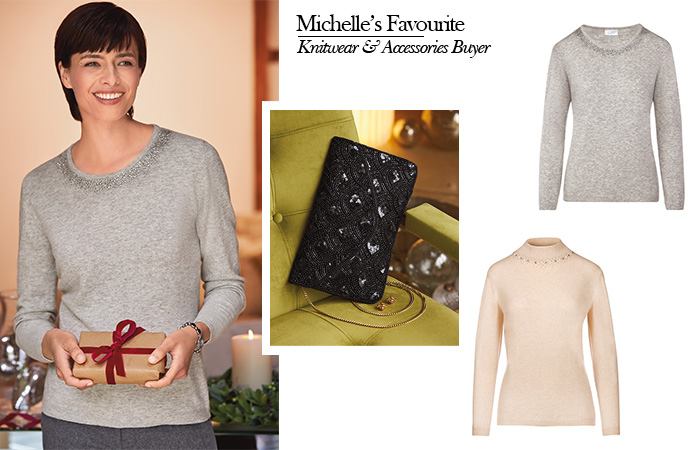 I love all the Italian bead knitwear featured in our Christmas collection. My personal favourites are our Italian beaded crewneck and turtleneck. I always enjoy designing and developing the Christmas beaded knitwear range, coming up with new colours and bead designs. My favourite yarn to use this time of year is a lovely soft Italian spun yarn that has a touch of cashmere in it for luxury. These pieces were designed to be worn in the daytime as well as on a special evening occasion. It's always an inspirational time for me when I think about who might be wearing them and wishing you a happy time. I hope you enjoy them just as much as me with their subtle glimmer of sparkle.

Our beaded evening bag is my favourite from our accessories range. This beaded bag is super chic and great for dressing up an outfit. I was influenced by Art Deco design for the pattern and have made it with a fully beaded patterned front with a plain back, it has an optional gold-coloured shoulder chain, or you can wear it as a clutch. This bag is wonderful for yourself and also as a gift.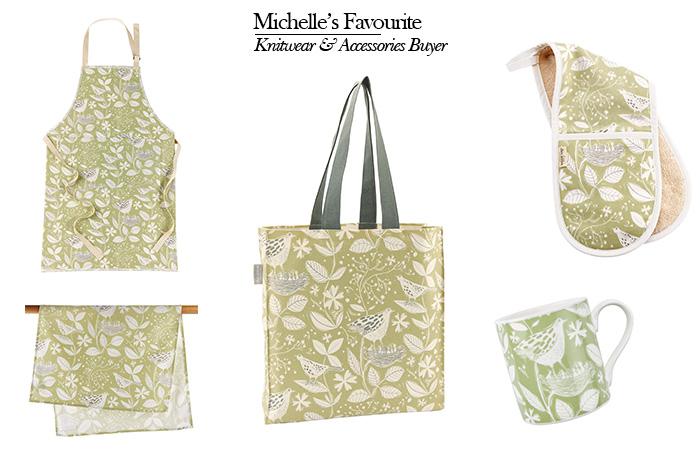 I am so delighted to be offering these beautiful pieces from Sam Wilson, our local Cotswold illustrator and a proud advocate of British made pieces inspired by nature. The hedgerow design caught my eye when I spent the afternoon in the Cotswolds, discussing designs for this Christmas in the SW studio. These pieces are made in a lovely fresh green featuring nesting birds and Cotswold Hedgerow, all pieces will be a treat for your kitchen or as a gift.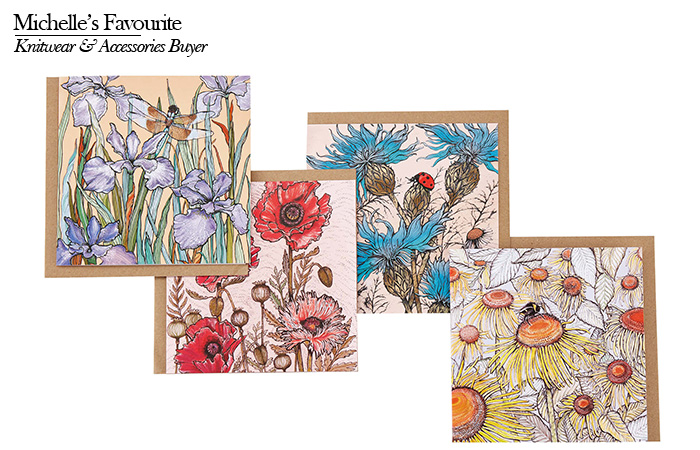 I also loved working with Fay on getting a 4th print to add to the collection of her beautiful illustrated flower and insect cards. After getting some inspiration from my 9-year-old, who loves collecting insects/bugs, we came up with the perfect colourful insect which is the ladybird. Fay designed the illustration from a few images I have sent to her and sketches from my daughter Celia. The ladybird really complements the other designs in the collection, super cards to send to friends and family all year round.
Which is your favourite piece from our Christmas collection? Let us know in the comments below...