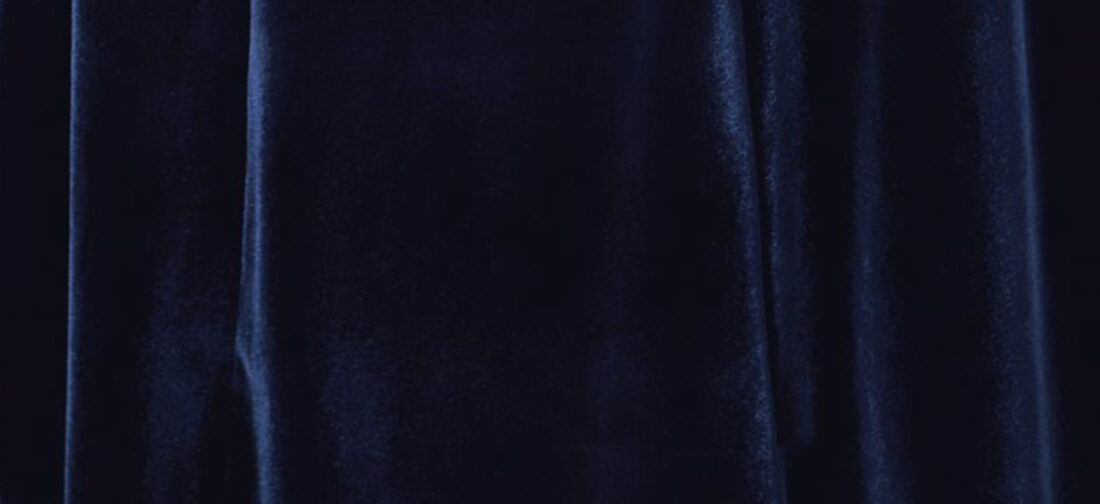 Now that the festive season has arrived, get ready to sparkle with style in our beautiful collection of stunning outfits in elegant and opulent textures. There is something about devoré and velour that offers an instant festive feel and these gorgeous easy to style pieces are our go-to fabric for this party season. Whether you're looking for a subtle or statement piece, they will add a touch of glamour to any of your looks. They are designed with comfort and movement in mind, so you can enjoy your festive feast comfortably. Discover why you should add this lovely fabric to your wardrobe.
Velvet is a classic fabric that will never go out of fashion and lasts for years. This beautiful cloth gives a classy luxurious feel and look. Velvet is an expensive fabric to produce, with two layers of material being woven closely at the same time and then cut apart to create the pile effect. Originally velvet was made from silk, only used by the wealthy but today it is available in different blends of fabric including viscose, cotton, mohair and synthetic fibres.
According to a Toast article, velvet is believed to originated from Eastern culture.
"There's evidence as early as 2000 BCE that ancient Egyptians employed a similar technique to the one used today in velvet manufacture. Cairo was a production hub of velvet for many years. Iraq was also one of the first producers of velvet and characteristic trimmings, (featuring low, untrimmed piles), it has also been found dating back to ancient Chinese dynasties including the Qin (circa 221-206 BCE) and the Western Han (206 BCE- 23CE). Once Europeans felt the touch of velvet, it was immediately traded along the Silk Route. Although production flourished in Spain, Italy was the first European country to create a velvet industry for itself and subsequently dominated supply of the material to Europe between the 12th to 18th centuries."
There are various types of velvet, our popular fabrics in our Christmas collection are velour and devoré. Velour is a warm and comfortable knitted fabric with a semi-shimmering finish. It originates from the French word "velvet" and is made from shorter cut piles. The texture of the velour is soft and has more of a natural stretch compared to velvet, making it a great option for comfort wear.
Our lovely pieces that are designed with velour fabric are ideal for lounging and can be worn day to evening. If you're looking for a head-to-toe relaxing outfit, opt for our stunning top and trousers with a vibrant geometric print. They can also be mixed with plains for various versatile looks.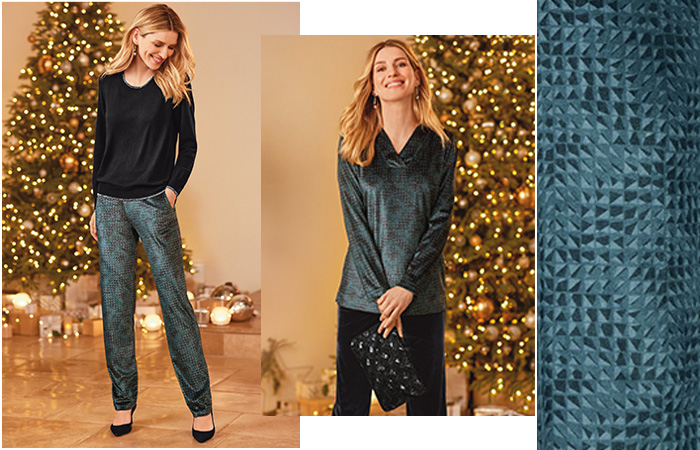 Alternatively, our teal-coloured blouse featuring a fabulous floral velour with a subtle lustre can be styled with our classic trousers and beaded bag for an evening look.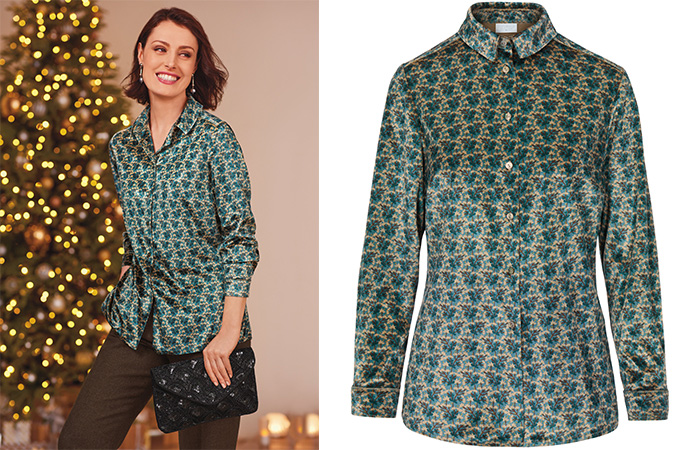 Devoré is a gorgeous plain fabric with velvet designs in stunning endless patterns such as floral, paisley and abstract shapes. This fabric is also known as burnout or devoré which is derived from the French word "devour". The burnout procedure involves areas of velvet that are burnt away using acid to create a pattern. By burning away the pile, a semi-transparent pattern appears. Our devoré pieces will beautifully add texture to your ensembles and the patterns shine wonderfully when the light hits.
Discover our eye-catching rich floral-patterned separates including a top, skirt and matching scarf in charming multi plum tones to add a striking statement to your festive season look.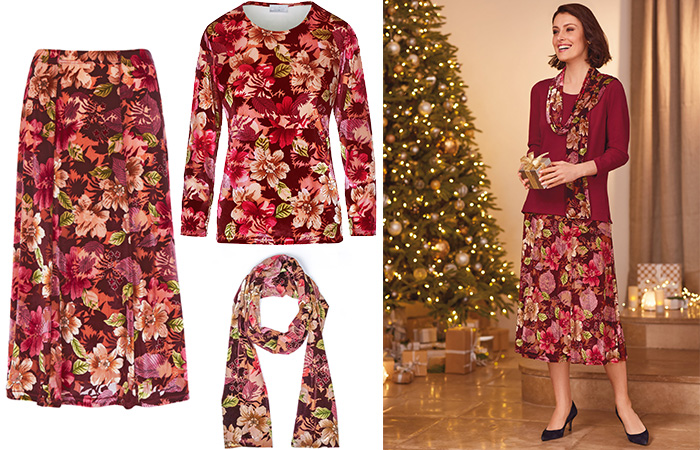 If you're looking for a darker coloured item, opt for our midnight blue top finished with a plain velvet jersey mock-front underpiece. This midnight blue coloured top can be worn both tied up or loose and drapey for a versatile look.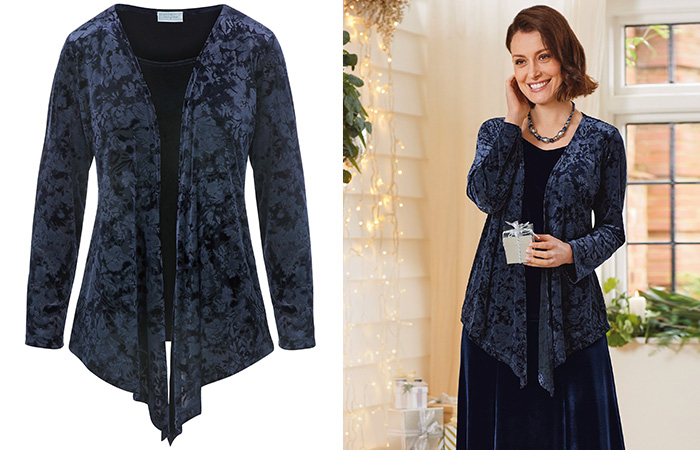 We'd love to hear which is your favourite velvet outfit from our Christmas collection, let us know in the comments...