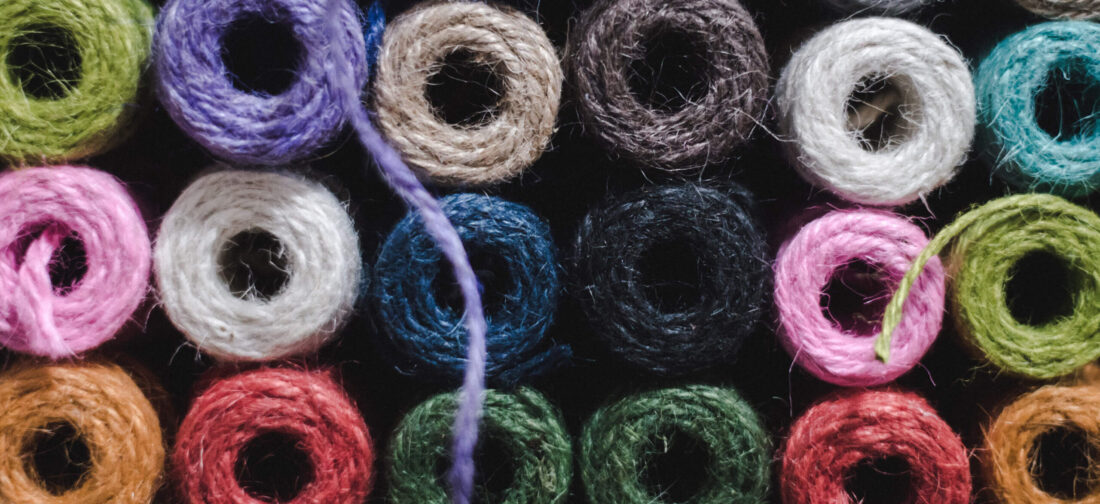 At Cotswold Collections, we will always support the wool industry by continuing to offer a great range of wool garments and accessories. We believe this natural fibre provides superior warmth, durability and comfort. Inspired by the rolling hills and picturesque dwellings of the Cotswolds, we have been proudly designing our collections of unique, classic clothing for over 25 years. The Cotswolds was famous for being one of the largest outputs for wool during Medieval times.
To celebrate this year's Wool Week, we have collected some of our pure wool garments from our winter collection to brighten up your wardrobe with these gorgeous garments in warm and rich seasonal hues.
What is the Campaign for Wool?
For the past 11 years The Campaign for Wool, under the patronage of HRH Prince Charles, has been raising the profile of wool, running events across the country, establishing Wool Week to spread awareness of this extraordinary fibre and why you should choose it over other fabrics.
Why is wool important?
We wanted to share the importance of wool from The Campaign for Wool's website so you can discover the incredible qualities of this natural fibre.
Wool is a protein fibre formed in the skin of sheep and is thus 100% natural, not man-made. Since the Stone Age, it has been appreciated as one of the most effective forms of all-weather protection known to man, and science is yet to produce a fibre which matches its unique properties. Every year sheep produce a new fleece, making wool a renewable fibre source. Woolgrowers actively work to improve efficiency and care for natural resources, endeavouring to make the wool industry sustainable for future generations. At the end of its useful life, wool can be returned to the soil, or the marine environment where it decomposes, releasing valuable nitrogen-based nutrients into the ground/ocean.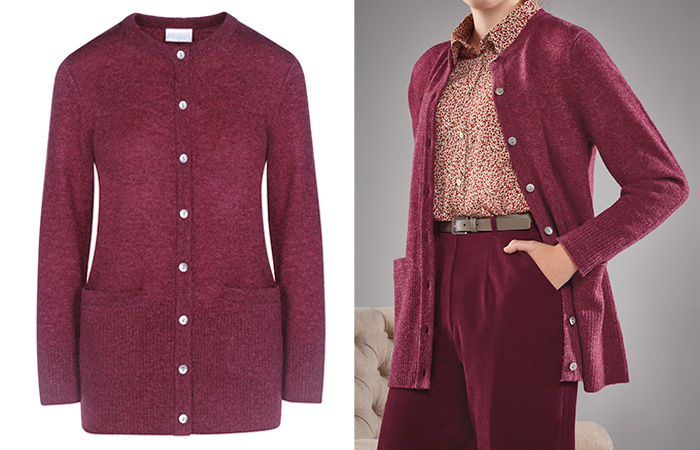 In rich seasonal hues, this elegant longline cardigan with sophisticated contemporary styling is knitted in pure soft lambswool. Pair with our ditsy print blouse and classic textured trousers.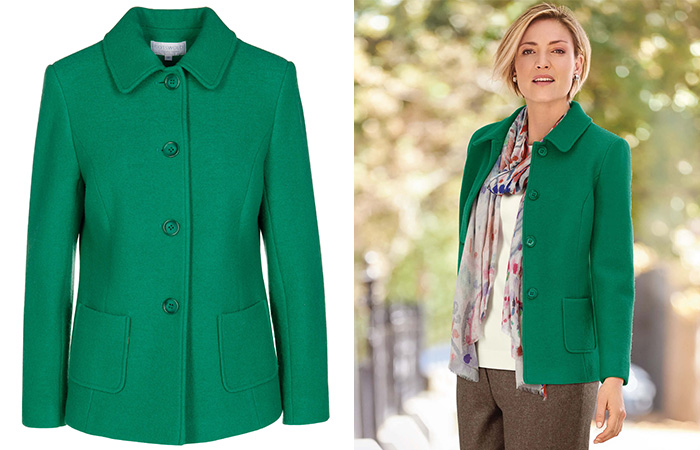 This beautiful soft tailored jacket, with a comfortable stretch in the fabric, is made from pure wool and features gorgeous buttons. Pair with our pima crewneck top, classic trousers and our warm multi-coloured cashmere-blend print scarf.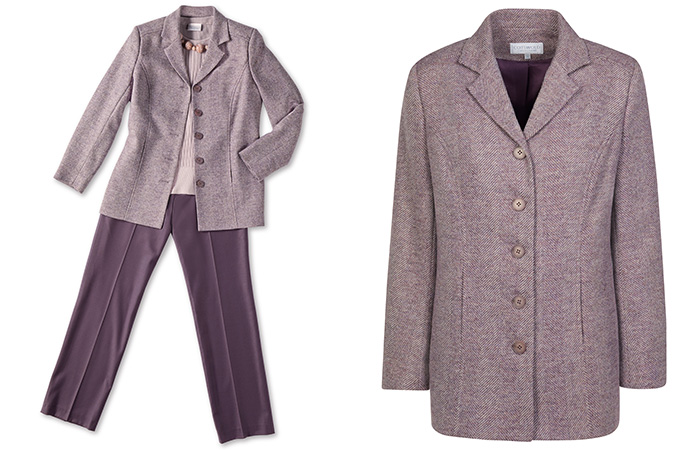 Made exclusively for us, this timeless herringbone jacket in fabric woven in British heritage mill, Abraham Moon, is made from pure wool. Pair with our textured merino top, made in soft extrafine Italian-spun merino wool and our classic trousers.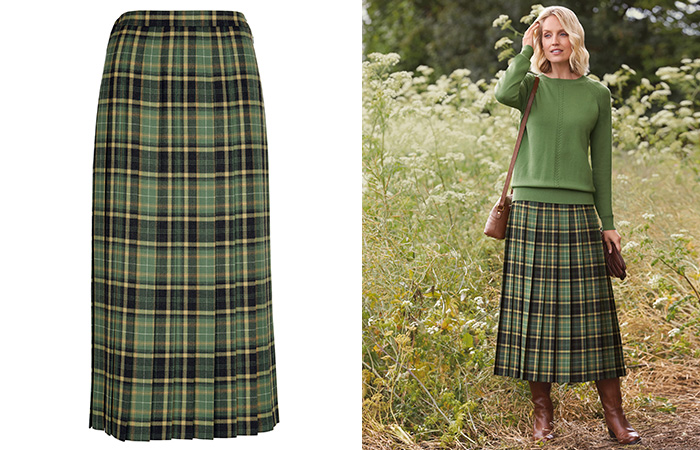 This stunning skirt features a superb wool check woven in a British heritage mill, perfect for the changing seasons. Pair our lovely checked pleated skirt with our merino and cotton blend jumper.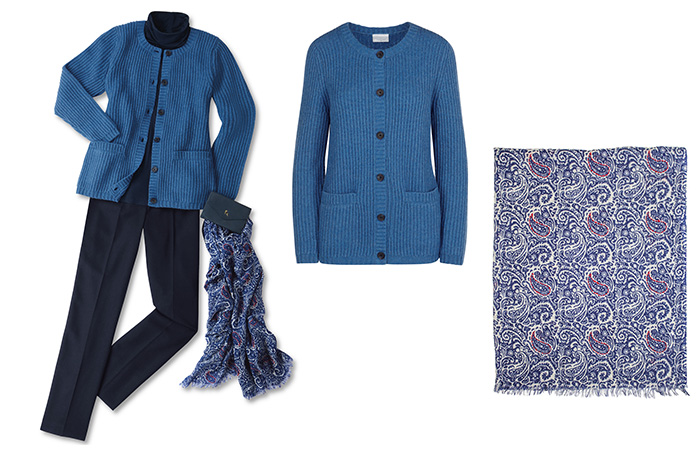 Made from pure lambswool, this gorgeous fisherman knit rib cardigan, in a striking mid-blue is, a perfect insulating layer. Pair with our soft and silky jersey rollneck and classic navy tailored trousers. Complete the look with our luxurious hand-printed wool scarf.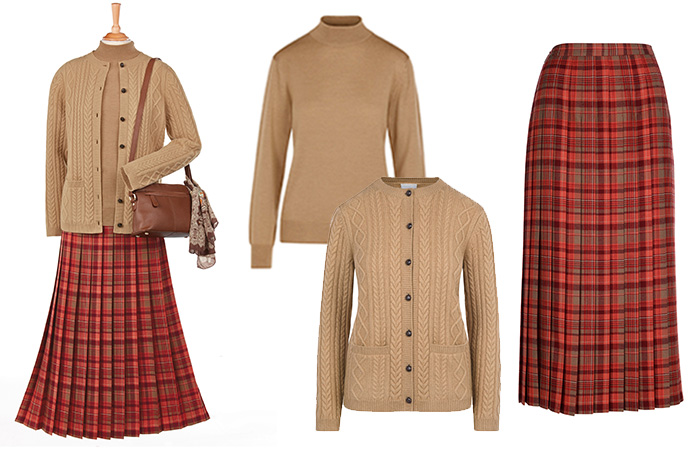 This charming outfit in pretty seasonal colours including our Aran knit cardigan, total easycare merino turtleneck and checked pleated skirt are all made from pure wool.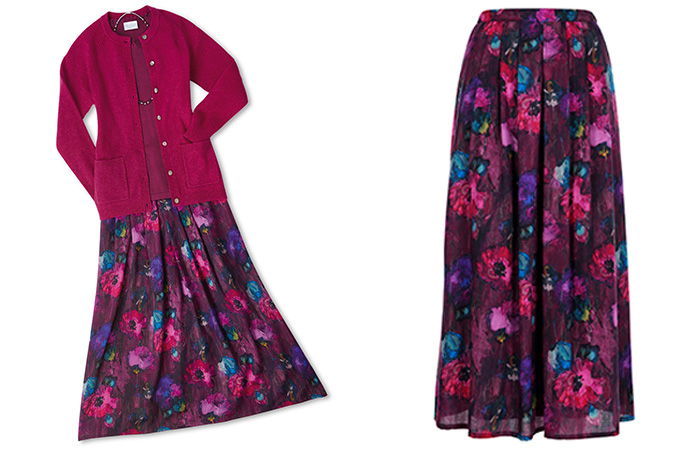 Our rose-toned separates including our raglan sleeve cardigan and our Binda soft pleat skirt, in a beautiful painterly floral design, are both made from pure wool.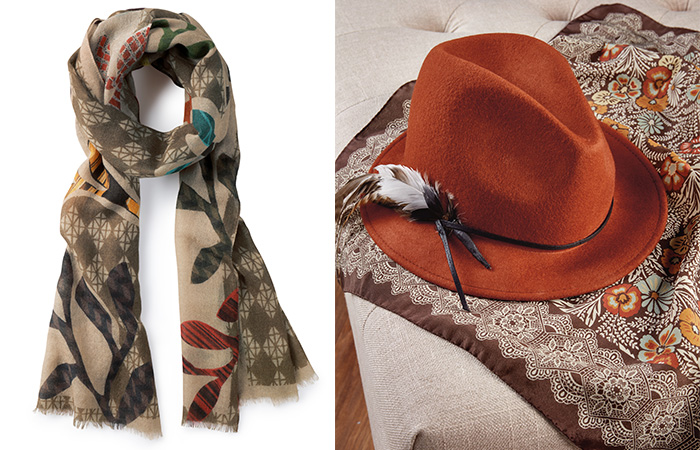 Complete your outfits with our striking accessories made from pure wool including our elegant leaf print scarf, printed on the shores of Lake Como and our Italian wool felt hat, finished with a feature trim detail.
Which is your favourite piece from our featured wool week garments? Let us know in the comments below...

Visit The Campaign for Wool's website to find out more >>
And read our handy guide on how to care for your wool garments >>
For more interesting updates and special offers, sign up for our email newsletters here >