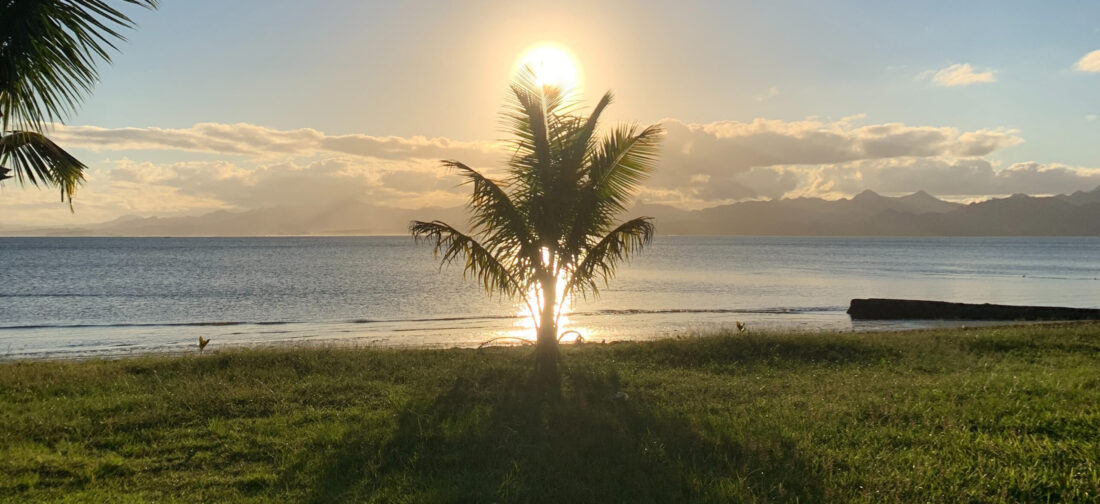 With the summer season soon approaching, it's time to start thinking about the perfect outfits that you will want to wear for any upcoming plans you may have. We have gathered some hassle-free, comfortable and elegant pieces that have been exclusively designed to seamlessly stand on their own, as well as being combined with your existing wardrobe! Select your favourite outfit and be ready to look fabulous anywhere, from weekends away, staying at home through to meeting family and friends.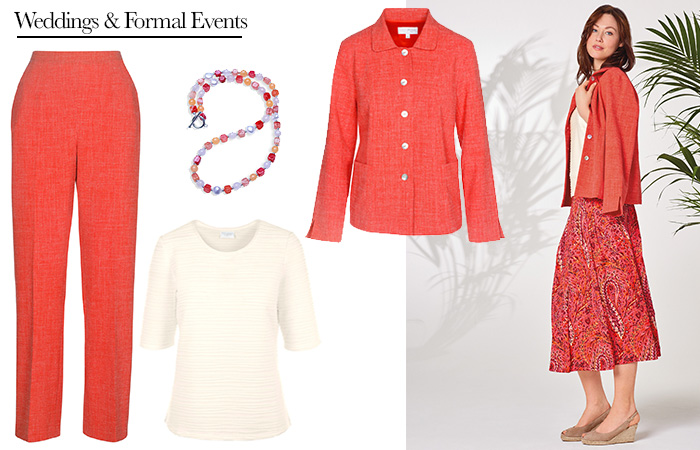 Smart and chic, these bright coloured separates are ideal for any weddings or formal events. Our stylish softly tailored jacket is made in a textured fabric with a touch of stretch for extra comfort. The lovely jacket can be styled with our textured T-shirt and printed soft pleat skirt or textured trousers. Complete this look with our semi-precious bead necklace, hand made for us in Wales.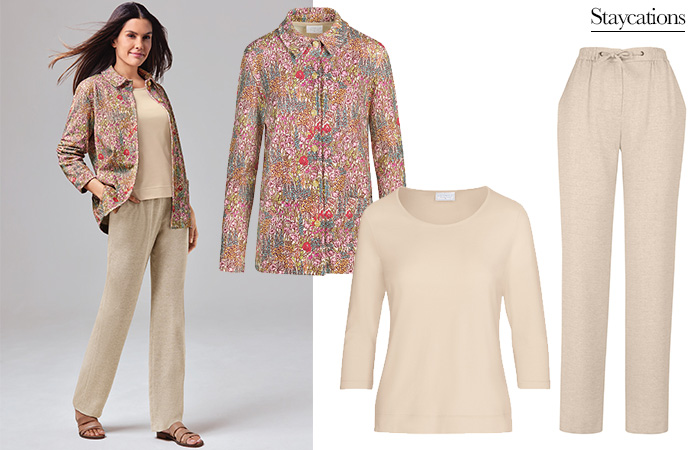 If you are planning to take a staycation to relax or for a mini-break, try our gorgeous outfit in beautiful seasonal hues. Our jersey jacket made with Liberty fabric is the perfect layer to wear through cool or breezy summer days. The jacket looks lovely worn with our natural-coloured textured soft trousers and jersey top.
Whether you're are attending or hosting a garden party or BBQ, this elegant look will have you covered for any plans. Pair our A-line skirt, featuring an exotic jungle leaf print with our V-neck jersey top. Complete this tropical-inspired outfit with our Italian woven bag and matching scarf.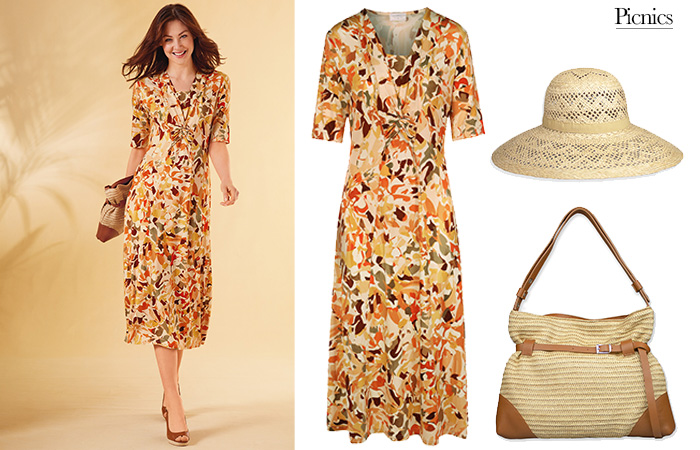 Be ready for any picnics in this stunning summer inspired outfit. Our abstract print jersey dress featuring a fit-and-flare style looks fabulous with our Italian handbag. The scoop neck front panel has a draped knot feature that draws in the waist to enhance the silhouette. Stay protected from the sun in our cool and airy open-weave hat.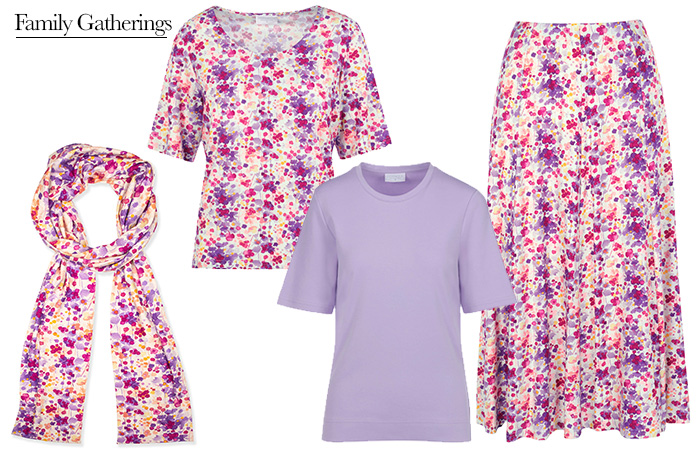 These lovely lavender coloured jersey separates are wonderful to wear to any family gatherings. For a matching head-to-toe look, you can wear the vibrant watercolour effect floral printed skirt and top together. Alternatively, you can mix plains such as our scoopneck T-shirt, made in Portugal using high-quality Pima cotton interlock, with the printed skirt. These pieces can also be paired with garments from your existing wardrobe. The matching printed jersey scarf will add the perfect finishing touch.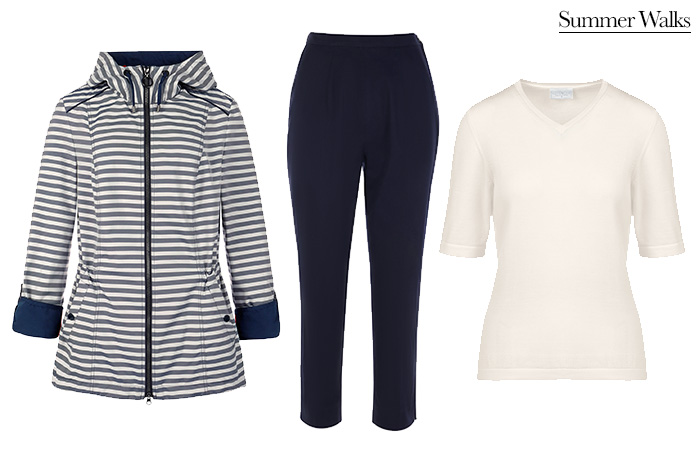 Enjoy your summer walks and look stylish in this versatile outfit. Our striped coat in shower-resistant fabric, with rolled back cuffs to show the red seam binding on the navy interior, is a great layering piece. It is styled with a hood and welt pockets. If it's slightly warm, pair with our cotton V-neck top and casual three-quarter length trousers.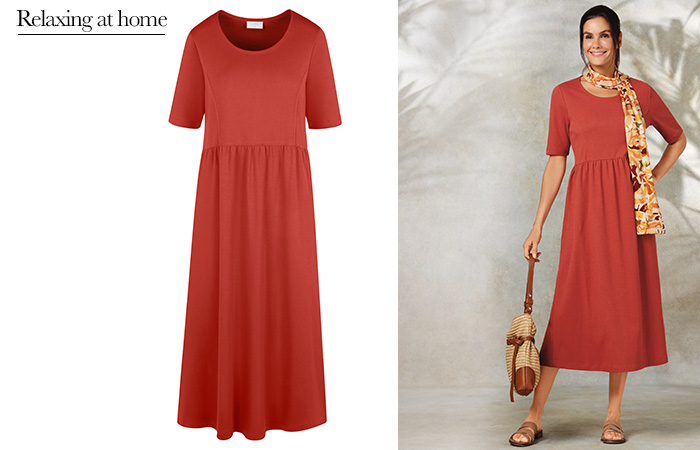 Our brick-coloured dress with its princess line bodice seams and soft gathers below the raised waistline, is ideal for lounging at home. It is styled with a scoop neck and practical side in-seam pockets to carry your essentials.
Which is your favourite event outfit? Let us know in the comments below...