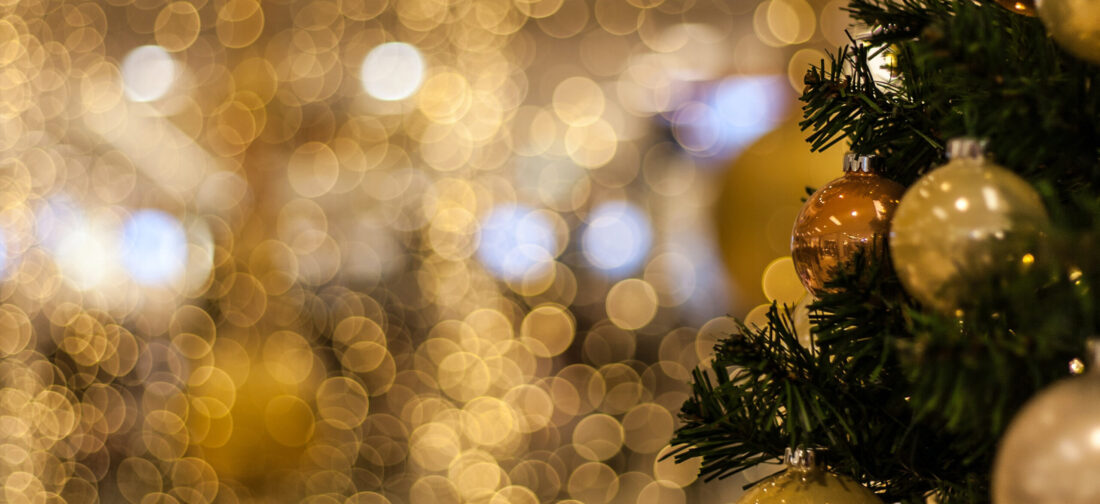 It's officially November, and with Christmas lights starting to appear around the streets, we can begin to think about the festive season. However you're celebrating Christmas and New Year, this season gives us all the excuses we need to dress up and we can ensure you have the perfect outfit ready for each and every plan you may have. Choose from hassle-free, comfortable and elegant pieces that have been exclusively designed to seamlessly stand on their own, as well as being combined with your existing wardrobe! Select your favourite outfit and be ready to look fabulous anywhere, from cosy winter walks, staying at home to meeting family and friends for special events.
Visiting Christmas markets
Christmas didn't go as planned last year with the markets being cancelled. However, they are making a comeback this year. Discover the stunning Christmas markets this season while looking fabulous in this gorgeous outfit with warm and cosy accessories. Wear our stunning relaxed bouclé jacket, styled with a crew neckline and patch pockets with our total easycare turtleneck and classic trousers for a layered look. Add our Scottish made Fairisle matching set, including a scarf, beret and gloves, offering comforting warmth and protection.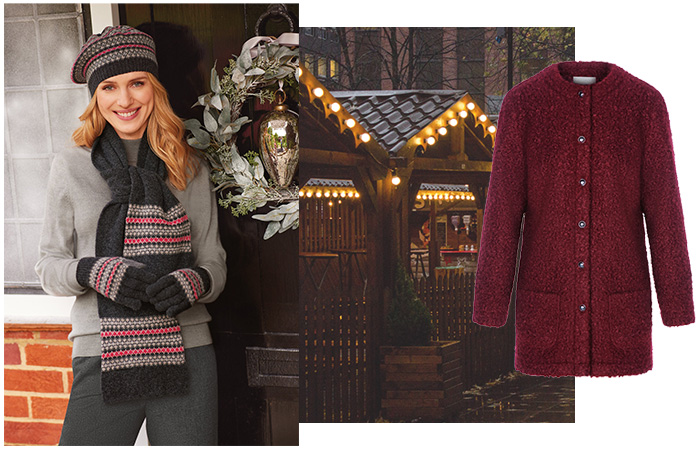 Christmas carols
If you're planning to get into the festive spirit by attending Christmas carol concerts, this elegant look will have you covered for any plans. This ideal throw-on layer is knitted for us in Italy and finished with a chic warming faux fur collar to keep you cosy. It looks lovely layered over the insulating total easycare turtleneck and black classic trousers. Complete the look with our evening bag, featuring sumptuous all-over beading. This delightful bag has a gold chain to wear on the shoulder, or it can be carried as a clutch bag with the chain tucked in.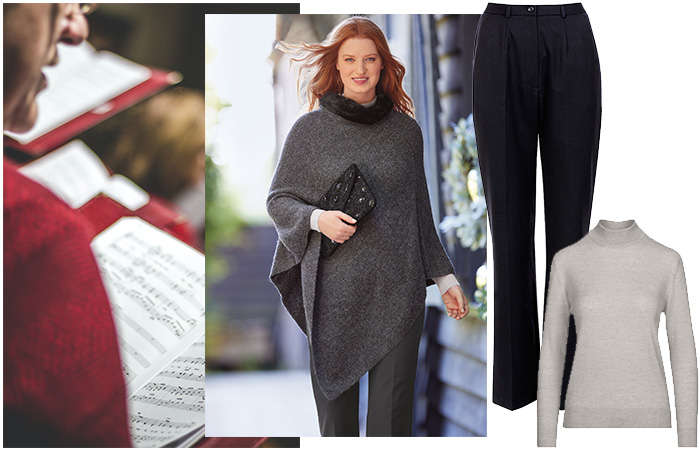 Relaxing at home
We have picked an easy yet chic outfit for relaxing at home. With the ease of stretch jersey in a classic check design, the relaxed tunic has a collar with a zip opening, long sleeves and side slits in the hem. The matching trousers are in a pull-on style with stitched pin tucks at the front of the slightly wider legs and a concealed elasticated waistband.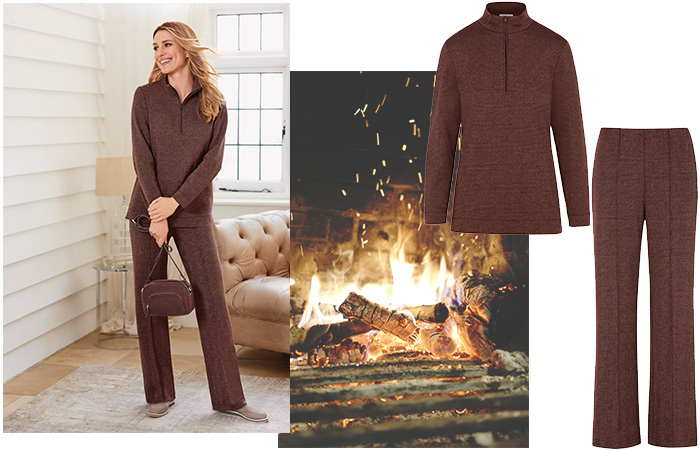 Cosy Winter walks
Keep cosy and embrace the chill with this comfortable layered look. Our charming lightweight quilted coat, with advanced thermal insulation that has been made from recycled plastic bottles, will keep you dry and wrapped up. This wonderful layering piece looks gorgeous worn with our classic Fairisle jumper, made using the traditional circular knit design without side seams, and cord trousers. Our olive-coloured hat, knitted in Italy with soft Angora blend yarn is the perfect accessory for a cosy winter warmer.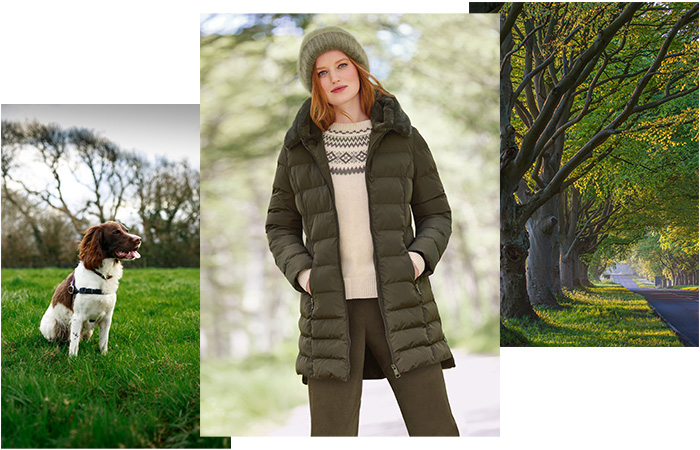 New Year's Eve
Get ready to bring in the new year in style and shine throughout the night in this crewneck featuring a beautiful waterfall of silver-blue sequins paired with our classic trousers. Our chic pearlised clip earrings with crystals will add the final finishing touch.
Local Christmas lights
Show up to dazzling Christmas lights switch-on events in this lovely seasonal fern-coloured outfit. Our gorgeous fisherman knit rib cardigan, knitted in a pretty melange yarn is the perfect insulating layer. Simply pair with our warm-touch blouse, made in a soft French floral print fabric with our cord trousers for a warm and sophisticated outfit.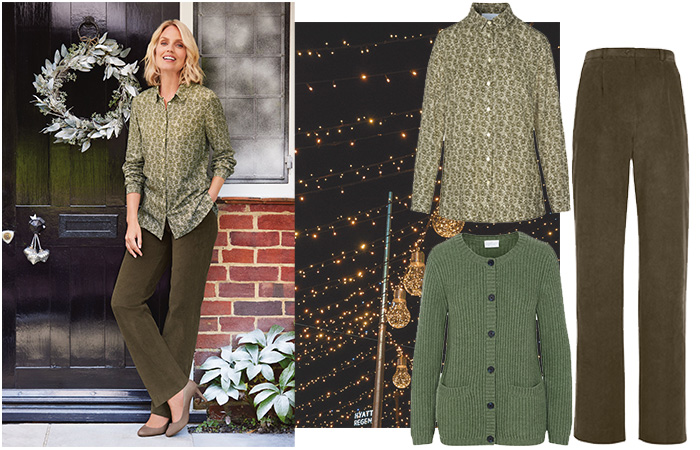 Luxurious festive attire
Refresh your festive wardrobe with our glamorous and sumptuous ensemble. Our soft and supple mock suede jacket, with relaxed styling, will look beautiful paired with our elegant satin tunic and navy classic trousers.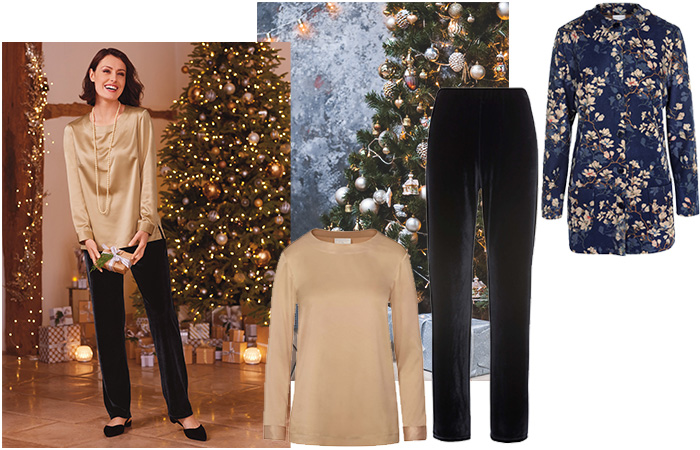 Which of our festive outfits is your favourite? Let us know in the comments.