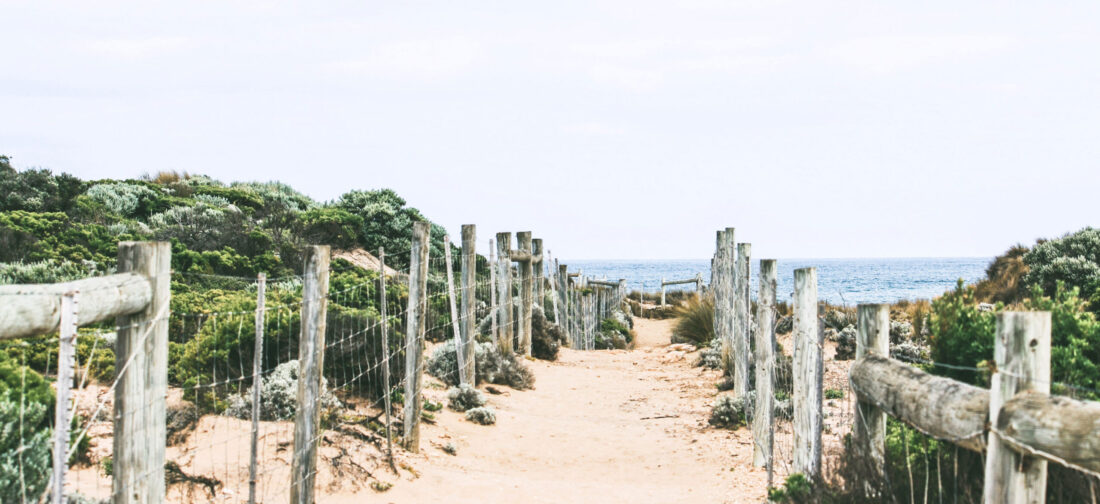 August Bank holiday is right round the corner, a time to allow yourself to create some special memories with loved ones and make the most of the summer weather. Within this journal, we have selected some of our favourite looks from our latest collection to hopefully give you some extra style inspiration. In addition, if you're a little unsure as to what you are going to get up to this bank holiday, we have gathered a little range of ideas that will get you out and about.
Markets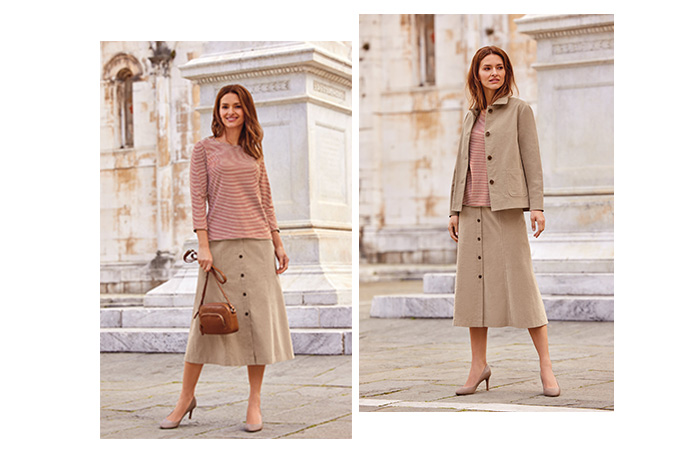 Markets are a fabulous way to support local businesses and even pick up some fresh produce. Over the bank holiday, communities all over the country come together creating a range of local markets for everyone of all ages to enjoy. Wearing an outfit to stroll around the stalls in, can be extra comfortable and stylish with our Striped Jersey Top and Cord Button Skirt. This is an outfit that is ideal for the bank holiday sunshine because of the breathability of the jersey and smoothness of the skirt.
Family Festivals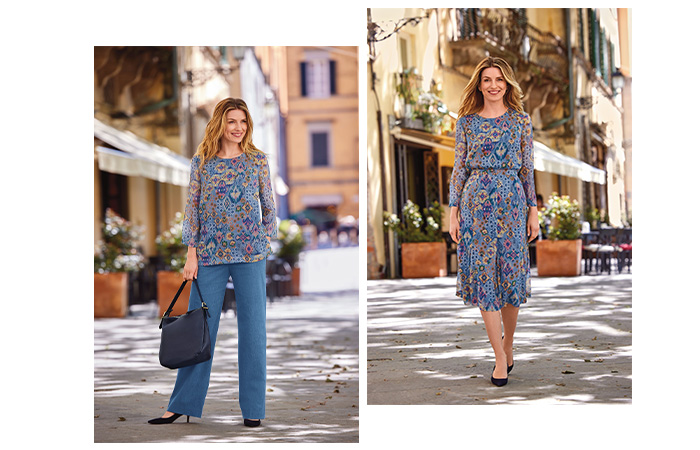 August bank holiday is home to a wide range of festivals for all ages. Listening to musicians and sipping local beverages is perfect for a day in the sunshine; it's also a great day to spend with family and friends. To avoid getting too warm you could turn to our festival ready Chiffon Tunic that displays our lively French Print. Pair this piece with our chambray Casual Trousers for a laid-back approach or match with our French Print Panel Skirt, if you're looking for a head to toe stand out look.
Staycations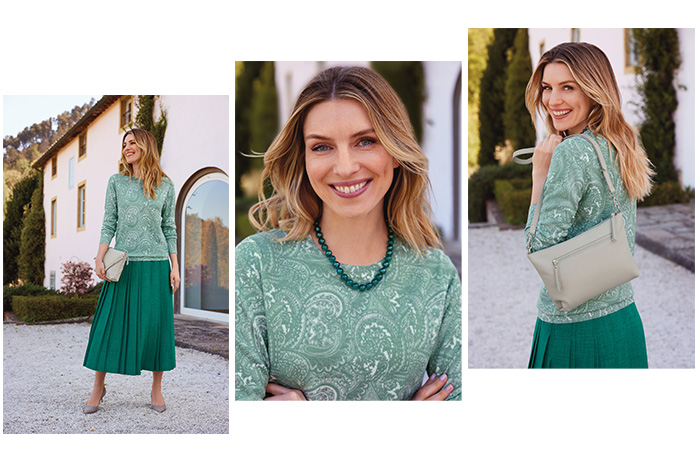 A staycation can be just as luxurious as an abroad holiday; coastal paths and timeless villages are just as quaint and relaxing; this is truly a cheaper and amazing way to spend the bank holiday. Preparing for the end of August weather is essential, and we believe that our emerald Double Pleat Skirt is ideal to look completely stylish and remain cool. This is perfectly paired with our green Paisley Print Top that is soft, comfortable, and fashionable. In addition, the lighter colours and high-quality fibres will keep you feeling fresh as day turns to night.
Summer Strolls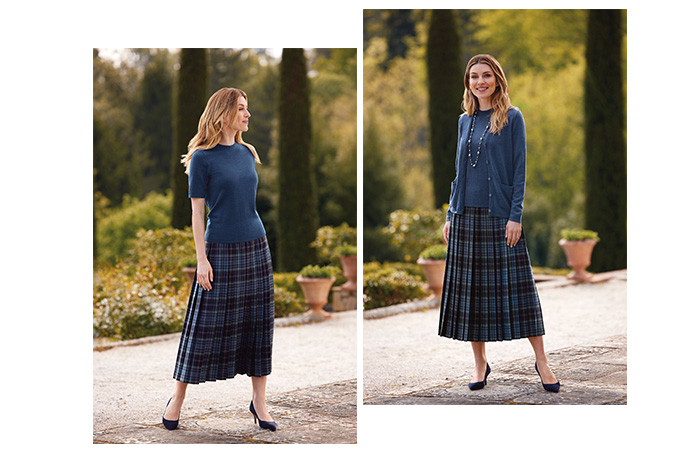 Nothing beats a summer stroll, and with the bank holiday it gives us an extra day to capture the gorgeous sunshine and fresh air. Whether it's a stroll through the fields or a wander through the woodland, staying cool makes the experience much more pleasant and enjoyable. Skirts are the best garment to do so, and our timeless navy Heritage Pleat Skirt is perfect for a stroll outside. Complete the look with our Ottoman Trim Crewneck, this is a short-sleeved garment and is fantastic to allow a little extra sun to the skin.
Beach Days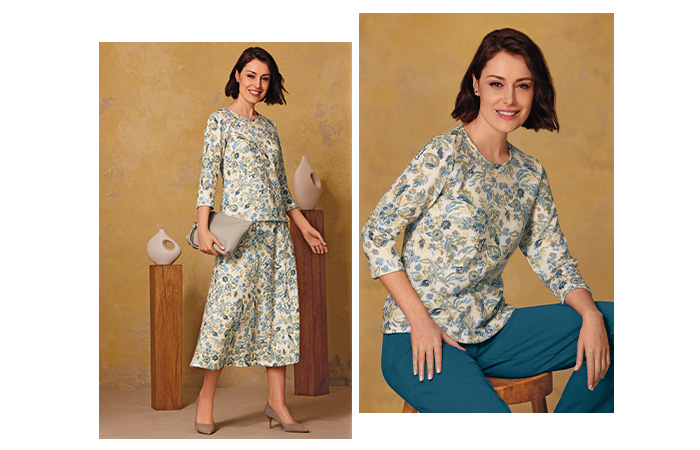 Making a bee-line to the beach is the best way to spend quality time with family and friends. Although the sea and sand are a real luxury, it's important to protect yourself from the heat and sun. Our matching eau de nil floral Brushed Jersey set is a beautiful and lightweight pairing that is perfect for the summer weather. Whilst the print is the focal point of this look, it is completed by the soft and flattering fit of these pieces.
Meals Out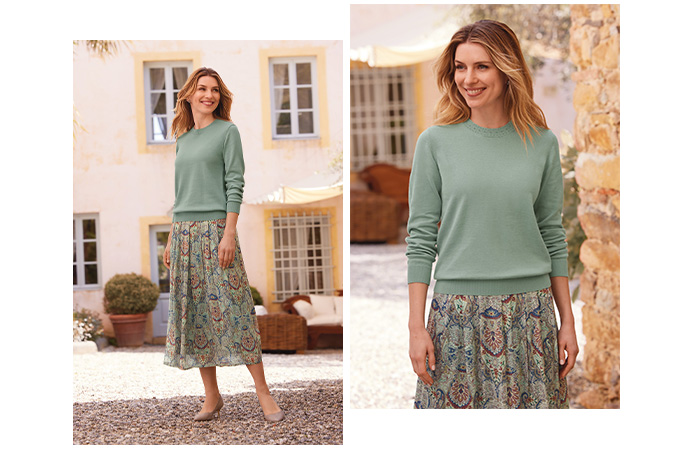 With all of your nearest and dearest having a little extra time over the bank holiday, having a meal out together whether its brunch, or dinner is a fantastic catch-up event. Being unsure what to wear to your favourite restaurant can be a pain, but being elegant and smart is always a great path to go down. Our duck egg patterned Soft Pleat Skirt, is an effortlessly glamorous garment that fits the "dressing to impress" niche. Partner this with our duck egg Combed Cotton Top that balances out the look, making it simply stylish.
We would love to know what your Summer Bank Holiday plans are! Let us know what you've got lined up in the comments below…