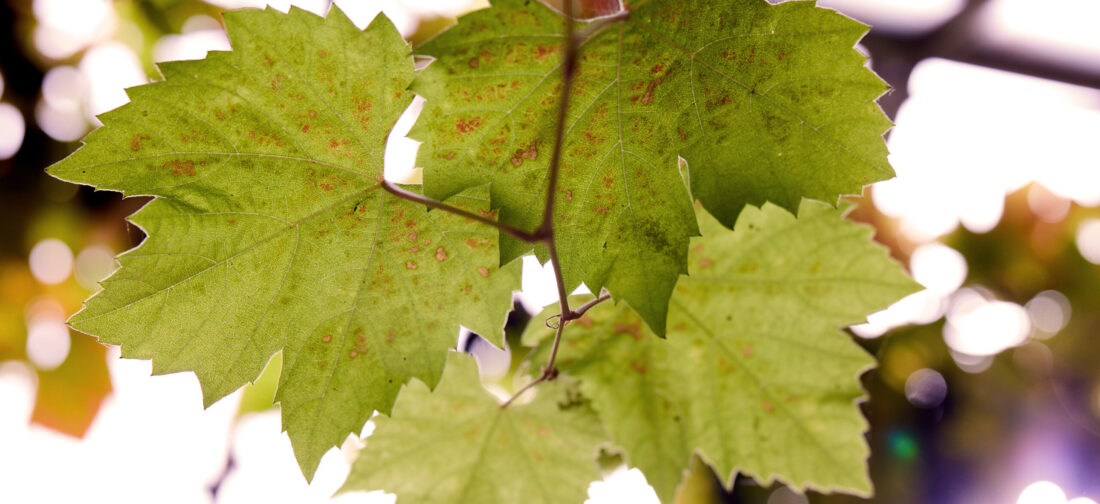 It's March, the month of new beginnings and new growth. The warmer, sunnier days are on the horizon and getting longer, the blossoms out and the grass begins to grow. Spring has sprung here at Cotswold Collections with the launch of our latest range. Our new collection features beautiful garments in gorgeous spring colours, including blues, browns, greens, soft neutrals and lilacs to lift your spirits. Colour is a wonderful way to express your individual style and can elegantly enhance your wardrobe. This journal focuses on one uplifting shade that is on-trend this season which is green. Our spring collection includes versatile and comfortable green coloured pieces, being the colour of the spring season and renewal. They are perfect to wear now and during the summer months.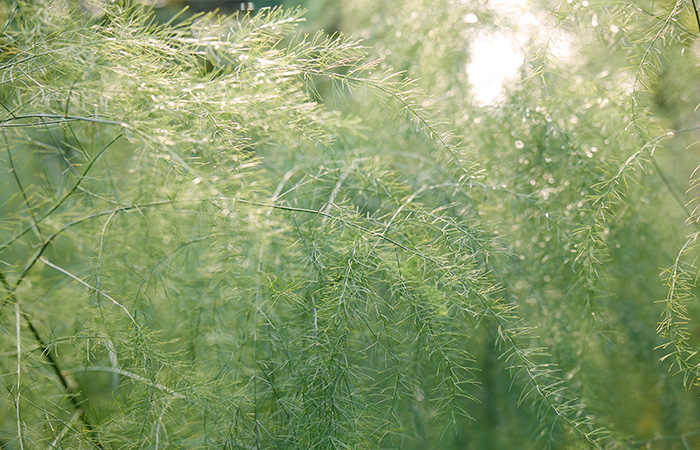 The colour green is often associated with peace, growth, nature, trees, grass, and plants. The colour stands for spring and balance and symbolises progress and freshness. According to Color Wheel Pro, Green has great healing power. It is the most restful colour for the human eye; it can improve vision. Green suggests stability and endurance. Sometimes green denotes lack of experience; for example, a 'greenhorn' is a novice. In heraldry, green indicates growth and hope. Green, as opposed to red, means safety; it is the colour of free passage in road traffic.' This comforting hue is all around us and will make you feel calmer and more relaxed.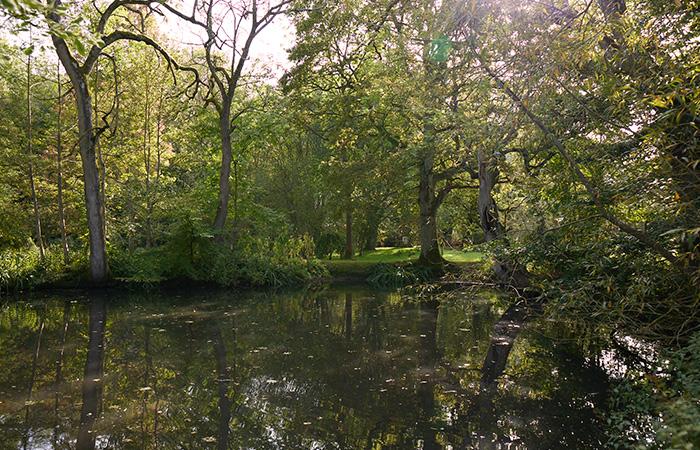 This season's shades of green arrive in many hues from uplifting emerald, sage and khaki, to soft greens. These gentle and vibrant shades can be a refreshing addition to your wardrobe. Green, inspiring tones are perfectly versatile and can be effortlessly dressed head to toe or used to elegantly enhance many of your outfits with a fresh natural feel. With the colour of greenery and peacefulness, connect with nature in this calm and cheerful tone, with our lovely pieces.
If you're looking for styles in soft green, discover our feel-good ensembles including a combed cotton top featuring a pretty crochet trim on the neckline, textured trousers and printed tunic blouse. These lovely pieces are ideal to mix and match for various looks.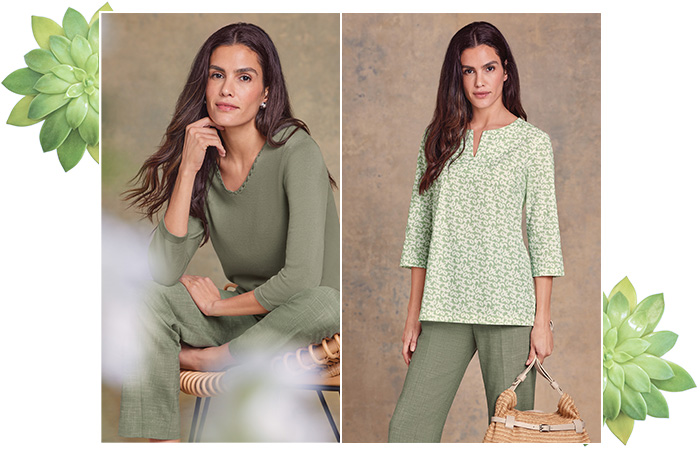 Stylish and sophisticated, with the clean lines of edge-to-edge styling, this jacquard knit jacket has a flattering empress high back neckline, patch pockets and tubular trims. The lovely knit has floral designs with green and navy contrast that will transform any look.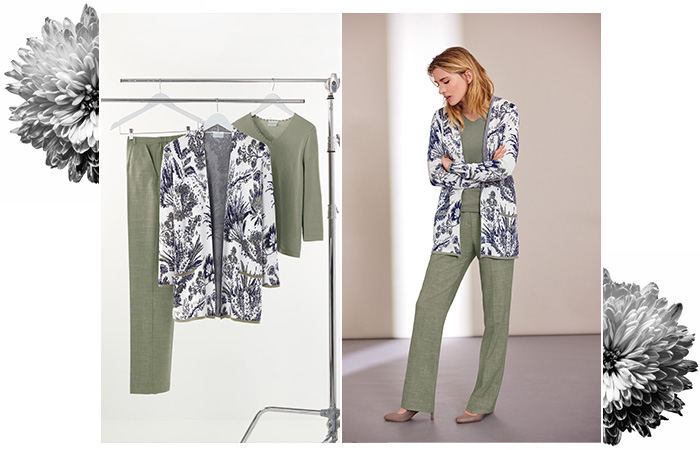 Our soft green pieces are available in our blouse and skirt and are made with Liberty fabric. This lovely matching ensemble is covered in a beautiful subtle daisy floral print on a warm handle fabric. Wear together, either tucked in or worn loose for a charming chic ensemble.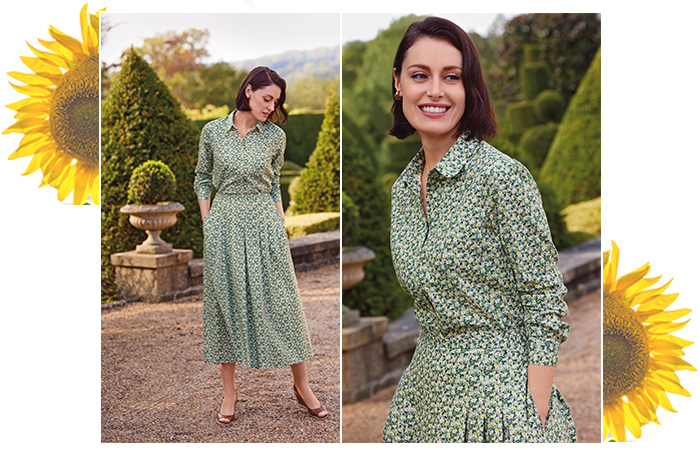 If you're looking for a vibrant and bold green, opt for our jewel-like emerald garments. Our bright seasonal coat is designed with a studded storm flap over the zip closure and a hood stored in the collar. This practical lined coat has an integral waist adjustment, self-coloured piping detail, zipped pockets and a buttoned internal pocket. Our stunning fully-fashioned Italian made striped V-neck top, highlighting a relaxed drape in the viscose yarn, is finished with neat tubular trims. These pieces work with most colours, and can be paired with shades of green or navy.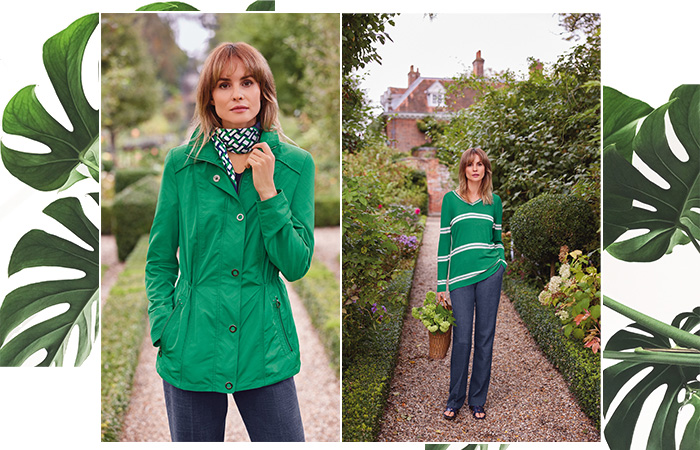 Our beautiful khaki-coloured separates are in a mixture of warm and neutral tones for this season. For a printed head-to-toe look, opt for our soft jersey separates with a French abstract print design. The crew neck jersey top is styled with elbow-length sleeves, and the trousers are made in a relaxed pull-on style with little gathers and useful pockets beneath the neat stretch waistband. For a different look, our round neck top, made in soft cotton interlock jersey, will also look wonderful worn with the trousers. Finish the look with the matching printed tie, which can be used as a belt or a necktie. Alternatively, our calming herb-coloured spring coat is styled with a detachable hood, a studded storm flap over the zip closure and four zipped pockets. This shower resistant coat has internal waist adjustment and a buttoned pocket in the lining.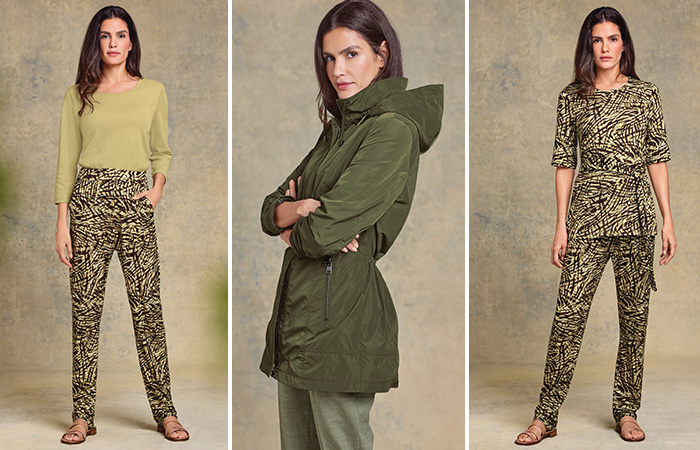 Do you have any favourite green items in your wardrobe? Do let us know as we'd love to hear from you.
For more interesting updates and special offers, sign up to our email newsletters here.