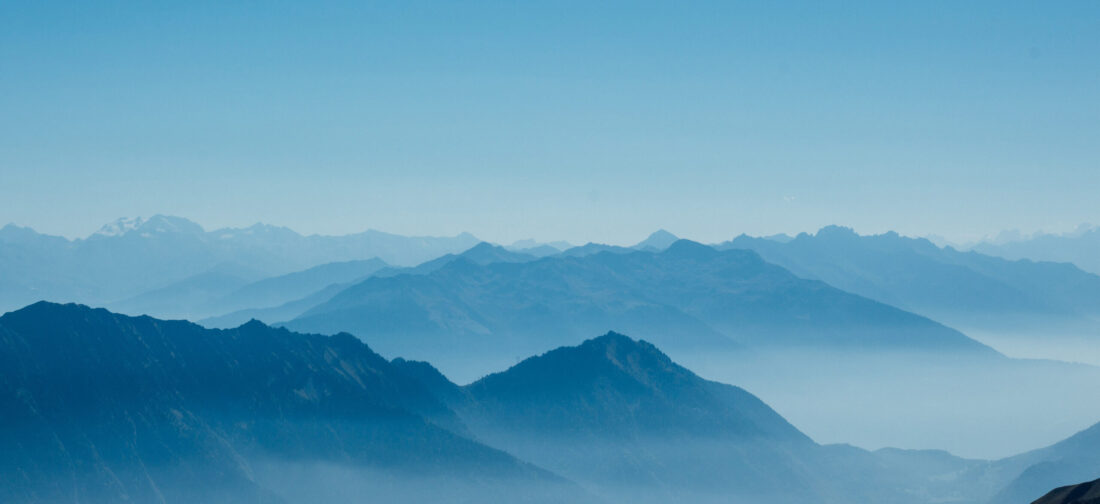 Clothing trends are constantly changing, but one thing that stays is the concept of dressing in seasonal colours. Colour is a wonderful way to express your individual style and can elegantly enhance your wardrobe. Our new season collection introduces gorgeous garments in a gentle palette of soft and calming shades. These versatile and comfortable pieces, that come in breathable fabrics and yarns, are perfect to wear now. Our latest arrivals are full of new trends and tones, this journal focuses on one soothing shade that is on-trend this season which is blue.
The colour blue is often associated with the calming effect of blue skies and represents intelligence, confidence, freshness, and loyalty. As the colour of peace, it has positive effects on the mind and the body, by reducing stress and offering a feeling of relaxation. The various shades of blue have a wide range of meanings, lighter shades are linked with calmness and brighter hues are more uplifting and associated with the ocean, whereas darker hues could represent power, elegance and sophistication.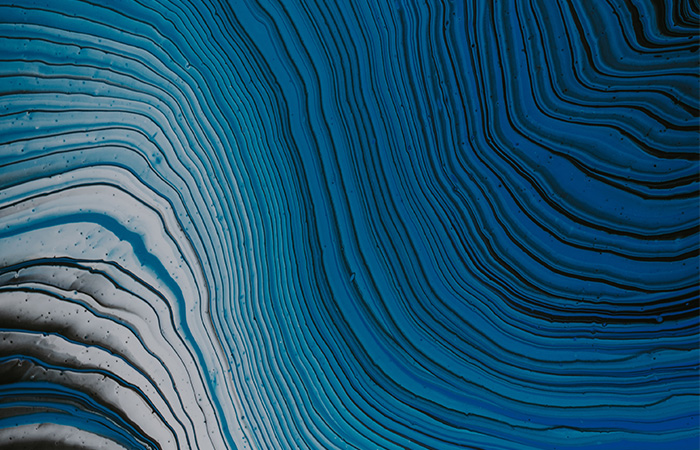 The gentle and uplifting shades of blue can be a refreshing addition to your wardrobe and the perfect colour to be worn throughout the year. Blue is ideal for wearing now or keeping until the transitioning into autumn. This season's shades of blues arrive in stunning hues of dusk blue, navy and mid-blue. They are either woven or printed onto a mixture of textured fabrics. This charming tone is beautifully versatile, it can be worn to gracefully enhance many of your outfits from your existing wardrobe or effortlessly dressed head to toe.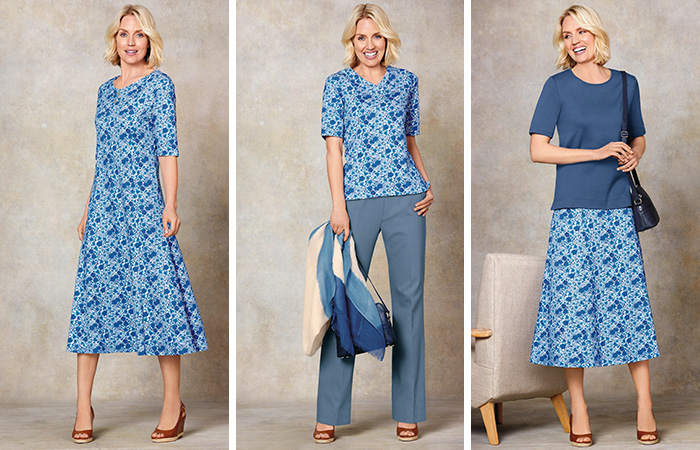 Discover our bright blue mood-boosting pieces, made with a charming floral print on a cool cotton interlock jersey. These gorgeous separates in stunning sky blue, will instantly make you feel refreshed. These versatile garments are great pieces to dress head to toe or mix and match. For a cheerful plain and printed mix look, pair our printed top with our classic mid-blue trousers or crewneck t-shirt with our printed skirt. Our printed fit-and-flare dress with princess seam shaping, will also make an excellent choice. These lovely pieces can be dressed up by adding our complementing beautiful accessories, including a leather crossbody bag and cotton blend scarf.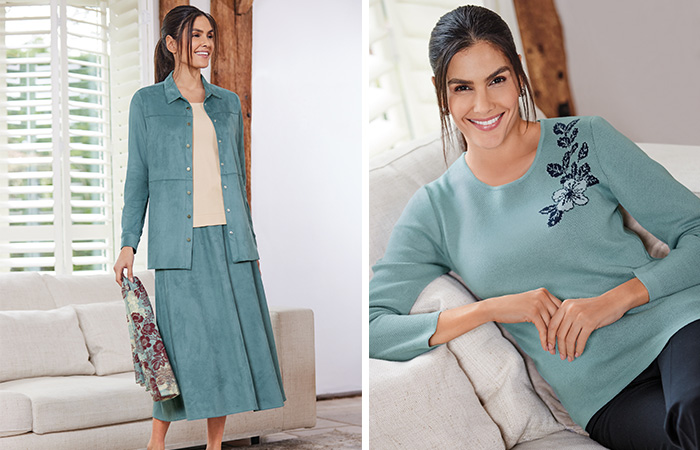 Our dusk blue pieces are available in our Italian jacquard jumper and matching co-ordinating ensemble. The soothing colour is ideal to give a feeling of tranquillity. The soft mock-sued jacket and skirt can also be styled separately and look great with our floral printed scarf.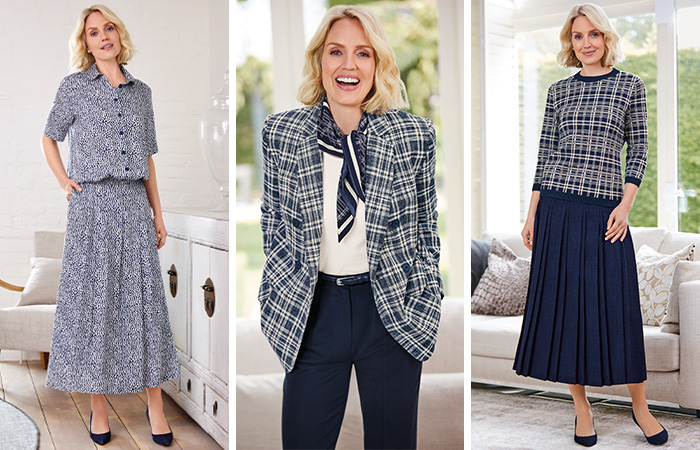 Our timeless navy pieces are perfect if you are looking for deep blue coloured clothes. For a printed head to toe look, opt for our attractive blouson and skirt, in a delightful leaf print fabric, with lovely softness and drape. Our classic checked jacket is perfect for any special occasion. This beautifully cut jacket, in a double-breasted tailored style, is made with a superb textured medium-weight tweed. This jacket looks lovely worn with our pima scoopneck jersey top, navy trousers and silk crêpe de chine scarf. Alternatively, our stylish check jacquard knit in a stunning navy and white blend, with fabulous stitch detail, looks gorgeous paired with our double pleated skirt in French navy.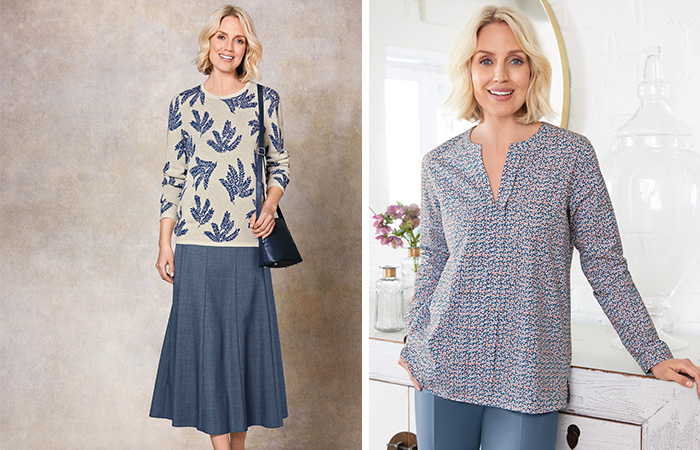 In calming and comforting shades of mid-blue, our separates, including the Italian jacquard knit jumper and ten-panel skirt, or the printed tunic and classic trousers, look superb paired together. Each of these pieces offers an elegant and stylish look, and can be easily worn with other colours from your wardrobe.
Do you have any favourite blue items in your wardrobe? Do let us know as we'd love to hear from you.
For more interesting updates and special offers, sign up to our email newsletters here.