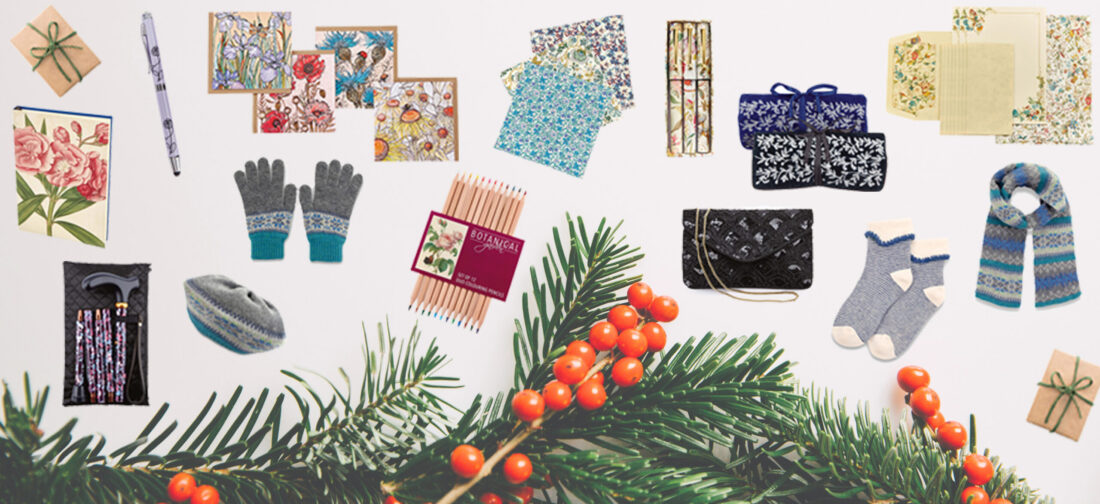 Our Christmas gifts collection includes a fabulous array of pretty prints and patterns and will help you effortlessly find the perfect presents for your friends and loved ones this Christmas. Choose from cosy Scottish made Fairisle accessories, our opulent jewellery roll, beautifully designed cards and notebook, stationery sets, handkerchiefs, the list is endless with gift options to suit everyone!
So, take a look at our selection of gifts to give this Christmas and don't forget to treat yourself too.
Floral walking cane with quilted bag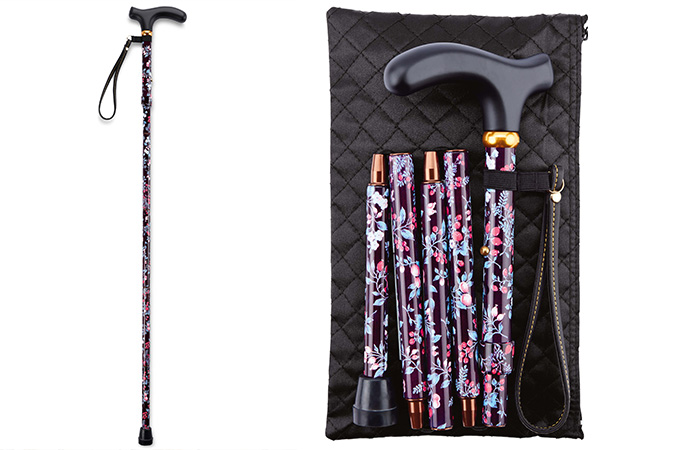 Printed with a striking floral design, this clever height-adjustable aluminium cane conveniently folds into five sections and fits into a smart quilted bag when not in use.
Liberty of London Print handkerchief set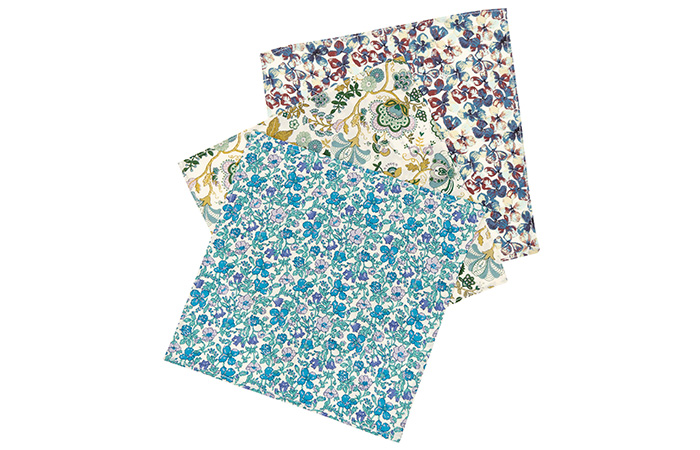 With three different pretty floral prints by Liberty of London in gorgeous seasonal colours, this delightful British made handkerchief set will make a lovely present.
These soft pure new wool accessories are spun in Scotland. They include a beret, scarf and gloves in the heritage design of Islay Fairisle, featuring a lovely blend of tonal greys and blues reminiscent of the landscape. These charming matching accessories are the perfect gift to keep your friends and loved ones warm this season.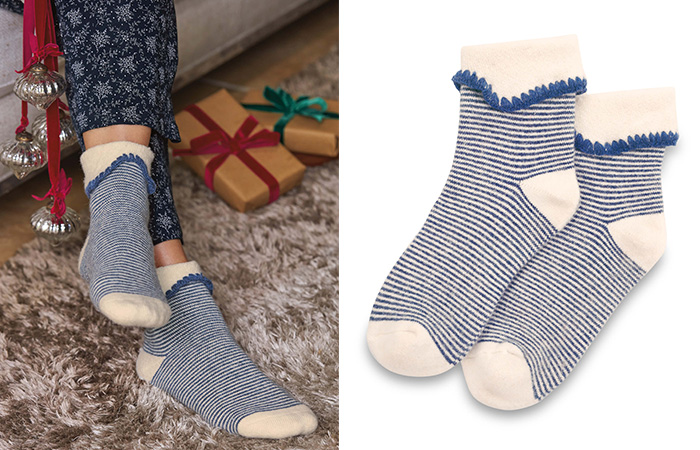 Featuring a pretty blue stripe, these striking bedsocks with plain heels and toes have turn over tops which are edged with blanket stitch. These cosy and comforting socks are a must-have gift this Christmas for individuals who love to snuggle up warm throughout the colder months.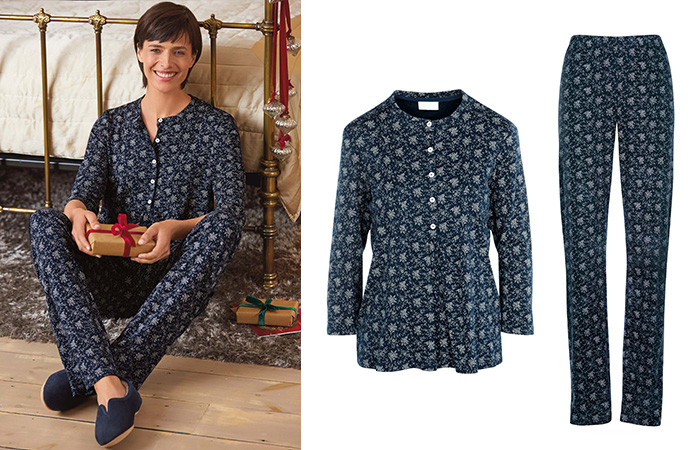 Our sumptuous pyjamas feature a delightful floral print on a high-quality Austrian interlock jersey that is breathable for added comfort. These pyjamas are perfect to curl up at the end of the day.
Velvet embroidered jewellery roll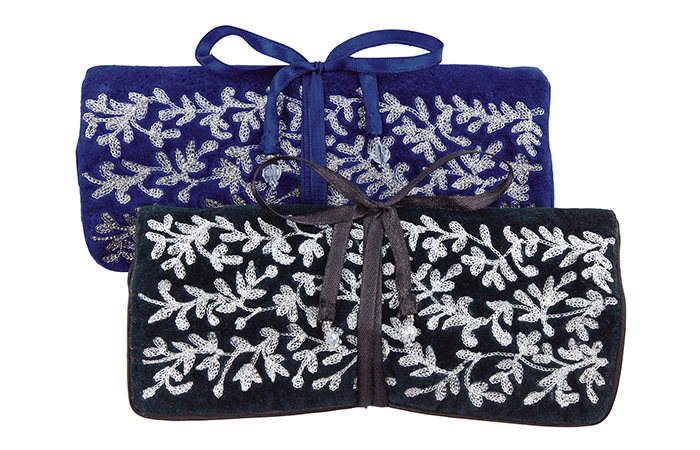 A pretty embroidered velvet jewellery roll in a choice of black or violet with a satin-lined inner compartment, two zipped inner pockets, holding straps and a ribbon and bead fastening. A great way to protect your precious jewellery whilst travelling, or as a jewellery box alternative.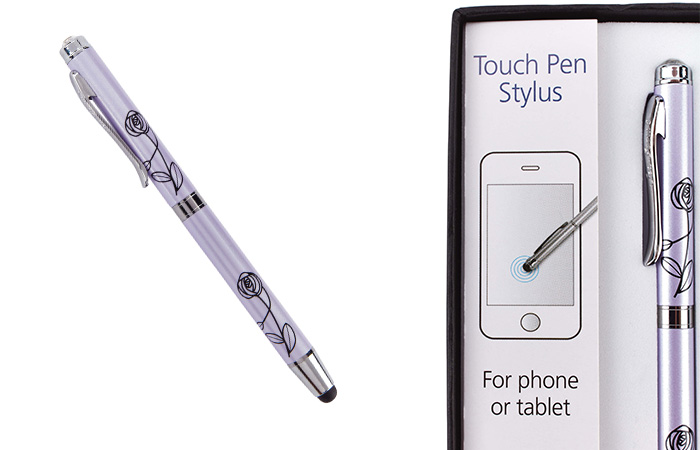 Inspired by Charles Rennie Mackintosh, our elegant black ink ballpoint pen with a soft end to use as a stylus, is ideal for use with mobile phones, I-pads and screens.
Florentine paper stationery and pen set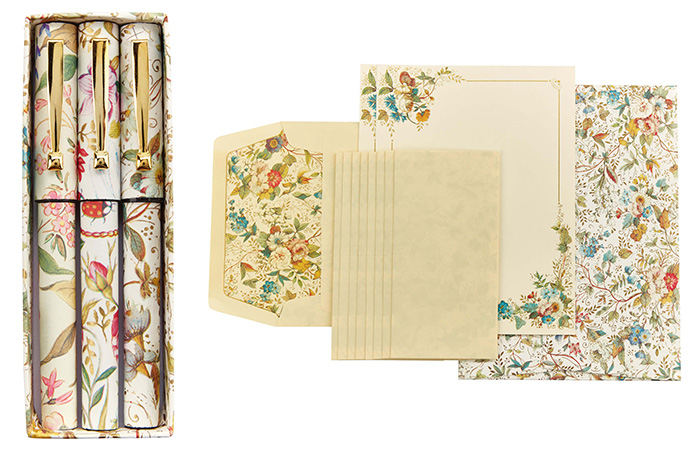 With a traditional gold leaf embellished floral print, this stunning Florentine paper stationery set is made exclusively for us in Florence. The charming floral print is featured on the writing paper, the inside of the envelopes and the pocket in which it is stored. Pair the lovely Florentine paper stationery set with our delightful set of black ink pens, printed with three different floral designs and packaged in a floral presentation box.
Botanical garden notebook and colouring pencils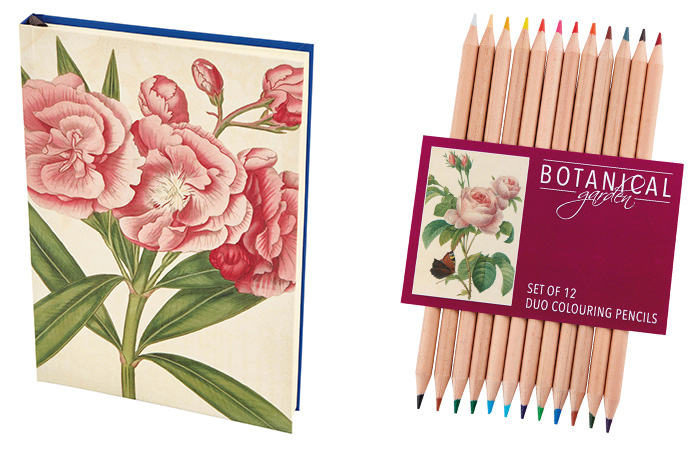 Featuring a wonderful print from the Kew Collection of botanical garden lithographs on the cover of this beautiful plain paper A5 notebook. Pair it with our botanical garden double-ended coloured pencils also from the Kew Gardens range, with a Rosa Centifiola print on the pack. The pretty notebook and colouring pencils are made in the UK.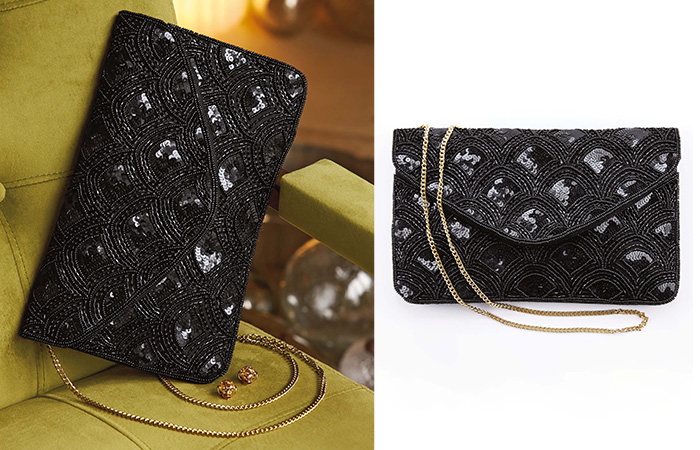 With an elegant art deco design, this delightful bag with all-over beading and has a gold chain to wear over the shoulder or can be carried as a clutch bag with the chain tucked away. Perfect for bringing a little glamour to any outfit.
Garden flowers and insect cards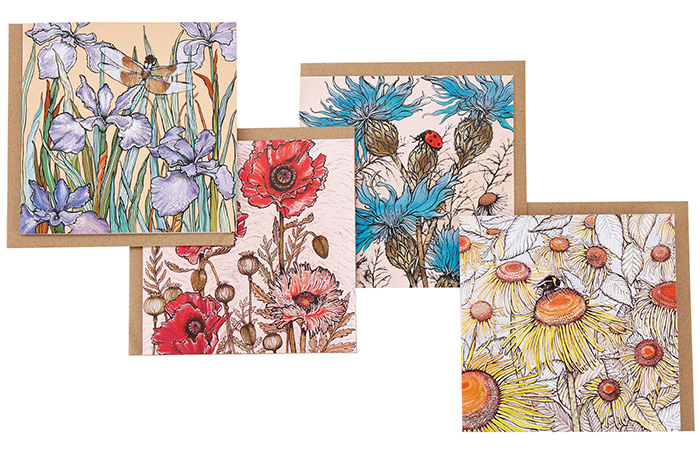 Enchanting illustrations of garden flowers and insects by artist Fay Miladowska, who grew up in rural Gloucestershire, feature on these cards made and printed with environmentally friendly materials. They come in four designs, two of each with eight envelopes.
We'd love to hear which is your favourite print or pattern from our Christmas gifts collection? Let us know in the comments...
For more interesting updates and special offers, sign up for our email newsletters here >>