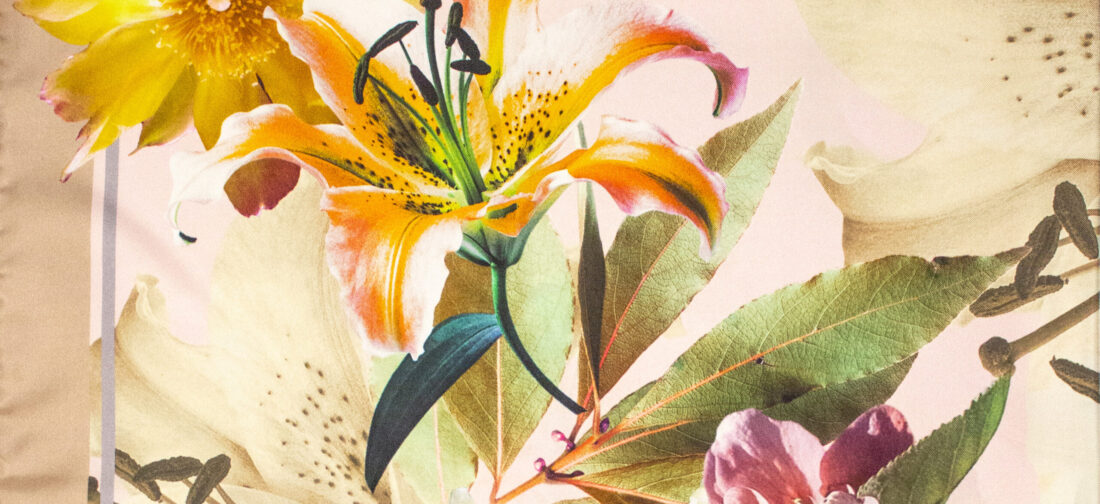 Prints and Patterns are always in style throughout the year, our new collection introduces pretty and elegant designs to uplift your outfits. Our latest on-trend prints, and patterns are perfect to add to your Christmas wardrobe. Whether it's a blouse, scarf, skirt, dress, top or pair of trousers, choose your favourite from subtle to vibrant florals, checks and a striking snakeskin print design.
In gorgeous seasonal shades, our long-sleeved printed blouses are a must-have for any occasion. Our new collection introduces a stunning mix of printed and patterned blouses in various fabrics. Our teal-coloured blouse featuring a fabulous floral velour with a subtle lustre can be styled with our classic trousers and beaded bag for an evening look. Alternatively, if you're looking for a brighter shade, our blouse made with liberty fabric will make an excellent choice. For everyday wear, opt for our warm blouse in a soft brushed check fabric from Italy.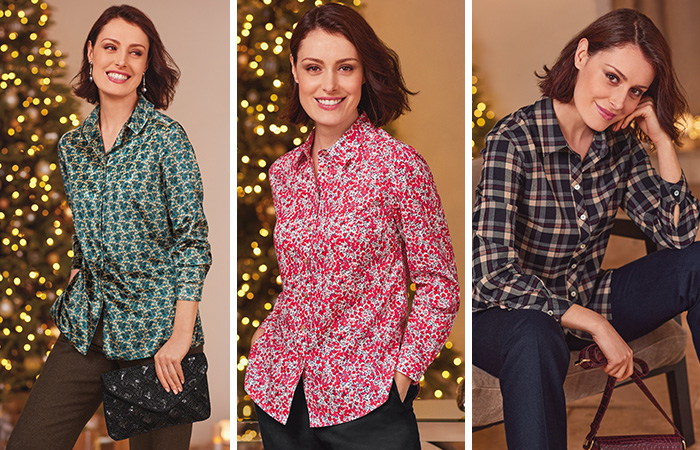 Featuring an easy-care Italian wool blend check, these classic trousers are lined to the knee. They are styled with diagonal hip pockets, a fly front, side-back waistband elastication and belt loops. These timeless check design trousers can be perfectly paired with our tops or blouses.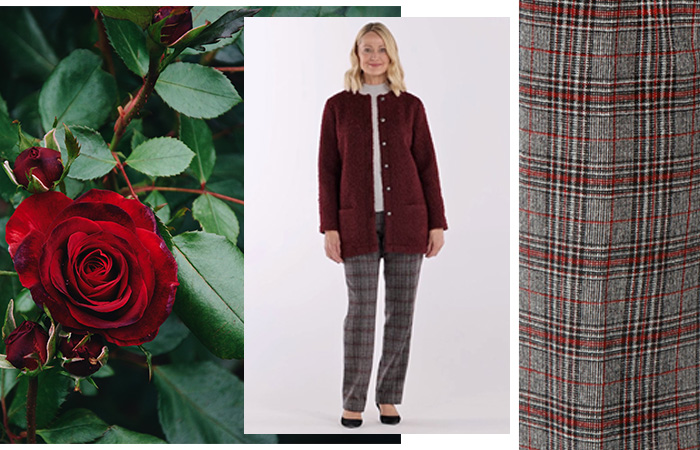 A modern update on the animal-print trend, this gorgeous Italian blouse, covered in a beautiful statement snakeskin print design, is perfect for all seasons. Our long-sleeved blouse with a tie, is perfect to be worn mixed with plains for a statement look.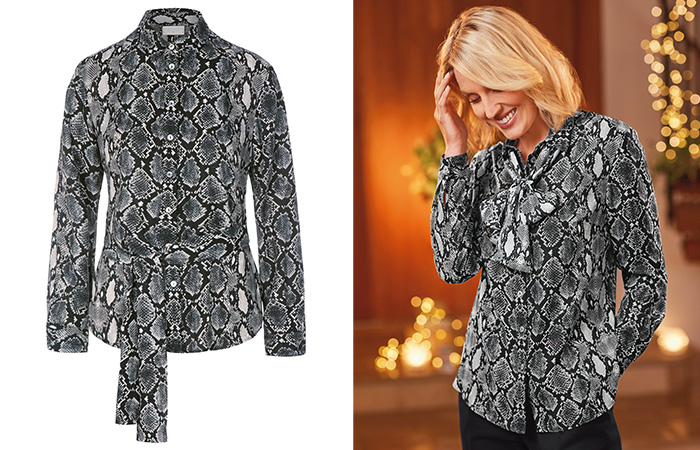 With a beautiful waterfall pattern of silver-blue sequins, this fully fashioned jumper is knitted in Italy, using Italian spun blended yarn with touch of cashmere.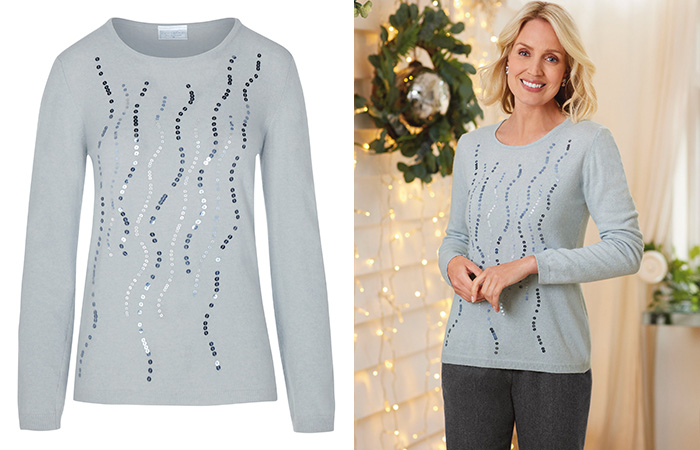 Discover our selection of printed skirts in fabulous styles and stunning lengths to keep you covered through the colder months. Our favourites to wear during the festive season are our flocked floral skirt and Sunray pleated skirt. The grey textured mélange skirt is embellished with a soft black floral flock design and looks superb paired with our Italian metallic trim top. For fabulous seasonal dressing, opt for our ruby coloured Sunray pleated skirt, featuring an Italian wool blend check with wonderful shape and movement. Pair with our total easycare turtleneck.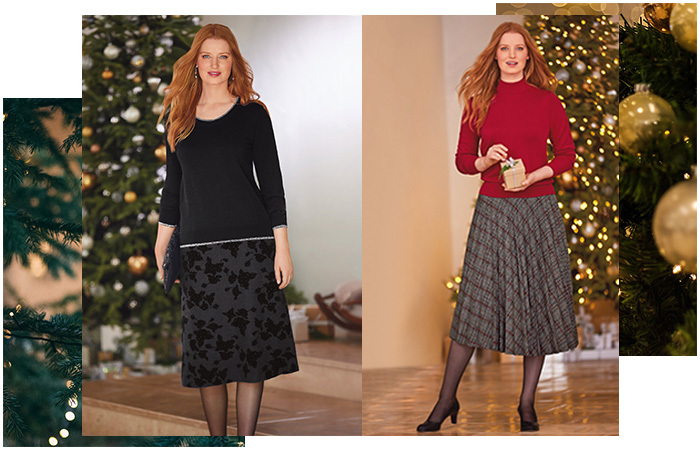 In a classic festive fabric, our rich Devoré velvet pieces in a lovely floral design can elevate and add a touch of glamour to any of your looks. The elegant top is finished with a plain velvet jersey mock-front underpiece. This midnight blue coloured top can be worn both tied up or loose and drapey for a versatile look. The stunning easy to wear three-quarter sleeve pull-on dress has a draped knot feature to draw in the waist and enhance the silhouette.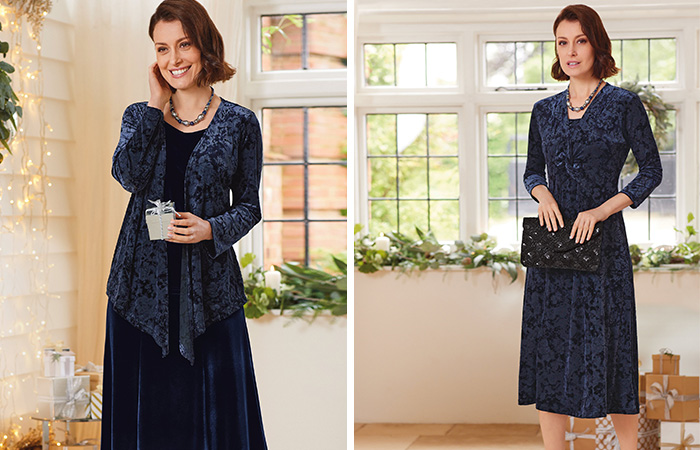 This wonderfully warming jersey top is embellished with ruby coloured floral embroidery at the front for a contrast. It looks lovely paired with our matching brushed jersey top and trousers.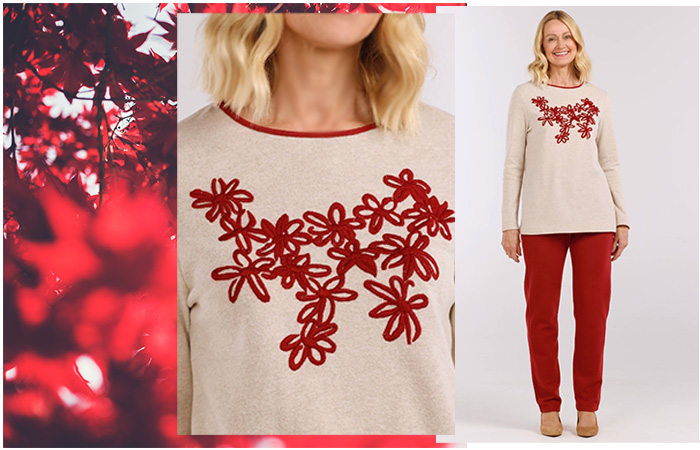 Our lovely collection of printed scarves will complement and complete any outfit. Our luxurious silk scarf, with a glorious floral design is printed for us in Italy. Alternatively, our delightful artisan block printed wool scarf is finished with little fringes around the edges.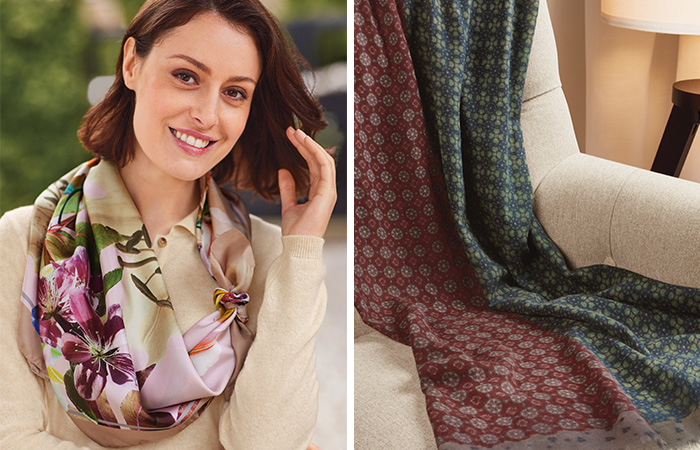 We'd love to hear which is your favourite print or pattern from our christmas collection, let us know in the comments...