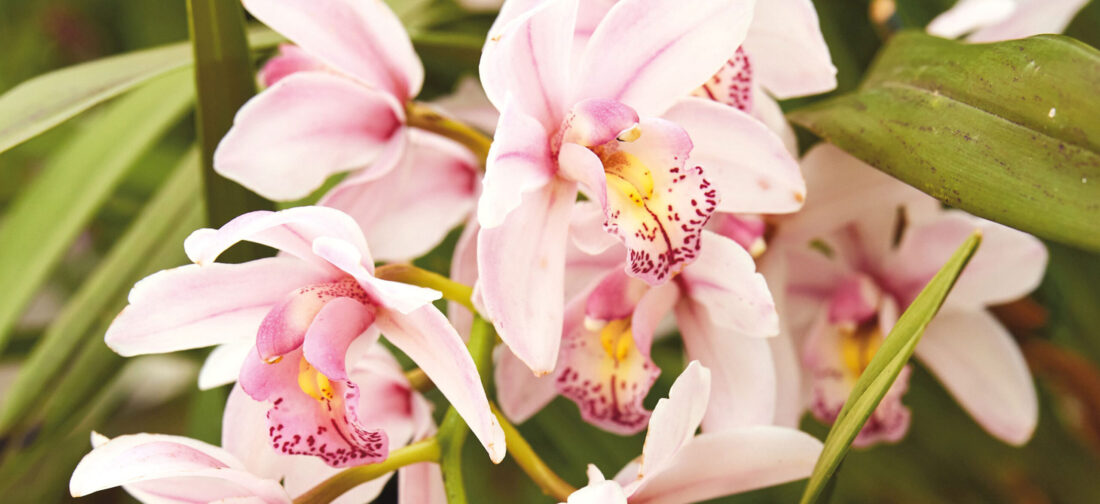 Look forward to the warmer weather ahead with our superb collection of stunning on-trend prints and patterns to enhance your wardrobe. Whether it's a blouse, skirt, top, scarf or pair of trousers, choose your favourite from pretty florals, abstract, paisley, checked or striped designs. These lovely pieces can be worn with plains for contrast or as a statement head-to-toe look.
Trousers
Add a fun twist to any outfit with our collection of fully elasticated printed trousers. We have a selection of prints and patterns ranging from florals, stripes, and abstracts to add to your wardrobe. With a beautiful sunflower design, our chic pull-on trousers are cut with a wide leg and made for us in Italy. They looks lovely worn with our textured top. In a classic stripe design, our relaxed unlined trousers with diagonal hip pockets have a fully elasticated waistband with self-fabric ties. Pair them with our beautifully fashioned tape yarn knit that is exclusively made for us in Italy with a diamond textured stitch front.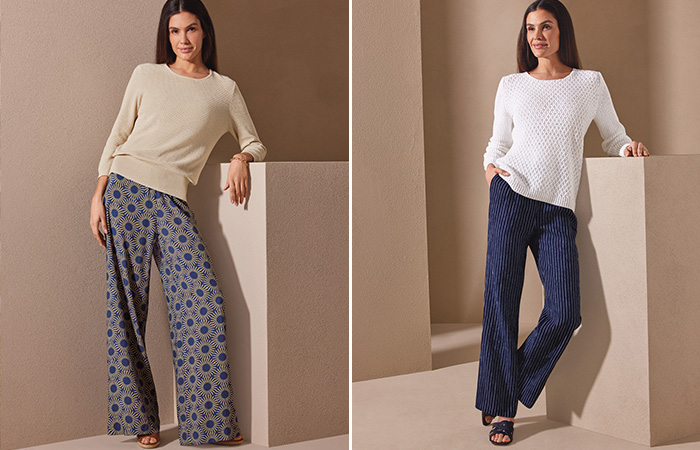 Blouses
Our smart and casual blouses are ideal for all occasions. Our new range introduces a lovely mix of printed blouses in various fabrics. Our fresh striped tunic in a pull-on style, with a buttoned placket and bust dart shaping, can be styled with our textured trousers. The long sleeves can be shortened with buttoned tabs and there are side slits in the straight hem. Alternatively, if you're looking for a floral top, our pintuck blouse featuring a gorgeous Italian print paired with our pull-on trousers will be an excellent choice.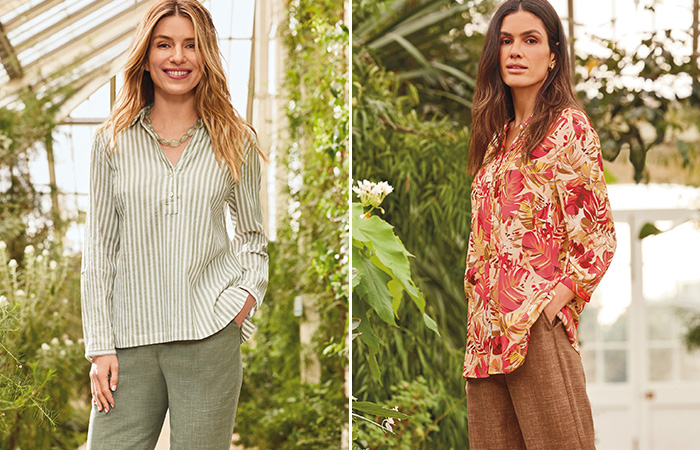 Head to toe pieces
Dress from head to toe in colour with our cheerful printed tops and skirts. Select your favourite from our floral mid-blue short-sleeved blouson and soft pleat skirt, charming aqua printed T-shirt and skirt or grey floral jersey T-shirt and skirt.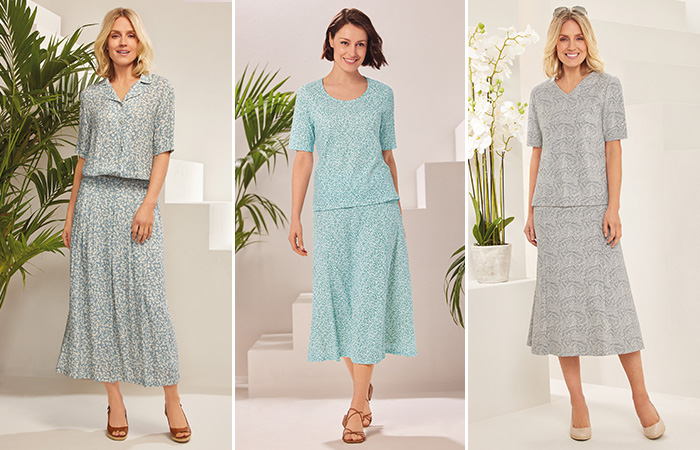 Skirts
Add a pop of colour to your wardrobe with these vibrant fully lined skirts in fabulous shades, you'll effortlessly stand out from the crowd. Our cerise coloured pull-on skirt is made with a gorgeous floral Italian printed chiffon. This stunning skirt has gentle gathers into the fully elasticated waistband. Go bold with the skirt, by pairing it with the scalloped neck trim top in the same colour. Our yellow-coloured pull-on style skirt features a delicate French floral print with tiny all-round pleats and an elasticated waistband. It looks wonderful with our yellow pointelle trim top featuring a decorative insert in the V-neckline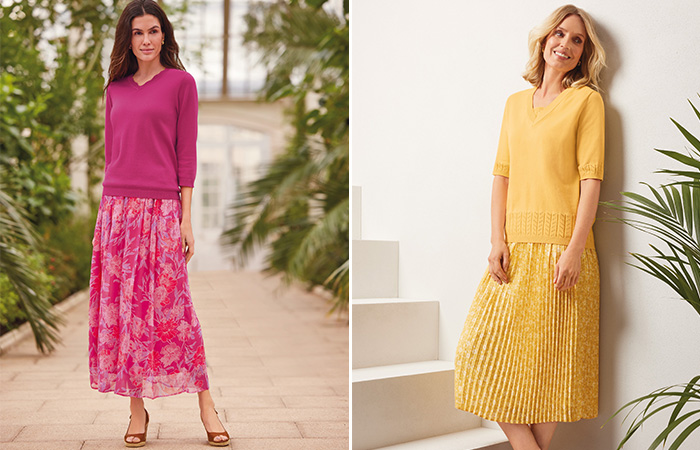 Tops
These elegant tops are ideal for the season. Our fully-fashioned knit top with an enchanting floral print is made for us in Italy. It is styled with a crew neck, long sleeves and rib trims. Pair it with our textured trousers for an effortless look. For a short-sleeved top, opt for our fabulous T-shirt made in a beautiful paisley print soft viscose jersey. It is finished with pretty neck detail and can be styled with our stone or chambray trousers.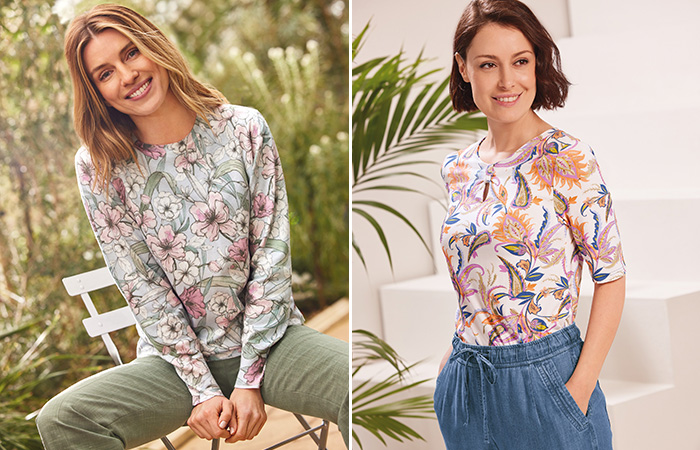 Scarves
Our charming collection of printed scarves will complement and complete any outfit. In a delightful emerald green, white and navy colour, this contemporary scarf in Italian printed crepe-de-chine is finished with a geometric design. Alternatively, our double layered checked jersey scarf is a chic finishing piece.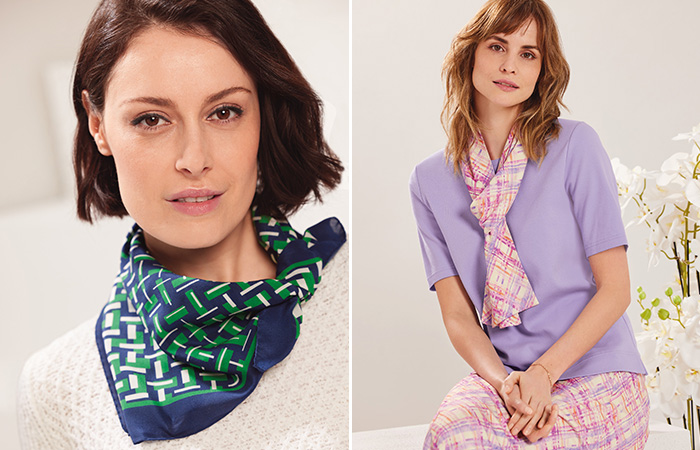 We'd love to hear which is your favourite print or pattern from our summer collection, let us know in the comments...