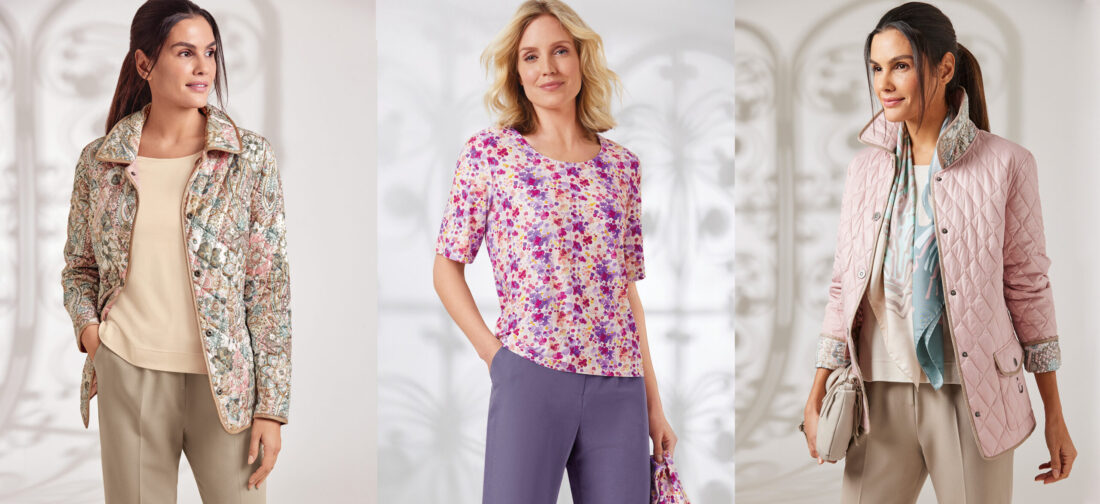 Our summer collection is here, and it's time to treat yourself to new pieces to brighten up your wardrobe. Discover this season's trending prints and patterns, all in flattering colours to make you smile. Whether it's a blouse, scarf, skirt, dress, top or pair of trousers, choose your favourite from striking abstract prints, pretty ditsy designs or subtle to vibrant florals and exotic botanicals. These lovely versatile pieces can be worn with plains for contrast or as a statement head-to-toe look.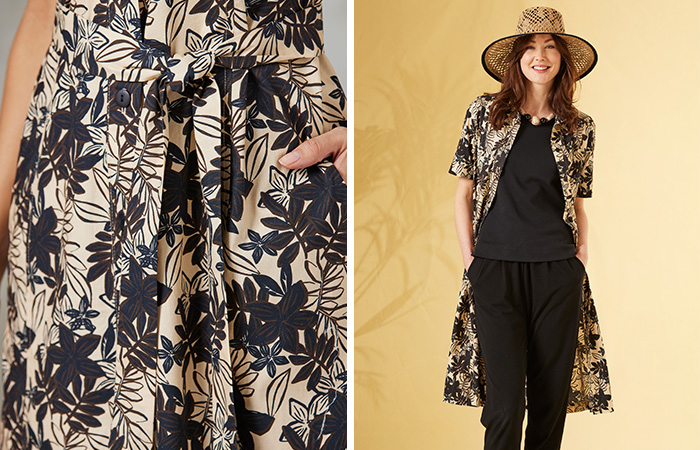 Covered in a gorgeous Italian floral print, this button-through panelled dress has short sleeves, gentle body shaping, and an optional matching belt. It can be worn buttoned up or over a t-shirt for a more casual appearance. Complete the look with our Italian straw hat, with a cool and airy open-weave design.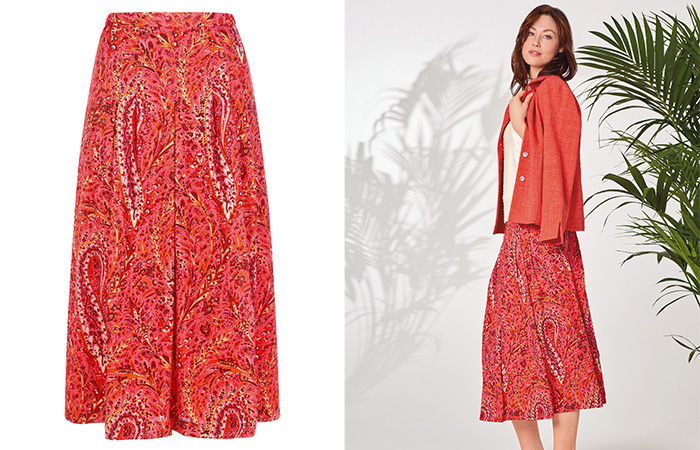 Featuring a beautiful printed crepe from Italy, this striking fully lined skirt has generous soft pleats sewn down to the hip and side-back waistband elastication. Pair with our textured t-shirt, made in an easy-care jersey and our softly tailored jacket.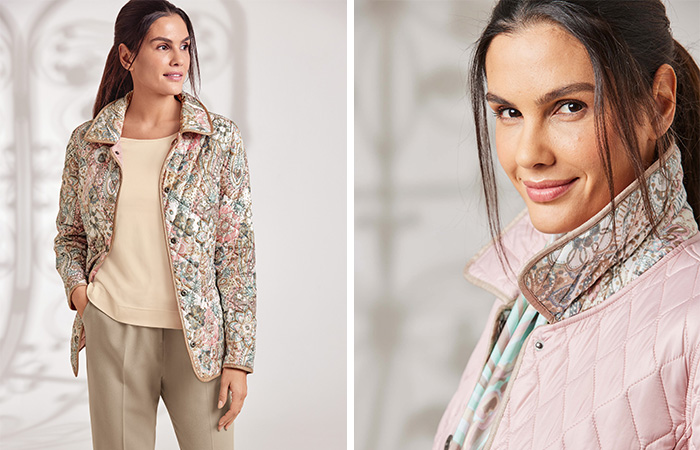 Elevate any ensemble with our versatile reversible quilted coat with one side in a pretty floral print, and the other a delightful pale pink, which works well with most other colours. Pair with our pima scoopneck jersey top and plain classic trousers for an effortless look.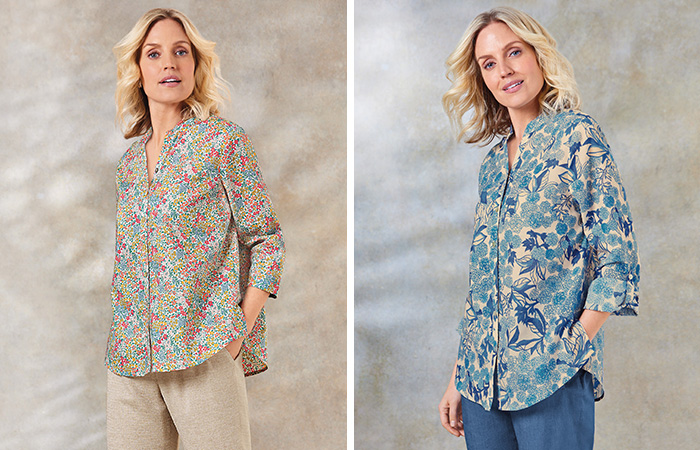 Smart and sophisticated, these beautiful floral blouses are ideal for the season. Featuring a stunning Liberty flower print, this notch-neck tunic looks fabulous worn with our textured soft trousers. Alternatively, with a gorgeous Italian floral print, this light and airy blouse has long sleeves which can be rolled up and fixed in place.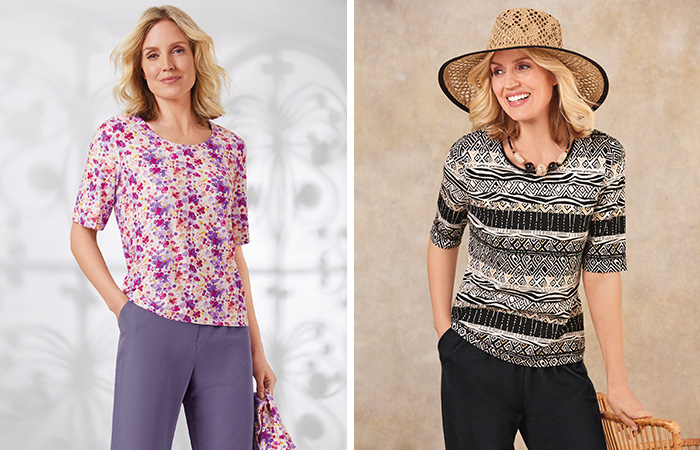 The uplifting designs of these charming tops in flattering summer colours, are perfect for brightening up your plains this season. Choose from our lavender coloured top, made in a soft silky jersey with a gorgeous watercolour effect floral print or our ivory top with a delightful batik design summer-weight jersey.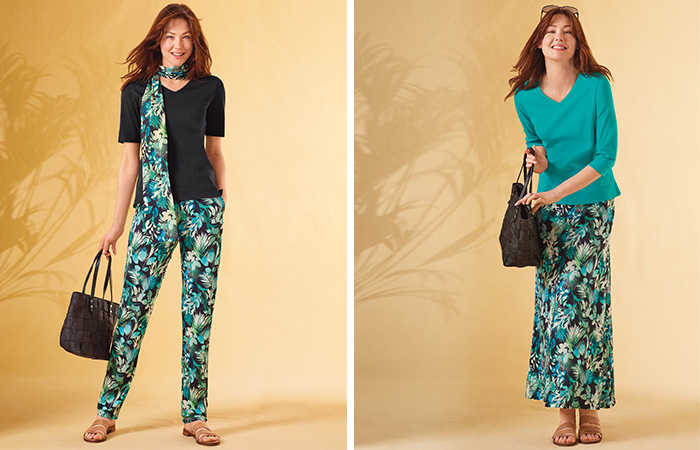 These elegant and versatile jersey separates, covered in an exotic jungle leaf print, will effortlessly brighten your wardrobe. The soft jersey trousers are made in a pull-on style with little gathers and useful pockets beneath the neat stretch waistband. The long A-line skirt offers the perfect relaxed summer dressing with a fully elasticated waistband. You can style them with our black or jade-coloured V-neck t-shirts. Our matching slim double-sided scarf will add the perfect finishing touches.
If you're looking for a soft seasonal printed finishing piece, take a look at our beautiful accessories including our superb Italian silk scarf, featuring an abstract marbled design with a plain border.
We'd love to hear which is your favourite print from our summer collection, let us know in the comments...