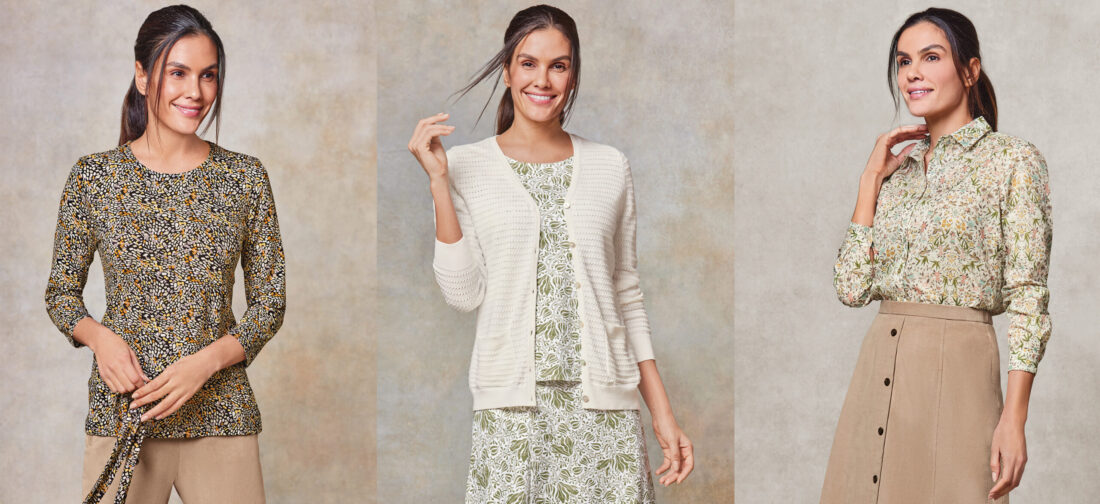 This season's on-trend prints and patterns arrive in a beautiful mix of cool and warm shades. Add an elegant touch to your wardrobe with our latest pieces in stunning designs. Whether it's a blouse, scarf, skirt, dress, top or pair of trousers, choose your favourite from subtle to vibrant florals, checks, geometrics, striking abstract and leaf designs. These beautiful pieces can be worn with plains for simple elegance or as a statement head-to-toe look. They are perfect for any formal occasions and relaxed lounging, offering a classic look with contemporary style.
Featuring a delightful shaded trellis print, these white and khaki blended short-sleeved top and six-panel skirt, is made in a soft pure cotton interlock jersey. Add our combed cotton V-neck cardigan for an extra cover-up for colder days.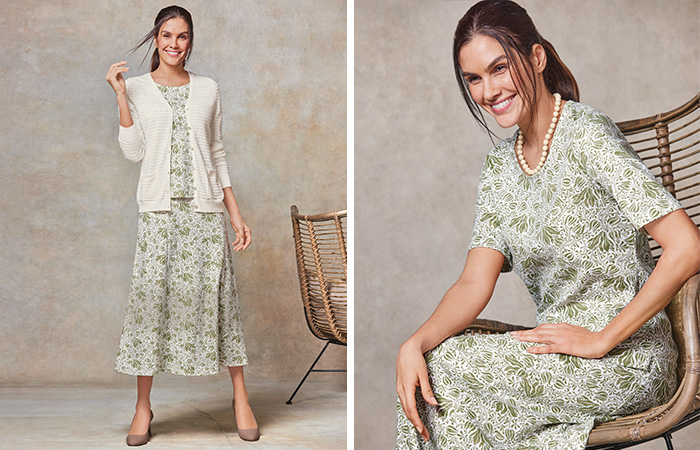 In beautiful seasonal shades, our cotton long-sleeved printed tunic and blouse are perfect for every occasion. In a lovely blend of navy, blue and dusk pink, our stylish tunic highlighting a wonderful French geometric print, has a feature pleat front with a notch neck. Pair it with our classic mid blue trousers with a smooth finish and comfortable stretch in the weave. Alternatively, our blouse with a gorgeous Elizabethan style flower design printed by Liberty fabrics will also make an excellent option. This elegant blouse looks great styled with our cord button eight-panel skirt, made in soft needlecord with a hint of stretch.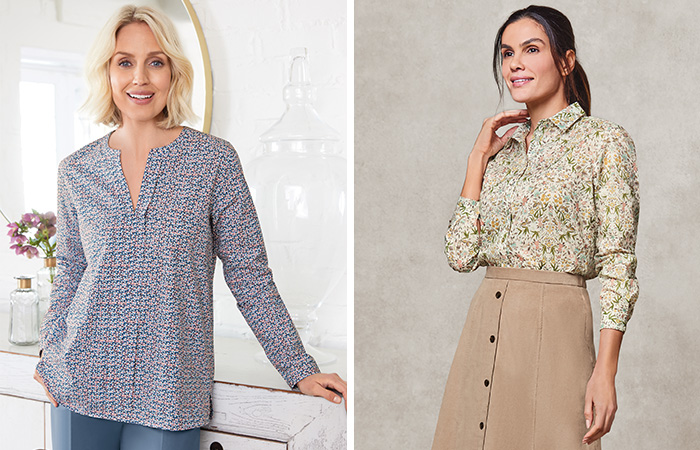 Featuring a fabulous Liberty Tiny Poppytot print, our long-sleeved jersey jacket made with liberty fabric, is the ideal layer to wear through cool or breezy days. The jacket looks gorgeous worn with our cord trousers with a touch of elastane for comfort and pima scoopneck jersey top.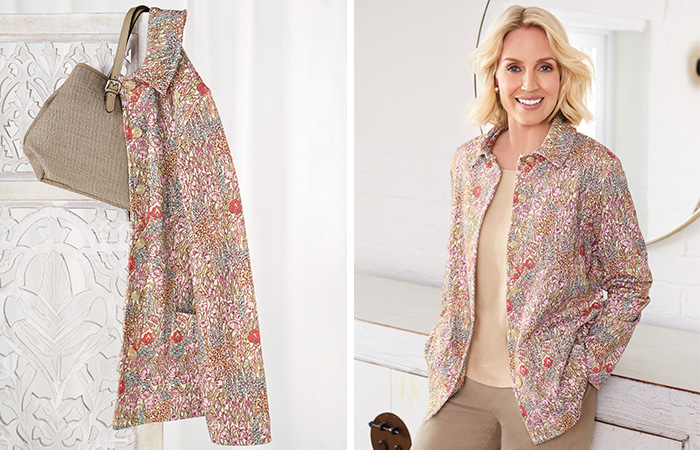 This beautiful jumper with a flowing leaf design in the jacquard knit, is made exclusively for us in Italy. Pair the knit jumper with our fully lined ten-panel skirt and leather crossbody bag.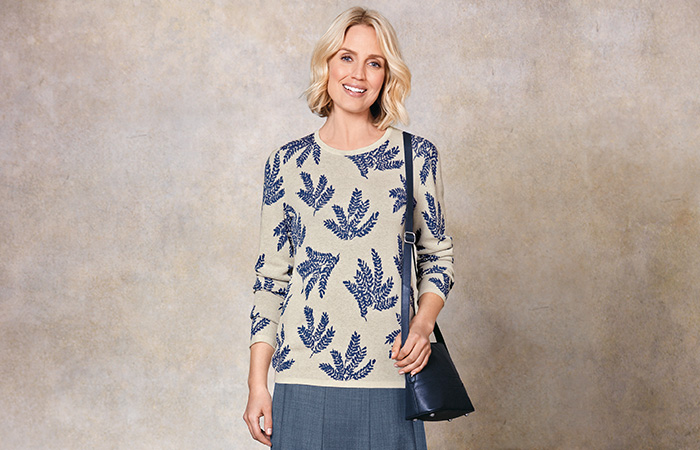 Elegant and contemporary, these versatile separates including a skirt, dress, trousers and top is gorgeously covered in a mosaic print. These pieces look wonderful paired together with the matching top and elasticated skirt or with the complementing plain top or trousers. The co-ordinating printed jersey tie will complete your outfit perfectly.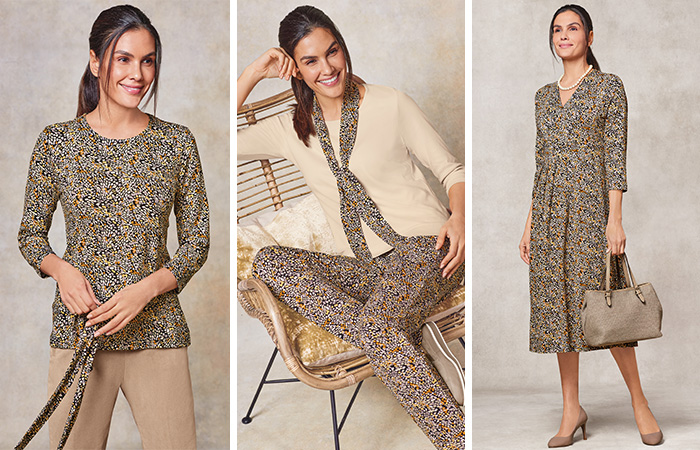 Add a stylish touch to your outfits with our collection of stunning accessories. Printed in an Italian mill near the shores of Lake Como, our lovely cotton and silk-blend scarf featuring two colourways of a floral print on a delicate dusk blue background. Alternatively, our silk crêpe de chine square with a delightful check design, is designed to complement our jacquard knit.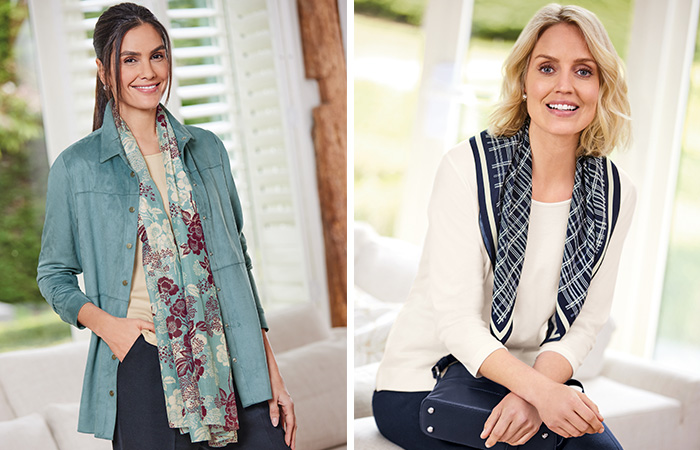 We'd love to hear which is your favourite print or pattern from our new season collection, let us know in the comments...