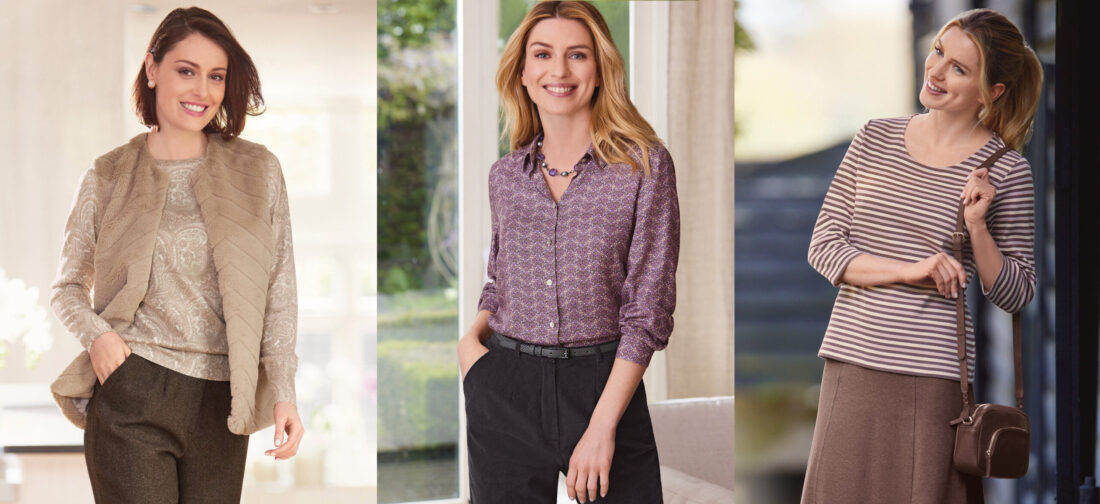 The arrival of autumn is beautifully captured in this season's collection with prints and patterns in soft and rich tones. Update your seasonal wardrobe now with our new selection of clothing in these comforting shades, perfect for the upcoming months. Whether it's a blouse, scarf, skirt, dress, top or pair of trousers, choose your favourite from elegant florals, checks, stripes, paisley, leaf and striking abstract designs. These lovely versatile transitional pieces can be worn with plains for contrast or as a statement head-to-toe look.
Covered in a beautiful French floral print design, this stunning skirt has soft pleats down to the hip, on either side of a central invert pleat. This fully lined style with side-back waistband elastication looks lovely worn with our gorgeous notch neck jumper with an indulgent touch of cashmere.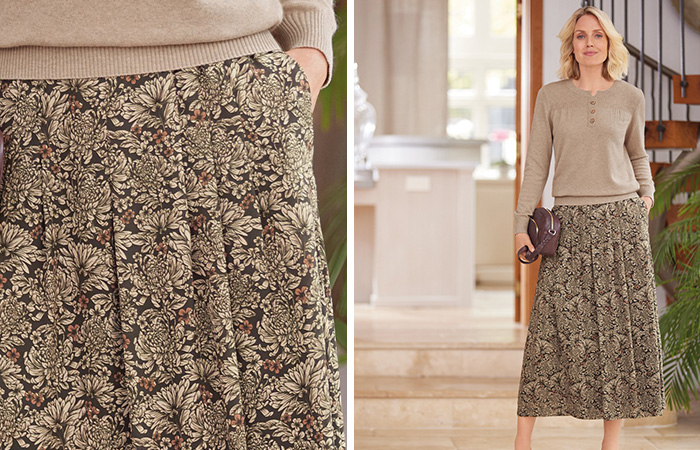 Featuring a striking abstract print, these versatile pieces are made in a wonderfully easy to wear crush-free jersey. Our figure-flattering mock front dress in three-quarter sleeves paired with a leather crossbody bag is the ideal day to evening look. Pair our fully lined pull-on printed skirt and scarf with our crewneck jersey top.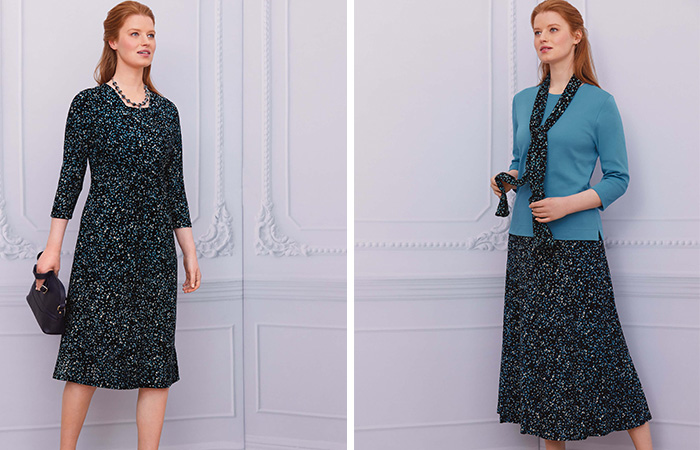 These gorgeous tops in beautiful subtle neutral shades will effortlessly allow you to pair with almost any colour to create various looks. Choose from our fully-fashioned merino-blend jumper, made for us in Italy with a chic paisley print or our pretty striped cotton interlock top.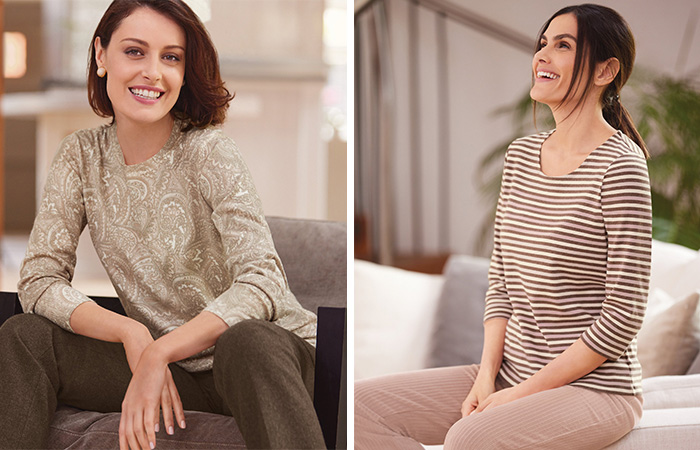 With a soft warm touch, this vibrant Italian print blouse has bust dart shaping and long sleeves with buttoned cuffs. Pair with our cord trousers with a smooth finish and comfortable stretch in the weave and Italian leather belt.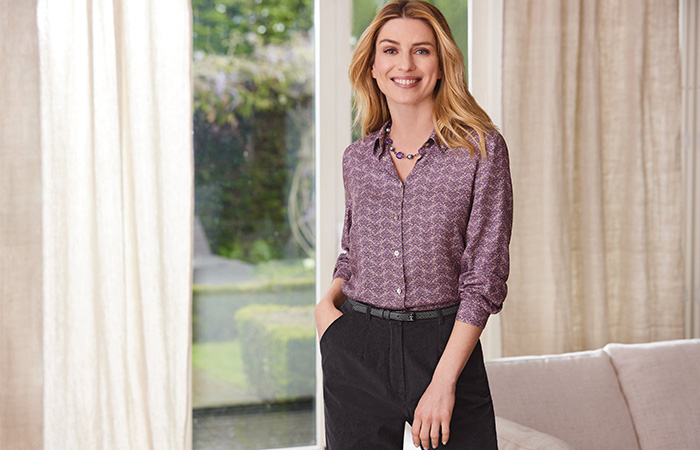 Add our timeless blue jersey separates with versatile jacquard checked design to your wardrobe. Our stunning matching jacket, skirt and trousers has elastane to keep its shape and looks wonderful worn with our jersey top. For different looks, easily mix-and-match the skirt or trousers with our jacket with plains.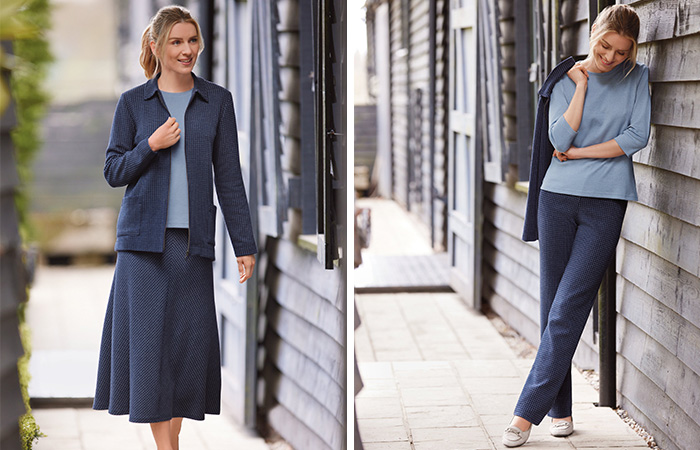 These nature-inspired pieces including a cardigan and jumper with exquisite floral embroidery are ideal for the colder days. Combine our beautifully soft cotton long-sleeved cardigan with our pima crewneck top and classic trousers for an elegant look. Alternatively, our fully fashioned medium-weight combed cotton jumper looks stunning paired with our classic trousers.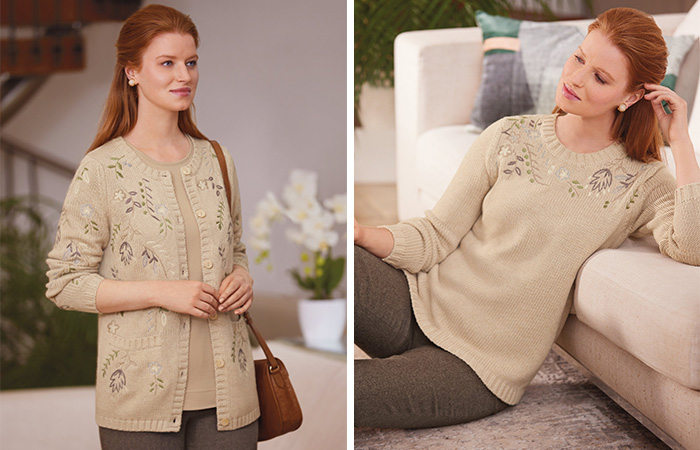 Our lovely collection of printed scarves will complement and complete any outfit. Our gorgeous Italian scarf, with a chic geometric print on soft drapey modal blended with wool and finished with neat fringed edges. Alternatively, our delightful long pure wool scarf with a classic spot print design is enhanced by a distinctive striped border.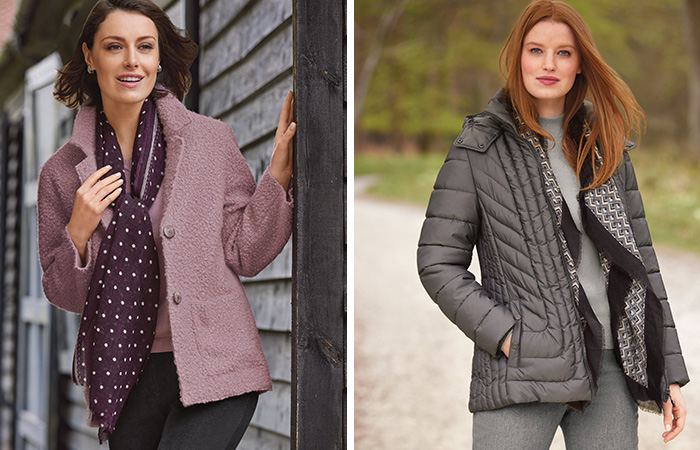 We'd love to hear which is your favourite print or pattern from our autumn collection, let us know in the comments...