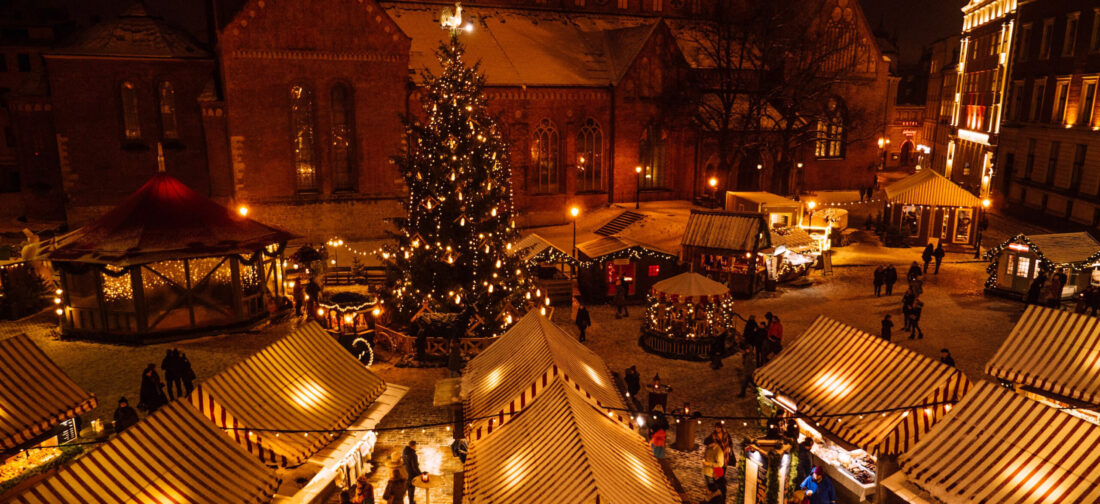 Prints are one of our favourite aspects of each collection. We take pride in making sure that each of our pieces are as unique and stylish as possible. With this in mind, our designers have carefully selected a stunning range of prints to achieve timeless garments. Christmas time can be a busy stretch of celebrations and gatherings, so looking your best is essential. From dresses to giftware this journal will give you insight into a handful of our exceptional patterns.
Chiffon Tunic and Skirt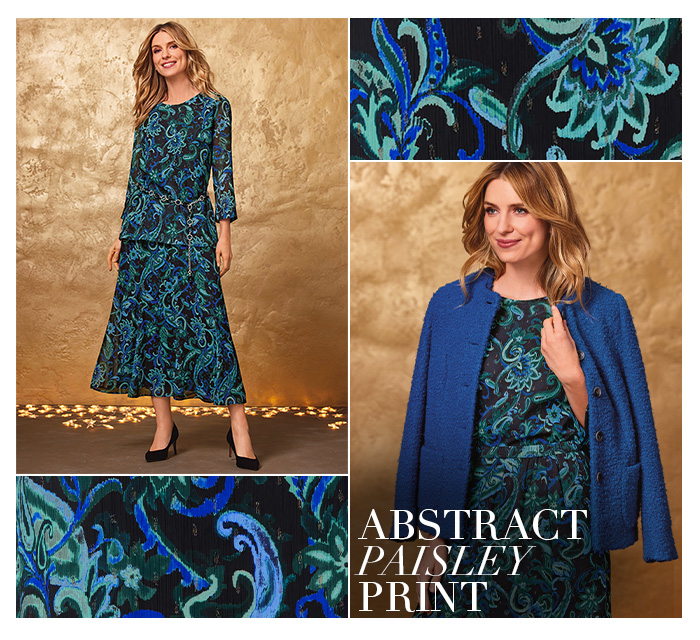 Celebration is such a huge part of the Christmas period and dressing to feel confident yet comfortable is vital. Feel amazing in one of our most gorgeous prints; our Chiffon Tunic and Skirt displays an eye-catching and unique abstract paisley print. The deep background shade allows the tones of peacock to stand out and create a print that is truly lively, yet charming.  The lightweight material allows this piece to have fluidity creating elegant movement whether you're strolling or dancing. Style this piece with our Italian Chain Belt to create an exclusive look for each event; and for extra warmth, layer up with our Cobalt Boucle Jacket.
Printed Dress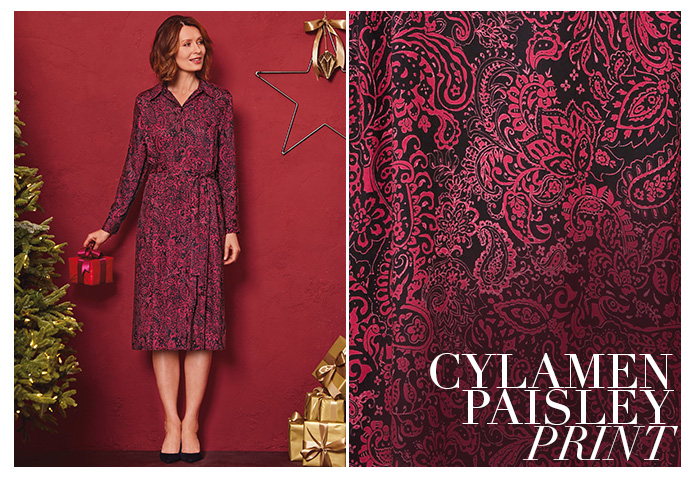 A sophisticated print lasts a lifetime. Our Printed Dress features a stunning and subtle paisley print so you can feel chic for every occasion you will have potentially lined up. The flattering shape of this button up dress allows the pattern to be the focal point of this piece, while the high-quality fibres make it really fluid, showing off the design even more. While the parties may be warmer the colder months require some insulation, and the long sleeves act as another layer to keep yourself warm and stylish this winter.
Printed Jersey Top & Pleated Skirt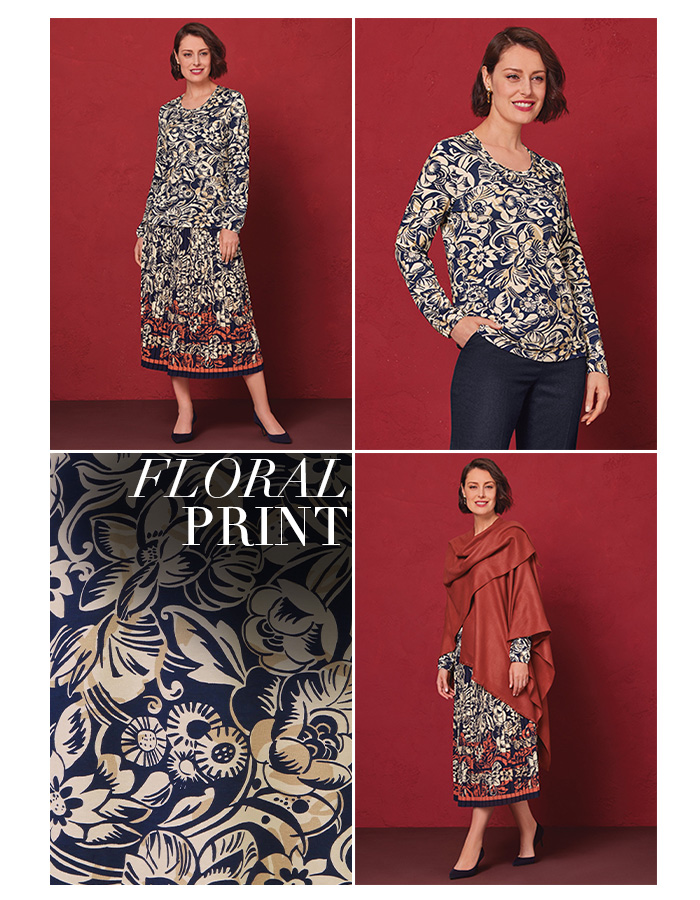 For more of a relaxed party look, our stunning Printed Jersey Top is a perfect garment for the occasion. This intricate floral print is showcased in versatile navy and natural tones, this could be worn with a formal pair of classic trousers or even our matching Pleated Skirt. This skirt showcases the same incredible negative space print, while the pleats are truly exceptional and injects additional festive tones of Rust into detailing at the bottom. For an elegant and dramatic layering piece, this outfit is completed by the edition of our Cinnamon Serape Wrap.
Printed Jacket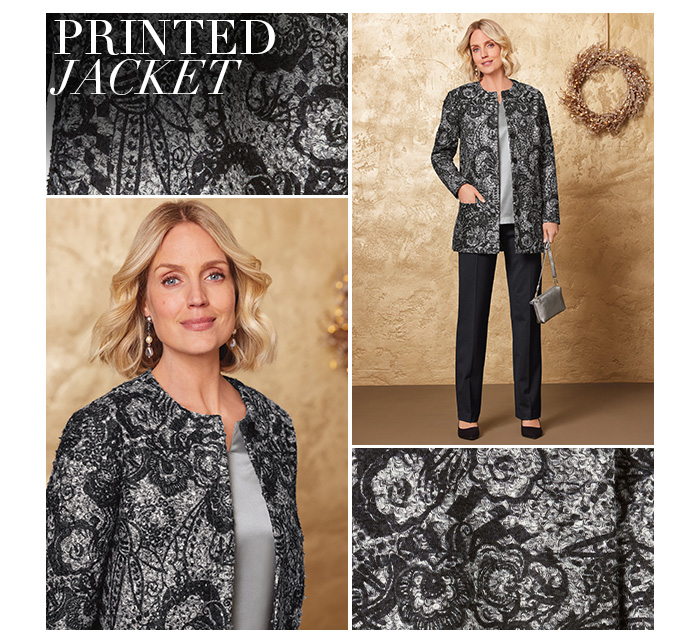 An eye-catching jacket elevates any look, and our Printed Jacket is set to make an entrance for each festive gathering. Crafted with exceptional quality bouclé tweed, this piece is elegantly tailored for a smart, sophisticated, and timeless finish. We take pride in the intricacy of this design and how it catches the fun of the season perfectly, while offering a polished outfit. Style this piece with a pair of Classic Trousers or even a black skirt to place the focus on the jacket. Our Satin Tunic can tie the whole look together and add an essence of chicness to the ensemble.
Paisley Printed Blouse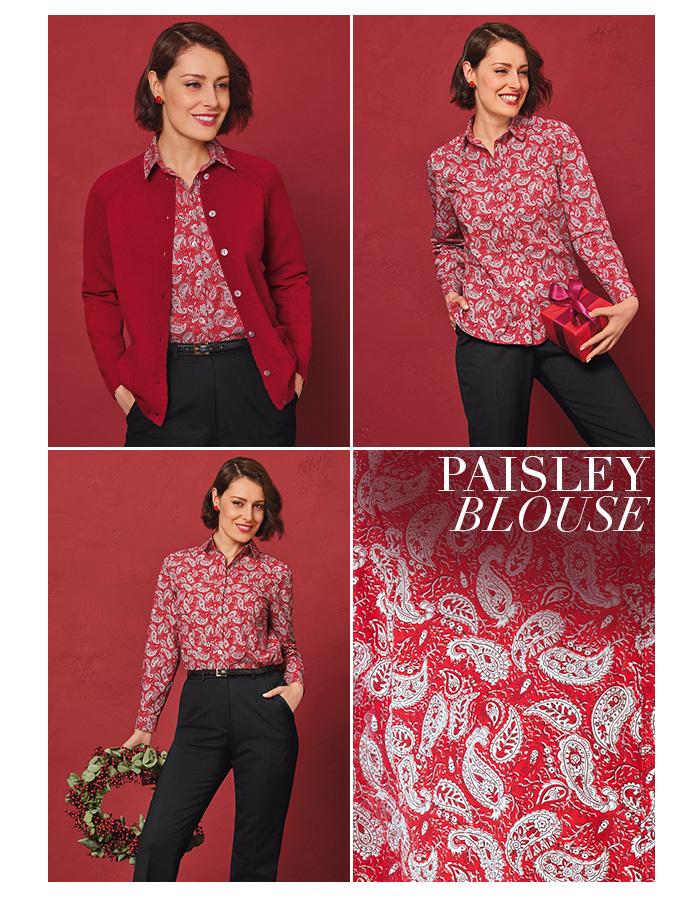 This blouse was selected exclusively for the Christmas season. While this piece showcases the most classic Christmas colours of Rouge and White, the paisley print gives this garment such a traditional style that can be worn formally or causally. We adore this print and how it reflects the mood of the season perfectly.  With its stunning shaping, this blouse is guaranteed to offer each look a sense of polished sophistication and style. Style this shirt for the wonderful upcoming season with our Classic Trousers or Rouge Raglan Lambswool Cardigan for a perfect festive look.
LUX Dress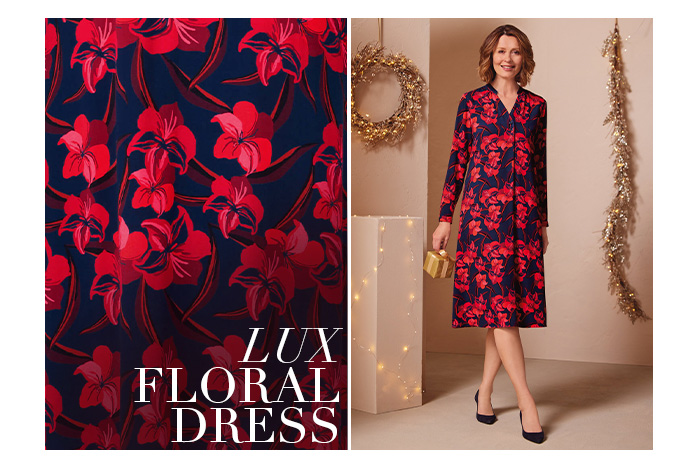 Featured within our exclusive LUX Range, this Printed Dress and matching Printed Blouse displays a stunning print to see you through Christmas time. With an array of events and gatherings going on, it is important to have a few staple prints that can help you feel amazing at each one of them. This Navy and Red floral print is in such a beautiful colour palette and the design works perfectly for each occasion. These contrasting colours, complement each other beautifully so you can feel confident and elegant in a stylish stand-out look.
William Morris Gifts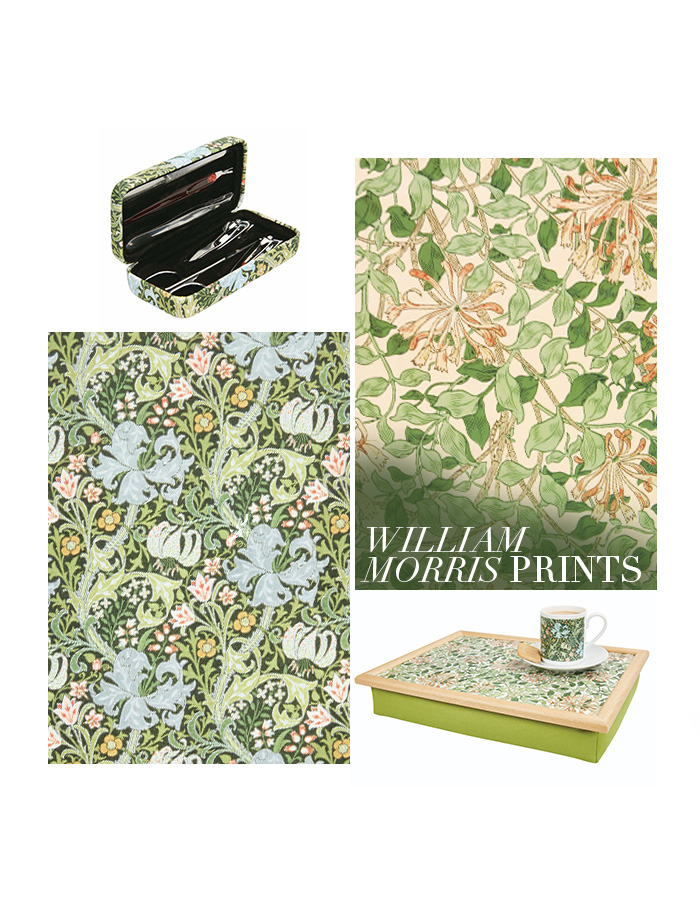 Giving your loved ones something special seems like it gets more difficult each year. Therefore, we have a wide selection of timeless and sentimental gifts featured within our Christmas Issue 2022. Our stunning prints even make their way into our giftware range, including the exceptional prints by William Morris. Pieces from manicure sets to cushion trays are showcasing these timeless Goldenlily and Honeysuckle prints. Discover our latest giftware within our Christmas Issue, to make each gift this year a success.
We love to hear feedback and comments. Let us know what you think about our latest range of prints in the comment below…