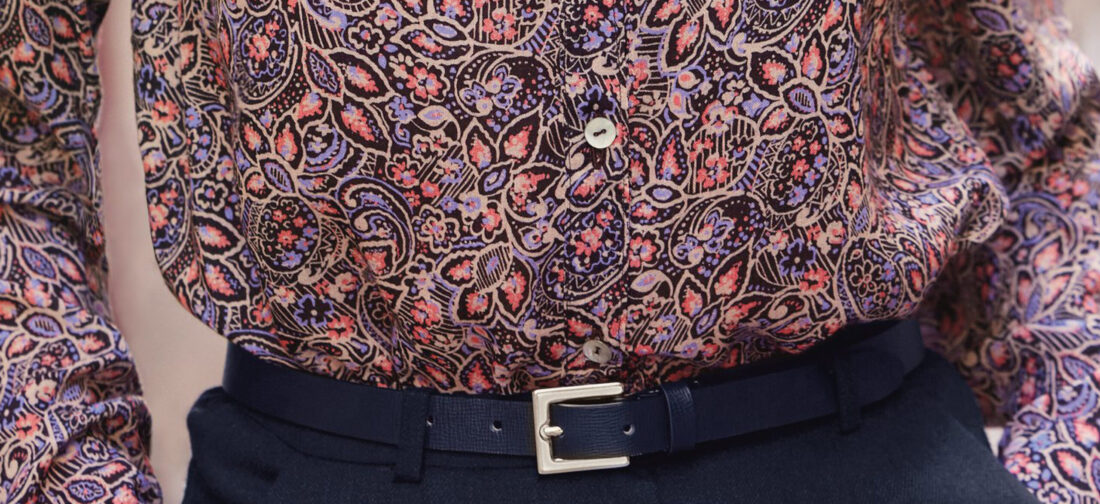 Prints and patterns bring instant elegance and style to a look, and we take pride in the designs we showcase each season. Our Winter Issue 2022 displays some of the best printed and patterned garments on offer, from abstracts, checks to paisley prints, these will become the highlight of your wardrobe. This journal gives us the opportunity to shine a light on a few of the prints and patterns that we are loving and will hopefully give you inspiration for some future seasonal looks.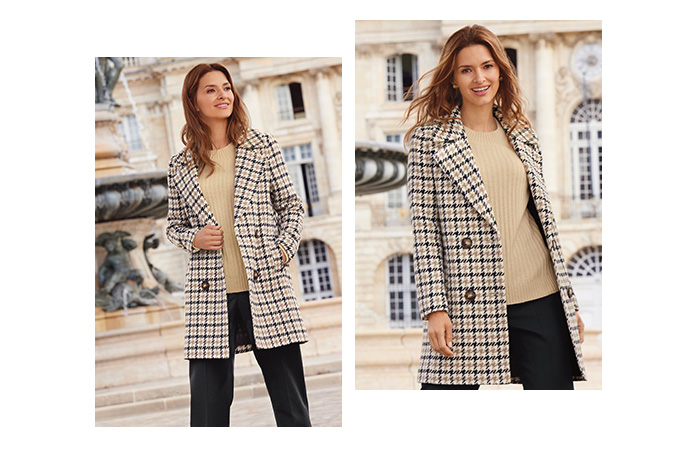 This stunning contrasting check creates a modern approach to such a timeless style. In sophisticated shades of taupe, black and ecru the versatile colour scheme allows this coat to be matched with a wide array of other garments from smart to casual. The relaxed yet tailored fit makes this piece the most perfect and comfortable layering option for the end of the year, whilst creating an eye-catching statement. So, whether you're taking a stroll in the cool air or attending a lovely evening do, this is a classic style that encapsulates dressing to impress.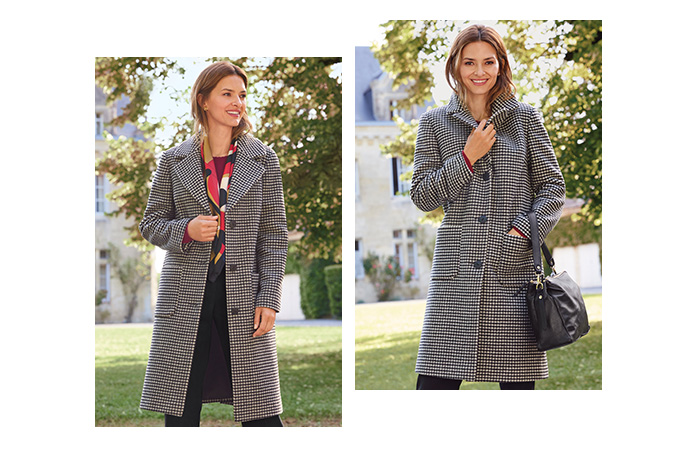 Similarly, to our Checked Coat, this classic dog tooth pattern guarantees a beautiful and classic outfit. Easy to style, the black and white tones are the perfect canvas for coupling with matching shades, or even some more lively colours such as rouge and emerald. This wool-blend was specifically selected to make sure this coat will become a winter staple; due to the insulation and warmth it provides, even on the coldest of days. Walk into the new season with this dogtooth pattern that achieves the best in versatility and timeless style.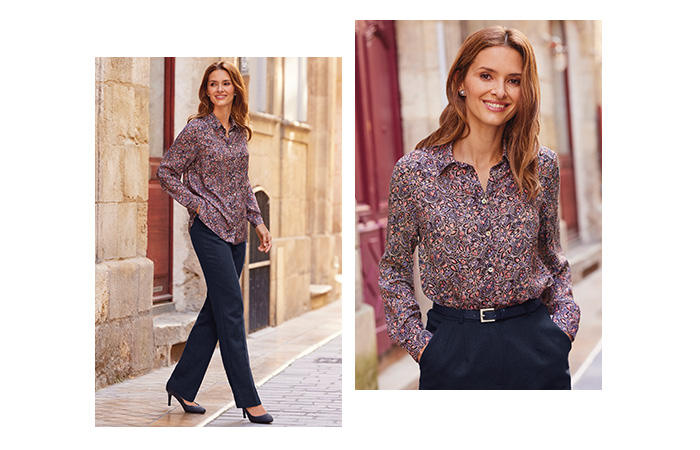 Classic styling never fails to achieve a beautiful outfit, and our carefully crafted Classic Blouse offers an outstanding traditional look. The subtle tones of lavender and rose contrast beautifully with the black, making this piece not just a standout shirt, but one that will become a wardrobe staple within the upcoming months.  Although the charming and intricate floral print is the focal point of this garment, this piece is still tailored to perfection to make sure it gives you a flattering shape. Style this with an array of garments from casual trousers to classic trousers, or even a neutral skirt for a smarter occasion.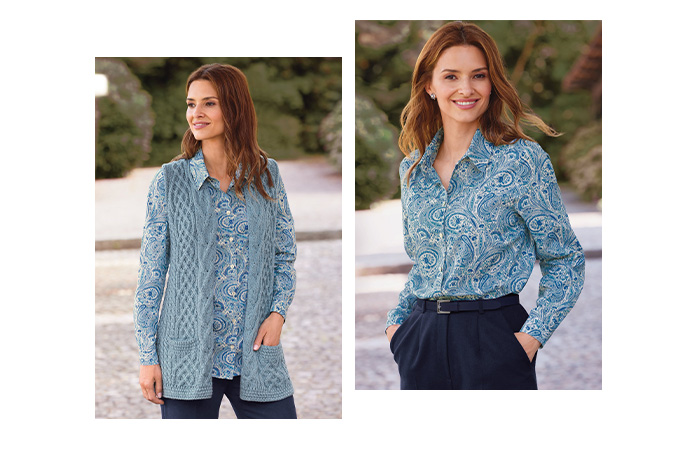 Crafted with top quality Liberty Tana lawn fabric, this detailed blue paisley print is a stunning design that brings an attractive touch to an outfit. The brightness and subtle liveliness of this pattern is both fresh and feminine, making this ideal for casual and formal wear. Paired with relaxed or even smarter garments, this promises effortless and chic styling for everything you have lined up in the months ahead. In addition to the gorgeous print, we have fallen in love with this blouse due to its exceptional quality fibres. Made with soft and luxurious 100% cotton, this piece achieves all day comfort and breathability, taking it from beautiful to exceptional.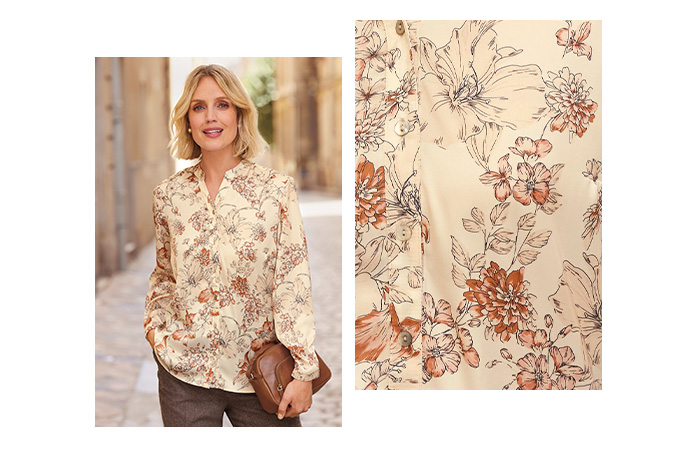 Satin is such a luxurious and fluid material, so it was highly important to offer a print just as sophisticated and wonderful as the fabric. To capture the fine quality of this garment, this print is created in flattering champagne tones to offer enhanced luxury and style. The delicate illustrations display an array of stunning and graceful hand-drawn florals that are intricate and fashionable but not overwhelming. The subtle yet luxuriant champagne hues allow this piece to be styled for every formal occasion from parties to weddings; along with any casual events you may be looking forward too.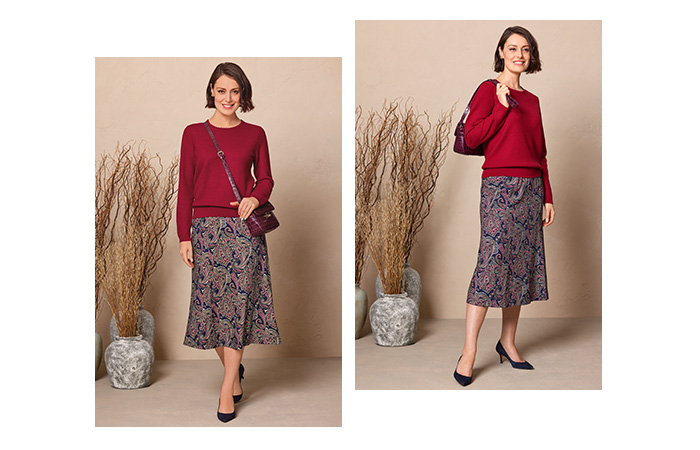 This skirt was specifically designed to allow staple layering pieces from jumpers to jackets to pair with this garment gracefully and stylishly.  Displayed in shades that reflect wonderful and versatile tones, our Binda Panel Skirt is an elegant garment and a perfect layering piece for the months ahead. This detailed and intricate design is unique and also ensures you have a fashionable lively print within your wardrobe, perfect for dressing up or styling down. With a graceful flair these 100% viscose fibres showcase this stunning design in the most fluid and beautiful way possible.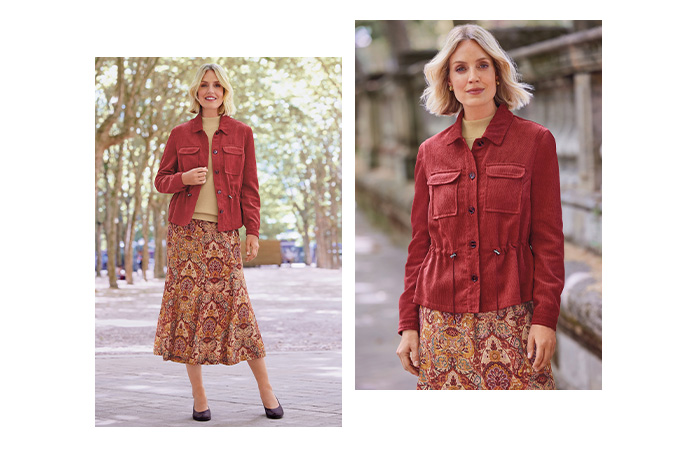 Another charming and eye-catching skirt we have featured within this collection is our ginger Panel Skirt. This stunning garment has eight panels displaying the most beautiful warm toned pattern that is both lively and chic. These warming shades of ginger, red and amber complement each other perfectly, whilst the fluidity and flare of the luxurious material creates a stunning spectacle of seasonal shades, appropriate for the upcoming months. Dress this with everything from casual trainers to formal heels to look outstanding and glamorous everywhere you go.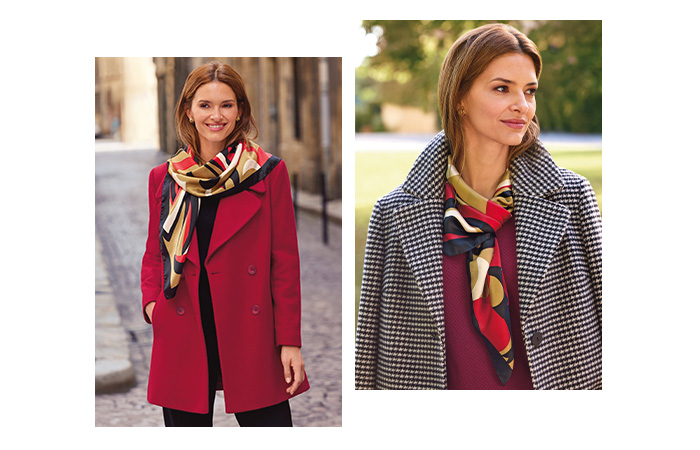 When it comes to accessorising, we understand the polished style that is achieved when it comes to a statement accessory. One of our most loved pieces from this season's collection is our Italian Silk Scarf, that displays the most beautiful abstract paisley print in contrasting shades of red, black, and gold. This 100% silk scarf was specifically designed to elevate any outfit as effortlessly as possible. Pair this gorgeous piece with your favourite seasonal coat to instantly bring an essence of glamour to your look.
Let us know what you think about our latest print and patterns, or our Winter Issue 2022 in the comments below…