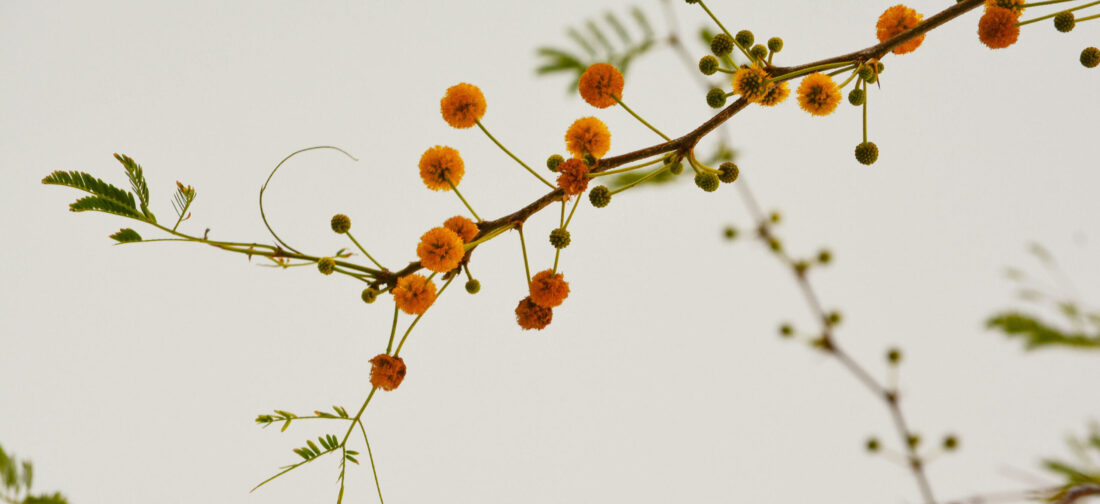 In this journal we have collected together some of our favourite garments that have been specifically designed for more of a vibrant look. We have some gorgeous ochres, reds and oranges creating our timeless range of autumn brights that are set to create a striking outfit, not just in the fall but all year round too! From skirts to blouses, we have a great selection of radiant pieces that are perfect for warmer days and for layering as it gets cooler. Take a look at what we have picked out below…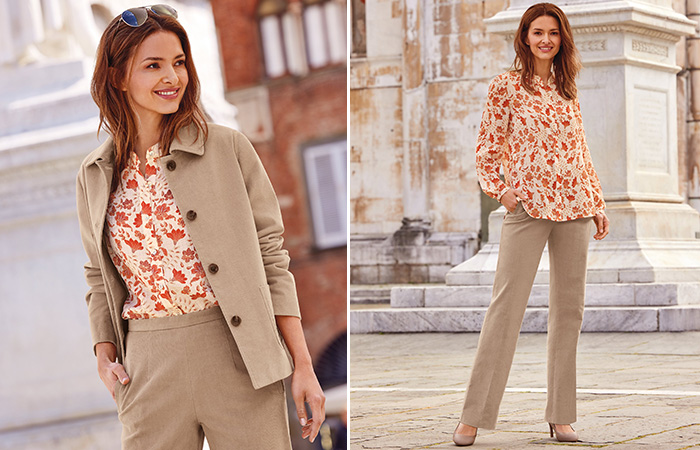 Our Textured Blouse showcases a stunning rust toned French floral print that is set to achieve an effortlessly pretty look. This blouse is beautifully lightweight and breathable, so even on the warmest of days this is a great wardrobe choice for you to treat yourself to. Pair with our Cord Jacket as the nights become cooler or if you would love to wear this garment all through the fall too.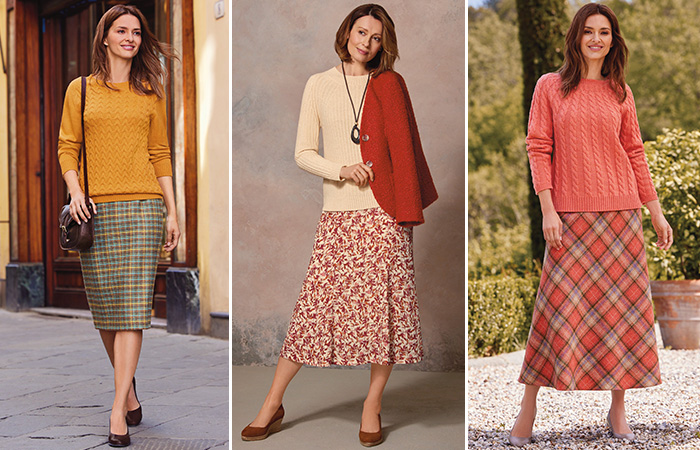 We believe that the transition from summer into fall is easily done with a skirt, as it's a really breathable garment whilst the temperatures remain high, but insulating enough to still look fabulous even as the temperatures drop. We are loving our Heritage Skirt due to its flattering shape and timeless design. Our designers have beautifully placed a subtle pop of colour into this design with the bright ochre stripes running through the checked pattern. This is great for formal events, however even better if you're just looking to add a little essence of uplifting colour into your wardrobe. Sticking with the classical theme, we are also loving our Heritage Bias Skirt, this really mixes a traditional style and modern colour palette together to create a really special garment. The vivid shades of peach and purple create a truly eye-catching and glamorous piece that is guaranteed to make an entrance.  A final skirt we would love to mention, is our rust Printed Skirt. Similarly to our Textured Blouse, this autumnal toned pattern is a delightfully lightweight material that displays a really stylish look for the warm summer days, as well as the lucky mellow fall ones!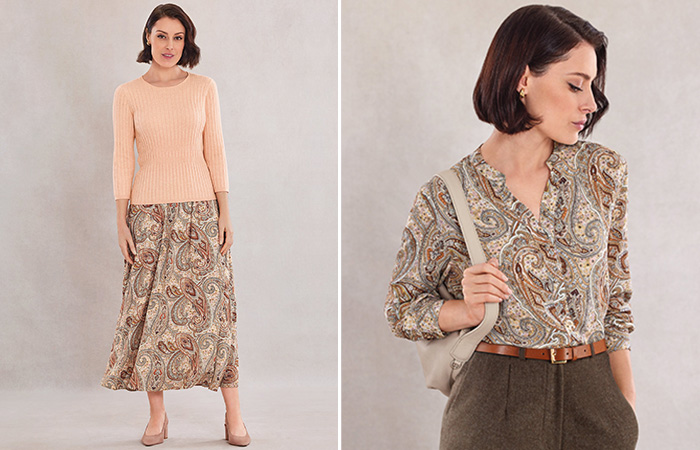 Muted shades don't mean that they have to be boring, and our intricate Paisley Pull on Skirt and matching Blouse is a prime example of a more gentle but lively print. Using shades of browns and hints of orange, these classy garments are a great way of including a few autumnal tones to introduce the new season. Even during warm weather, this fluid material is such a comfortable option to keep cool. You could pair each garment separately with either casual or formal pieces to fit for a range of occasions you may have lined up; or we think that paired together creates a fantastic two piece that is flattering, original and chic.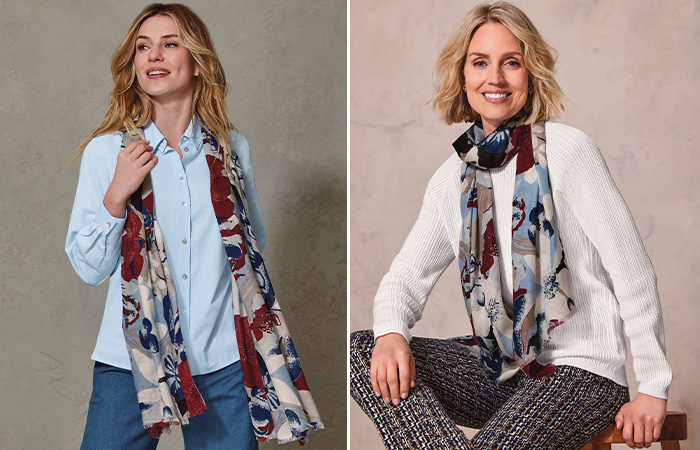 Scarves are so versatile, they are everything from shoulder wraps to snug accessories. During this time of the year we have a beautiful range of scarves that don't need to just provide warmth but offer great style. One of our favourite pieces from our Fall Issue 2022 is our deep red toned Floral Scarf. The 100% viscose fibres create a really soft and luxurious garment that is beyond stylish to slip round your shoulders; creating a classically fashionable look that shelters from the sun and even warms in the cool evenings.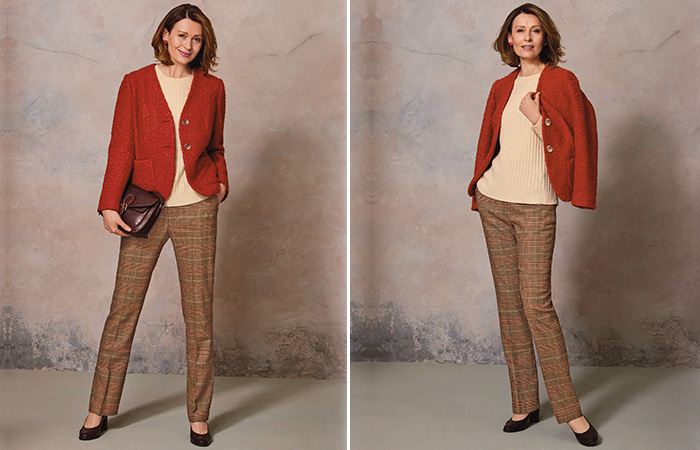 Whilst we are all making the most of the summer sun now, it's always great to be prepared for the milder fall days, where an extra layer is just right. This is why our designers have created our statement russet Bouclé Jacket for the upcoming season. Bouclé is a fantastic material that offers such a sense of luxury, and we wanted to include a fabric within this collection that you will reach for to feel comfortable and unrestricted. However, what really makes this jacket one of our favourites is the gorgeous shade of russet, making this piece a great pick if you're wanting to dress a little more daringly and confidently.
We love to see what you have to say about our latest collections and we love hearing from you! Let us know what you think of our latest autumnal tones or even our Fall Issue 2022 below….