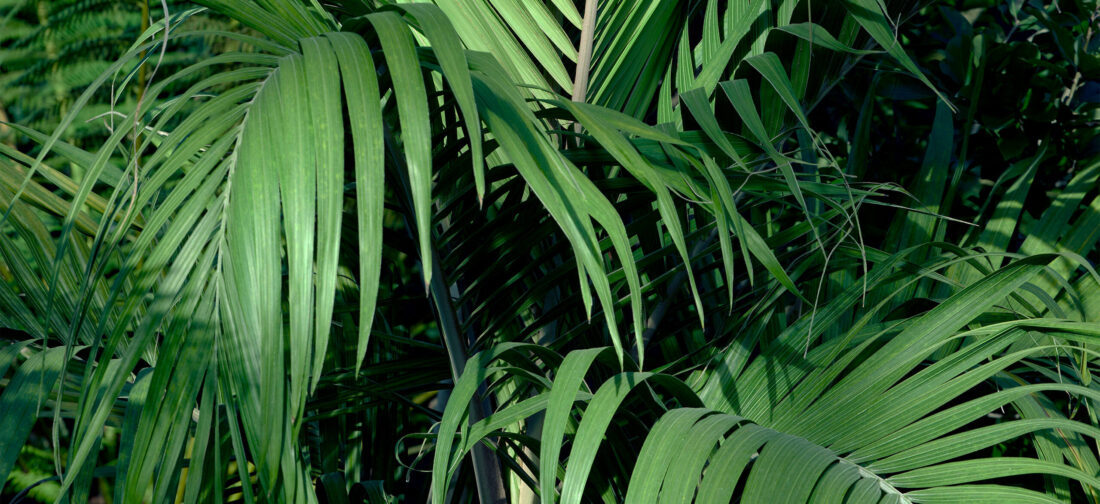 With the long and cold winter months finally behind us, summertime is drawing nearer. Finally, you can pack away your cosy heavy coats and knitwear that protected you from freezing temperatures but with the unpredictable British weather, it is always a good idea to be prepared. Beat the rollercoaster weather, where you could be enjoying the sunshine, then be facing fierce winds or rain, with clever layering. Summer can be a challenging season to dress for, but layers can help you keep warm or cool being easier to take off quickly to suit the ever-changing weather. If the temperatures rise, these pieces can easily be wrapped around your waist or over your shoulders. Our new lightweight and comfortable layers which can be worn now from our summer collection can help to ensure you look and feel your best.
In a timeless summer material, layer with our light and airy linen jacket with gentle body shaping in the top-stitched seams. This stunning casual jacket is unlined and styled with buttoned pockets and notched turn-back cuffs. Our white coloured outfit including a 100% cotton V-neck top paired with our lyocell and cotton blend cropped trousers and leather belt can help reflect the sun's rays when it's warm.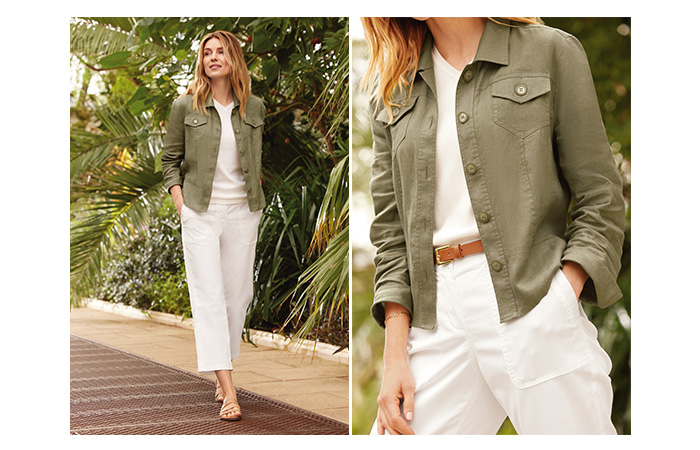 Keep the breeze away in this lightweight fully lined summer jacket, finished with two zipped pockets, self-coloured piping, top stitch detail and an inside pocket. It looks lovely worn with our neck detail T-shirt which complements the jacket beautifully and casual trousers.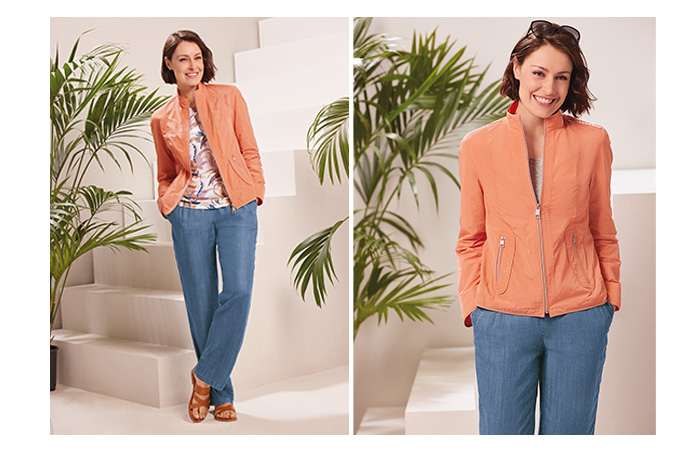 Our lovely unlined paisley jacket in 100% linen, with three-quarter sleeves and a front yoke with mock pocket flaps, is the perfect statement piece to wear throughout the summer season. It is finished with soft shoulder pads and top-stitch detail. Our V-neck jersey top and textured trousers delightfully complement this versatile jacket.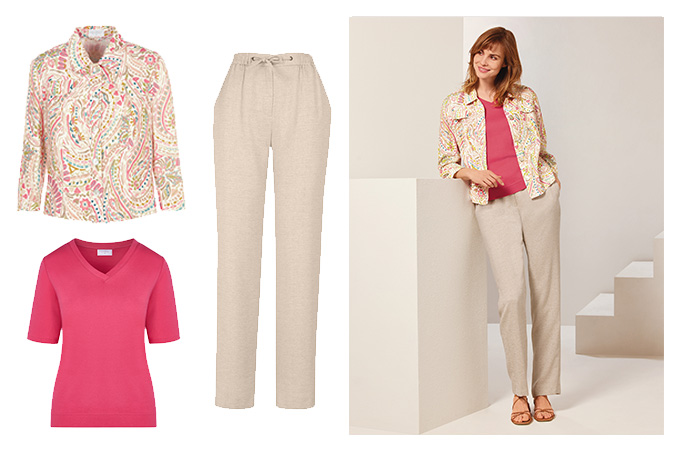 Our elegant safari-inspired jacket, featuring pockets with flaps, tonal shell buttons and three-quarter sleeves with turn-back cuffs, will smarten up your summer looks. Layer it with our batik effect T-shirt and textured trousers.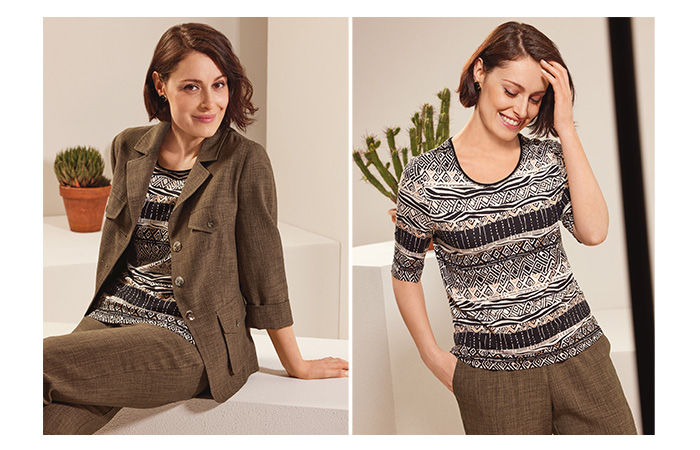 Dress head to toe in our charming lavender pieces suitable for any special occasion. Our soft fully lined jacket with self-coloured piping and top-stitch detail is styled with a stud fastened collar, a zip front with storm flap, zipped pockets and an inside pocket. It looks lovely paired with our checked blouse and classic trousers. Complete your look with our 100% modal scarf, woven for us in Italy with an airy openwork design. This generous soft check scarf is finished with tiny fringes.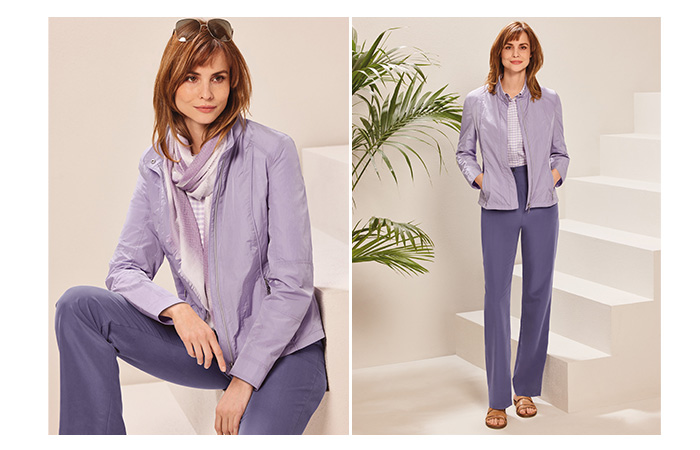 If you're looking for a seasonal and practical coat to protect you from any unpredictable weather, our emerald-coloured lined coat will make an excellent choice. It has a studded storm flap over the zip closure, a hood stored in the collar, integral waist adjustment, zipped pockets and a buttoned internal pocket. Pair it with our tape yarn jumper and cropped trousers.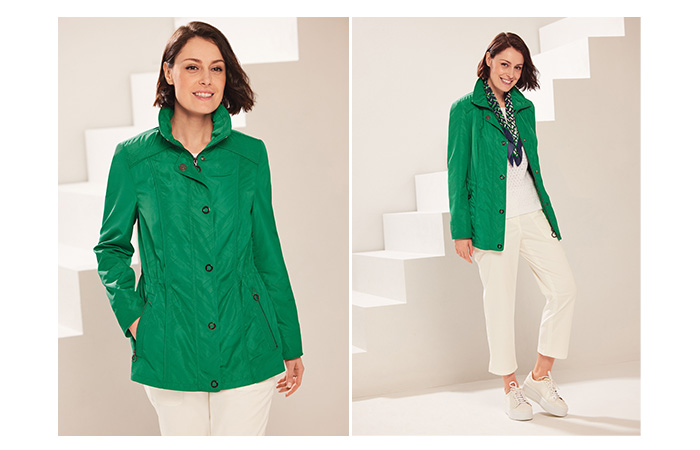 Our fully-fashioned edge to edge cardigan, made with yarn spun and knitted in Italy, is light enough to wear on warmer days. It has a flattering high back neck, side slits and beautiful pointelle stitch detail. Wear yours with our grey printed jersey T-shirt and jersey trousers.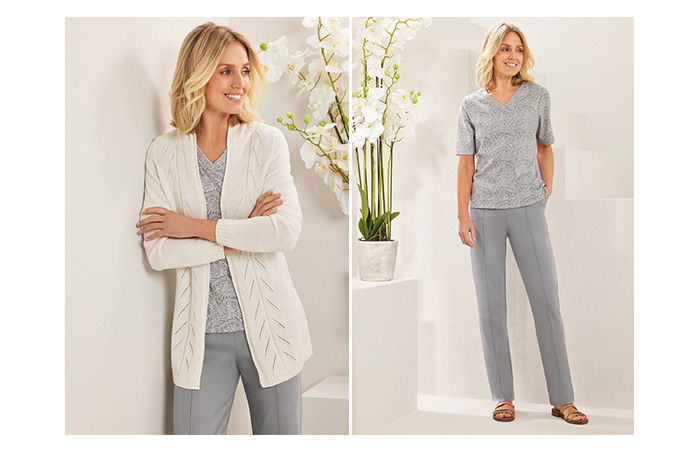 If there is a chill in the air, try our gorgeous floral jacquard jacket, with the clean lines of edge-to-edge styling. It has a flattering empress high back neckline, patch pockets and tubular trims. This fabulous knit jacket looks beautiful worn with our combed cotton top.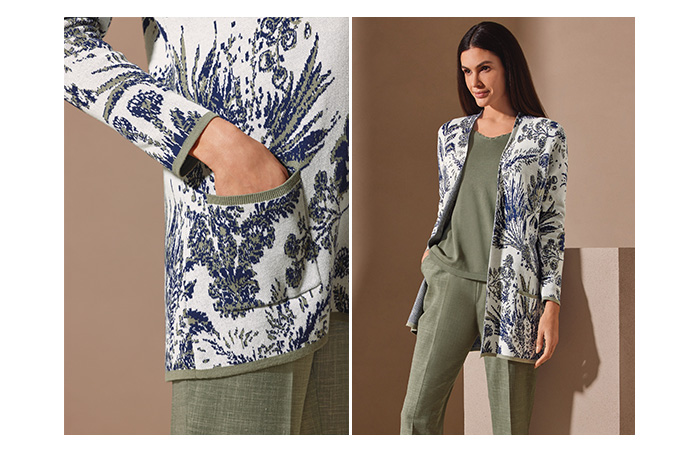 We'd love to hear which is your favourite layering piece from our summer collection? Let us know in the comments...