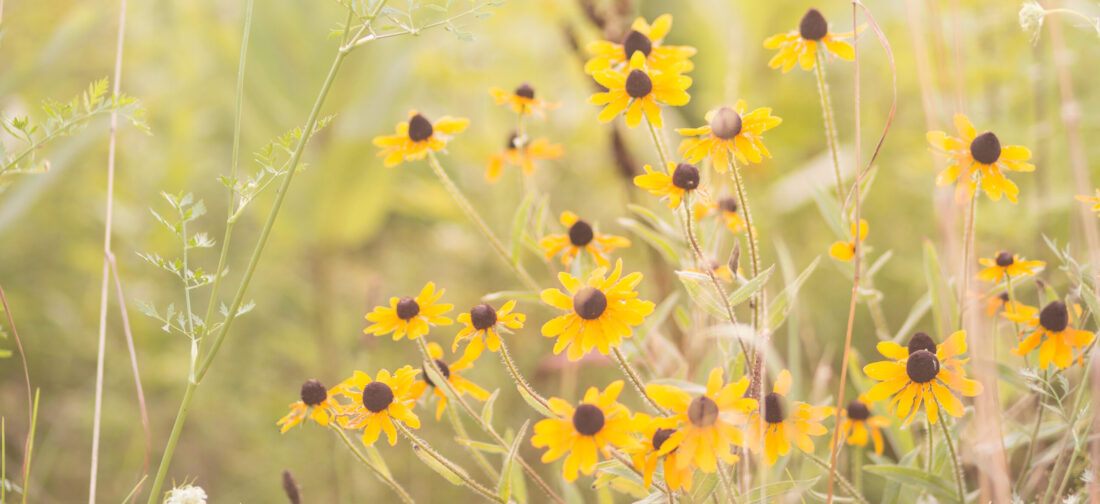 Summer is the season for colour and cheerfulness and looking forward to those brighter, sunny days ahead of us, with our collection of elegant and contemporary dresses in gorgeous fabrics. Dresses have been a wardrobe staple for a long time, whatever the season, they're the most versatile pieces that can be effortlessly worn day to evening. Our bright and breezy styles, that come in an array of fabulous seasonal colours, are perfect for all occasions, whether it is dressing up for an outdoor picnic, garden party, family gathering or a day out. If you're looking for something casual and comfortable, they are also ideal for lounging at home in. These beautiful dresses come in varying blends of viscose, linen and pure cotton, perfect to wear for the warmer weather. Choose from our plain or printed dresses in classic fit-and-flare or button-through styles with optional matching belts. These lovely pieces can be dressed up by adding our carefully chosen complementing accessories to complete your look. Be ready to feel and look fabulous in our figure-flattering pieces.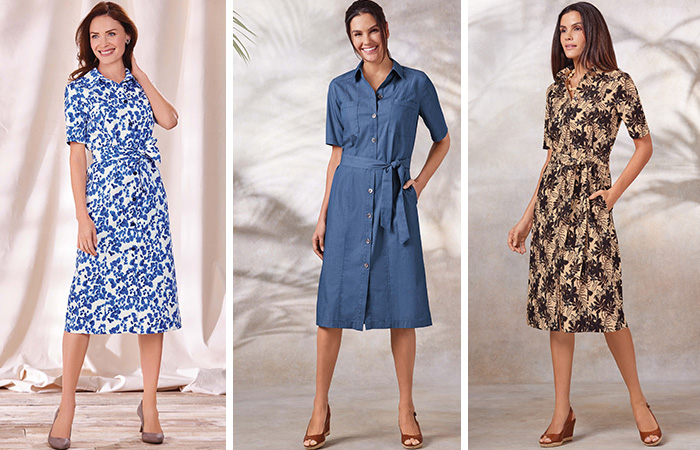 Our button-through dresses are one of our favourite styles that we're loving right now. The gorgeous designs effortlessly allow you to style them in different ways. You can wear them buttoned up or over a t-shirt for a more casual appearance. They are perfect to wear all year round and are available in plain and printed designs. The lovely flowing fabric of each dress is figure flattering and can be defined at the waist using a matching self-fabric tie belt. Our black dress features a stunning Italian floral design, has a shoulder yoke and side in-seam pockets. Alternatively, our elegant violet dress in a crisp cotton print is styled with a gentle body shape for a more comfortable and fitted look. If you're looking for something plain, our chambray shirt dress is made with a touch of stretch to hold it in shape and neat top-stitched seam detail. It is finished with useful in-seam side and breast pockets.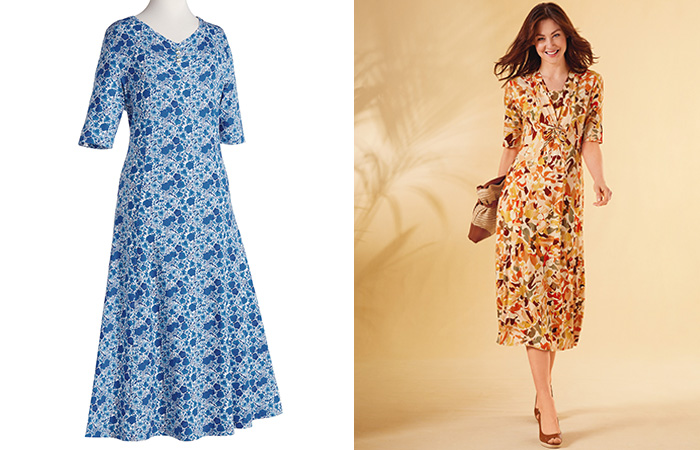 Make a statement in our vibrant short-sleeved printed jersey dresses in beautiful seasonal colours. Featuring a superb high-quality interlock jersey with a gorgeous floral print, our blue fit-and-flare dress has princess seam shaping and short sleeves. The flattering V-neckline features a pretty ruched detail and topped with little shell buttons. Our abstract print jersey dress featuring a fit-and-flare style also makes a great choice. The scoop neck front panel has a draped knot feature that draws in the waist to enhance the silhouette.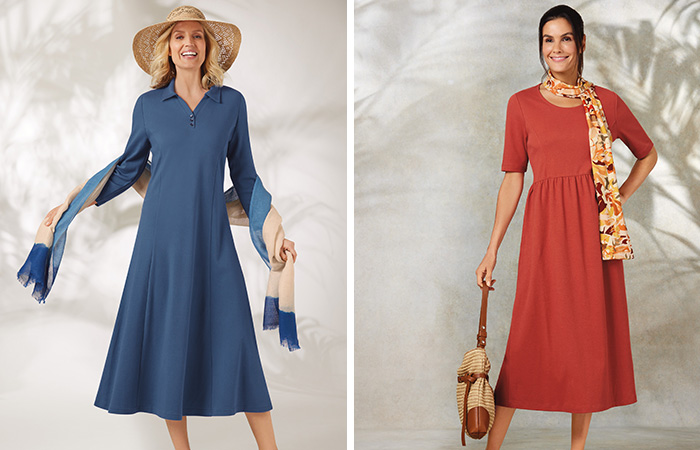 Our plain pure cotton jersey dresses are a must for your summer wardrobe. They are ideal for casual days out or lounging at home. With fabulous fit and flare, our mid-blue pull-on dress features a front placket opening with pretty shell buttons. It is styled with three-quarter sleeves and princess line panels that finish with a flattering flare at the hemline. Alternatively, our brick-coloured dress is perfect for warmer weather, with its princess line bodice seams and soft gathers below the raised waistline. It is styled with a scoop neck and practical side in-seam pockets to carry your essentials.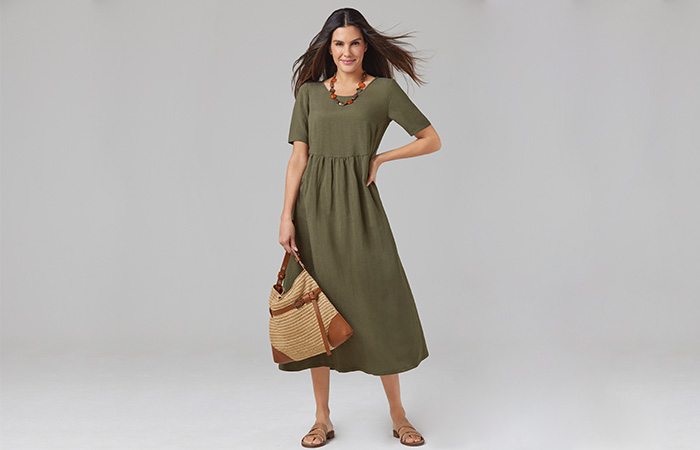 Elegant and sophisticated, our stylish Italian pull-on summer dress is a best seller this season. In a popular olive shade, this charming dress features a scoop neckline, short sleeves and self-coloured top-stitch seam detail. Available to pre-order.
Our elegant dresses are designed by us in the Cotswolds, and we pride ourselves on our premium quality and high standard garments. Our buyers are also clothing designers, and have a close working relationship with each of our manufacturers and mills to ensure that the high-quality pieces they visualised are transformed into the final garment you receive. Take a look below and follow the journey of our printed button-through dress.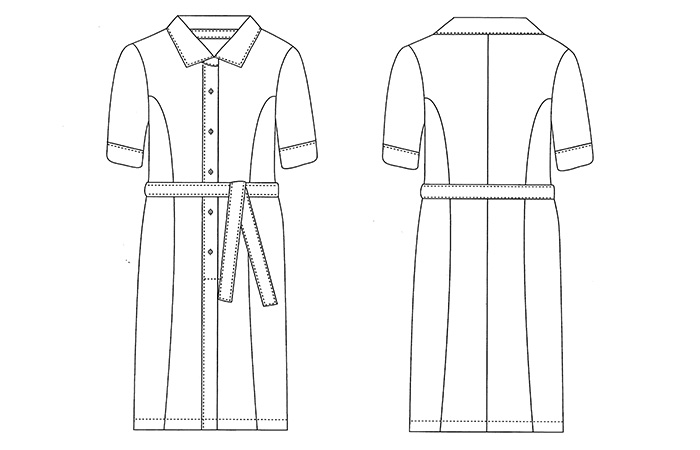 Our wovens designer/buyer, Sarah, will begin with a design concept of the dress and choosing the style, print and colour which will complement our collection perfectly. Then, our garment technologists will work closely with Sarah to make sure the size measurements and technical specifications are perfect.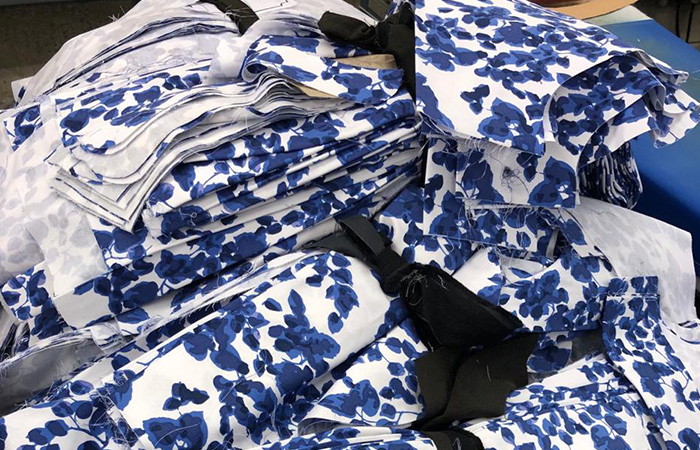 The finished design template is then given to our supplier, they will make the garment to the specification using the lovely floral fabric that has been chosen for this dress. In the next stage, our supplier will make a sample garment and send it to Sarah, who will have our in-house fit model try on the dress to see if anything needs to be changed to the shape or tailoring. Then a pattern of the dress is created, which our manufacturer will use to cut the fabric to shape. The sewing process will begin bringing the garment to life from the original design and the cut pieces of fabric.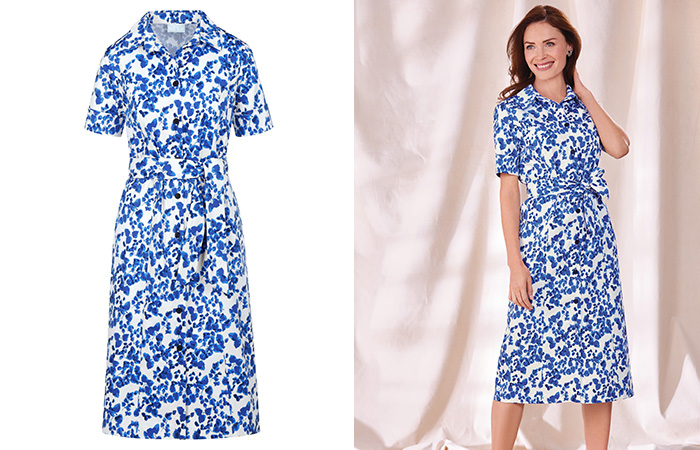 Once assembled, each dress will go through finishing, where it is examined thoroughly for any faults. In the last stage, the finished dresses are then steamed or ironed, packed and dispatched to our warehouse. When we receive the garment, it goes off to our photoshoot, where our models are photographed wearing the dress, our catalogue then gets printed and the product also gets uploaded on our website for you to order and look wonderful in.
We'd love to hear which is your favourite dress from our summer collection, let us know in the comments..