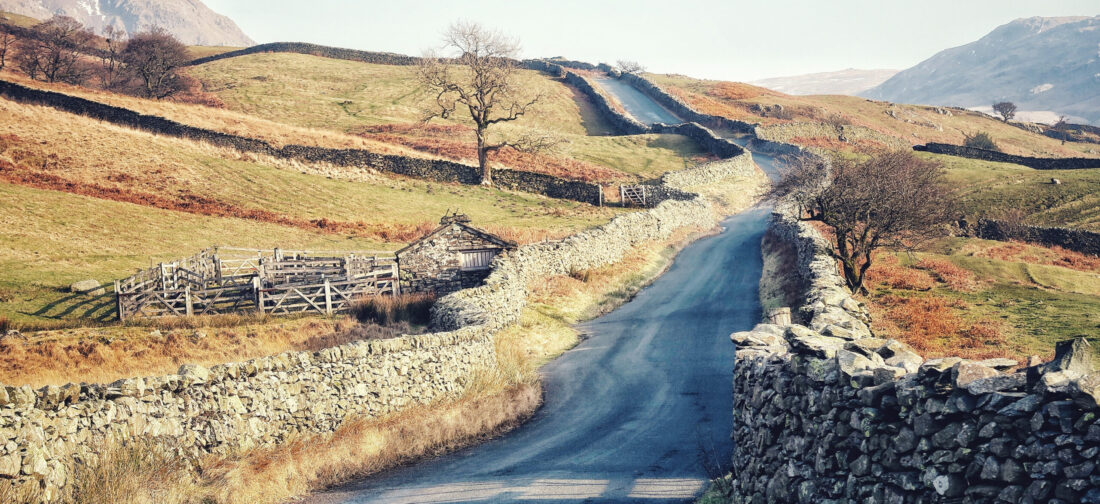 Take the time to admire our latest collection that celebrates British made clothes and the businesses who inject each of their iconic skills into our bespoke, refined collections. Accumulating each of their talents over generations, we are proud to maintain such long-standing relationships and to dedicate support to our British suppliers where we can, no matter the season.
Autumn/Winter is always an exhilarating time to partner up with suppliers in the UK, to allow our inspirations to come to life in true British fashion. Nobody here in Great Britain is a stranger to an additional layer, and the companies close to home truly understand the importance of Autumn/Winter layering. Bringing their knowledge of craftmanship to the table, they assist us to achieve a timeless, elegant flare through each collection, garment and idea.
This journal shines a light on our treasured British clothing in all its glory and will unpick the undeniable importance our special manufactures based in both England and Scotland.
Invest in timeless British clothing.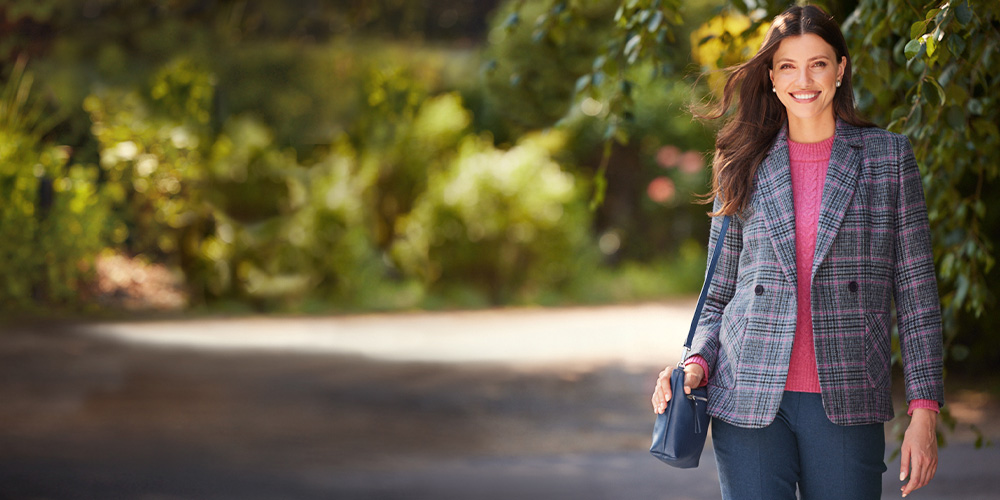 Made in Shetland using the finest 100% wool tweed, we are delighted to introduce to you a timeless classic with a chic, modern colour palette. Woven to pure perfection, this cloth has been gorgeously tailored to give your autumnal wardrobe a sophisticated lift whilst achieving a strong, feminine silhouette. Our workers here in Great Britain continue to place their efforts into traditional methods of manufacturing and on this special occasion, they have assisted us in putting an exclusive spin on a classic tweed jacket.
Treat yourself to the full heritage set:
When you're presented with such unique and exclusive designs it would be a shame to miss out… In a matching blue and pink woven cloth, this durable, timeless and insulating skirt is set to become your new wardrobe staple this Autumn/Winter. Formed using the best in traditional expertise, this pure Shetland wool presents all the wonderful features of classic British women's clothing. Working alongside our carefully selected mill continues to be a privilege; this experience has provided us with a bespoke collection of woven pieces that we are proud to provide to our loyal customers, so each of their years are filled with styling classic British clothing.
Discover true British made women's clothing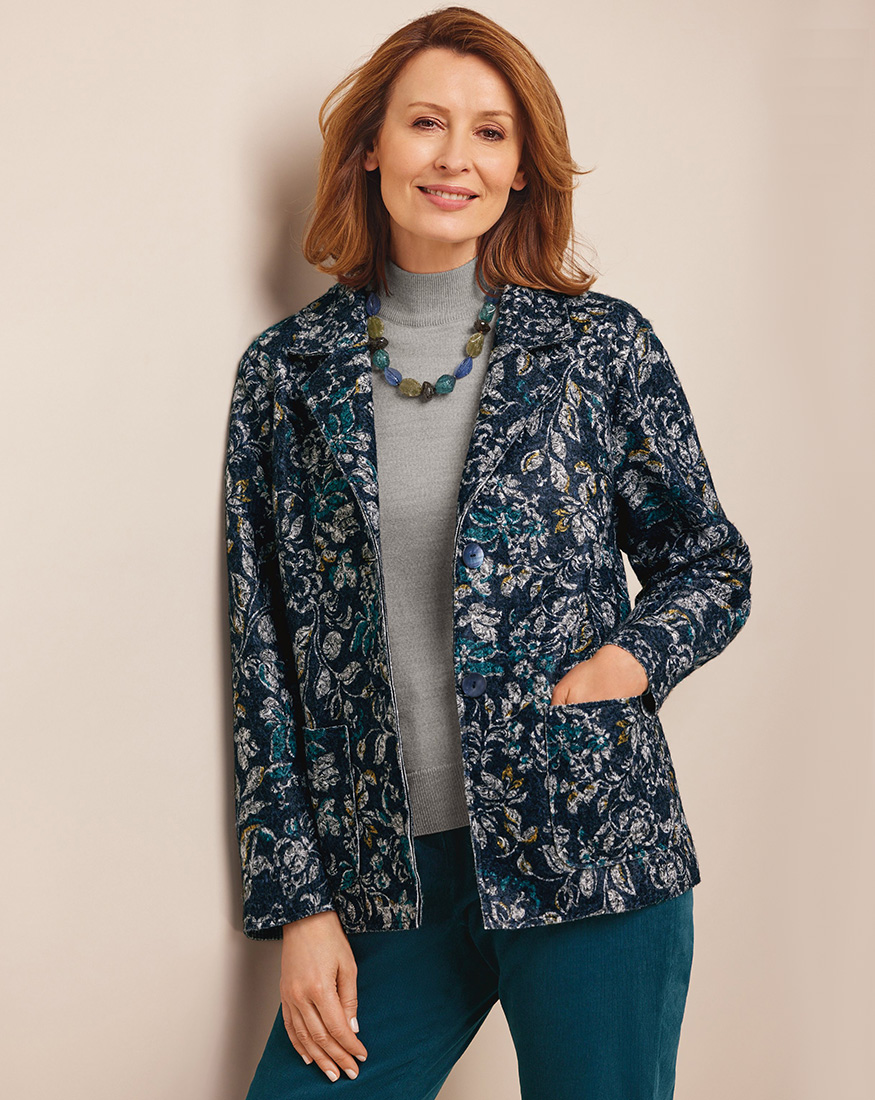 Welcome to your wardrobe effortless grace and refinement with our stunning Printed Boucle Jacket, the perfect layering piece as the temperatures begin to slowly dip. Working with a delicate and intricate French printed boucle fabric, our wonderful London manufacturers have fully embraced a classic design and silhouette, bringing quality and potential to each of your autumnal outfits.
Read more about the everlasting qualities of Boucle. 
Upgrade your everyday outfits with exceptional British made clothes.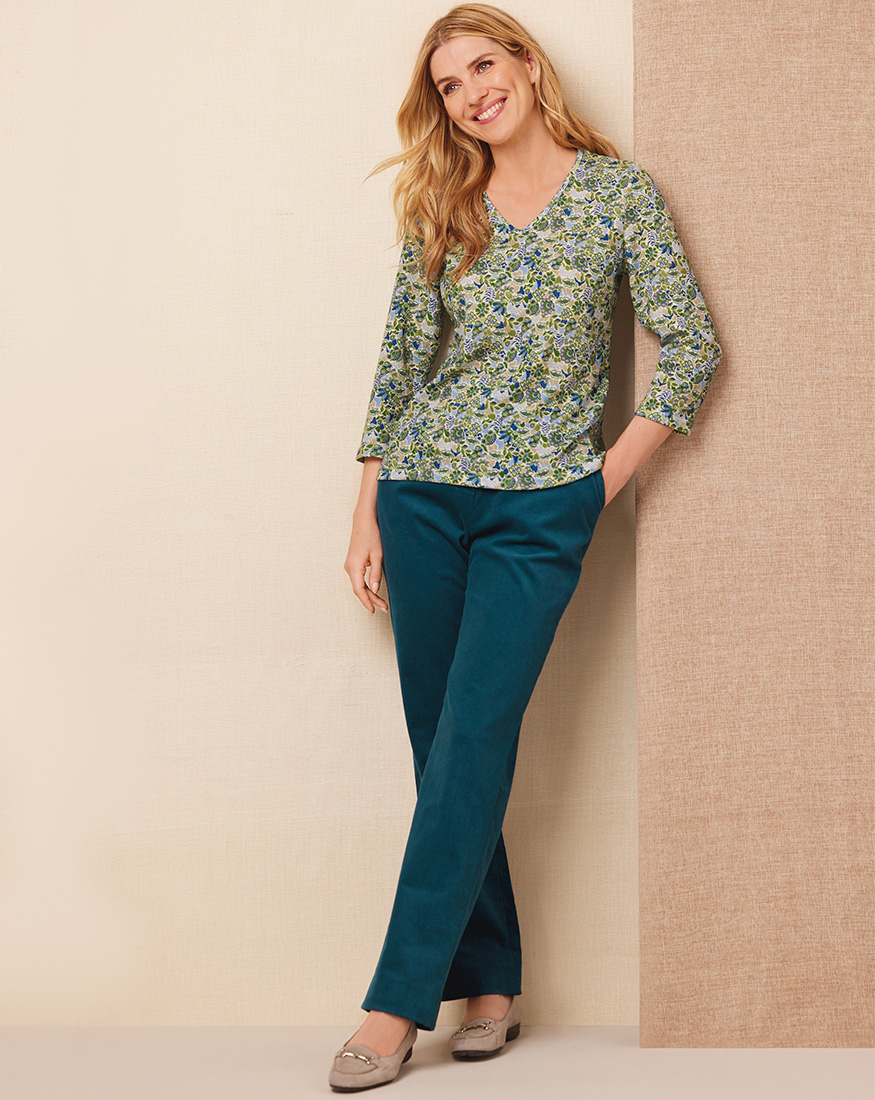 Embrace the quality and refinement of British manufacturing through your everyday looks, promising versatile separates that truly stand the test of time. Crafted in a stunning fine needlecord, this pair of peacock toned trousers complete the perfect casual outfit and features a hint of stretch for full comfort and refinement. Complementing this look is our floral Brushed Jersey Top, printed in spectacular tones of green; this soft-to-skin jersey has been formed to create an elongating V-neckline and three-quarter sleeves, for each season throughout the year.
Walk through winter in authentic British clothing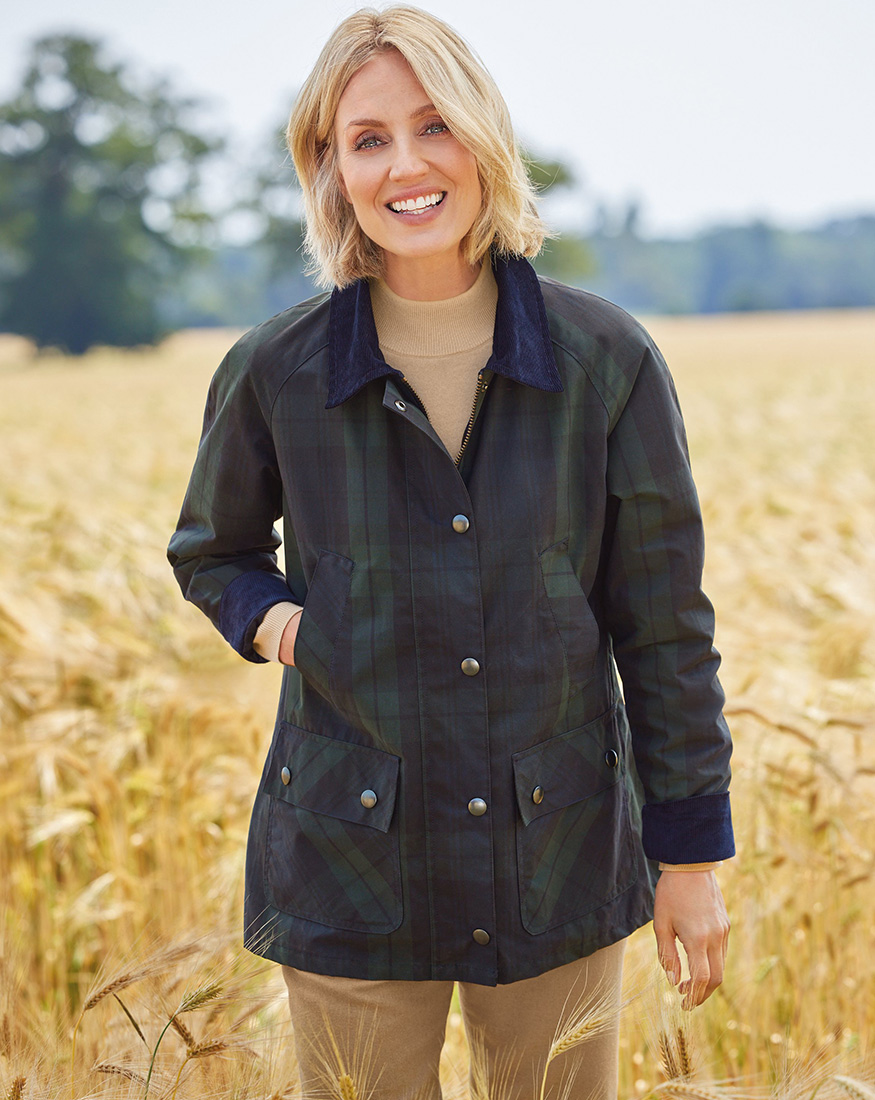 One of the unmissable qualities of an English autumn is a stroll in the crisp outdoors, layered up in the perfect drizzle-ready outerwear piece. Designed in a timeless British style, step out in a traditional waxed jacket, crafted to perfection right here in Great Britain. From the precise cutting to the waxing process, we are delighted with the time and detail that has been put into each of these jackets, to ensure our customers have a wonderful autumn spent outdoors. Working alongside a superb British clothing company, this outerwear staple is crafted with the finest 100% cotton and finished with a beautiful cord collar, the perfect timeless finishing touch.
Discover more items within our Autumn/Winter 2023 collection that have been beautifully crafted here in Britain.
We truly hope you find inspiration throughout our Autumn/Winter 2023 collection and that Cotswold Collections can continue to provide classic, elegant women's clothing that lasts a lifetime.
Have you taken a glance at our Autumn/Winter 2023 collection yet? Let us know in the comments block below…  
See what our customers have to say about Cotswold Collections on our Trustpilot >>
For more interesting updates and special offers, sign up for our email newsletters here >>