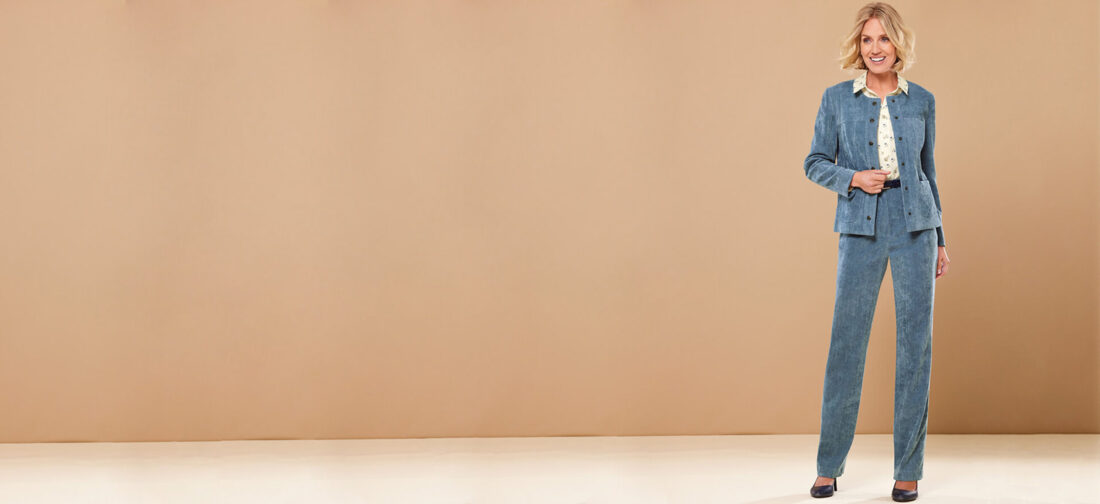 Join us, and look forward to a year of celebrations, as we turn 30 in 2023; and look out for some very special surprises along the way!
With the promise of spring to come, start the new season in style with these fresh, bright and airy outfits, perfect for wearing now, offering warmth and comfort and great layering opportunities as the season moves on.
With a relaxed vibe, feel positive and look good in flattering shades, soft shapes and smart lines, elevated with subtle textures and cheerful colours. Mix and match prints, stripes, plains and patterns in varying combinations to suit all occasions, with accessories and handbags carefully chosen to complement each outfit.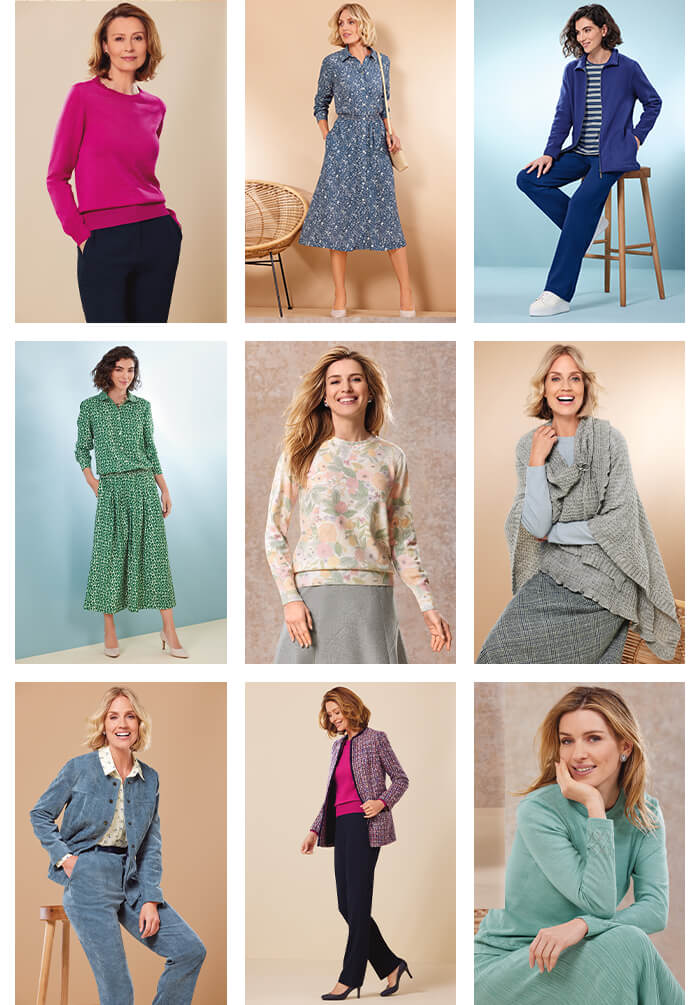 Casual Suit Styling
While this Cord Jacket and matching Trousers offer a sense of traditional styling with the shaping, they are completed by the modern touch of the blue tones. Tuck the flattering high waisted trousers into our delicate Classic Blouse to piece together a timeless look. Accessorise with Clip Earrings and a sophisticated Leather Belt to complete one of our truly favourite looks in this latest collection.
Blooming Gorgeous
Welcome the florals early this year with this stunning printed Skirt and Blouse. In gorgeous tones of emerald and cream, this floral pattern is effortlessly stylish and a timeless print for your wardrobe. Match together, or alternatively with a Leaf Green Scallop Trim Jumper or Emerald Classic Trousers. There's never too much emerald and this look is accessorised perfectly with our Long Bead Necklace and neutral toned Pebble Leather Bag.
Traditional Tweed
Tweed never fails to achieve an exceptional look; This traditional style is complemented by the uplifting yet modern tones of berry while the shaping of the boucle tweed offers a gorgeous French style. Team this piece with our matching pink Merino Jumper and Navy Casual Trousers to achieve a polished outfit. No look is complete without accessories and our Clip Earrings and Leather Bag finish this outfit off perfectly.
As Fresh As Spring
This look offers nothing more than a fresh approach to your wardrobe. The duck egg hues of the Pointelle Trim Jumper and Knitted Skirt are chic, yet offer a sense of delicate sophistication, while the Lilac Floral Print Scarf is the ideal accessory, displaying hints of duck egg blue, tying the whole look together perfectly. Enhance the elegance even further by styling this up with our versatile Clip Earrings for the most gorgeous Early Spring look.