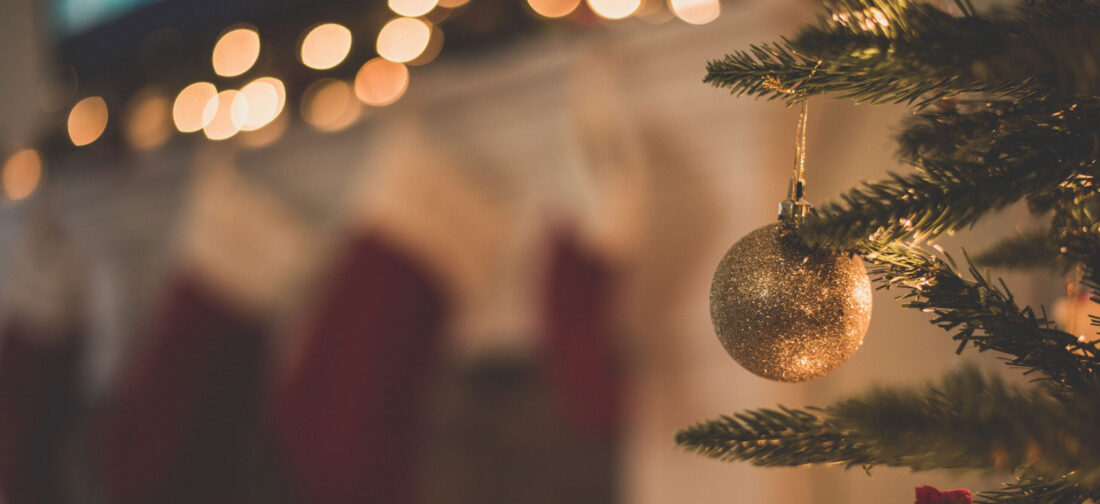 Designed to see you through the festive season with style, elegance, warmth and comfort. Little touches of subtle sparkle and shimmer create a festive feel in sumptuous, textural velvet, satin, velour and luxurious soft, brushed fabrics. Elevate your outfits with pretty prints and patterns, cheerful pops of colour in traditional jewel shades, creating superb outfit ideas for all occasions, indoors and out, in timeless designs for lasting style in an age of fast fashion.
We also include our popular selection of gifts, carefully selected for thoughtful and useful present ideas for your family and friends, with even more choice this year.
Wishing you all the best for the festive season. Enjoy!
Knitwear
Our gorgeous, versatile knitwear will keep you warm and stylish through any cooler days. They are the ideal layering pieces for changeable weather, available in many colours and great for dressing up any outfit. Discover our distinctively stylish relaxed-lux knit made in a superb light, but beautifully warm Italian wool and mohair blend yarn. This longline coatigan has a jacquard patchwork of contrasting stitches and colours, finished with patch pockets. For the ideal throw-on layer, opt for our luxurious poncho, knitted for us in Italy. This elegant layering piece is finished with a chic warming faux-fur collar. Our favourite is the soft pink knit, made with yarn spun and knitted in Italy, this superb cashmere-blend crewneck jumper is decorated with beautiful tonal beads.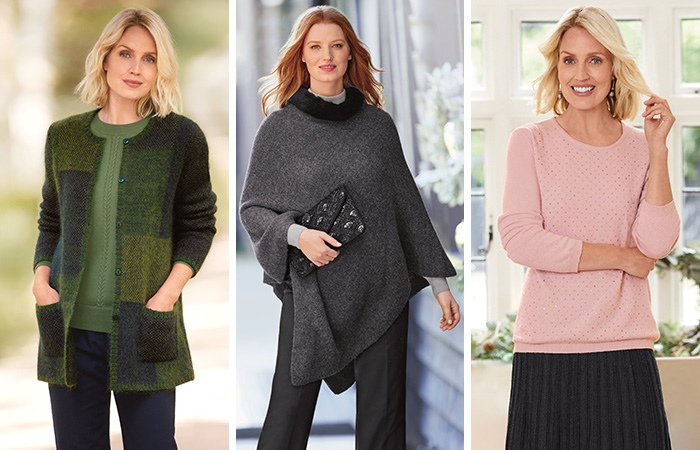 Dresses
Discover our sophisticated dresses, perfect for all occasions. These include a shapely princess line dress featuring a soft warm-handle printed jersey, with elastane to maintain its shape, and an easy to wear three-quarter-sleeved pull-on dress, made in beautifully rich devoré velvet.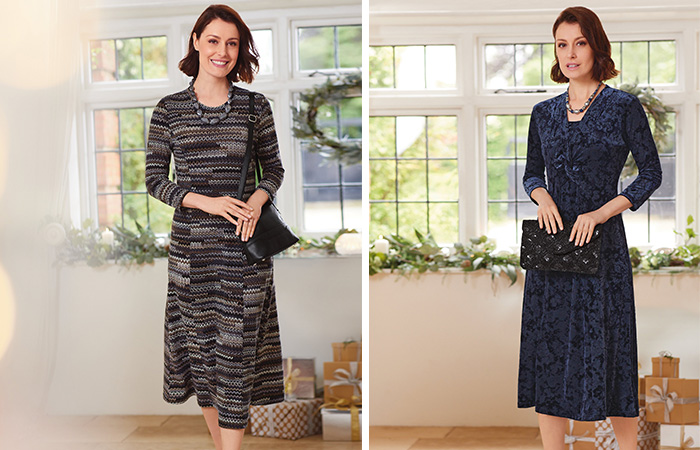 Blouses
Make a statement in our beautiful printed blouses that come in an array of lovely seasonal shades. Choose from our printed blouse in a stunning fern shade, our delightful blouse made with Liberty fabric and the printed blouse with a tie. They work wonderfully when worn with our gorgeous trousers.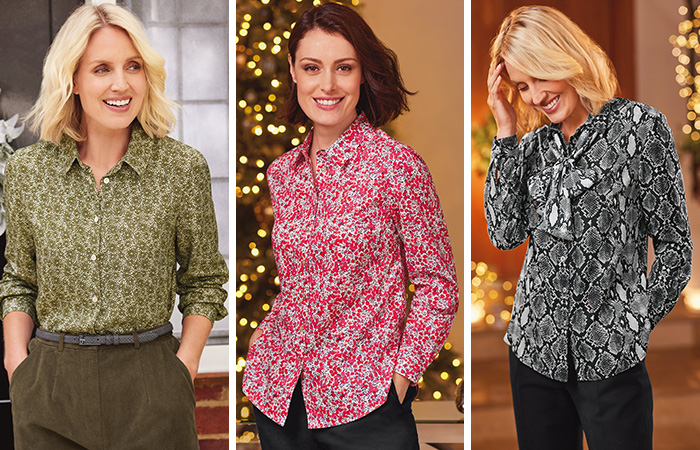 Jerseywear
Refresh your wardrobe with our comfortable and luxurious head-to-toe jerseywear. For a matching look, our printed velour top and trousers in a vibrant geometric print velour, will make an excellent choice or you can mix and match with our velvet trousers for relaxed festive dressing.  Alternatively, our scoopneck jersey top paired with our devoré six-panel floral skirt and scarf in a delightful shade of plum, is the perfect addition to your autumn wardrobe.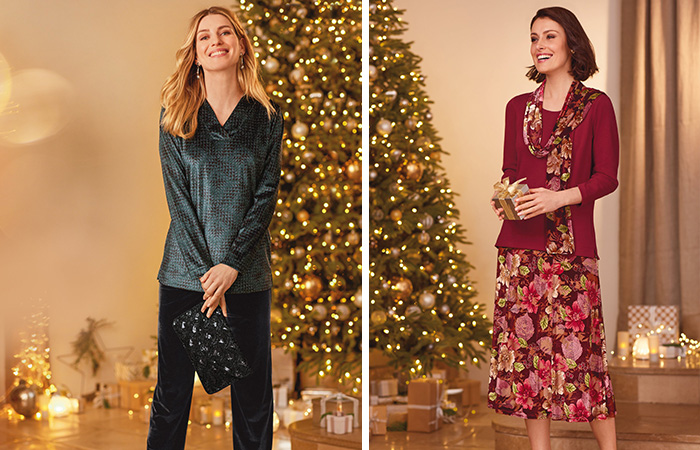 Glamourous style
Add a little bit of glamour to your outfits this festive season with our traditional and elegant pieces with subtle sparkle, sheen, and warmth. These stunning timeless pieces are designed to beautifully accentuate your figure. These versatile pieces offer hassle-free and effortless dressing for day to evening styling. Select your favourite look and choose from our opulent satin tunic, velvet jersey trousers, devoré mock-front top, velvet jersey skirt, mock-suede floral jacket and classic trousers.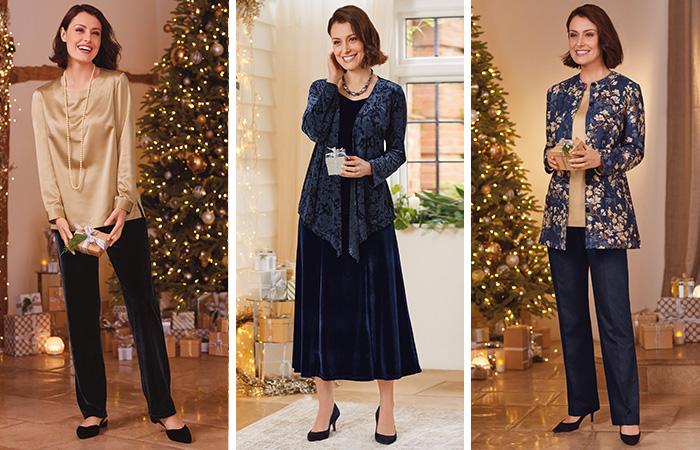 Accessories
Complete your outfits with our gorgeous new seasonal essentials to keep you warm, such as our knitted Scottish-made Fairisle pieces including a beret, scarf and gloves or our Aran knit cable hat, scarflet and wrist warmers.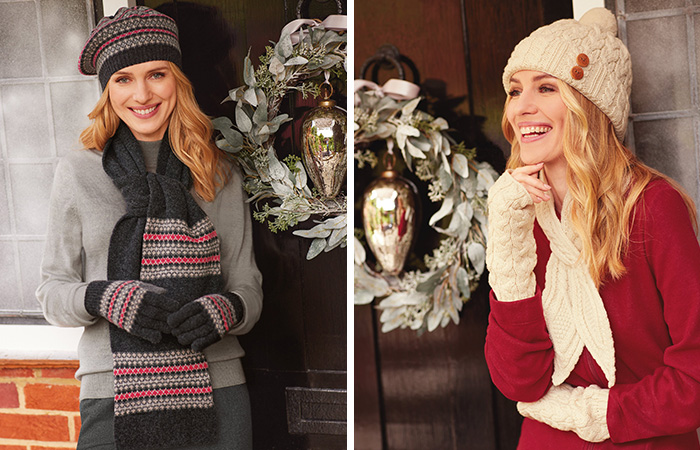 Gifts
Whether you're looking to spoil yourself or searching for the perfect presents for your friends and loved ones this Christmas, we've got our extensive selection of stunning gifts to choose from. Our new gift collection features everything you could wish for this festive season. From beautiful handmade jewellery, illustrated stationery, luxurious wellbeing products, warm winter accessories to our exclusive, made with Liberty fabric, Florentine, Celtic, Cotswold lavender, Beefayre, Cherith Harrison and William Morris designs.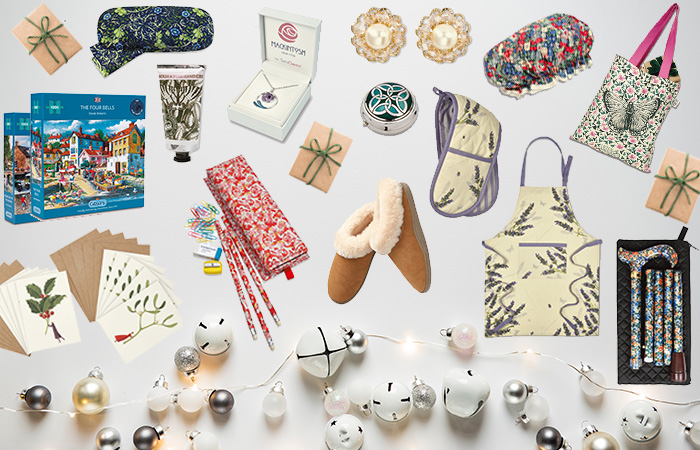 Gifts for him
We are also thrilled to introduce a new selection of Christmas gifts for men. Discover our printed tie, shoe care kit in a leather bag, handkerchiefs, slippers, Celtic pen and envelop opener set, accessories and wallets. Find a gift they will love.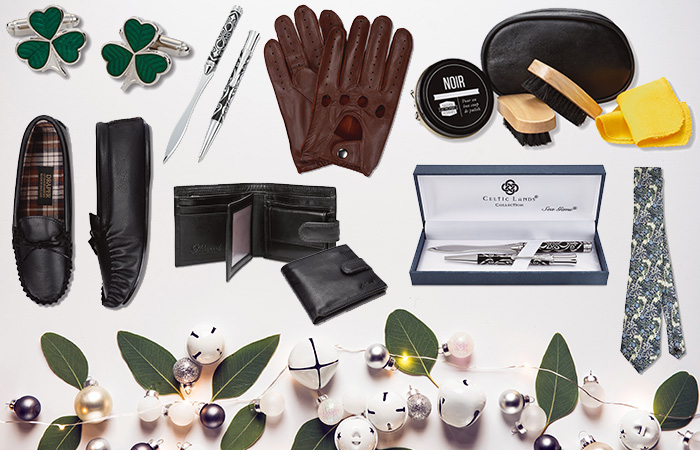 Discover more of our wide array of easy-wear, figure-flattering arrivals that you'll want to wear time and time again. Take a look at the full collection and find that must-have item | Click here to view the new arrivals >>
Watch our Christmas video for some wonderful outfit inspiration.
Become the face of Cotswold Collections! Have you been snapped wearing our clothes or accessories? For your chance to be featured on our social media platforms please send your photos to custserv@cotswoldcollections.com
Take a look at our Pinterest to see what inspired our latest collection >>
Follow us on Facebook here >>
Tweet us on Twitter >>
View our Instagram page >>
Don't forget we offer FREE UK RETURNS and sizes 8-24 across all our new styles. Want help with sizing? Click here to see our size guide >>
For more interesting updates and special offers, sign up for our email newsletters here >>