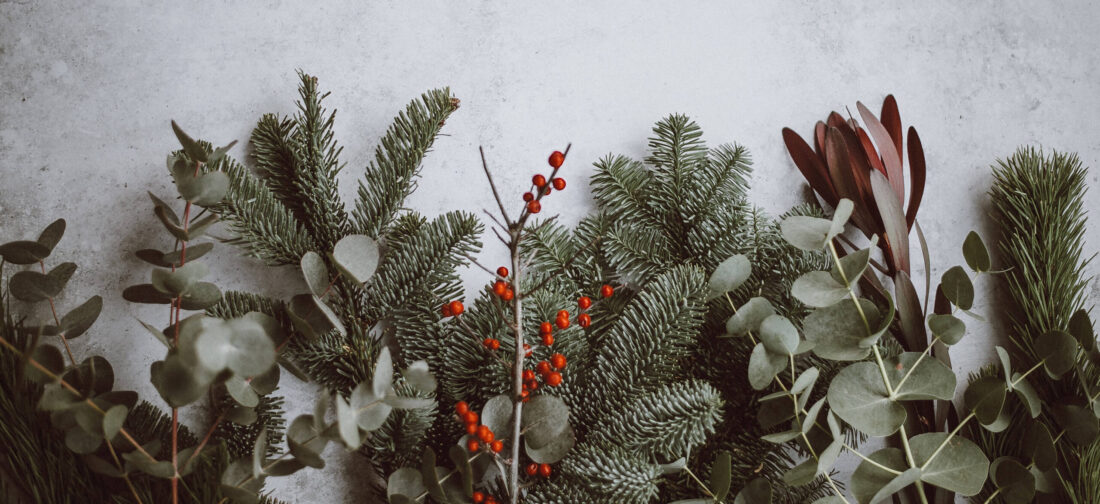 Our new collection brings in the opulence of the festive season with subtle sparkle, sheen and warmth in jewel colours, luxurious fabrics and wonderful textures.
Rich in ideas with traditional favourites and comfortable, soft, easy dressing; this new range offers accessible glamour and elegant, smart style. It has everything you need to create the perfect festive outfit, whether relaxing at home or enjoying a family occasion. Complete your outfits with our fabulous and abundant range of accessories that add the essential finishing touches to elevate your look. We have also made your Christmas shopping easy this year with a stunning selection of gifts to give friends and loved ones.
We thank you for your continued support. It is much appreciated.
Start building your seasonal layering pieces with our perfect insulating Italian or fisherman knit rib cardigans in gorgeous seasonal colours. Pair the lovely tie front longline cardigan with our Italian bead crewneck and classic trousers. If you're looking for a festive coloured cardigan, our red cardigan with crystal bead embellishment makes a fabulous choice. Pair the stunning cardigan with our sunray checked skirt and glass bead magnetic watch.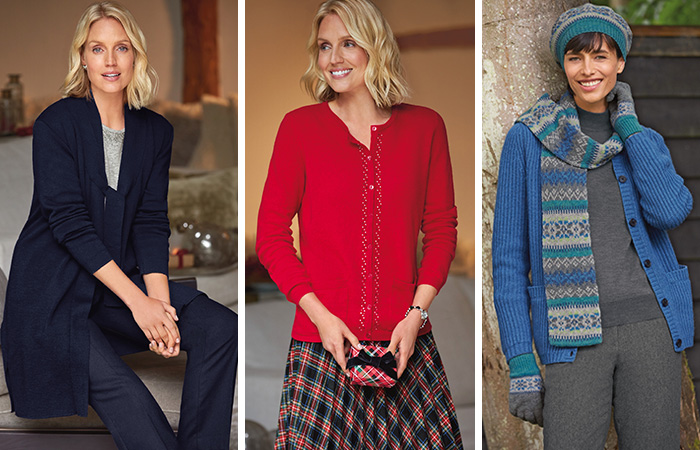 Alternatively, our rib-knit lambswool cardigan works wonderfully when worn with our merino turtleneck and classic trousers.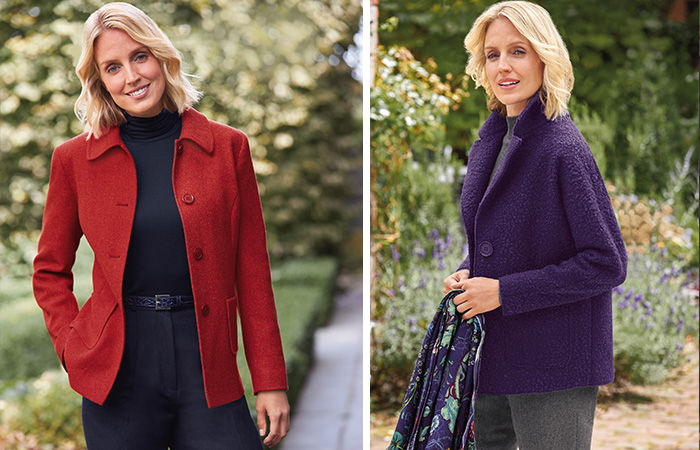 Make a stylish statement in our eye-catching Italian jackets, perfect for all occasions. Pair the classic jacket featuring a colourful mélange tweed with our navy jersey rollneck and classic trousers. Alternatively, pair our unlined bouclé jacket with our merino turtleneck and classic trousers.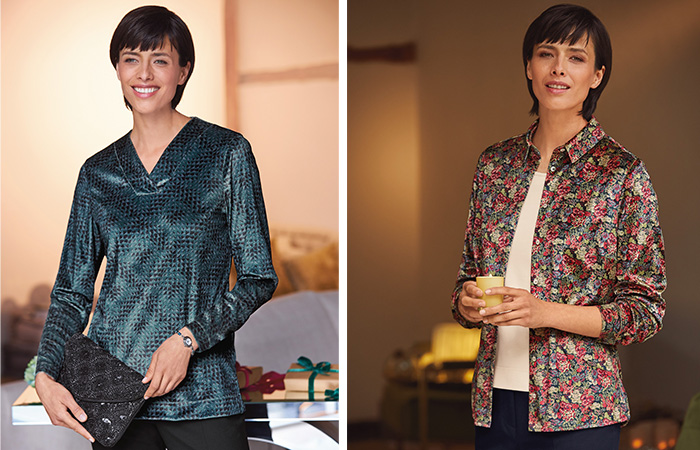 Refresh your wardrobe with our luxurious printed tops in velour fabrics, ideal for the festive season. With geometric print, our V-neck top worn with our matching printed velour or classic black trousers offers versatile relaxed dressing. Our fabulous floral velour print blouse complemented by our pima scoopneck jersey top and classic navy trousers will also make an excellent choice for sumptuous festive evening wear.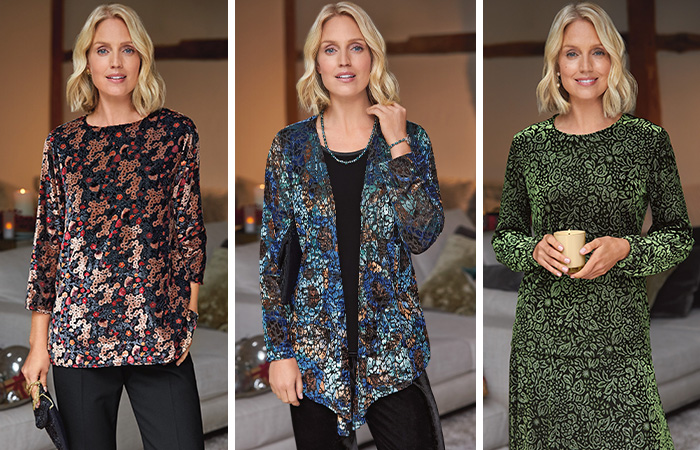 Add a little bit of glamour to your outfits this Christmas with our traditional and elegant pieces with subtle sparkle, sheen, and warmth. Choose from our devoré tunic, mock-front cardigan and top. Wear our gorgeous devoré tunic with our classic black trousers for a glamorous evening look. Alternatively, pair our mock-front cardigan in peacock shades of devoré jersey with our velvet jersey top and trousers. If you're looking for a top to toe matching outfit, try our devoré top and skirt with a soft velvety sheen.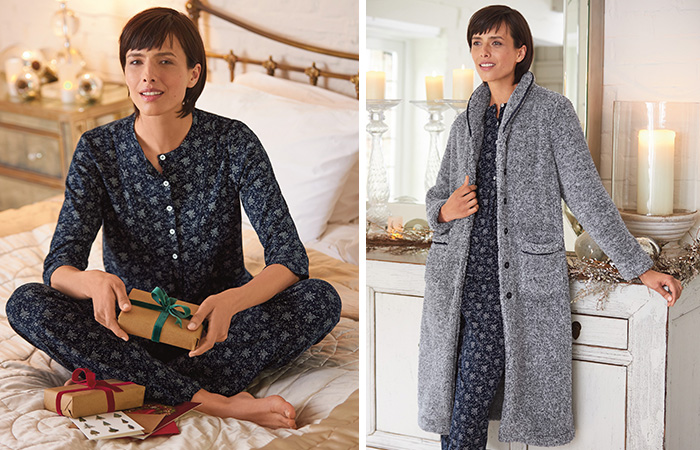 Keep warm and comfortable in our pretty new nightwear pieces, including a floral print pyjama set and cosy dressing gown, made in an indulgently warm mélange fleece.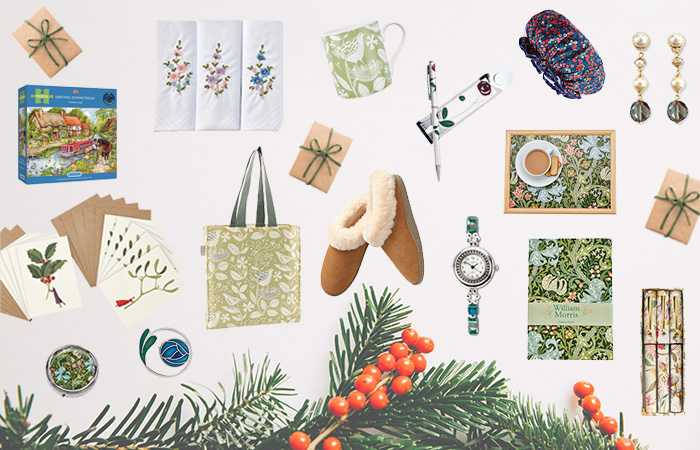 Find the perfect presents for your friends and loved ones this Christmas with our extensive selection of stunning gifts. Choose from elegant jewellery, puzzles, suede slippers and our exclusive liberty of London, William Morris designs and Hedgerow kitchenware.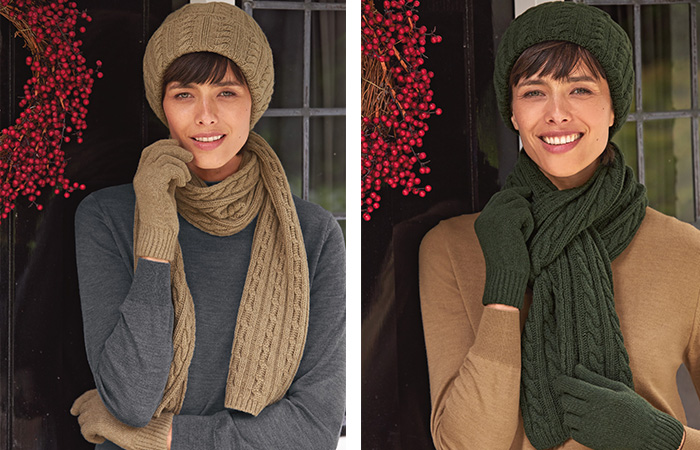 Complete your outfits with our stunning new accessories, such as our lovely Oatmeal and evergreen coloured cashmere-blend cable knit accessories including hat, scarf and gloves.
Discover more of our wide array of easy-wear, figure-flattering arrivals that you'll want to wear time and time again. Take a look at the full collection and find that must-have item | Click here to view the new arrivals >>
Become the face of Cotswold Collections! Have you been snapped wearing our clothes or accessories? For your chance to be featured on our social media platforms please send your photos to custserv@cotswoldcollections.com
Take a look at our Pinterest to see what inspired our latest collection >>
Follow us on Facebook here >>
Tweet us on Twitter >>
View our Instagram page >>
Don't forget we offer FREE UK RETURNS and sizes 8-24 across all our new styles. Want help with sizing? Click here to see our size guide >>
For more interesting updates and special offers, sign up for our email newsletters here >>