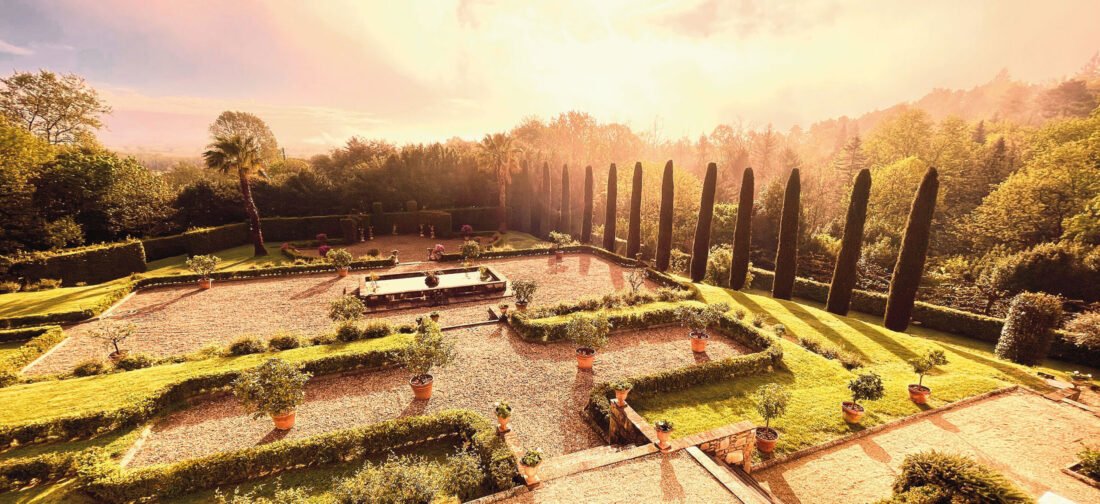 Enliven your fall wardrobe and look forward to this lovely season of change with our "Italian fall getaway" themed collection.  Inspired by the stunning location of Lucca in Tuscany, bright confident colours and textures echo the character of the landscape, adding vibrancy and richness to lift your mood.
Our heritage pieces, offering a smart classic look, are enhanced with uplifting pops of colour and we offer all the components of complete outfits for you to layer up or pare down, including Jackets, wraps and gilets, together with our ever-popular poncho. Look out for our stunning three-quarter length bouclé coat, Italian couture inspired quilted, printed jacket and our new style waxed jacket in a subtle check. Carefully selected accessories complement all our outfits in this new collection.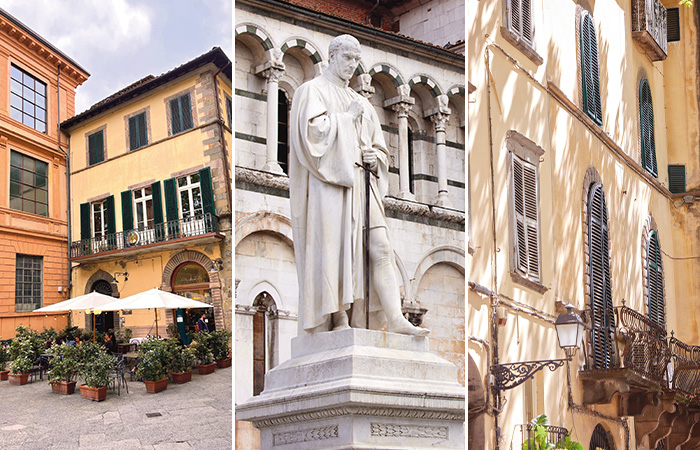 Outerwear
Our large selection of effortlessly stylish, yet practical outwear, has been perfectly crafted for all weathers and occasions. So, if you are planning on making the most of the fresh air this season we have you covered, no matter how fickle the weather may be. Our Faux Leather Jacket is ideal for layering, making any outfit instantly fashionable and more importantly lovely and warm, with the addition of the timeless faux wool bouclé collar. Alternatively, our rust toned Quilted Jacket is the perfect statement piece, appropriate for all crisp fall mornings or golden hour strolls. Finally, being original with your style has never been easier or more cosy with our Alpaca-blend Poncho or our Gilet, as the throw on nature of their designs create an immediately chic fall outfit.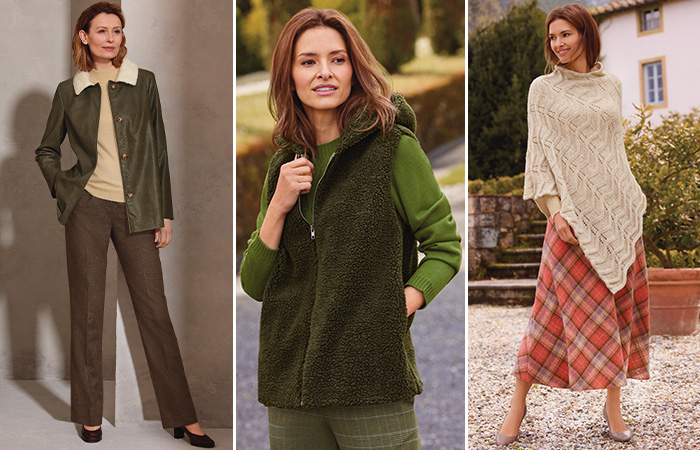 Jumpers
Autumn is about adjusting to the crisper temperatures and we have a beautiful collection of jumpers to help with the transition of the seasons. Made with top quality materials, our jumpers have been carefully created to not only feel snug but to create simply stunning wardrobe additions. Our Textured Knit Jumper is an everlasting design that will keep you comfy as the temperatures drop, whilst the pop of green will complement the change in the leaves stunningly year after year.  The playful pattern of our Polka Dot Jumper injects a little bit of fun into an outfit and the modest fit of this item, leaves it open to both relaxed and smarter occasions.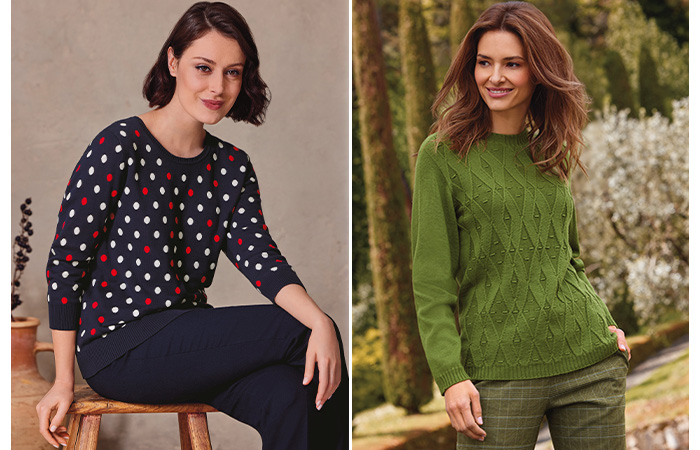 Tops
Explore our gorgeous range of tops from our latest collection, ranging from luxurious basics to exclusive prints, tailor made for your fall wardrobe. Our classic Striped Jersey Top is a casual staple, and the three-quarter sleeves make it suitable for wearing on its own on a milder day or layering underneath your favourite coat when it's a little chillier. Lounging around is such a treat and our Velour Top is just right to make the most of out your relaxation time. This fabric creates a heavenly soft and skin friendly material that is ideal for winding down; when paired with the matching Velour Trousers, this completes the perfect loungewear set. Just because spring is behind us doesn't mean florals are, and our Floral Jersey Top is a subtle yet playful print just right for the new season.  Layered with complementary browns or reds, this top has a really warming elegance to it.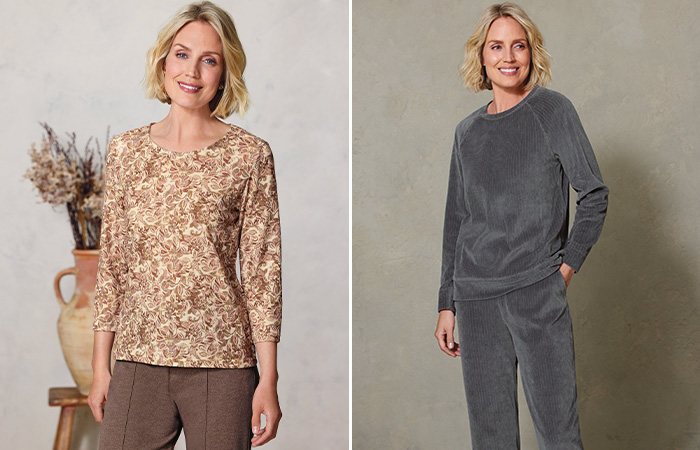 Skirts
Being well-dressed has always been simple with the help of a flattering skirt, and our latest collection showcases the finest skirts possible for the next season. You can dress up or dress down and still look incredible in our eight panel Cord Button Skirt. This fully lined skirt is finished with a neat strip of buttons down the centre line, creating a sleek fit that complements all figures. Skirts don't just belong in summer, and our vibrant yet traditional Heritage Bias Skirt is woven to perfection, giving you a more insulating and cosy approach to skirt wearing. Our warming yet fresh Soft Pleat Skirt offers a unique print with its hints of duck egg blue. These muted shades and soft pleats make this skirt fully adaptable to anything you have planned this fall.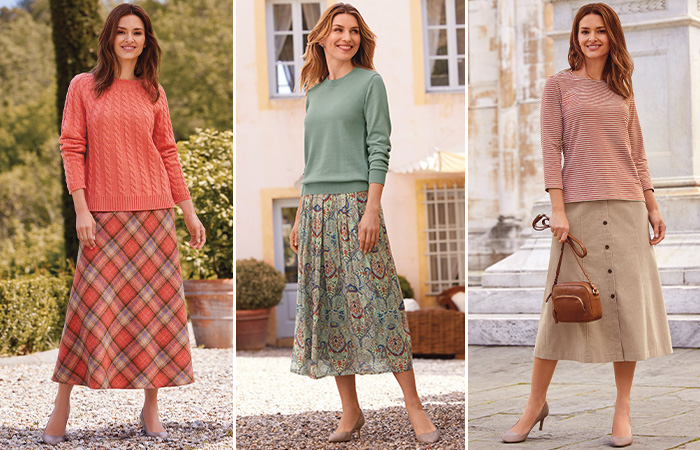 Accessories
Accessories transform an outfit, just when everything seems pulled together the addition of jewellery, a handbag or even a neck scarf, instantly adds another layer of style and class. Our latest collection has a range of carefully crafted accessories to bring the best out of your outfits. The Leather Saddle Bag is an everlasting classic with both the durable design and the dark chocolate shade; this is the final piece of the puzzle to any outfit you choose. We have focused on timeless themes that remain undeniably fashionable through our Silk Neckerchief and these 100% silk fibres allow even the most basic of outfits to become so chic and stylish. Jewellery has famously made a difference when it comes to completing an outfit, and our latest range together with other accessories can be paired with almost anything to make a finished look.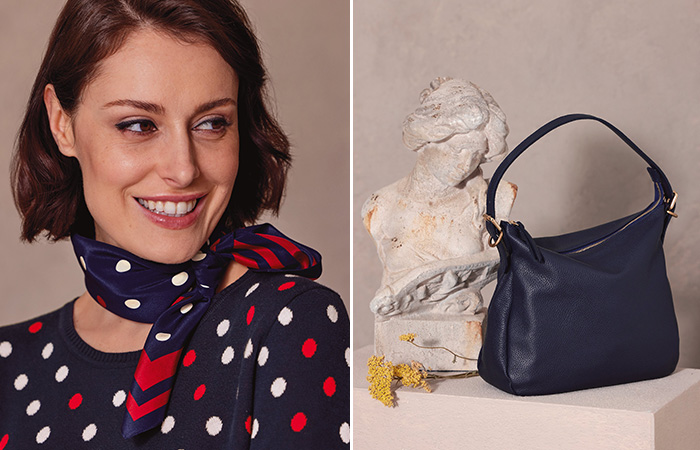 Trousers
Our new arrivals include a range of trousers suitable for the end of the summer season, these vary from loungewear all the way to occasion wear, ready for all things you may have lined up. Our Casual Trousers are an everyday staple with their straight leg fit and versatile Chambray colour.  While our Olive shade Checked Trousers offer an original and autumnal style suitable for the dip in temperature. The vintage design of our Jacquard Jersey Trousers is glamourous and unique with the tweed-effect Jacquard jersey. This thicker material is guaranteed to keep your legs warm from morning until night, whilst allowing you to look lovely and charming.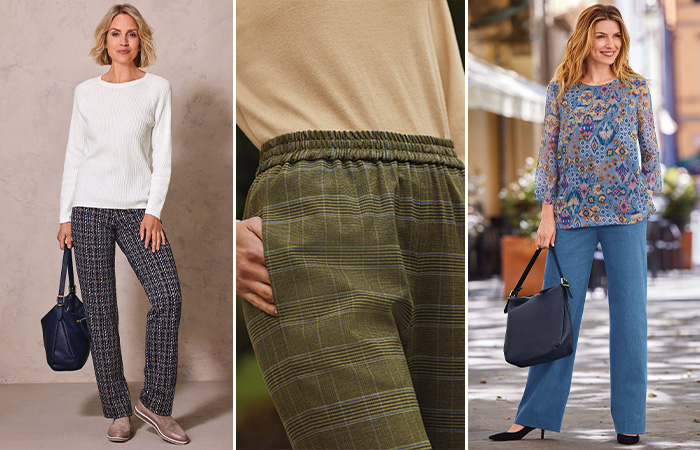 Have a peek at our latest collection, certain to make you feel classy and confident with our wide range of gorgeous products. So if you're looking for just one or a few new items to treat yourself to this year, you can find the full collection here >>>>
Watch our Fall video for some wonderful outfit inspiration.
Become the face of Cotswold Collections! Have you been snapped wearing our clothes or accessories? For your chance to be featured on our social media platforms please send your photos to custserv@cotswoldcollections.com
Take a look at our Pinterest to see what inspired our latest collection >>
Don't forget we offer FREE UK RETURNS and sizes 8-24 across all our new styles. Want help with sizing? Click here to see our size guide >>
For more interesting updates and special offers, sign up for our email newsletters here >>