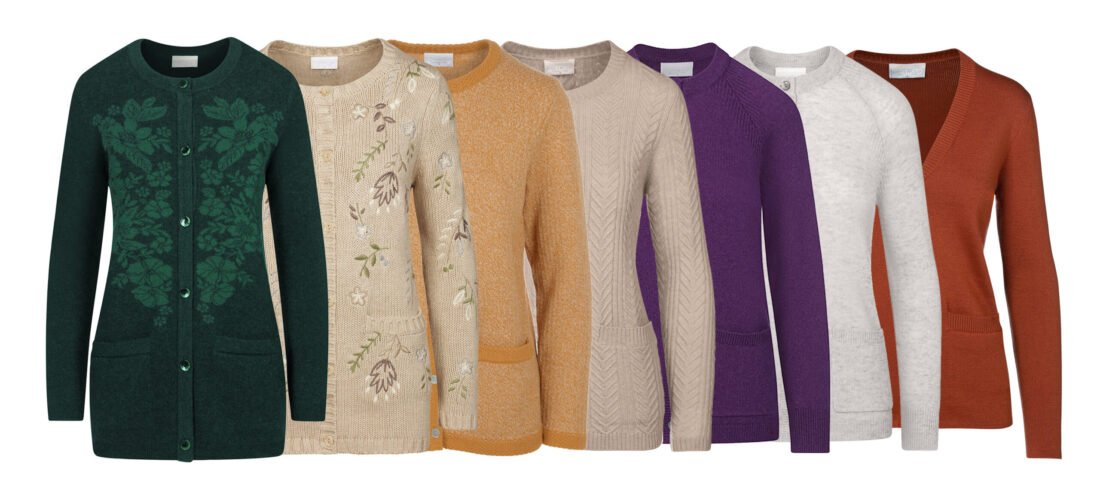 With the unpredictable weather this time of the year, you never know what's coming next. You could be enjoying the glorious heatwave, then be facing fierce winds or thunderstorms. Prepare for any weather change with our gorgeously warm and functional layering pieces. Cardigans are one of the most versatile ways of layering you can add to your wardrobe. In gorgeous colourful and also neutral shades, these timeless designs can be worn now and into the cooler months. They are perfect to wear on chilly days when layered up and light enough to wear on warmer days. You can style a cardigan with anything, it can be worn over a knit, jersey, t-shirt or blouse.
Discover our lovely collection of elegant cardigans in a range of seasonal weights to effortlessly add texture and shape to your outfits. Our soft and comfortable styles are made in the best quality yarns and blends of pure merino wool, combed cotton, lambswool and pure cotton. To look after these classic designs, we suggest washing our cardigans with a cool machine wash. Our stunning range includes plain and patterned pieces, as well as textured cable knit designs with intricate detailing. Whether you're relaxing at home, out with friends or enjoying a family gathering, we have everything you need to help you feel stylish and warm!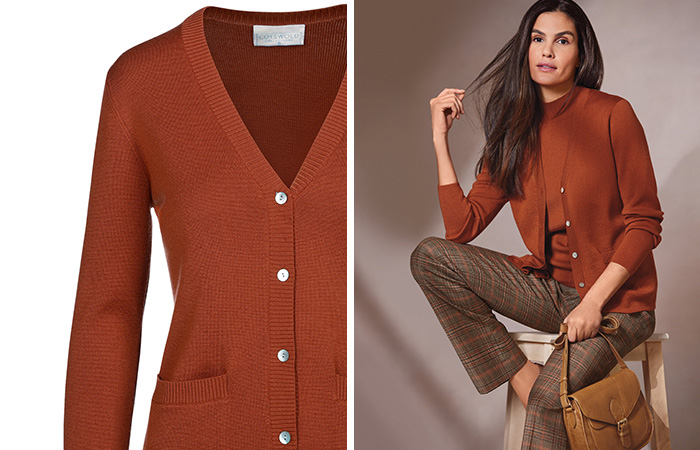 In a beautiful rust shade, this lovely cardigan is wonderfully crafted from total easy-care merino wool which is much finer and softer than regular wool. This cardigan is perfect to wear in early morning or evening walks to keep the chill at bay. This smart fully fashioned V-neck cardigan is knitted in a structured stitch. It is finished with two welt pockets, rib trims and tubular hems.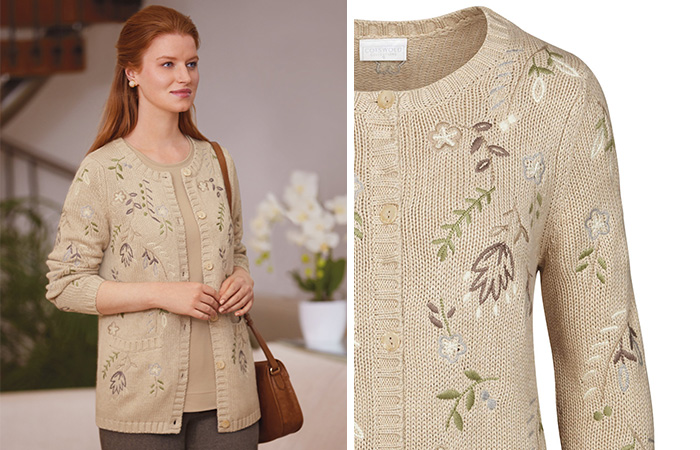 This charming cardigan is made in soft combed cotton and covered with an all-over exquisite floral embroidery. It is styled with long sleeves, rib trims and has patch pockets to the front. The natural shade of the cardigan makes it very versatile allowing it to complement many outfits across the seasons.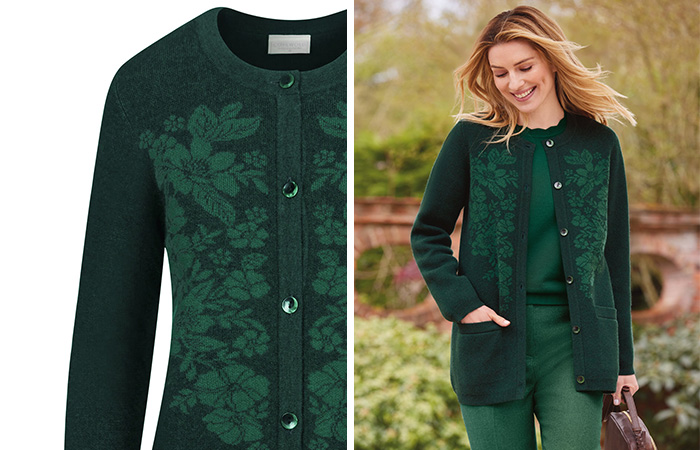 This flattering style is a wardrobe staple for autumn. This beautiful longline cardigan is in a stunning two-tone green colour, evoking the feeling of natural warmth. With gorgeous stitch detail, this soft lambswool cardigan has a lovely jacquard floral design on the front. It is fully fashioned and finished with neat welt pockets and rib trims for the ultimate in comfort.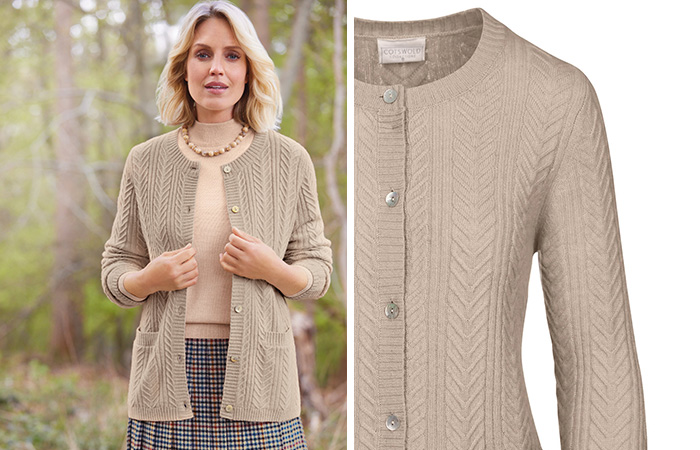 Add a touch of elegance to your looks with this pretty oatmeal coloured cardigan. This delightfully effortless and stylish cardigan is all about finer details with a superb all-over textured cable design. Made in the softest, high-quality lambswool, this fully-fashioned style is styled with welt pockets and rib trims.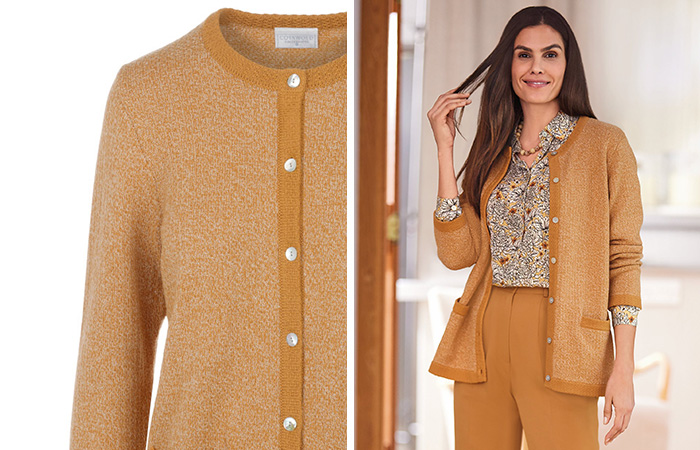 Inspired by classic French design, this elegant spice coloured jacket is knitted in a tweed-effect textured basket stitch. It is styled with a button fastening, welt pockets and textured stitch trims. The dark spice coloured trim around the front and the pockets, creates a charming contrasting structured look. A vibrant knit in a lovely stand-out colour that will brighten up your day.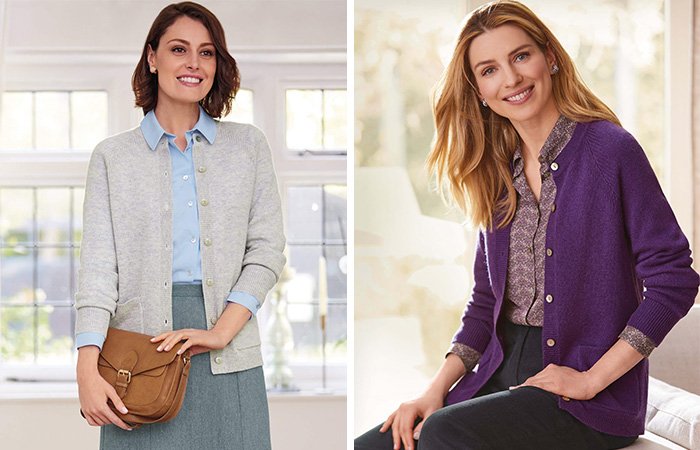 Knitted in the softest lambswool, this raglan sleeve cardigan has a feature chevron stitch fashioning at the armhole for a better fit. The gorgeous cardigan is finished with patch pockets and rib trims. It comes in two different shades of silver grey or purple, giving you more choice when completing your outfit.
Which is your favourite cardigan from our latest collection? Let us know in the comments below...