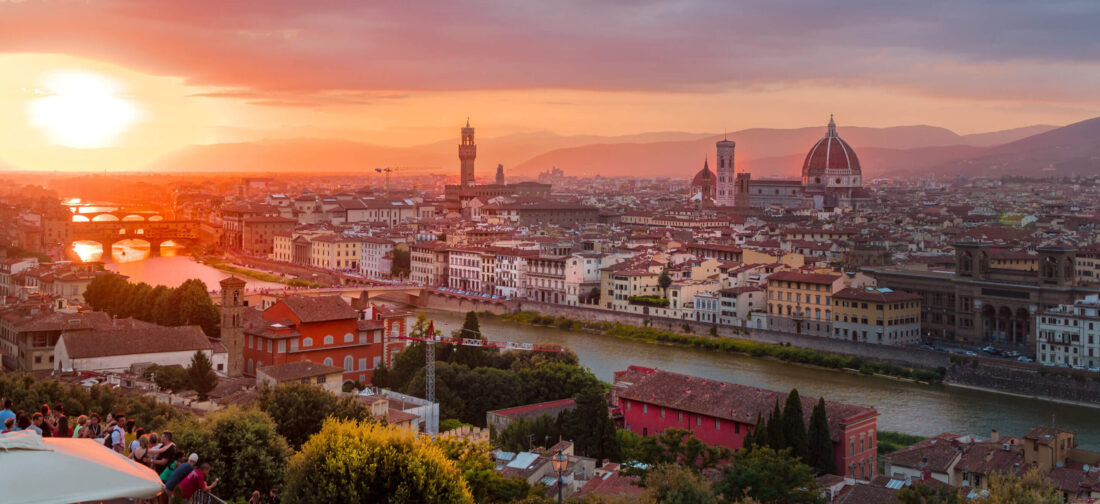 We are delighted to be working in partnership with Italian artisan jewellers to bring you a selection of fabulous pieces from our Christmas collection. These lovely necklaces and earrings are handmade for us exclusively by the Italian craftsmen and women in the heart of Florence. They will add a finishing touch of sparkle to your festive outfits or alternatively, treat your loved ones or friends this Christmas to dazzling and thoughtful jewellery that they will treasure.
Discover more about the Italian jewellers and the story behind the brand.
For Christmas, most of our gorgeous Italian jewellery designs are created by Bijoux Jean Andrè. We have worked in collaboration for over 16 years and utilise their lovely designs throughout our seasonal collections. Our knitwear and accessories buyer, Michelle works with them, using our colour palettes to create these complementary pieces to our clothing collection.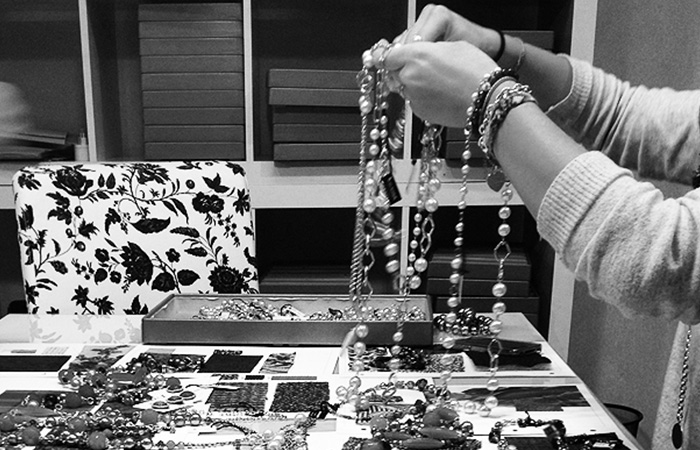 The Italian company was founded in 1976 by Ferdinando and Franca Fumei, who titled the business combining the names of their two children, Giovanna and Andrea, into Jean Andrè. This family-run company, led by a brother and sister team, is in the beautiful city of Florence. Their wonderful accessories are entirely designed and produced in Italy, respecting the highest standards in terms of quality and using safe materials. The company produces a variety of products such as rings, necklaces, bracelets, brooches. They use gorgeous authentic glass including Swarovski crystals, pearls and precious Murano glass in a wonderful array of shapes and colours.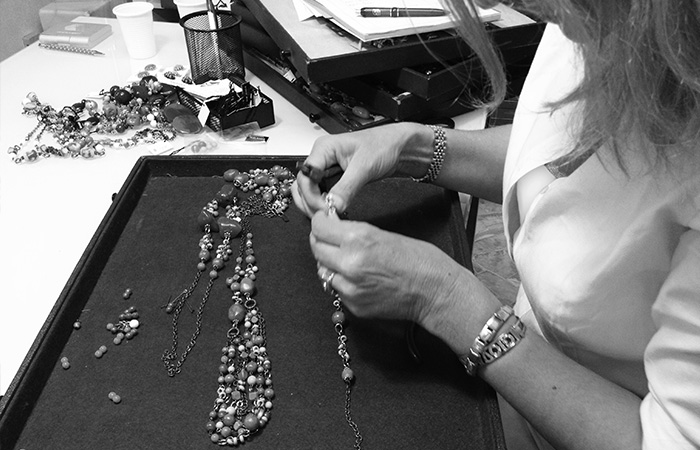 We wanted to know more about them, so we asked Giovanna about the inspiration behind her designs.
As a fashion designer, living the fashion world in my daily life fuels my creativity: fashion shows, events and fairs are a blast to keep my design up to date and always aligned with fashion. But at the same time, my creations always embrace the harmony and the refined elegance of Florence, the city where I live and that is an endless source of inspiration.
Bijoux Jean Andrè has a fundamental presence in our Christmas jewellery collection, giving us the opulent handmade pieces below and following the latest trends that you will want to wear throughout the festive season.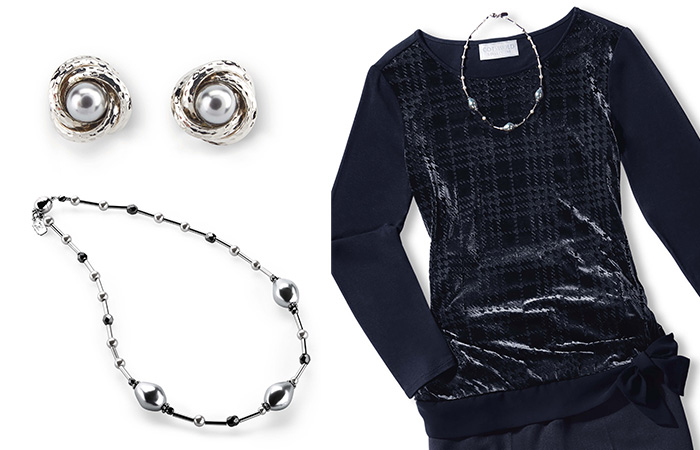 If you're looking for a set of silver-coloured jewellery, opt for our charming clip earrings and necklace in grey pearlised Venetian glass beads.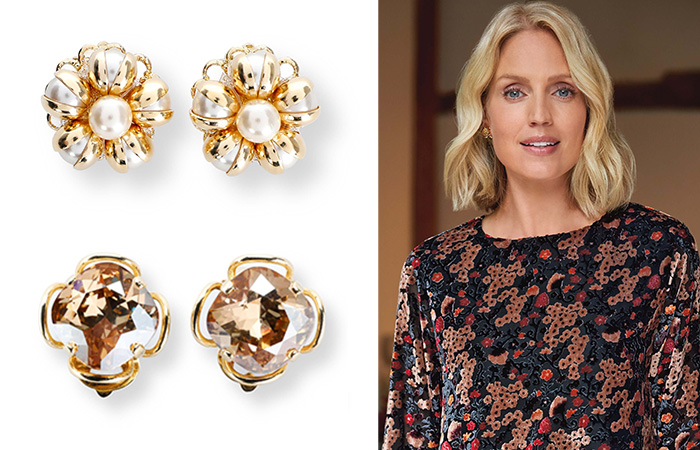 Add a touch of sparkle with a pair of our gold-coloured clip earrings with Swarovski crystal or Venetian glass pearlised beads make a perfect choice for any special occasion.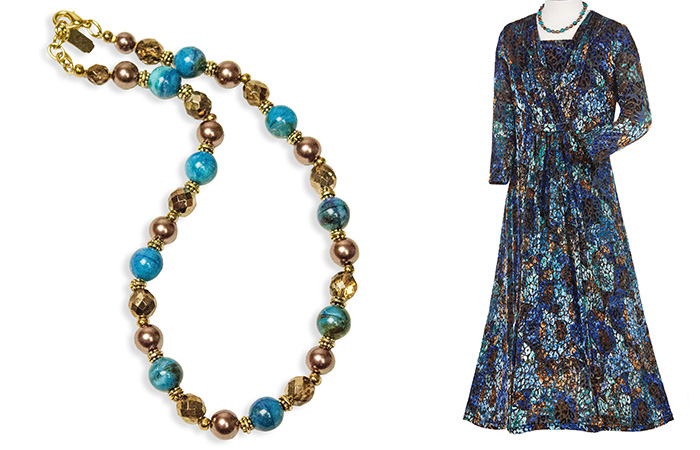 Add a pop of colour to your evening looks with our delightful necklace. It features gorgeous Venetian glass marbled, faceted and pearlised beads, interspersed with tiny gold coloured metal inserts and is finished with an adjustable clasp fastening.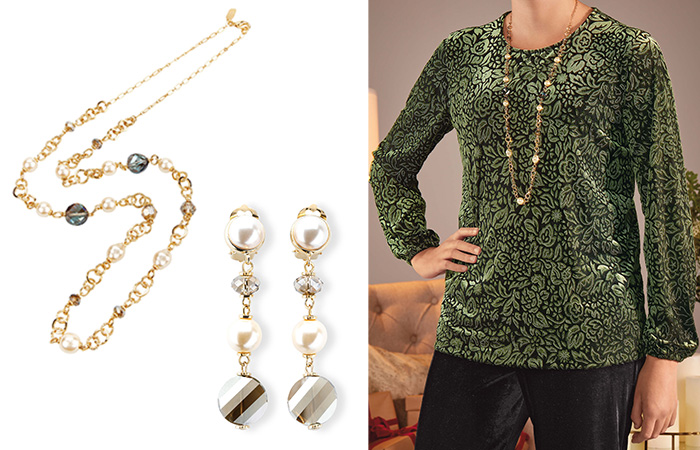 If you're looking for a glamourous matching set of necklace and earrings, we have the ideal jewellery for you. Our graceful earrings with pearlised Venetian glass and cut crystal drop, are finished with a soft rubber cushion in the clip fastenings. The matching necklace has opulent pearlised Venetian glass beads set within a string of Swarovski crystal beads. This charming jewellery works wonderfully together, for any formal or dressy occasion.
Our violet or black jewellery roll is perfect to store these precious timeless pieces safely.
Which is your favourite piece from our Italian jewellery collection? Let us know in the comments below...
For more interesting updates and special offers, sign up for our email newsletters here >