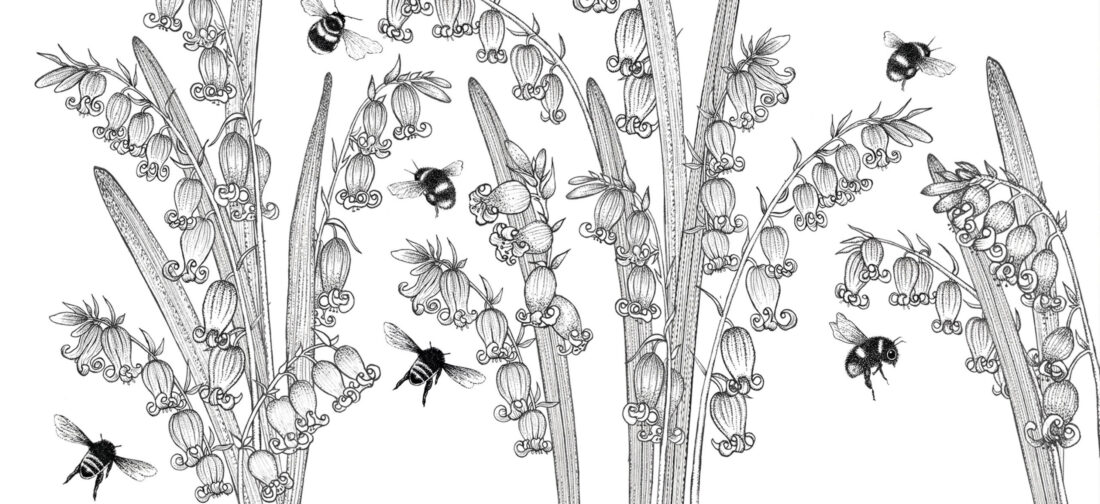 This is the third article in our new Creative Women Series, featuring inspiring women we work with when designing our collections. This month we will be introducing our partnership with Beefayre. We are thrilled to have been working in a collaboration with Beefayre, a family-run business that is passionate about bee conservation and lending a helping hand to nature. Join with us in supporting this local business by investing in their stunning well-being range to give to your friends and loved ones as well as treating yourself.
Below, we explore our new well-being range and the story behind the brand we have been working with for 7 years.
Located in the lovely Leicestershire countryside, Beefayre was started in 2012 by founder and illustrator Sharon Jervis. Beefayre is a company inspired by nature, the plight of our bees and other pollinators. They produce natural scented candles, room diffusers, body and bath products and cards all inspired by nature and the plight of the honeybee. All their candles are natural plant wax with no palm oil, the room diffusers use natural bio-oil (alcohol-free) and the body and bath range are paraben-free and sulphate free. Their products are designed and handmade in England using the finest natural ingredients, that are sustainably sourced and packaged in beautiful boxes. The charming illustrations featured on their products are hand-drawn by Sharon, inspired by the flowers and insects around her.
Sharon has spent many years painting as a miniaturist in watercolour and finds her inspiration from her close relationship with the natural world.
Sharon has always had a passion for British wildlife and conservation, having been a working illustrator and artist for over 40 years now. The idea for Beefayre came to her, not in the UK, but while she was travelling to the foothills of Transylvania in Romania, in 2010. Sharon was there researching an MA in contemporary fine art and on meeting beekeepers and studying their ancient tradition of beekeeping, she discovered a wonderful, pristine environment, free from pesticides and intensive farming practices.  Sharon's love for wildlife and nature started when she was a young girl and has grown deeper throughout her life. It began with the birds and curiosity led her to the bees.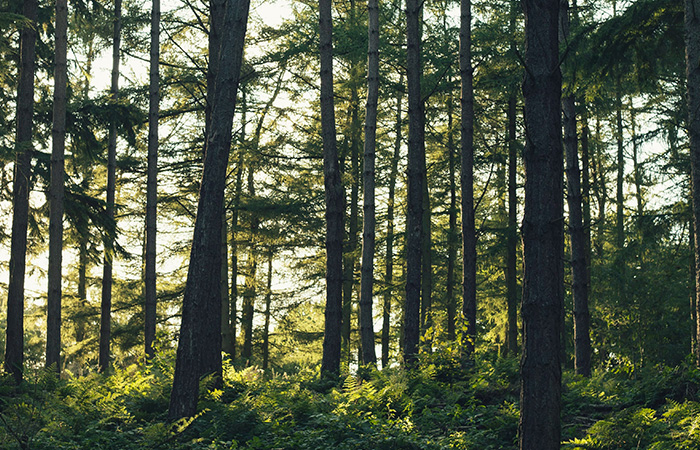 We wanted to know more about her brand, so we asked Sharon a few questions below.
What inspires you with your designs?
The natural world provides the inspiration and content for my work. My painting and drawing are inspired by the beauty of the landscape we are surrounded by, the magic and wisdom of the natural world and its threatened inhabitants.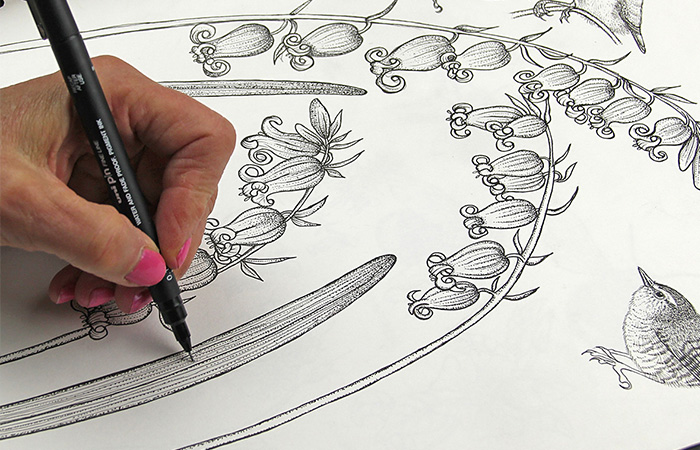 A little background about you?
I suppose I was lucky to have a gift as a commercial artist, my work has sold worldwide for decades now. I've always had a passionate interest in nature particularly birds. I've been a bird watcher since I was a young girl and I studied wildlife illustration in west Wales.
What inspired you to start this company?
I went back to do a second master's degree in contemporary fine art over a decade ago. I created a body of work on the plight of the honeybee as the topic was strongly in the media focus. It became of paramount importance that my next business venture included my strong ethos of conservation and my love for the natural world. So, I started drawing, one wet November Sunday morning. I had some roses still in flower. That was the start, and we entered our tenth year of trading this year!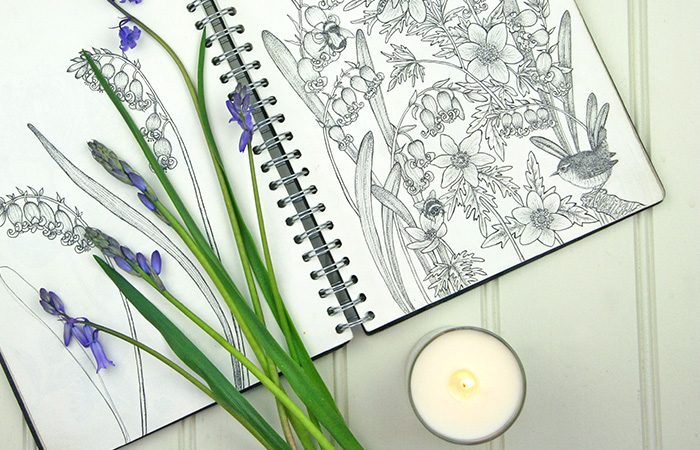 Inspiration behind the bluebell collection
I've always had such precious memories of bluebells in the woods we would walk in when I was a young girl. The colours, scent, memories they evoke make me feel so happy, the fresh start of a new spring, and all the bird song that accompanied that woodland. So, through Beefayre they seemed the perfect plant to epitomise our brand.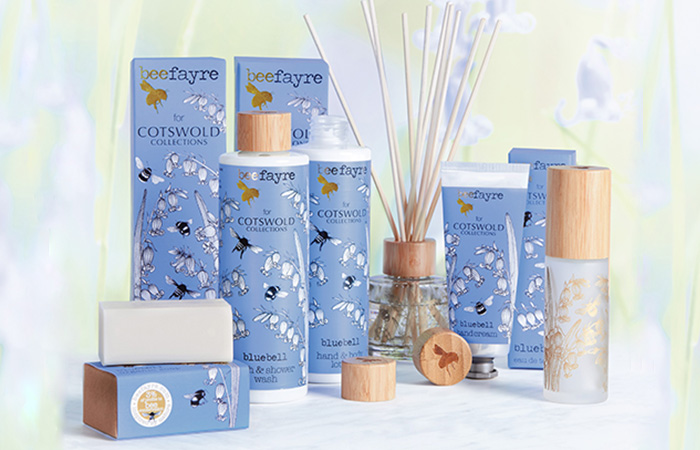 We're excited to introduce a new fragrance for our well-being collection this season! Discover our beautiful selection of Beeyfayre's range in this lovely fresh scent of Spring. It features a delicate floral aroma with top notes reminiscent of a late spring amble through a glade of bluebells in a canopy of woodland. Our range includes a diffuser, eau de toilette, hand and body lotion, organic soap, hand cream and bath and shower wash with these luxurious and pampering products having been sustainably sourced in the UK using premium quality essential oils. They are also vegan-friendly, paraben and cruelty-free. Inspired by nature, this collection is the perfect way to treat yourself or a loved one.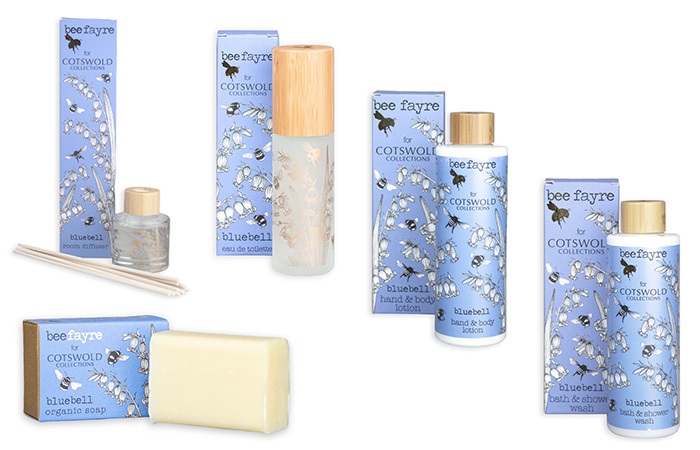 Sharon has developed a range of gorgeous well-being products that will pamper you and conserve the environment. By buying the Beefayre range you are helping the bees as they donate 3% of the profits to bee conservation.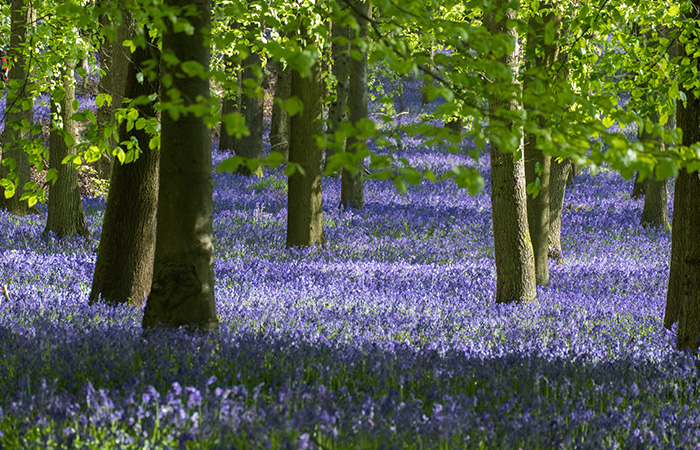 We also spoke with our knitwear, gifts and accessories buyer, Michelle who has been working closely with Beefayre.
The bluebell range is a personal favourite of mine, growing up as a child I was lucky enough to have a bluebell wood at the end of my garden. It's enchanting colour and fragrance is captured in this new scent. I really enjoyed working with Beefayre on the packaging and my favourite is the beautiful design on the frosted glass of the perfume its exquisite and designed by Sharon, new for this season are the environmentally friendly bamboo lids.
Click here to find out more about Sharon Jervis >>
Take a look at our previous creative women series on Fay's Studio and Laura Stoddard. Keep an eye out for the rest of our inspiring women series.
For more interesting updates and special offers, sign up for our email newsletters here >