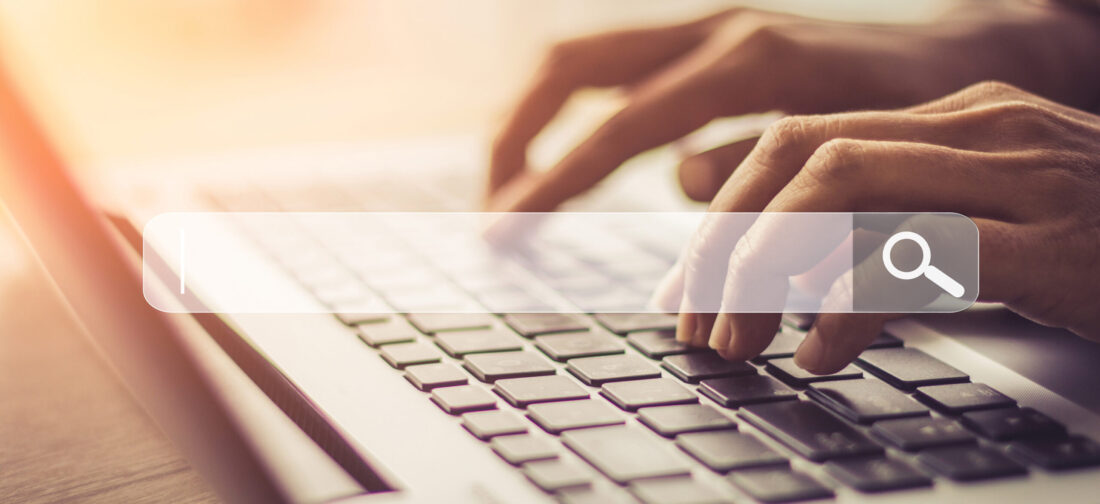 We're hoping you are enjoying our website, created especially for you. We have put together a how-to guide below with tips to make it easier for you to find the information you want. We aim to help you have the smoothest shopping experience possible with us.
Search bar
We have included a search bar feature on our website to help you find the garments you're looking for easily and faster. Our search bar is readily accessible for those who need it in the top left-hand side of the website.
In our search bar, you can type in our product codes for example HR110. If a product matches what you've typed in it will appear directly below, you can then click on the product which will take you to the selected garment page. You can click on the video below and follow the yellow circle demonstrating how you can search for our product codes.
If you do not have our product codes available, you can simply type in the garment type for example checked pleated skirt into the search bar and some items will appear directly below that are the best matches to your search, or if you wish to see all results, click search and you will be taken to a page to show all results.
Using filters to shop in the sale
To make shopping in our sales even easier, we have a selection of filters that you can use to narrow down the products you are interested in.
SHOP BY PRODUCT TYPE
We have added a new feature to allow you to shop by category to find the sale garments effortlessly. This feature can be found in the left-hand corner as shown in the image below. With this filter, you can browse, search and choose garments in a seamless way. To use the filter, you can select from the dropdown list provided as shown in the image below. You can select more than one category, for example, tops and skirts. Once you have clicked on the desired category, for example, dresses, it will update the page with a selection of garments matching the criteria.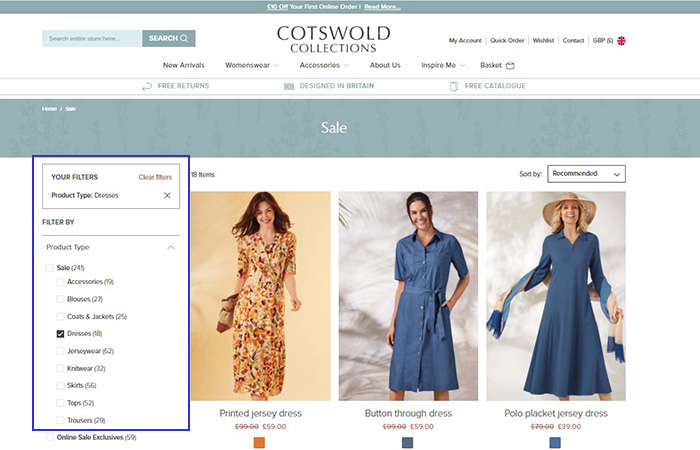 SHOP BY COLOUR
Another filter you can use in our sale is shop by colour. To use this filter, select the desired colour in the left-hand corner and once you've clicked on the colour block for example, pink. It will show a new box above with the selected colour choice and an overview of the filtered garments on the right-hand side.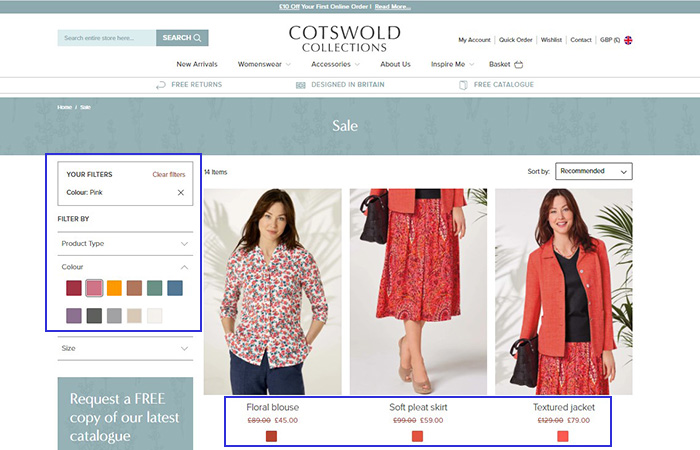 SHOP BY SIZE
The size filter will let you browse and search for the garments by size. This can be found in the left-hand corner, you can click on the size, for example, S, as shown in the image below. After choosing the specific size you need, only the available garments in the selected size are displayed to you. This type of filter will help you quickly find what you want. We have also included the option of selecting more than one size.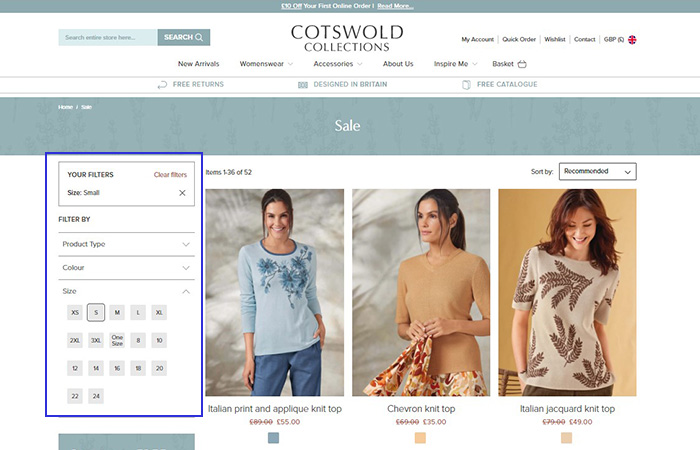 SORT BY
We have included sorting options, where you can choose which criteria you want the garments to be listed by, without changing the number of displayed items. See the image below to view the sorting options available.
This feature is in the right-hand corner where it says 'sort by. To use this, select the box and choose the option you would like. For example, you can choose the price (Low to High) option. After clicking on this choice, this will then show you all the garments, arranging from low to high prices. View the video below to learn how to use this feature.
We hope you enjoyed reading our tips on how to find what you're looking for on our website. View our previous how-to journals including:
Sign up for our newsletter to hear about our exclusive sales. We'd love to hear your thoughts on our helpful guide, let us know in the comments...