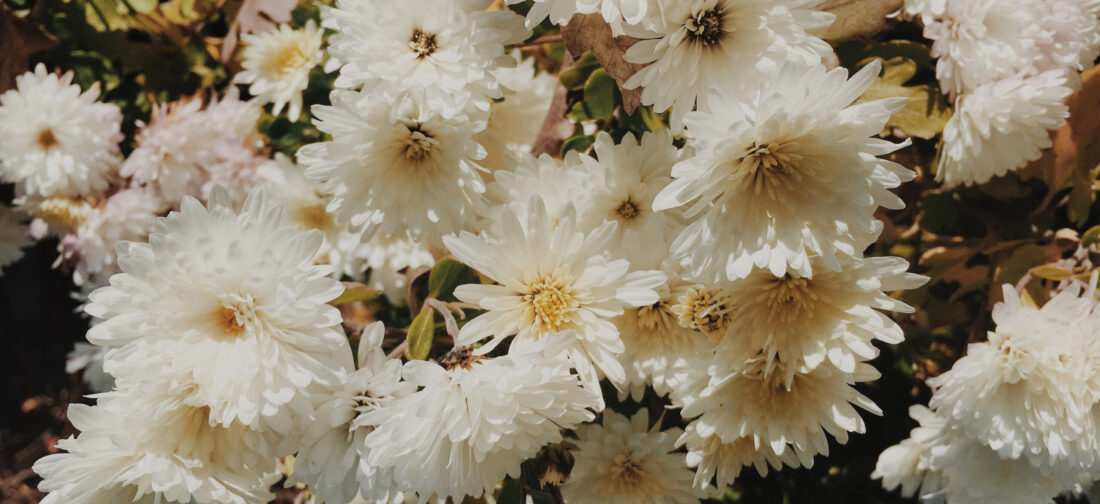 Achieve effortless elegance with every one of our collections. Our Spring Issue 2023 goes above and beyond in making sure you're styled to perfection this season. From classic tailoring to effortless jersey, find your timeless and unique style throughout our spring-ready collection of striking prints, flattering silhouettes and gorgeous tones.
Perfectly tailored in London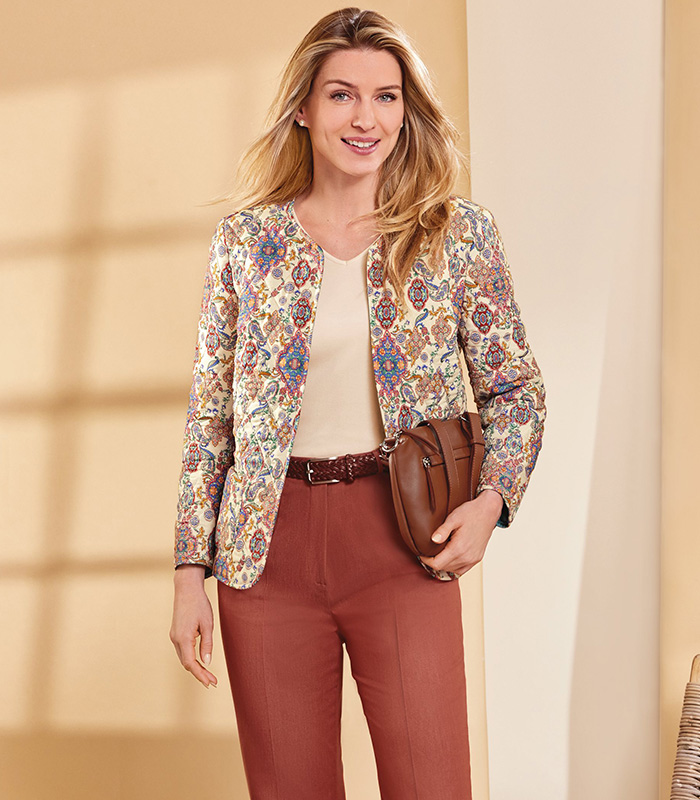 This fully lined, versatile and intricately printed jacket is an effortless wardrobe staple, made in superb quality French fabric that has been beautifully quilted to ensure comfort and warmth throughout the changing seasons.  In an edge-to-edge style, and to achieve both smart and casual looks, pair with classic trousers or jeans, a simple T-Shirt and plaited leather belt.
Comfort and Style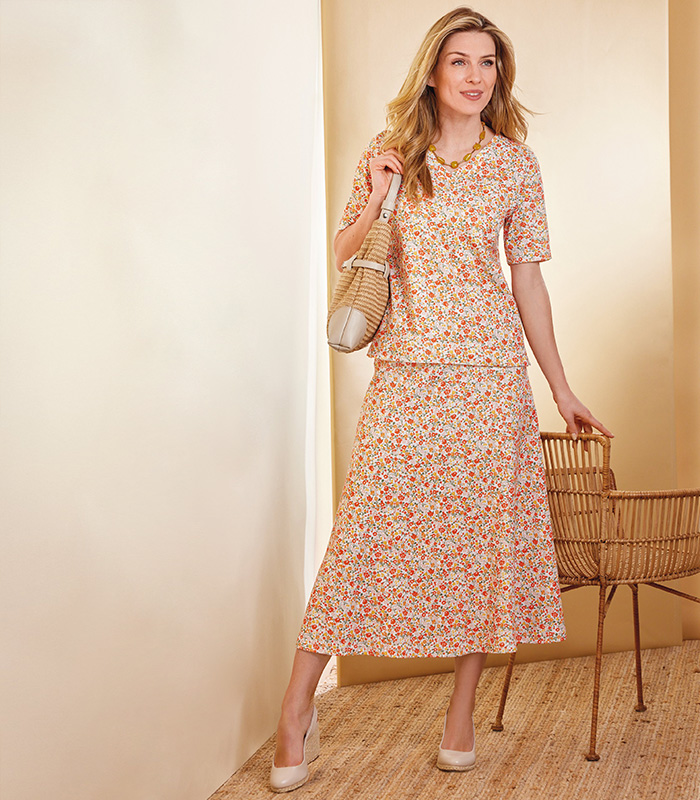 A short-sleeved V-neck top and six-panel unlined skirt, crafted in the highest quality 100% cotton jersey will add a luxurious and breathable outfit to your spring wardrobe. In gorgeous shades of ginger, ochre and green, this pretty floral pattern defines elegant spring styling. Accessorise with our summer-inspired Leather Trim Bag, designed with an intricate woven straw effect.
A relaxed yet polished style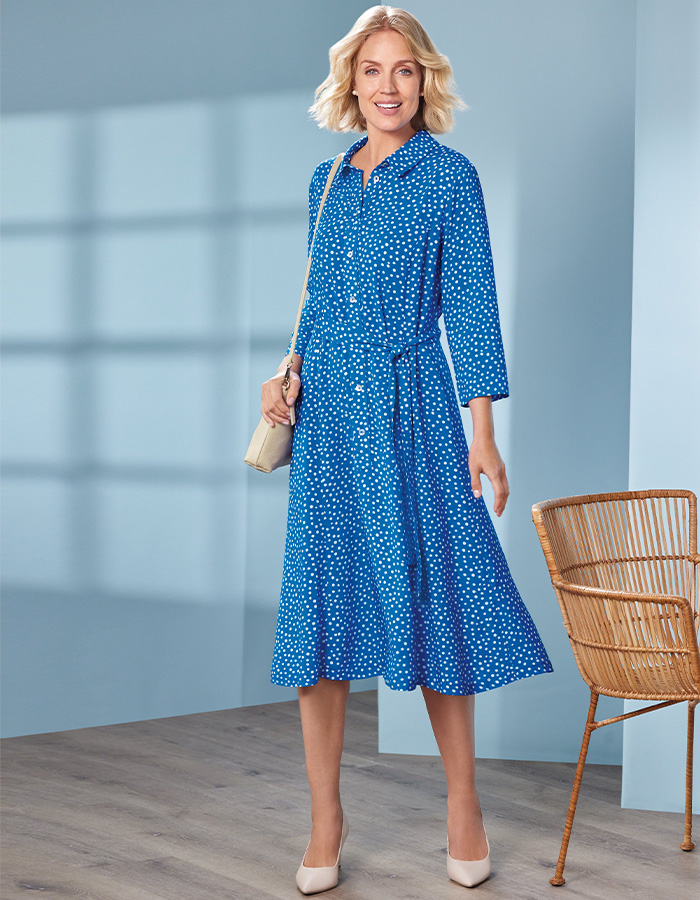 Made in Great Britain, this flattering fit-and-flare dress had been carefully crafted to elevate and enhance your spring and summer wardrobe. The fluid material and three-quarter sleeves detail are the perfect design features to help you remain cool as the temperatures promise to rise; team with a beautiful sun hat and jewellery to complete a look ideal for special occasions.
Everyday elegance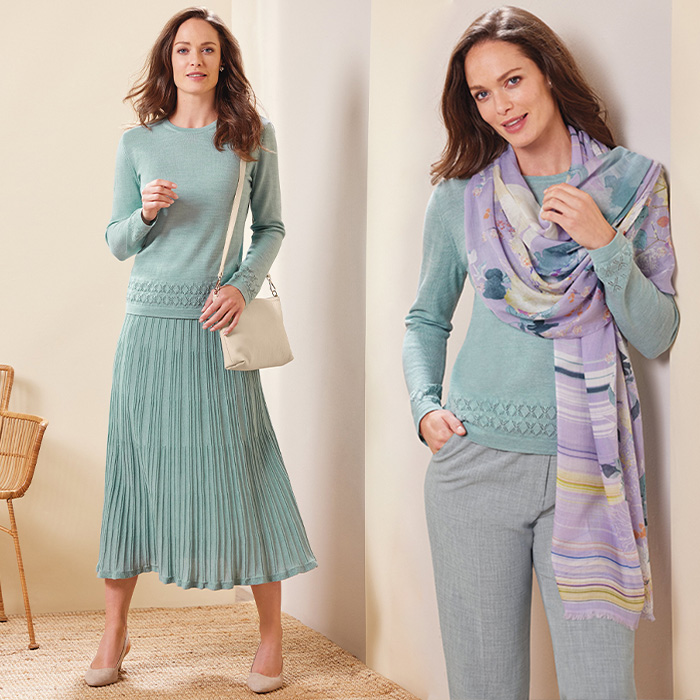 Our lovely knitwear will transport you to brighter days ahead, ensuring that you're walking through spring with ease, as we have designed pieces that are both set for comfort and sophistication. Crafted in timeless duck egg, our detailed pointelle trim jumper and sunray pleat knitted skirt offer charm, elegance and grace for the upcoming months. Team with our stunning lilac floral print scarf which can be versatilely styled as a scarf or shoulder wrap.
Got a special event on the horizon?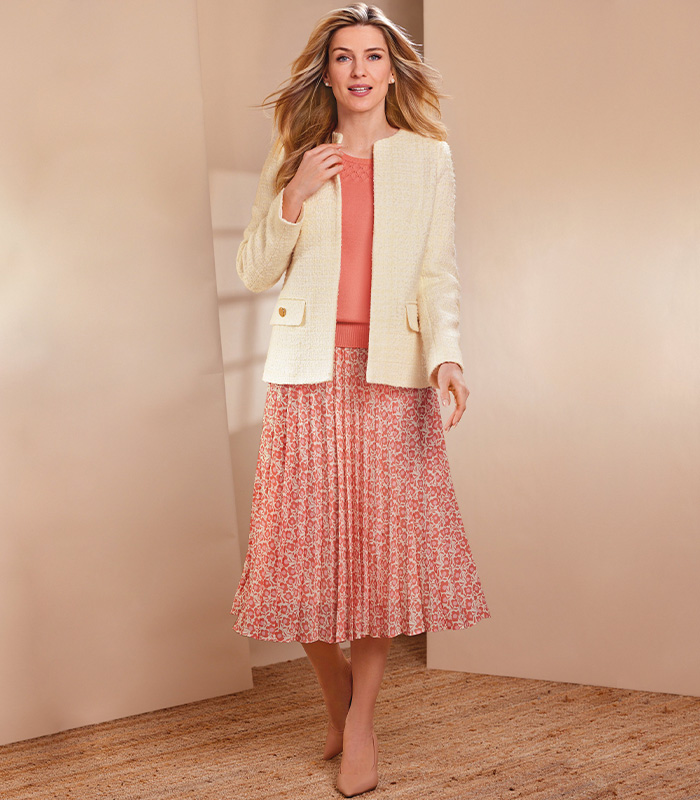 In gorgeous and uplifting colours of apricot and cream, one of our most loved pieces has been designed with spring top of mind. This charming floral sunray skirt is fully lined and a fluid piece that captures the essence of the upcoming months perfectly. Style for elegance with our complementary pointelle cotton top and our sophisticated edge-to-edge jacket.
Did you enjoy reading this journal? Let us know your thoughts in the comments sections below...
Read more of what our customers have to say about Cotswold Collections on our Trustpilot here >> 
Looking for some further style inspiration? Sign up to our newsletters here >>