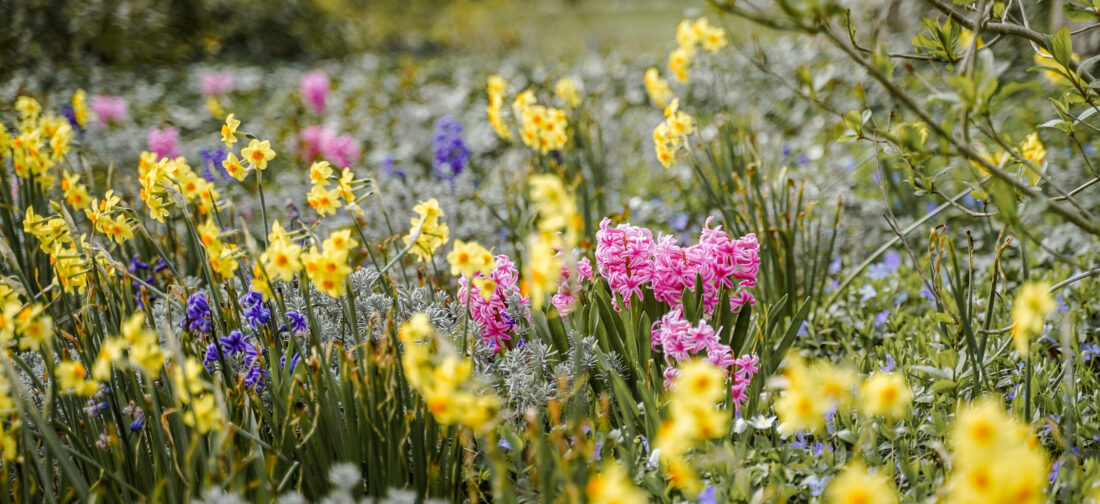 Start the summer season in style with our lovely collection of uplifting jewellery. Our colourful necklaces and elegant earrings will beautifully add the final finishing touches to your outfits. Jewellery is the perfect way to express your individual style and can elegantly brighten up your wardrobe. For each season, we carefully source and design our jewellery to coordinate with the collections. These opulent pieces are handmade for us in the UK and Italy. They are perfect to add an element of personality to your outfits or to treat your loved ones or friends with stunning and thoughtful jewellery that they will treasure. These timeless pieces will never go out of style. Whether you're looking for everyday jewellery essentials or statement pieces for a special occasion, discover our gorgeous range below.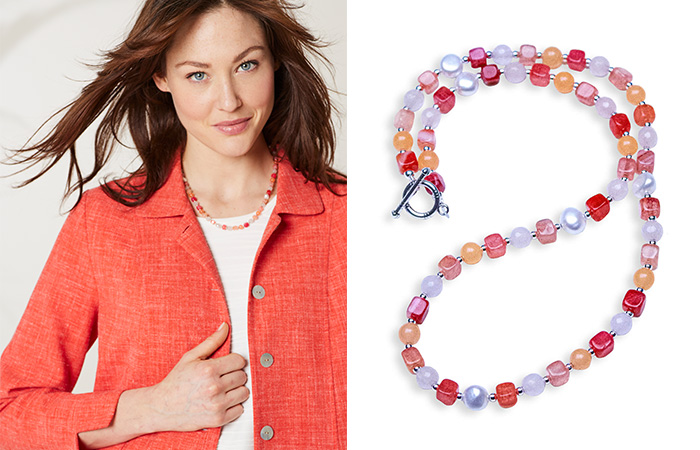 Inspired by the delightful colours of summertime, this semi-precious bead necklace is handmade for us in Wales. Featuring a beautiful mix of agate, rose quartz and freshwater pearl beads and interspersed with tiny silver-coloured beads. It is finished with a hoop and bar fastening.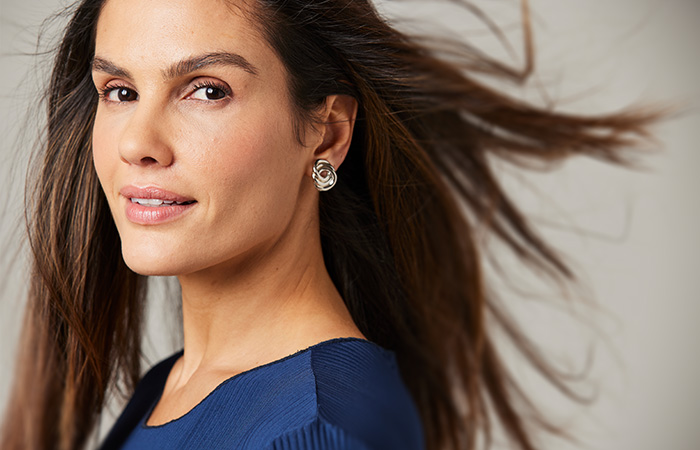 If you're looking for a set for everyday wear, opt for our silver-coloured earrings with a captivating twisted ring design and finished with cushioned comfort clip fastenings.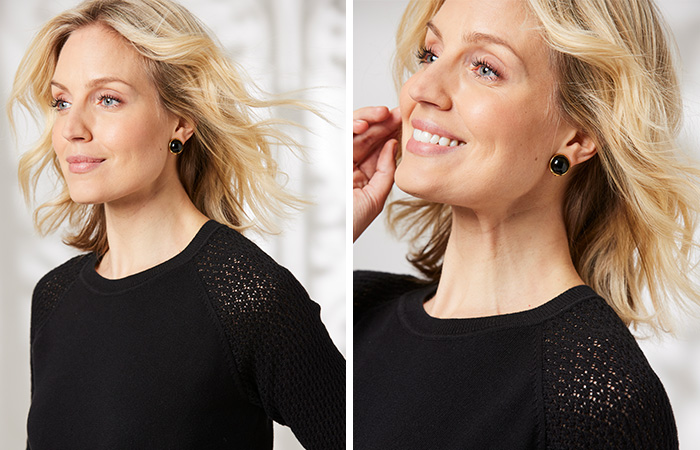 Our charming earrings with black beads in gold-coloured settings, are perfect for a bolder look. They are finished with soft comfort cushions in the clip fastenings.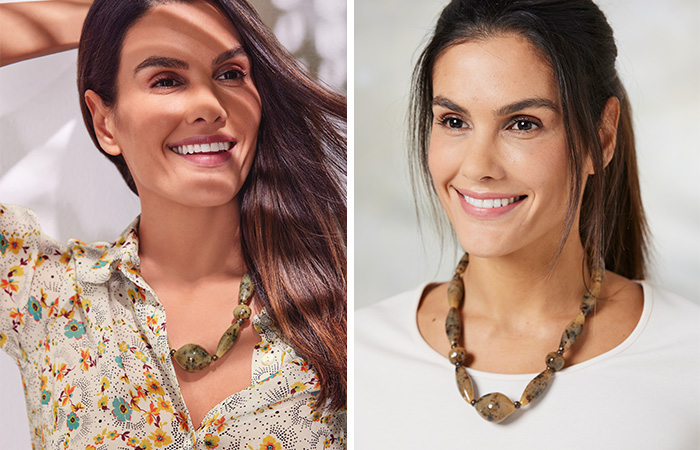 Decorated with graduated faux tortoiseshell beads, interspersed with little bronze-coloured beads, this striking necklace is finished with a matching magnetic fastening.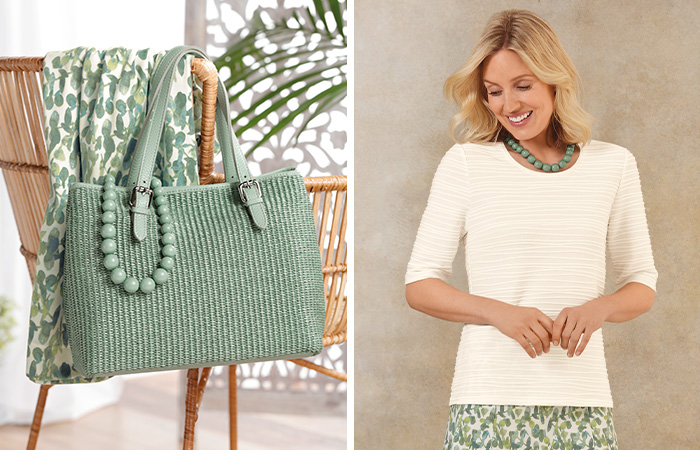 This sage coloured necklace will wonderfully complete any plain looks. The gorgeous string of variegated beads is finished with a brushed silver coloured magnetic fastening.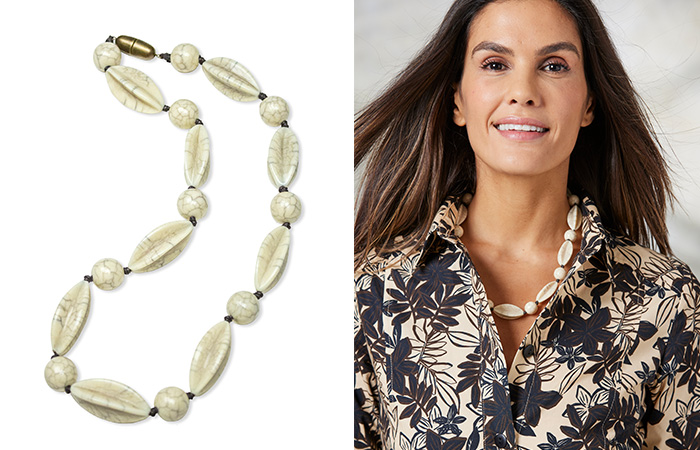 In a versatile shade, this beautiful necklace is made with crackle finish seed-pod and round shaped beads. It is finished with a bronze-coloured magnetic fastener.
Featuring bold statement beads, this stunning necklace is fashioned with dappled resin beads interspersed with tiny gold-coloured beads on a plaited leather cord. This elegant necklace will give extra style to any outfit.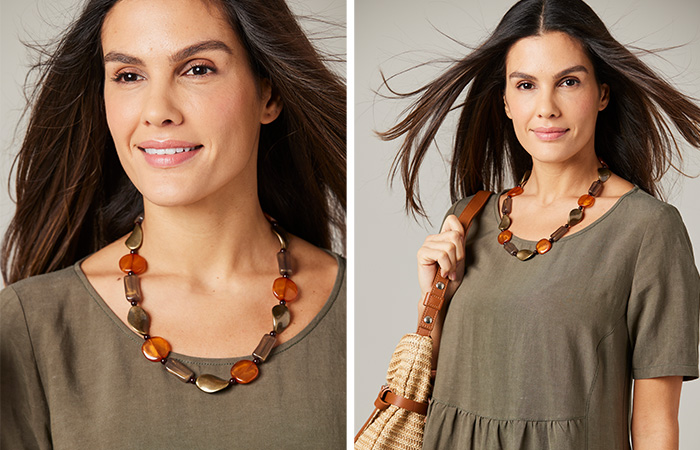 Highlight your neckline with our Italian contemporary bead necklace, included in our exclusive range of limited-edition luxury pieces. The necklaces are made in small quantities which makes them extremely limited and unique. In various shades of bronze, this superb necklace has shaped copper and amber coloured beads, interspersed with small brown beads, and finished with a bronze-coloured magnetic fastening.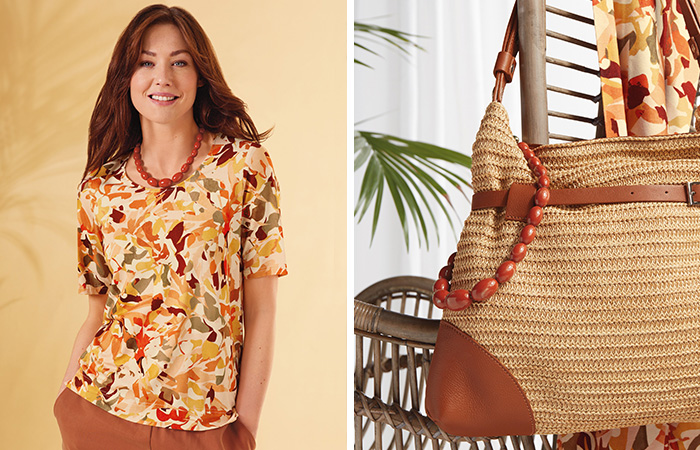 Add colour and shape to your summer outfits with our contemporary bead necklace. This elegant string of marble effect graduated beads is finished with a gold-coloured magnetic fastener.
Which is your favourite piece from our summer jewellery collection? Let us know in the comments below...
For more interesting updates and special offers, sign up for our email newsletters here >