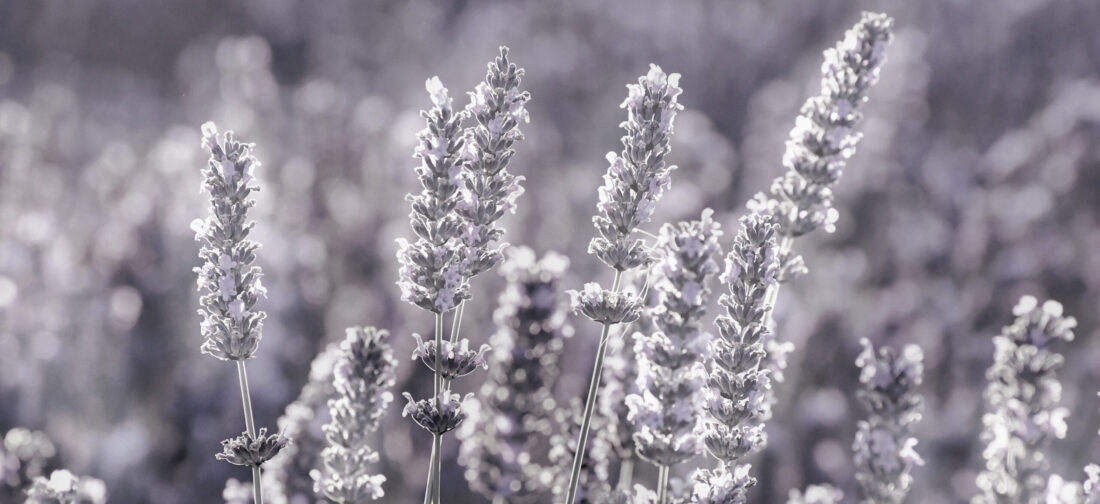 Stuck on what to wear for your shape this summer? We are here to help you effortlessly style yourself, no matter what your silhouette. Discover our latest tips and outfit recommendations to ensure you feel your best throughout the upcoming season...
Apple Shape
Apple shapes are generally described as a rounded shoulder line, fullness around the tummy and shapely legs.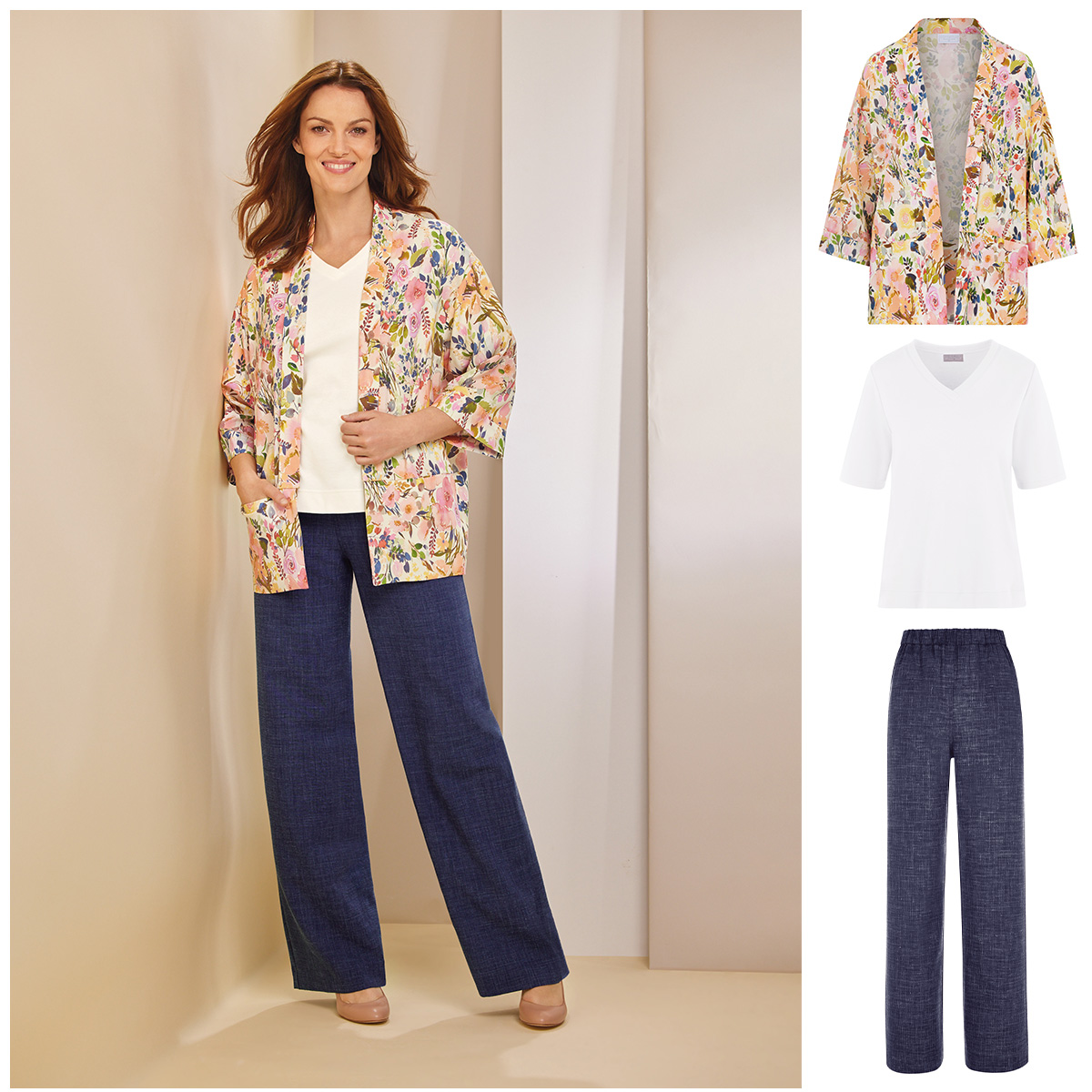 It is best to take the focus away from your mid-section and style tops that flow downwards from the bust, along with trousers designed with a wider leg to even out your silhouette. If you're looking to style a skirt this summer, an A line or bias skirt will flatter your figure perfectly. Avoid clingy or tight clothing that will highlight your mid-section.
With you in mind, our designers have achieved the best in summer style with pull-on trousers, specifically engineered to gain the illusion of a slender and taller shape. Piece these relaxed trousers with our V-neck T-shirt that beautifully creates a narrower figure and layer elegantly with our floral kimono, that creates a flattering drape for the apple shaped silhouette.
---
Pear Shape
A pear-shaped figure is recognised by having a small upper half, with a defined waist but carrying weight in the hips and thighs.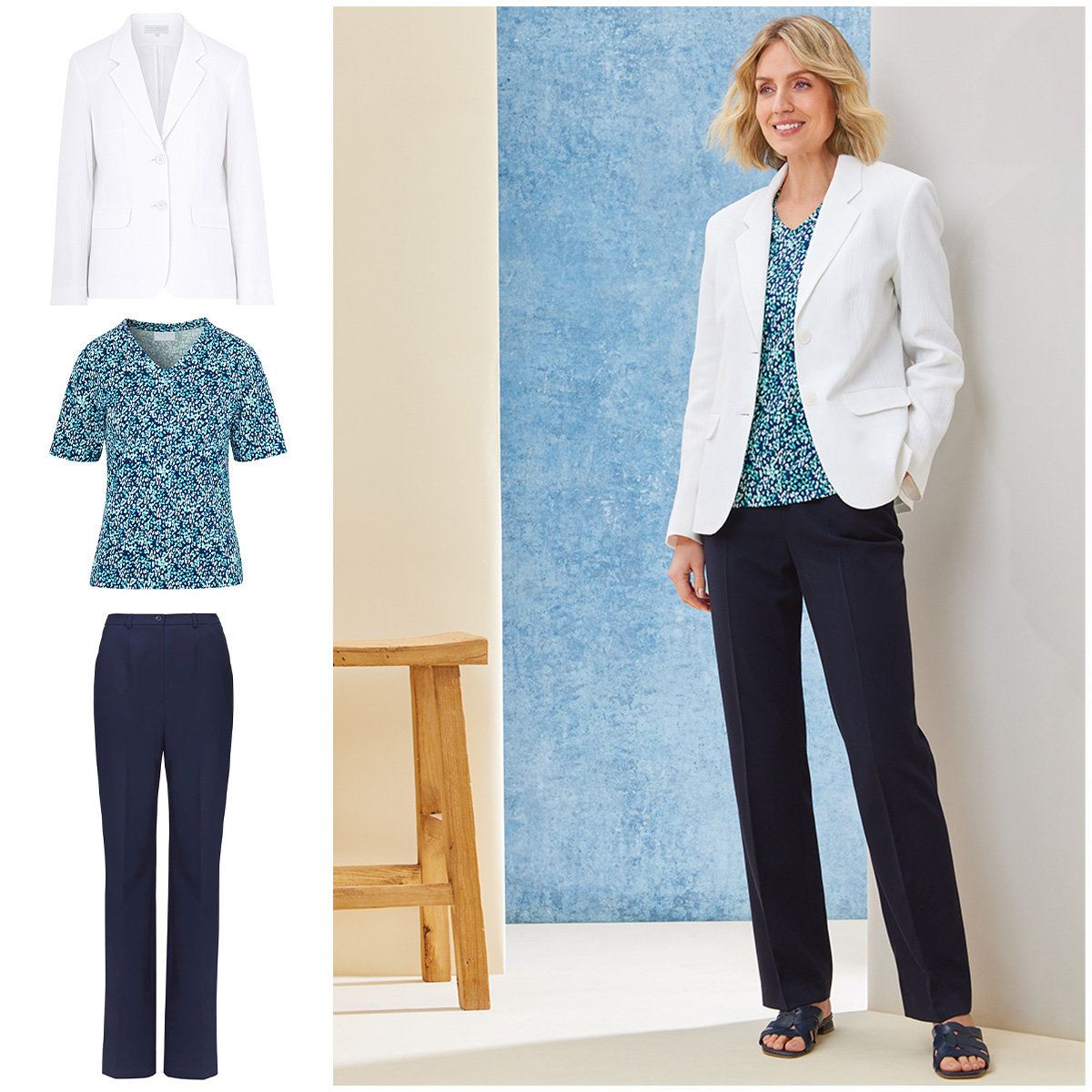 For a pear-shaped figure, it is key to emphasise the top half of your figure. Aim to style your upper body with lighter and brighter tones, patterns and structured shoulders; while focusing on styling your lower half with darker tones and relaxed fits to even out your shape.
This outfit can be fashioned for a pear-shaped silhouette, style this teal, vibrant jersey top with our sophisticated white textured blazer to focus on your top half. Add the finishing touch to this look with our versatile and timeless navy trousers, to ensure emphasis is placed solely on your upper body.
---
Inverted Triangle
An Inverted Triangle silhouette is defined by having a smaller bottom half than the top.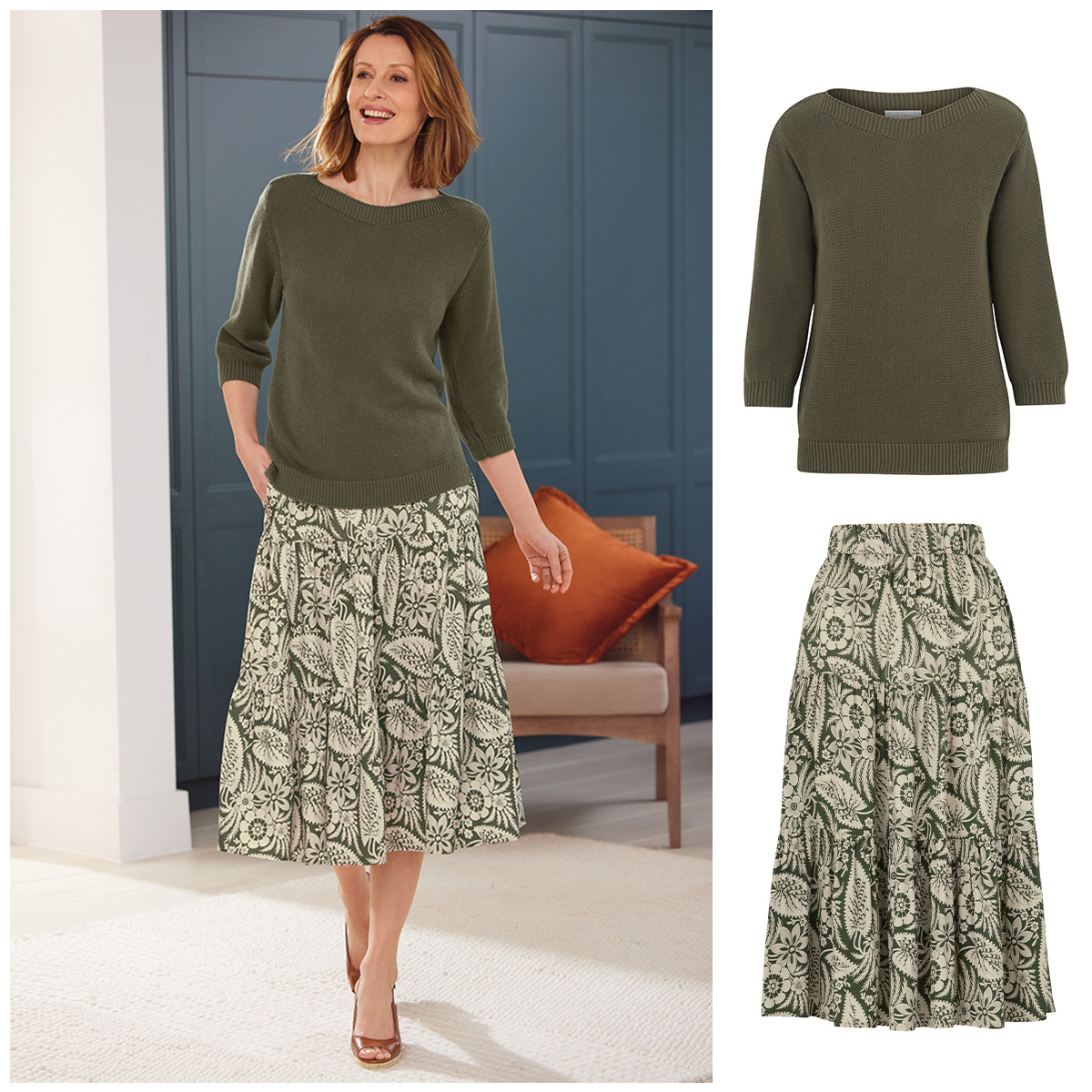 For your hips to become more in proportion with your shoulders, style lighter tones or patterns on your bottom half, while embracing deeper and plainer shades on your top half. Stay clear of drawing attention to your upper body with vibrant prints and structured shaping, to help give your form the right balance.
Our pull-on tiered skirt is the perfect staple to flatter an inverted triangle silhouette this summer. Designed with an intricate olive toned floral pattern, these gathered tiers will bring definition and enhance your bottom half, cleverly balancing out your shape. Team with our luxurious olive textured cotton top or a deep coloured T shirt to complete the look.
Order now as stocks are limited…
---
Rectangle Shape
A rectangle figure is identified by the top and bottom halves of the body being very similar measurements with little waist definition.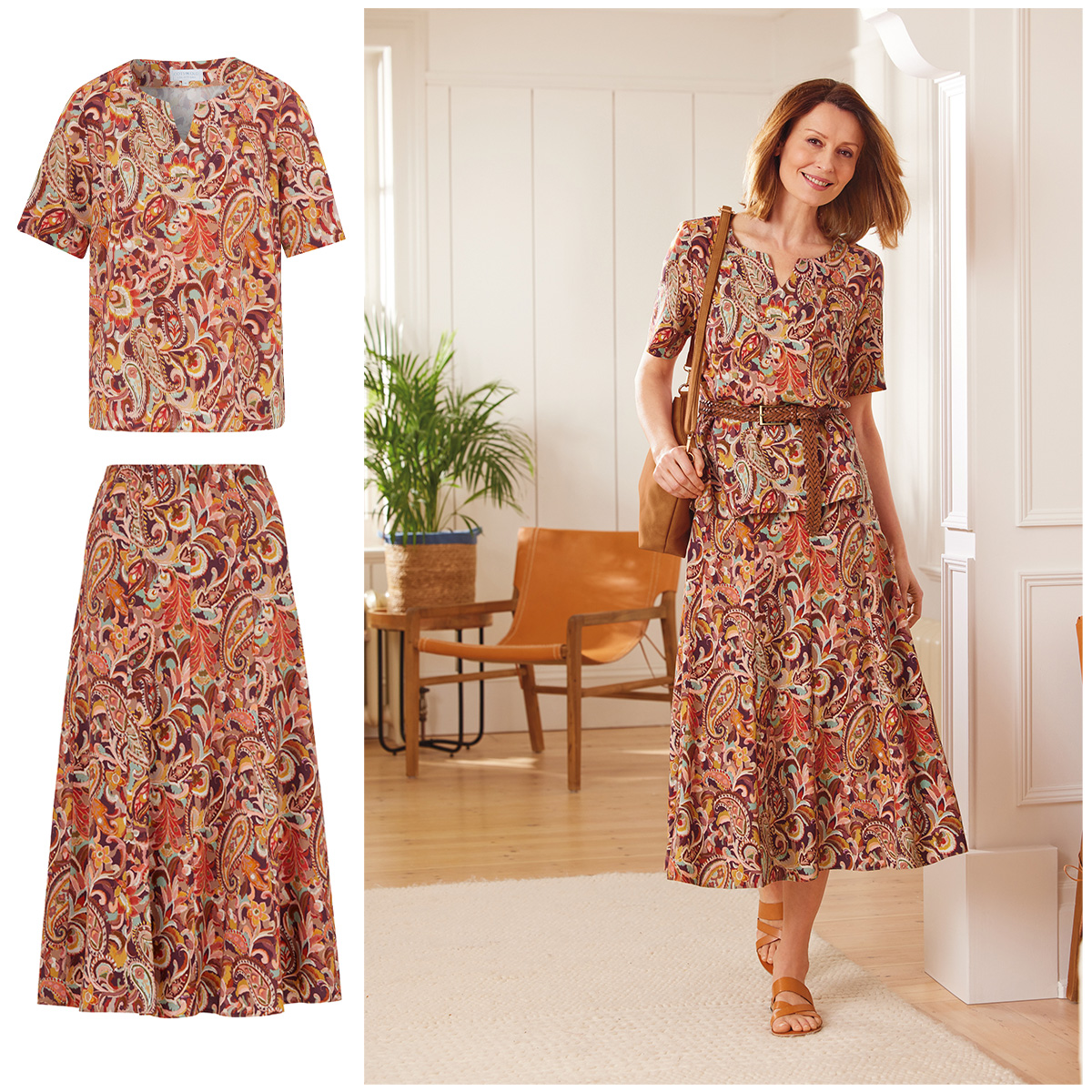 To style your rectangle figure it is best to dress yourself in pieces that emphasise the centre of your body, through flattering gathers and pleats, prints and belting your waist to give the illusion of a shapely figure. Avoid wearing oversized and shapeless pieces that draw attention to the similar widths throughout your figure.
Make the most of your lovely shape with this striking paisley print. This tunic's notched scoop neckline draws the attention to the centre of your body, while our ten-panel skirt achieves glorious hip definition through its elegant flare. Bring greater definition to your waistline by styling this matching set with our timeless plaited leather belt.
---
Hourglass Shape
An hourglass shape is defined when the shoulders and hips are equal in width, with a narrower waist.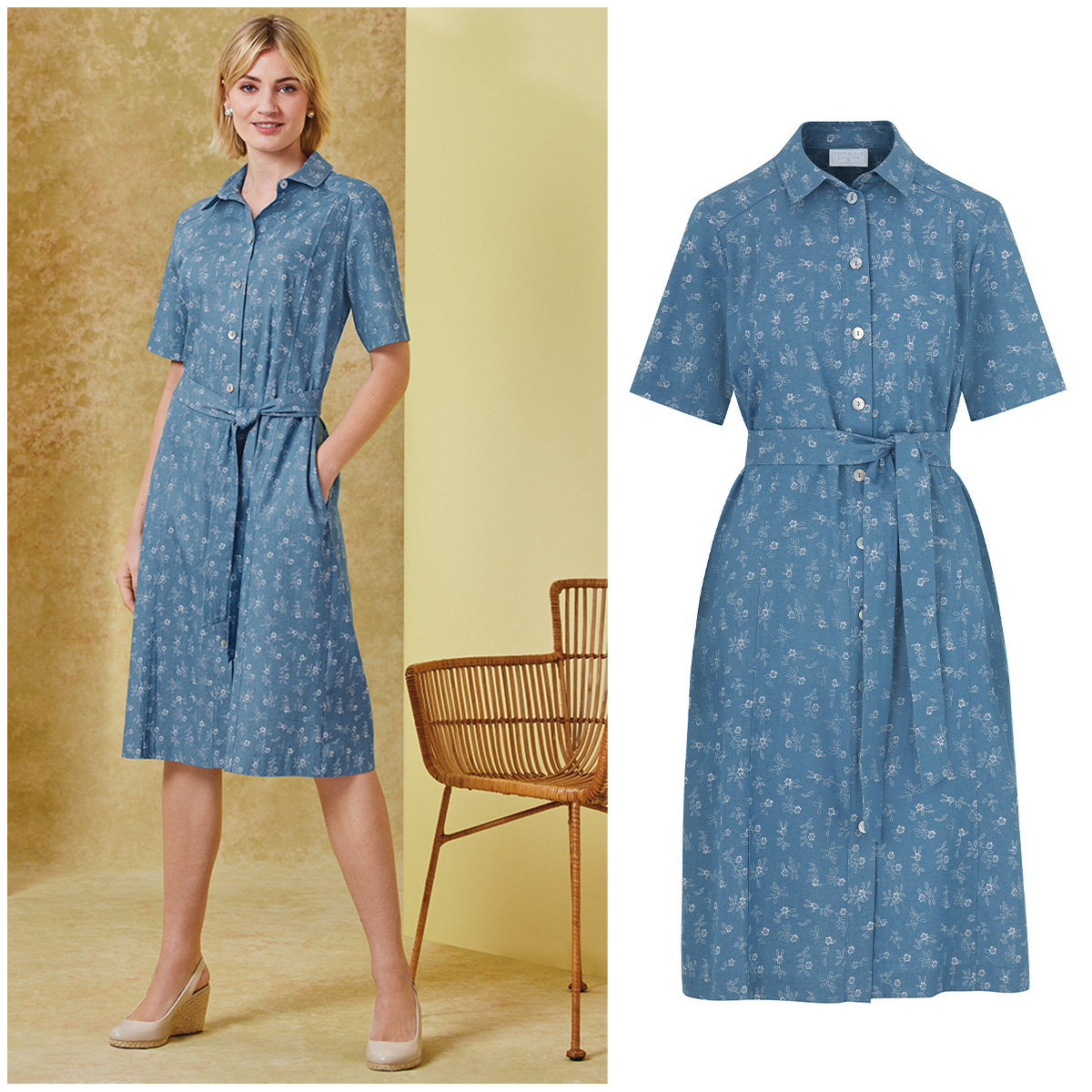 To make the most of your hourglass figure, pick design features that accentuate your waist, such as V-necklines, belted waists and pieces that lightly skim across your figure. We recommend staying clear of shapeless clothing and to embrace your natural curves.  Also avoid ruffles or pleats that place additional emphasis on your hips and shoulders.
Showcasing a summery print with flattering waist tie, this design will elongate your body and enhance your narrower waist. Showing off your figure in an effortless, versatile style, wear this printed dress for many occasions to feel confident through its waist accentuating design.