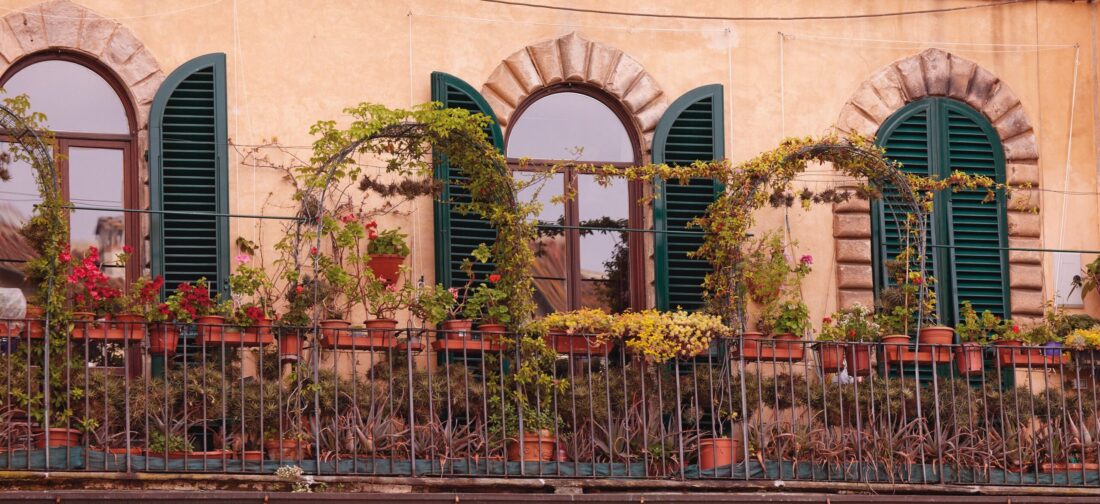 With the launch of our latest collection and the lovely pieces we have available to you, we wanted to take the opportunity to once again, give you more of an insight into our stunning photoshoot location. As always, we love to share with you the inspiration behind what makes our collections so special, and we believe a unique and exciting shoot allows us to showcase our latest garments in the most remarkable way possible.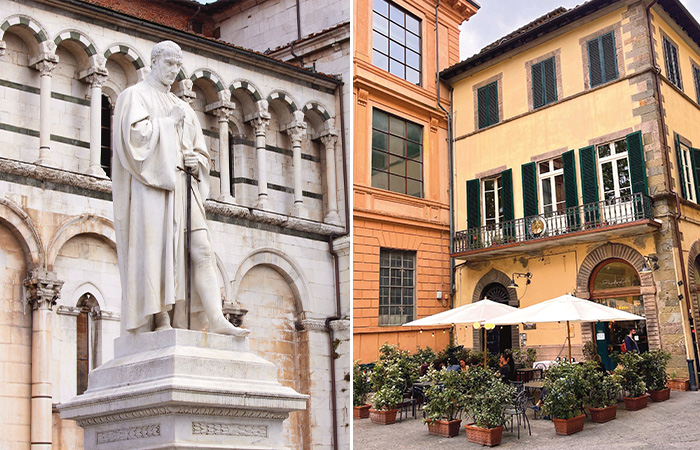 Our latest Autumn 2022 Collection was photographed in the gorgeous town of Lucca, placed in the famous area of Tuscany, Italy. Right on the Serchio River, this town offers the richest form of Italian culture, from cobblestone streets to historic European architecture. With the importance of getting life and travel back to normal, we wanted to take the opportunity to use our latest collection to showcase the beauty that Italy has to offer, using its magnificence as a range of vibrant backdrops for our garments. Regarding the history and ambience of Lucca, this was not a disappointing choice, and we are here to not only provide you with a timeless campaign, but to share with you a little more about why this location is so special. So, if you're just looking for more of an insight about the inspiration behind latest our latest collection, or searching for a potential getaway idea, this journal reveals the allure and elegance behind this Italian town.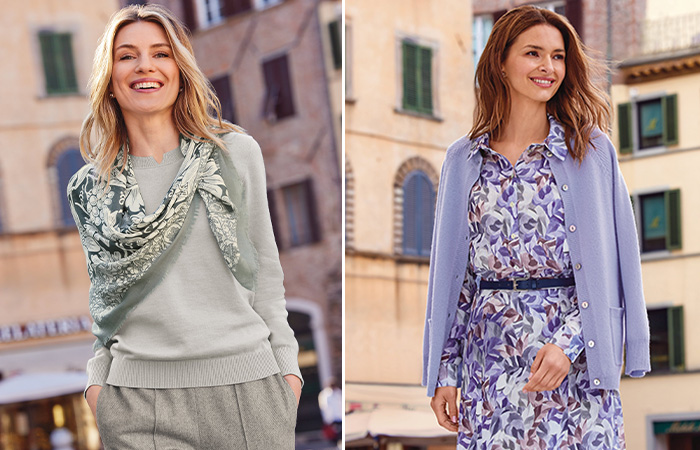 Piazza dell'Anfiteatro is one of many attractions in Lucca, with its oval of historic town houses. This bustling plaza is the home of countless restaurants, beautifully adorned with atmospheric outdoor seating, perfect for immersing yourself in authentic Italian culture. The town of Lucca takes inspiration and pride from being the birthplace of genius opera composer, Giacomo Puccini; whilst the Renaissance walls originally to protect the city, are some of the world's most charming walking and cycling paths. To catch a bird's eye view of the city's captivating environment, the Torre Guinigi is the place to visit. With the accessible roof placed 45 meters above the city, this tree topped building is a breath-taking experience for people of all ages to capture a glimpse of real Italian life.
Our latest range of stunning items were not only photographed in the streets of Lucca, but the heavenly Villa Bouganville. This 15th century build includes divine gardens that feature woodland paths, olive groves and vegetable patches that are grown and maintained to perfection. The sleek and sophisticated style of Villa Bouganville has created a dreamy shoot location that replicates the refined and carefully crafted pieces featured in our Autumn Collection. This specific location is available to book for a wide range of events from weddings to milestone birthday parties, allowing their guests to receive top quality service and a chance to experience true luxury.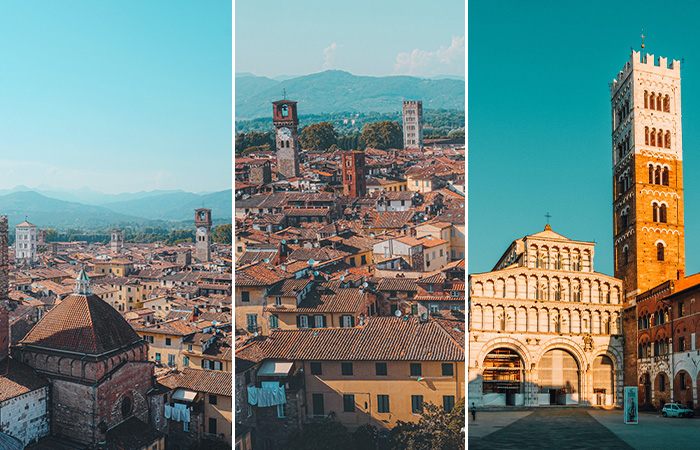 Have a look at some of our favourite looks that were photographed in Lucca, and with the high-quality designs and materials used within this collection, you too can feel like you're ready to be strolling the streets of gorgeous Italy.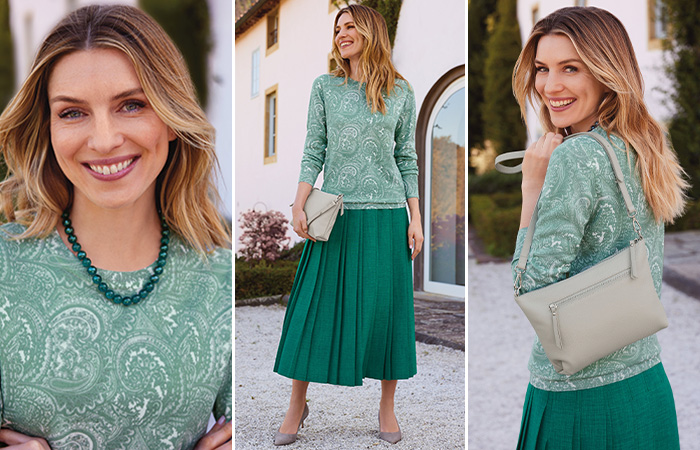 Our vibrant green Paisley Print Top and emerald Double Pleat Skirt complement the fresh white walls of Villa Bouganville beautifully. We love this outfit as it really proves how a splash of colour can complement not only yourself but the world around you.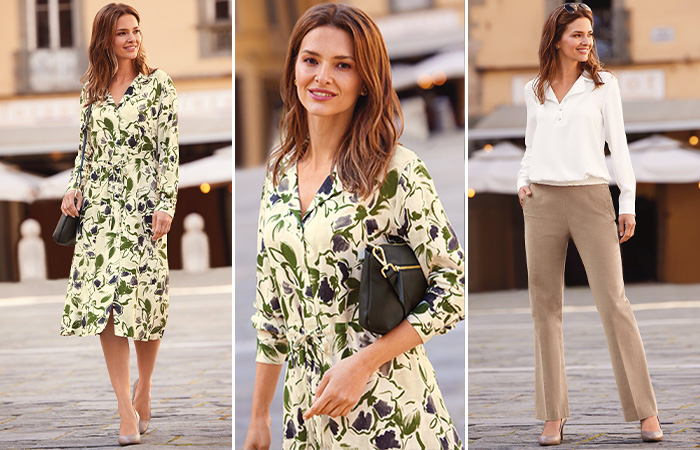 We believe that both these outfits are two contrasting ways in which our latest collection is replicating the classy and sophisticated style of Lucca's streets.  Our Printed Dress displays olive tones and a lively leaf print that pairs perfectly to the natural surroundings of Lucca, especially the olive trees nestled around the town. We also adore the neutral tones of our Blouson and Cord trousers, as their effortlessly chic and charming style is presented gorgeously against the rustic architecture of Tuscany.
We'd love to hear your thoughts on our new look for the Autumn 2022 Issue are, let us know in the comments...
For more interesting updates and special offers, sign up for our email newsletters here >>