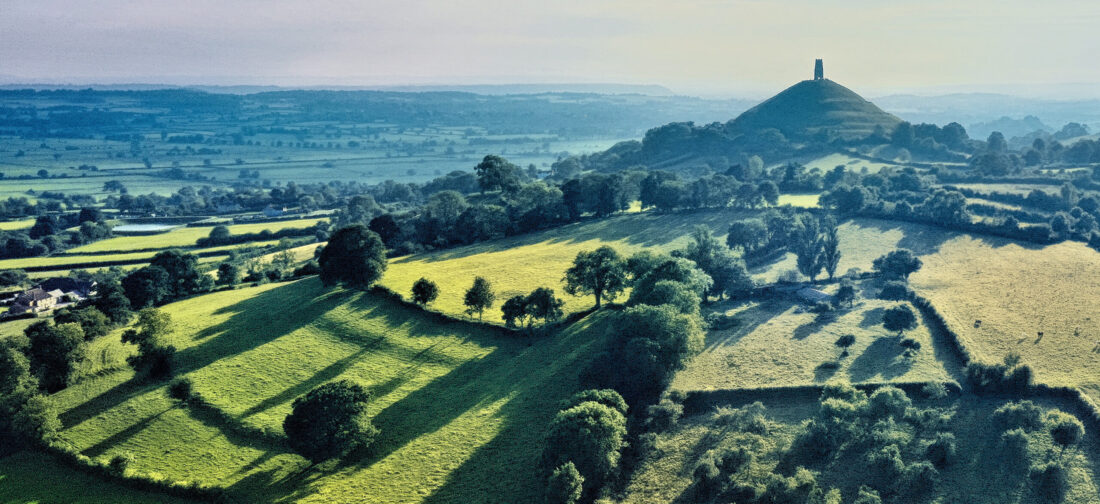 From our first-class selection of classic skirts and dresses, this journal collates the best in effortless style, so you can celebrate the summer solstice elegantly. Whether you'll be relaxing in the garden, spending time with family and friends or attending an event, we are happy to introduce to you our exceptional range of ladies classic skirts and dresses from our Late Summer Issue 2023.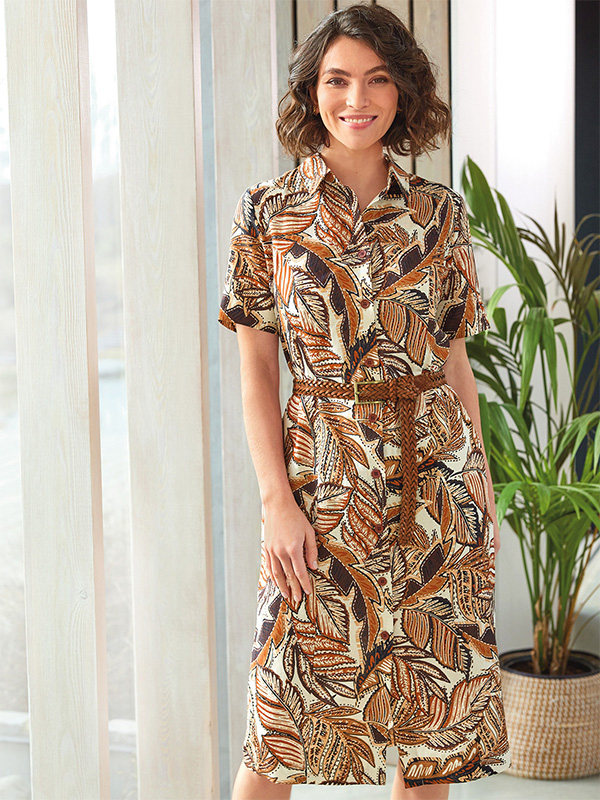 Constructed in a breathable linen blend cloth, this button through dress showcases an eye-catching leaf print in tones of chocolate… ideal for the summer solstice. Designed specifically to achieve versatility, this gorgeous silhouette offers both a relaxed fit and one that accentuates your waistline when partnered with our complementary plaited leather belt.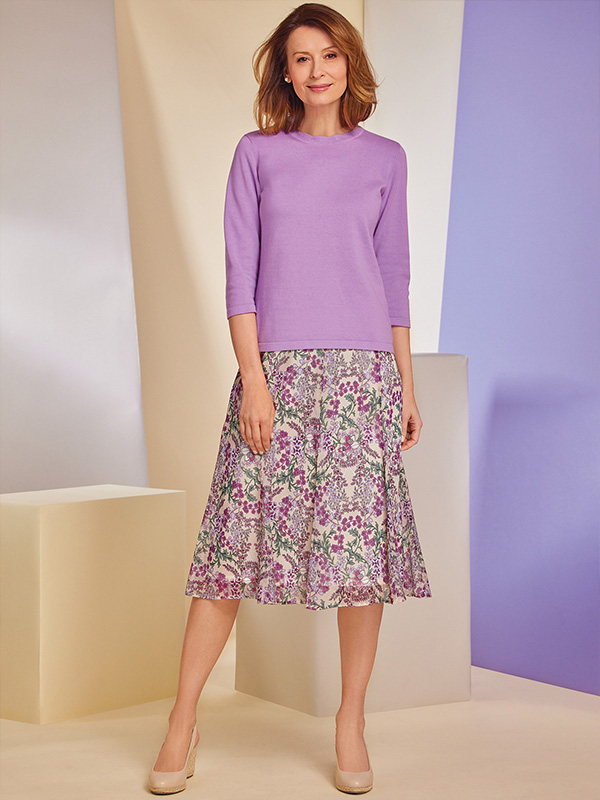 Featured amongst our array of classic skirts, is this elegant and graceful Italian printed chiffon piece. Designed with eight panels that flare beautifully from above the knee, this flawless shaping presents a stunning floral printed cloth in a timeless, chic and sophisticated fashion. Team this late summer staple with our 100% combed cotton top, the perfect versatile separate.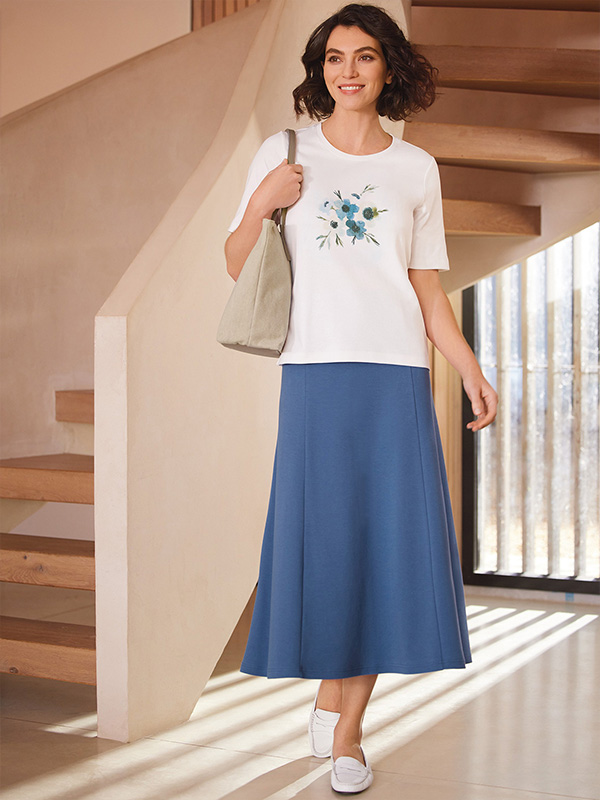 Manufactured with high-quality cotton, choose comfort with this simple and casual jersey skirt…the perfect addition to our collection of ladies classic skirts. Inject nothing but elegance into your everyday looks with this denim blue essential, effortlessly enhancing each outfit throughout the season. Teamed here with our placement print T-shirt, elevate even the most casual looks with our irresistible jersey pieces.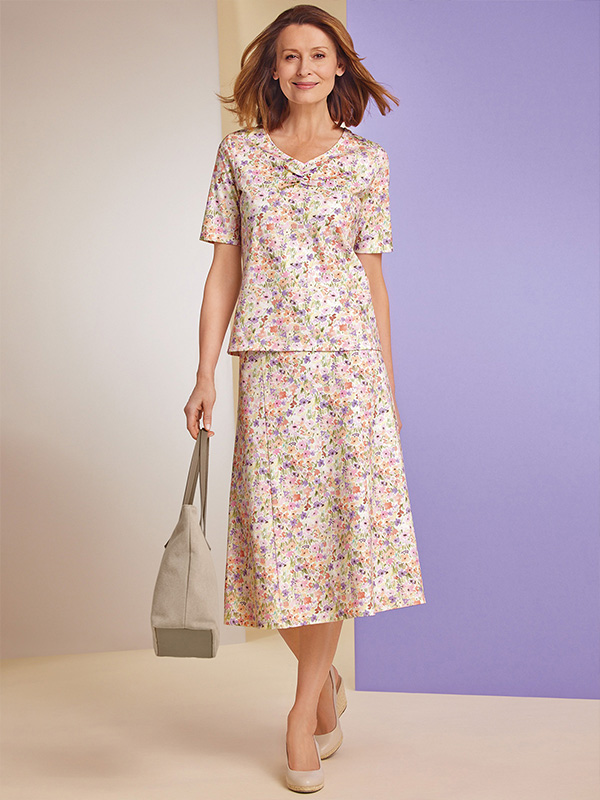 Worn as a dress-like look or as feminine separates, this printed jersey skirt and T-shirt are the ideal pieces to give your wardrobe a summer solstice-inspired lift. While the printed T-shirt embraces a flattering ruched neckline, our pull-on skirt achieves a smooth and elongated figure to allow you to feel confident throughout the warmer season.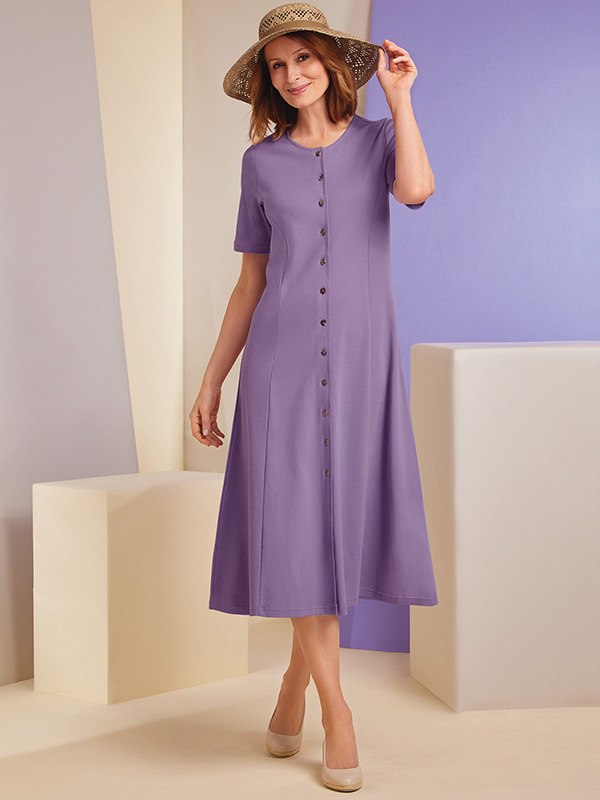 Fashioned for your wardrobe in a high-quality interlock jersey, our designers have perfected the art of classic dresses through this 100% cotton staple. Offering true comfort throughout the season, style yourself in tones of lavender to define a glorious summer-ready look and introduce wonderful Italian styling with our chic yet practical straw hat.
When shopping for classic women's clothing online, we can assure you that Cotswold Collections will provide timeless and elegant styles to last year after year. Whether you're searching for everyday casuals or a flattering formal look, our designers continue to develop and craft bespoke ranges throughout the year so each season can be embraced, in style… All are found right here at cotswoldcollections.com