If you're unsure of which items to add to your wardrobe from our Summer 2020 collection, our buyers have shared their favourites to help you decide...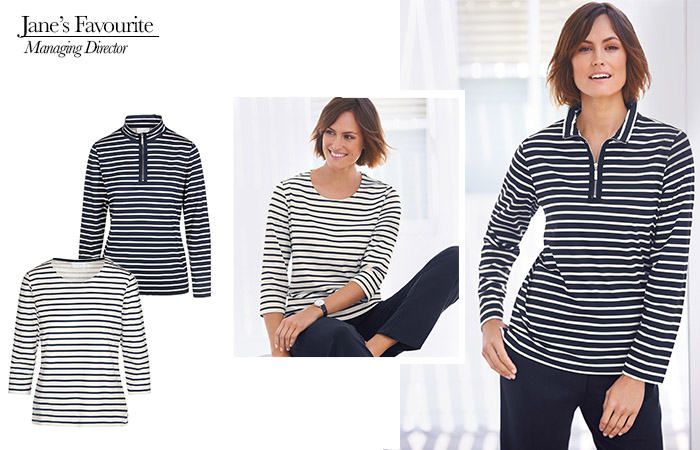 "My favourite garments for the summer season are based on our take on the trend of stripes! Every year we see a version of a Breton top, in almost all fashion retailers' collections and this year is no exception, but stripes aren't always easy to wear.
We have a general rule for stripes, which is the broader they are the more they can appear to widen your shape and draw the eye outwards. Our garments are carefully designed to ensure the most flattering effect and my favourite pieces in our collection are those that embrace this on-going trend whilst showcasing a narrower stripe, drawing the eye upward and elongating the body, giving a slimming effect.
We have some great examples, such as our stripe jersey top and stripe top with zip neck, both of which showcase the traditional Brenton style in navy and cream with a flattering narrow stripe."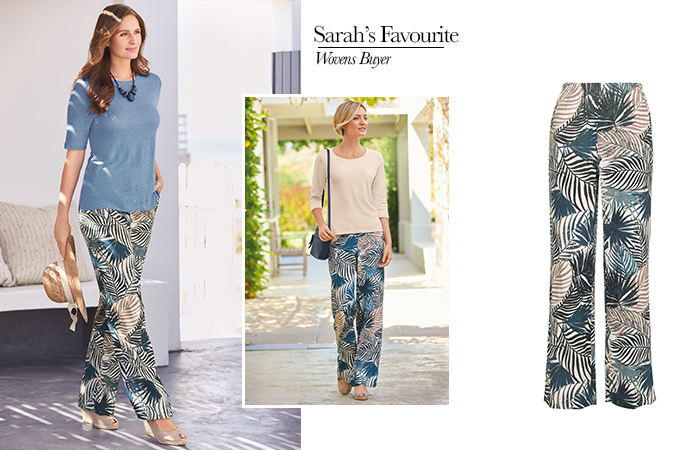 "Relaxed on-trend dressing at its best. Our leaf printed trousers showcase a tropical print inspired by faraway lands. I particularly enjoy how the colour palette of natural and blue tones allows you to easily pair these with many complementing colour options. Superbly soft and lightweight, they're perfect for wearing at home."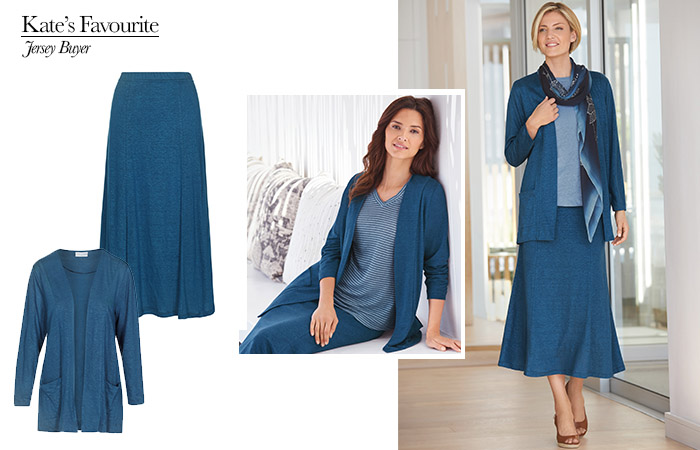 "Created in 100% natural fibres, our linen selection is a new look for Cotswold Collections, and one of my favourites! These stylish pieces can either be worn together, with a choice of plain or patterned linen tops pairing with our contemporary pure linen skirt, or they can be combined with staples in your current wardrobe too. With many combinations to mix and match, the elegant long-sleeved linen cardigan is perfect to add the finishing touch for those cooler evenings."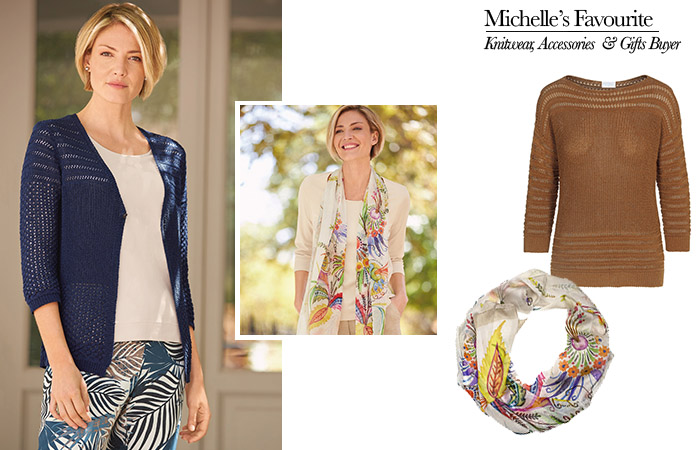 "Working closely with our Italian supplier we came up with these beautiful knit stitches which work wonderfully in tape yarn.
The cardigan is an ideal covering piece, and as it showcases a beautiful navy-blue colour it's also very versatile for your wardrobe. I love its ¾ sleeves as it is such a chic look to wear this length during the warmer months and looks much more stylish than pushing your sleeves up!
The dark spice tape yarn jumper has a lovely lace effect stitch on the yoke, sleeves and hem panel, and the neckline is super flattering and modest enough to cover any bra or vest straps! With side slits this jumper is a great for either a casual or smart look for your summer wardrobe in a great on-trend colour."
"I loved this scarf as soon as I saw it. The light floaty chiffon has a wonderful soft drape and the print design is just beautiful, full of bold, exotic summer colours. The combination of these luscious colours with its neutral background allows it to be worn as a highlighting feature with many outfits to freshen up your look for the summer."
Which is your favourite piece from our Summer collection? Let us know in the comments below...