This season we've partnered with local fabric artisan Alice Caroline to bring you a selection of gifts in an iconic Liberty print. Discover more about Alice Caroline and the woman behind the brand.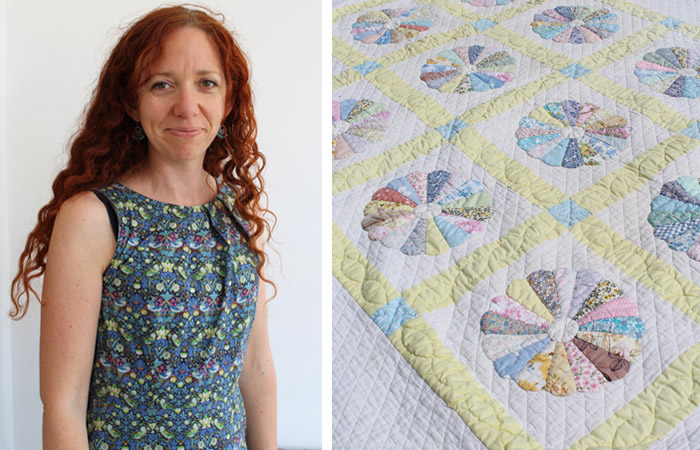 Nestled in a quaint Cotswold village is the headquarters of Alice Caroline, a fabric company that specialises in Liberty print fabrics. Their headquarters are no less scenic - converted barns made from honey-coloured Cotswold stone and we were fortunate to visit on a gloriously sunny day so that the entire place was bathed in natural light.
We meet with founder Alice Garrett, who is wearing a gorgeous dress in the exact same print as the products we are featuring in the Christmas collection, which contrasts beautifully with her fabulous red hair.
Alice has had rather an unusual career, having completed a PhD in Cancer Genetics and then moved away from scientific research to found Alice Caroline in 2012.
We wanted to know more about the fascinating woman behind the brand so we sat down, cup of tea in hand, and asked her a few icebreakers to begin with:

Breakfast is our favourite meal of the day - what sets you up for a day at the office?
"A good cup of tea and then coffee later and if I could choose my favourite breakfast it would be pancakes with maple syrup and strawberries."

Where is your favourite place in the Cotswolds?
"Broadway and Daylesford."

What inspired you to work with fabrics?
"My shop grew out of a life-long love of vibrant Liberty prints. As a child I would pore over my grandmother's stash of quilting fabrics, savouring the bright delights of each new print."

"My grandmother was an avid quilter. She cut up old dresses and my grandfather's shirts to make them as there weren't many fabric shops or haberdashers in those days and it's from her that my love of fabrics and prints was born."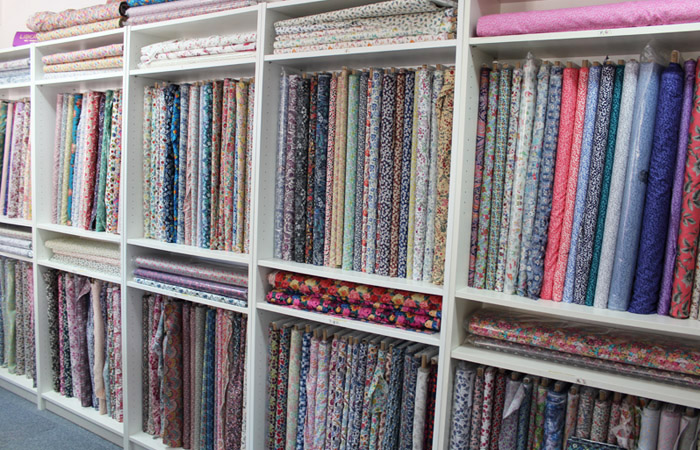 Your career is quite unusual - what inspired you to start your company and move away from cancer genetics?
"I really enjoyed the science research but I didn't want to stay in academia or work in pharmaceuticals and I've always been creative, making handbags as a student to sell at fairs."

"I started to rediscover my creativity as a maker and designer of dresses, cushions, bags, childrenswear and quilts. Liberty of London Tana Lawn was a natural choice for my projects, with its fine weave, delicate and inventive patterns, intense long-wearing colours, and its traditional English heritage."

Why Liberty prints?
"I have grown up with them and I've always known that they are special and difficult to get hold of. The old Liberty store in Cheltenham was a joy to visit and I thought if I wanted them, then other people would and it would be nice to provide it for them, so I started my business in 2012 with my sister. When I got my first order of 10 rolls I thought: 'I've made it!' and it really took off when we launched our online store and also started selling through Etsy."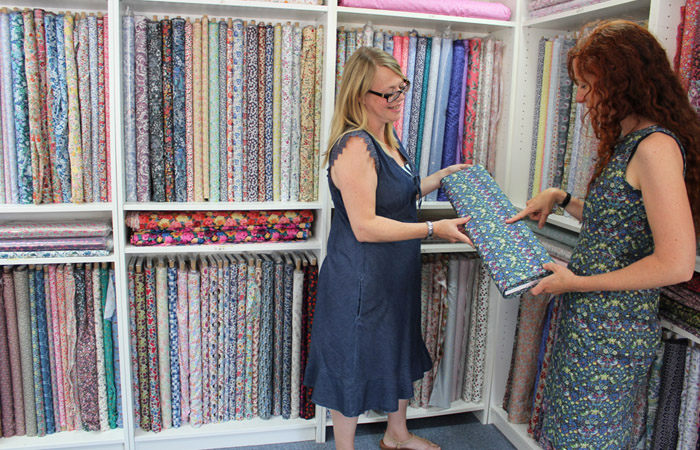 What does a typical day involve?
"There isn't a typical day.  I might be doing everything from designing to business management!  I love it all but do enjoy making rainbow fabric bundles.  As well as selling lengths of fabric, we also sell sewing kits.  My colleague Claire makes the kits for Sewing Quarter and Anna makes the kits on the TV Channel."

"My studio and offices are in a light and airy barn conversion in the rolling Cotswold hills. Inside, it is a riot of colour and texture, with stacks of crease and block rolls, drawers packed with fat quarters, and displays of inspiring projects made by staff. Rolls of linens and silks are stashed below the vintage cutting table, whose previous life was in Liberty's Cheltenham department store."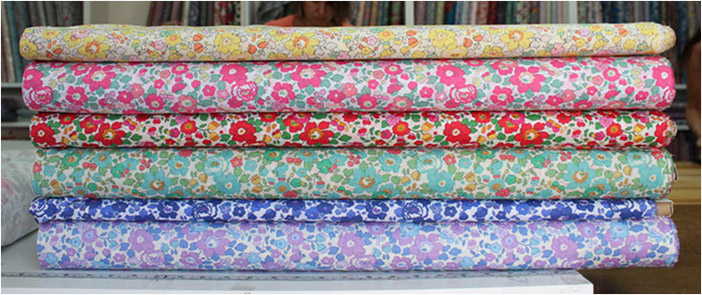 Which is your favourite Liberty print?
"I do love 'Betsy' and 'Mitsi'. We have created three unique different colour ways of Betsy which are exclusive to Alice Caroline."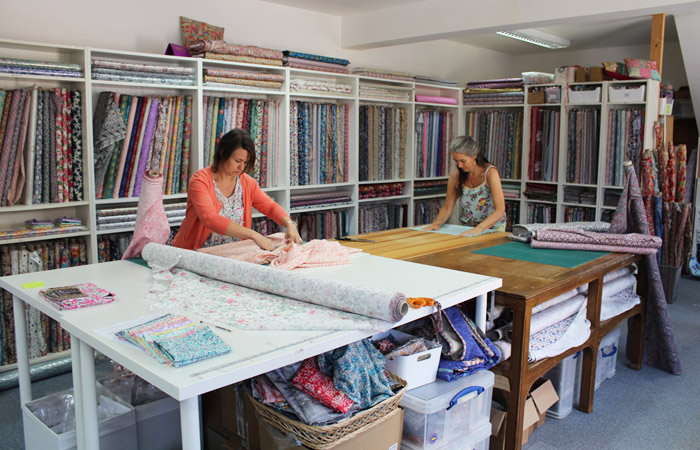 What do you enjoy most about your job?
"I am drawn to the sense of tradition and belonging which is fostered by the passing down of quilting skills through the generations. I have a particular passion for creating patterns, taking care to write instructions clearly enough to encourage and support new crafters. Combining different prints in a rainbow of colourways is also a great pleasure; my packs of scraps or fat quarters [ A fat quarter of fabric is a one-fourth yard cut that usually measures 18" x 26.5"] will add a vibrant pop to any project, and are desirable things in themselves to stash away for a rainy day."

"Working with fabrics every day with my fantastic team of staff makes my job a real pleasure. Everything is ethically made in England. The team membership increases every year as the business grows. We've now got six staff working in the office and a further seven in the studio, many of us working flexibly to help balance work- and home-life. The whole team works together with enthusiasm and resourcefulness, to ensure orders are fulfilled, kits are made, and top quality customer service is delivered."

Is there anything particularly exciting you've been working on recently?
"We have recently launched an exclusive range of Liberty fabrics . This has been really fun to work with the Liberty design studio on recolouring favourite Liberty designs.  It's one of my favourite things to do - play with colours and fabrics."

"We also run the Quilt SOS project, which is a cause we are very passionate about. Customers use our fabrics to sew quilts for orphans around the world. In return, we offer customers who donate their handmade quilts a £30 gift voucher. We then deliver the quilts personally to the orphanage, which this year is in Krasnik, Poland. It is such a privilege to personally meet the children we are helping."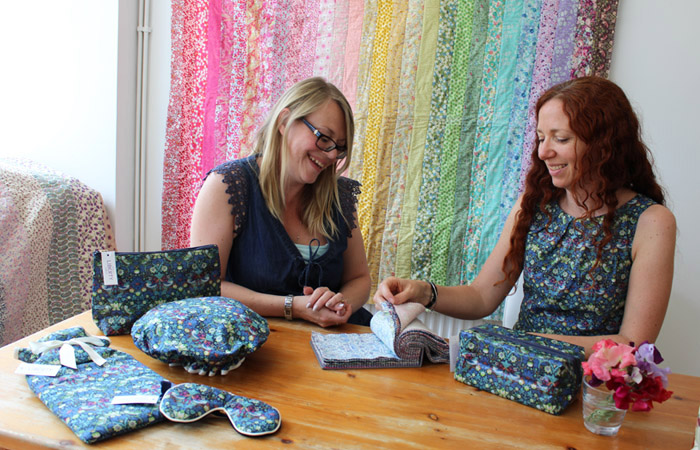 Our accessories buyer Michelle works with Alice Garrett and the Alice Caroline team to produce charming gifts for our Christmas collection. Here they are looking through a book of fabric swatches for Christmas 2019! You may remember last year's Alice Caroline selection in the classic Ianthe print.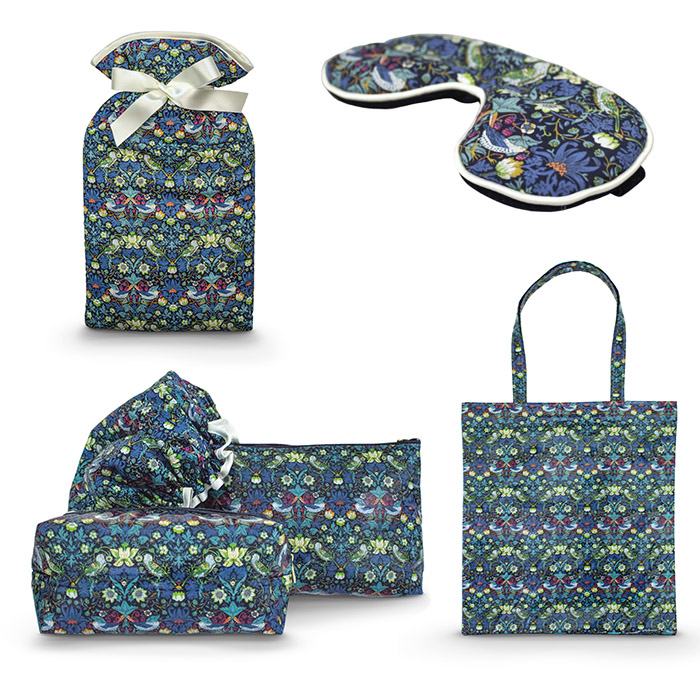 Last year these gifts were incredibly popular and sold out very quickly. This year's selection all feature a beautiful Liberty fabric in the iconic Strawberry Thief print by William Morris and will no doubt prove to be just as popular!
For more interesting updates and special offers, sign up for our email newsletters here >