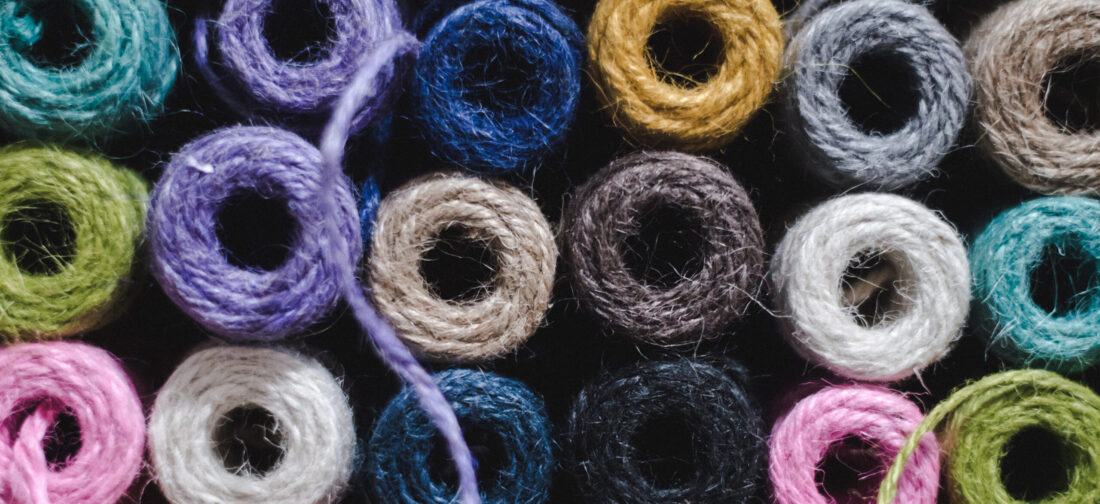 Our Christmas collection embraces and celebrates classic heritage designs with our wonderful variety of functional knitted layering pieces to prepare you for the colder months ahead. Capture the traditional spirit with our classic outdoor pieces including knitted accessories, jumpers and cardigans. They will add the perfect finishing touch to your outfits and provide an extra layer of warmth. Classic Fairisle designs and cable knitted pieces reflect the beautiful colours of the festive season, combined with natural tones to give a traditional feel. These stunning layering pieces are made with the best quality natural yarns featuring pure new wool, superfine lambswool and super soft merino wool to keep you cosy and warm.
We are delighted to be supporting and working in collaboration with three heritage businesses including Harley of Scotland, Green Grove Weavers and Aran Woollen Mills, to bring you these fabulous cosy knitwear pieces and accessories. Connect with us to explore these beautiful garments and the story behind the brands, who are renowned for their exceptional craftsmanship and expertise in knitwear manufacture.
Harley of Scotland
Harley of Scotland is a family-run Scottish knitwear manufacturer, who use locally spun yarn. Founded in 1929 by Peter Harley Buchan, it is now being run by the third generation of the Harley family; Adam, and his daughter Susannah. Our knitwear, gifts and accessories buyer, Michelle has been working with Harley of Scotland for over 16 years and utilise their lovely designs for our Winter and Christmas collections. Located on the beautiful north coast of Scotland, they are inspired by the charming soft colours and ancient heritage of the north of Scotland and its breath-taking landscapes and extraordinary textile heritage. They source local spinners and clean the wool through the fresh cool water to remove any natural oils from the fibres. They pair modern technology with traditional methods for exceptional results.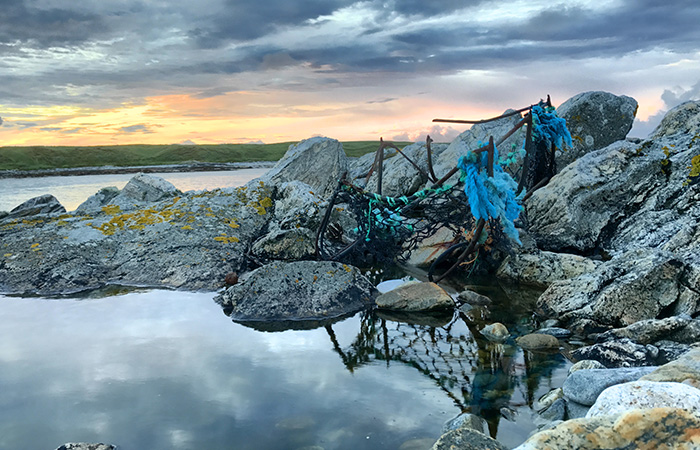 Uisdean Murray of Lily Island Films
We wanted to know more about Harley of Scotland, so we asked Susannah about the inspiration behind their brand.
"Peter Harley started as a fisherman and became inspired by the cottage industries of the Fair Isle and Shetland. He started initially knitting hose socks for fisherman then moving into knitwear later. These garments were inspired by the sea, the spectacular coastline and represented our local culture and heritage." Visit Harley of Scotland website to discover more about their history.
Explore the stunning pieces in our Christmas collection made by Harley of Scotland.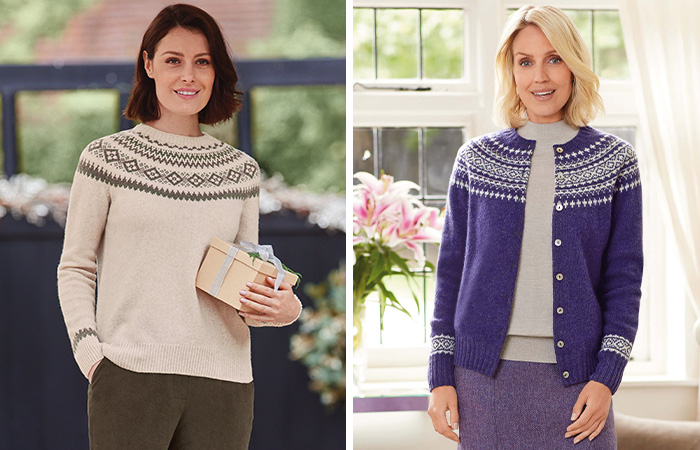 Our British heritage jumper and cardigan with exquisite stitch detail are knitted using the traditional knit method and styled with integral armhole fashioning. Fairisle is a classic winter pattern and a timeless piece to wear through the colder months in style. In a versatile classic natural shade, this beautiful jumper is knitted with luxurious soft superfine lambswool without any side seams and has rib trims. The gorgeous easy-to-wear cardigan is styled with ribbon backed front bands and will help you stand out from the crowd in style.
Green Grove Weavers
Our gifts collection includes pieces based on the classic Fairisle design by Green Grove Weavers. This lovely business was established by Anne Bell and Kenneth Pollock. They are currently located in Scotland where their stunning designs are inspired by the wonderful Scottish landscape and traditional textile heritage.
We asked Anne what inspired them to start the company?
"After working with companies around the world we wanted to develop a brand manufacturing in Scotland using the skills built up over generations in our home country."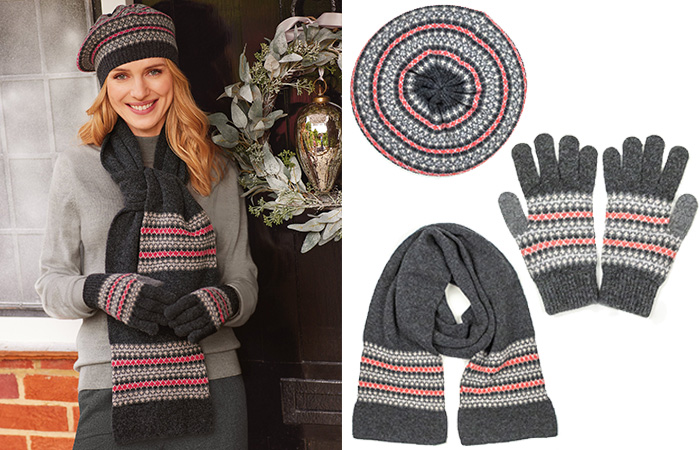 These soft pure new wool accessories are spun in Scotland. They include a beret, scarf and gloves in the heritage design of Islay Fairisle, featuring a lovely blend of tonal greys and blues reminiscent of the landscape. These charming matching accessories are the perfect gift to keep your friends and loved ones warm this season.
Aran Woollen Mills
We are proud to announce our brand-new collaboration with Aran Woollen Mills, offering a beautiful knitted set as part of our Christmas gifts collection. Established in 1965 by Maura Hughes, a mother of 13 who started a cottage business on the Aran islands and now they are the leading manufacturer of Aran sweaters in Ireland. This family-owned company is now being run by Maura's sons Vincent and Pat who are the co-owners, and her grandchildren. Maura started this wonderful company to keep the local crafts alive and keep her children in employment.
"Our designs are inspired by our location which is nestled between Croagh Patrick (a pilgrim mountain and the Atlantic Ocean (Croagh Patrick, nicknamed 'the Reek', is a mountain with a height of 764 m and an important site of pilgrimage in County Mayo, Ireland. The mountain has a pyramid-shaped peak and overlooks Clew Bay)."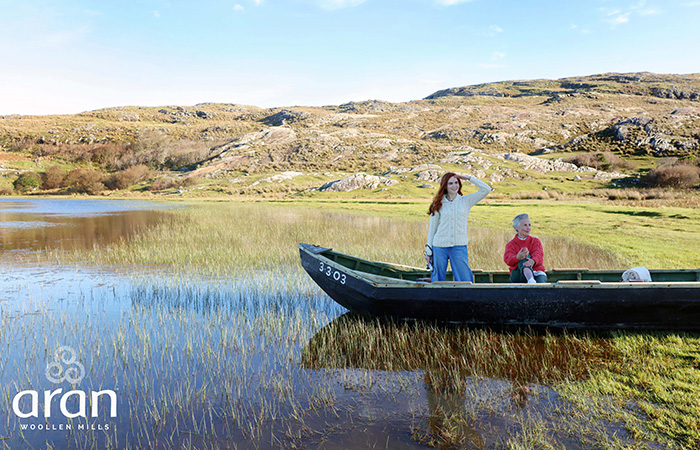 Our stunning Aran knit set includes a hat, wrist warmers and scarflet in a lovely cream shade. Knitted in Mayo, Ireland, these beautiful accessories featuring traditional Aran cable style in incredibly soft merino yarn are perfect for the season. The gorgeous hat is designed with a charming pom-pom and feature buttons. The charming scarflet finishes in a diamond-shaped design with an integral slot to push one end through the other.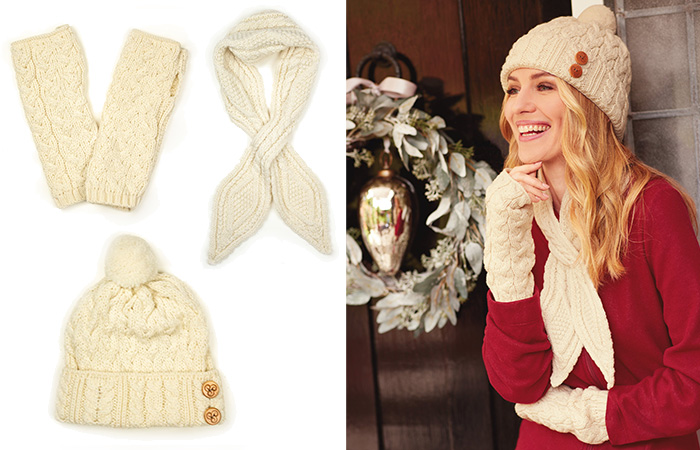 Each stitch in these lovely accessories has a story behind it. "The diamond stitch represents the shapes of fishing net mesh and is also a traditional symbol of wealth, success and treasure. The cable stitch is the most frequent stitch on the Aran sweaters symbolises the fisherman's rope and represents safety and good luck when fishing."
We also spoke with our knitwear, gifts and accessories buyer, Michelle who has been working closely with these heritage businesses.
"Many of the heritage companies I work with on the knit side have wonderful family history and traditions to pull from, often taking inspiration from the countryside and colours that surround them. It's always such a pleasure working with these suppliers and very much a creative meeting of minds. Not only do they tend to share generations of experience and traditions drawing on workmanship and practises used for decades, they maintain the highest quality and styling, investing in new technologies to improve on traditions learnt through the years. They look to ensure the perfect balance of old and new using the best quality yarns and share a commitment to the customer which I think is so important. This shows through in the end product and by working together, we support all they strive to do in keeping the heritage of their business going for generations to come.  This also helps reduce the carbon footprint, as their product doesn't have far to travel."
We'd love to know which is your favourite piece from our gorgeous selection of heritage designs. Let us know by leaving a comment in the box below.