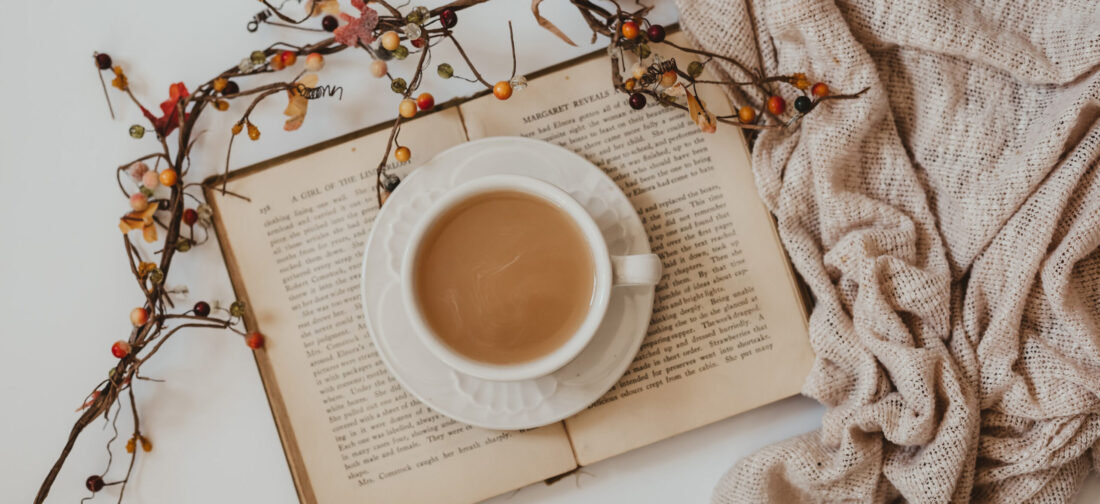 This journal is shining a light on the return of our gorgeous and luxurious nightwear. Expertly designed, we have a unique collection that is soft to skin and perfect for lounging. From delicate matching sets to timeless suede slippers, we have a beautiful selection to choose from, to make your chilly nights transform into cosy evenings.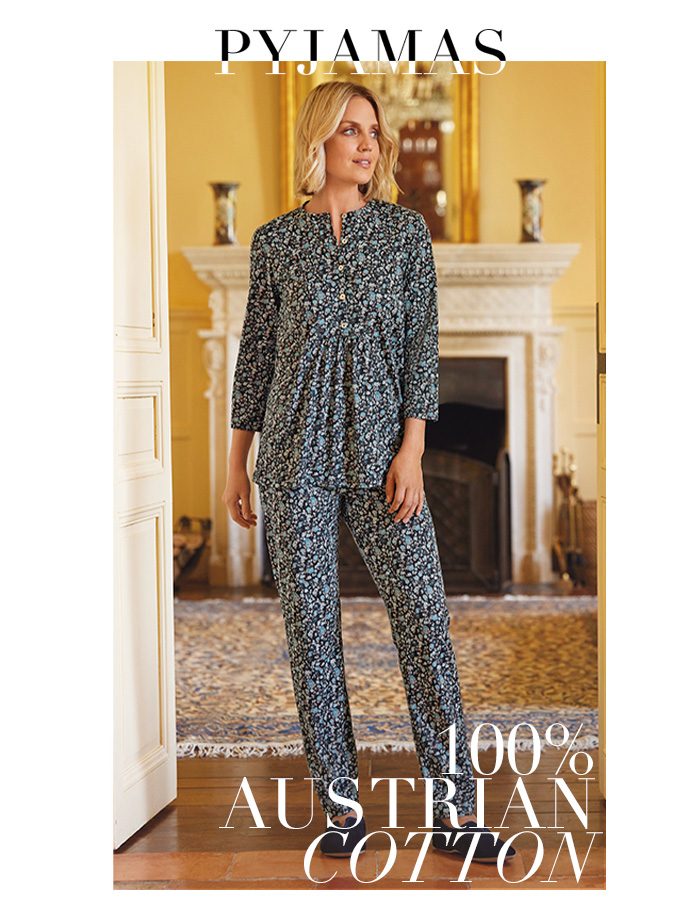 Pyjamas are the most iconic nightwear; for centuries they have bought comfort to both our evenings and sleep patterns. Not only is it important that they are as cosy as possible, but even in your own home its pleasant to be wearing garments that are piece together beautifully. These Teal and Black Floral Pyjamas are printed onto Austrian Cotton, and these high-quality fibres create the softest texture for the best night's sleep. This delicate and unique design creates serenity for a relaxed evening, while the loose fit makes sure that comfort is priority.  The addition of the buttons creates not only a beautiful shape but practical temperature control for your body too.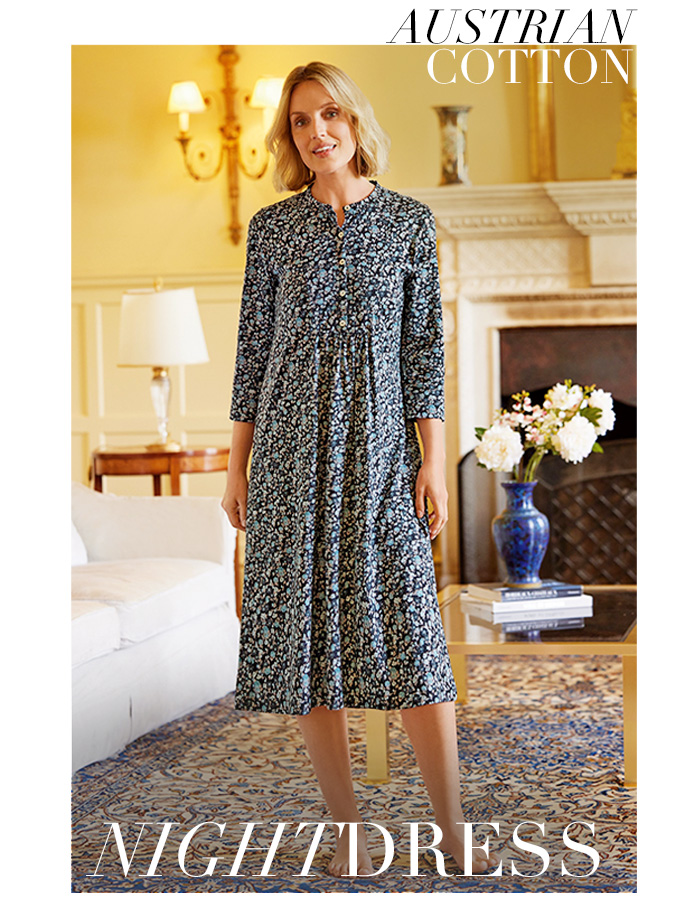 In a matching print to our Pyjamas, this stunning Austrian Cotton Nightdress is loose and lightweight for the most tranquil evening possible. Featuring a truly feminine design, this piece will allow you to feel elegant and stylish, even if you're only lounging around the house. While the fit is relaxed, the inclusion of the subtle gathers on the front creates a slightly more flattering fit, avoiding any sort unfavourable shaping. We love the design of the three-quarter sleeves that achieve a not only a complimentary style but creates an extra bit of warmth for your arms; we believe this will be lovely for the chillier upcoming months.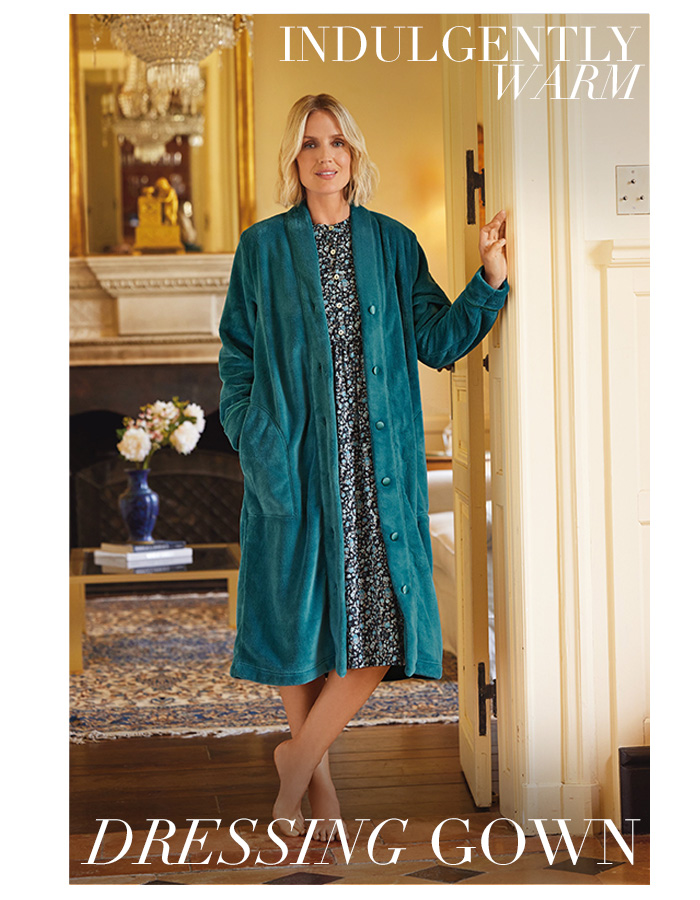 A great dressing gown almost feels like a warm hug, and our team have specifically designed this piece to offer you every sense of warmth and comfort. In a sophisticated teal shade, the fleece fabric is indulgently soft and irresistibly welcoming for a cold winter night. Carefully selected with luxurious satin trimmed buttons, this fastening is secure, and a little more unique than the classic waist tie design. With handy pockets on each side, even your hands can be slipped inside and remain warm this season.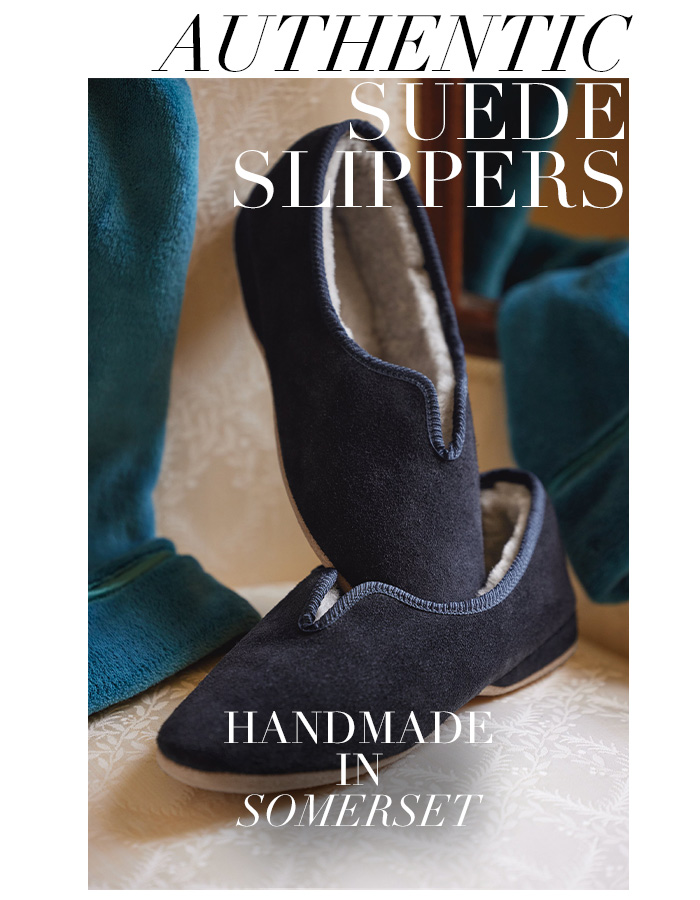 Taking your shoes off at the door and slipping on some deluxe slippers is sheer luxury. Our Suede Slippers are durable yet extremely soft lounge footwear that are specifically built to last. We are proud to say that these gorgeous pieces were handmade by a family business in Somerset, UK with exceptional craftmanship and dedication. Authentic Suede offers the best in high-quality footwear due to its robust yet plush texture, which is why it was exclusively selected for these slippers that aim to achieve ultimate comfort.
Let us know in the comments below on what you think of our latest collection of nightwear…