After a hectic early morning school run, our Knitwear and Accessories buyer, Michelle, steps into the office, reaches for her cup of tea and starts the working day by "plugging" into her computer. Firstly she checks her emails "as we work with suppliers from all around the world, the morning is usually the best time to contact everyone as they'll too be at their desks".
Michelle defines her daily processes as "creatively juggling tasks in a day – as a team we have to be very adaptable as plans often change". As an example today, she has been working on four or five of our upcoming collections, developing designs, negotiating orders, reviewing sale history analysis as well as developing packaging with our well-being supplier and in the same breath preparing for Christmas as well as checking the catalogue copy for her products.
As mentioned, Michelle has been preparing the gifts for this years Christmas catalogue (a project that began in September last year). "We tend to work at least a year ahead of the season, so although we have just launched our Summer 2019 collection we've already completed 80% of this coming winter season collection and have begun looking at the 2020 collections".


Depending on where Michelle is in the planning process, she will also attend trade fairs in London and Florence where she meets with industry experts and colour analysts who will advise on the following years' trends. These are then tailored to our customers tastes and incorporated into our own collections.
We pride ourselves on the close relationships we share with our suppliers here at Cotswold Collections, having built and maintained these partnerships over many years "I regularly meet with our suppliers, even those as far flung as Italy (who luckily speak perfect English!) As I speak with most of our suppliers each day, they have become an extended part of our team here".
As a team we share an ethos of high quality and a love of design. "Recently I have been in touch with more local, artisan suppliers discussing illustrations and creative country prints on fabric to include in this year's Christmas gift selection. There is more free-reign with our gifts collection in terms of what I can introduce. I'm regularly inspired (like all of us in the office) by things I see outside of work and I love thinking about how our customer will enjoy it too".
A lot of Michelle's role is very creative, having trained in Fashion design at London College of Fashion, she says she feels very lucky to do something she loves every day. Even the administrative tasks have their creative aspects; sending designs through to suppliers or changing concepts with them. For example, Michelle may choose a different stone that she feels would better suit one of our necklaces and will pass this change to our Italian contacts, who source our stunning Venetian beads.


There is such a wonderful, friendly and collaborative environment in our office. Our collections are always a team effort and also include our valued customer feedback. "We have regular meetings throughout the process of designing a new range, where everyone shares their thoughts and ideas. Once designed, we then work closely with our garment specialist Emily, who ensures the correct sizing and quality of each piece!"
"Before the photo shoot of every catalogue we have 'pre-shoot' meetings in which we style each garment on our in-house model, making decisions on which piece would be best paired with which and how we think it would be best photographed".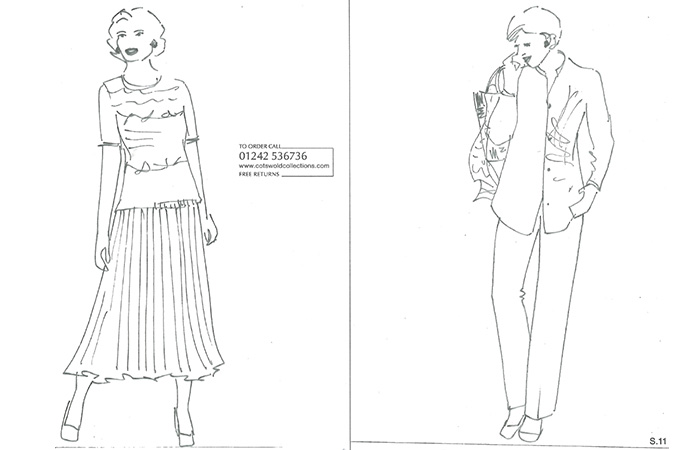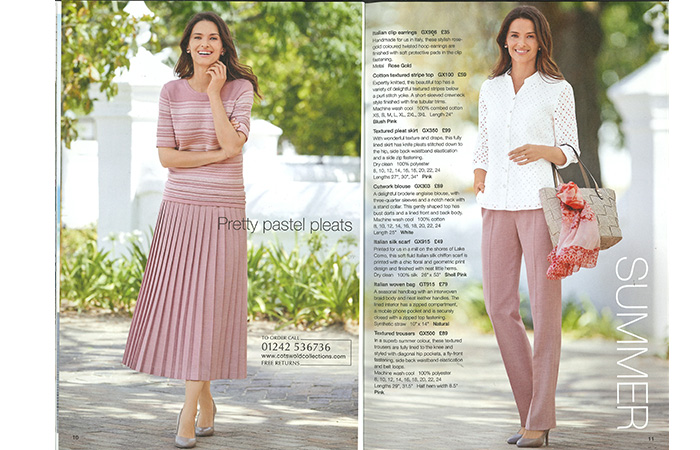 Discover what happens behind the scenes of our photos here >>
"A lot of what we do is instinctive. Our buyers team has been collectively working here for 82 years (I myself have done 23 of these)! This invaluable knowledge and experience combined with our intuitive nature is a great strength when it comes to planning our collections. Of course we also have fantastic feedback from customers through our customer service team as well as sales history analysis from our team of merchandisers".
Michelle's favourite days are those where the ranges start coming together. Combining the colour swatches of the clothes with the accessories and seeing an illustrative example of the catalogue. "It's when we first begin to see a true visual of all our hard work".
There is always something new and exciting going on every day! In fact, we encourage students to come in and gain work experience with us, offering them training, advice and career progression!  "Next week I'm looking forward to welcoming a student who will be joining us for a third time".
After a busy day comes to a close, Michelle heads home to be "jumped" on by her three kids and enjoys winding down by hearing about their day.