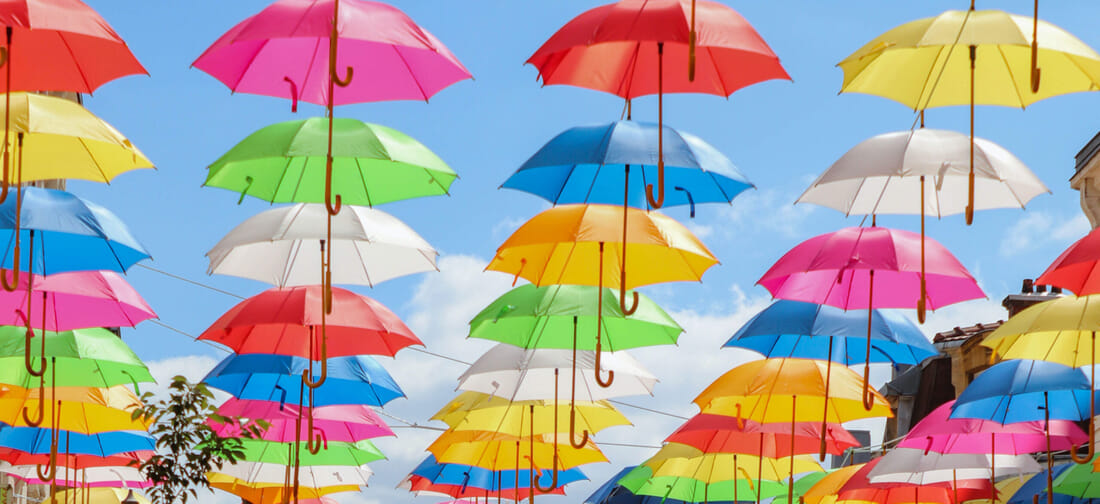 Summer is the season of vibrant shades. The natural world in summertime is full of bright colours, with plants and flowers blooming in many shades and it's guaranteed to make you feel good and refreshed. With the new season, arrive new trends such as dopamine dressing which involves wearing clothes in bold colours to elevate your mood. It is a wonderful way to infuse energy into your outfits and uplifting your spirits.
Rejuvenate your wardrobe with our stunning plain or printed garments in beautiful summer tones. They are perfect to wear to various seasonal events such as weddings, BBQs, holidays and picnics. Whether you're looking to add a pop of colour to your outfits with bright tops, skirts, trousers or light jackets, or need to make a bold statement, we've got you covered. It's time to let your style shine by selecting your favourite hue and stand out from the crowd.
Yellow:
Let the sunshine into your wardrobe with our yellow-coloured ensemble to see you through the season. Our lovely fully lined skirt, with tiny all-round pleats and an elasticated waistband, features a delicate French floral print. This illuminating colour of happiness is perfect to style as a monochrome look, simply pair the pull-on skirt with our pointelle trim top or our scoopneck T-shirt for a subtle appearance.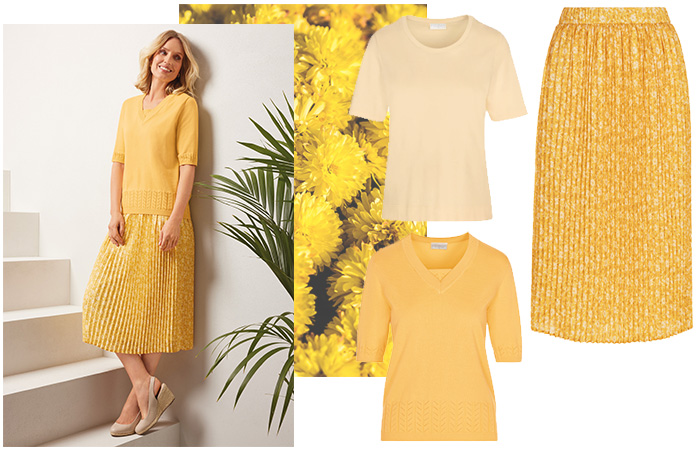 Peach:
Brighten up your outfits with our charming pieces, in a flattering peach colour. Our chic T-shirt, with a pretty neck detail, is made in a beautiful paisley print soft viscose jersey. It looks wonderful layered with our lightweight fully lined jacket and soft tailored trousers.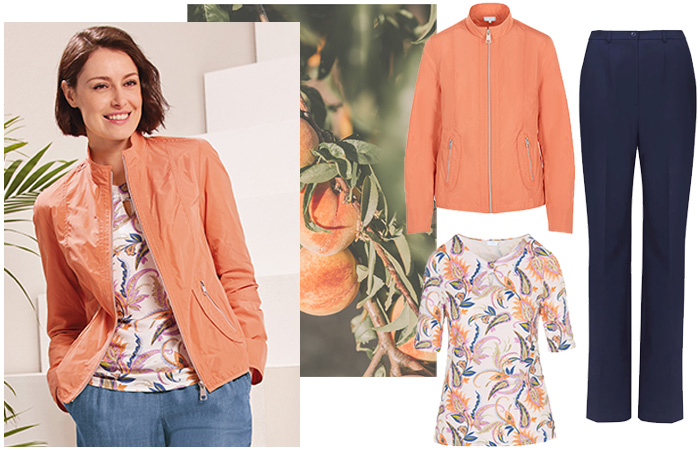 Lavender:
If you're looking for subtle coloured pieces, our delightful lavender-coloured separates, encouraging tranquillity and femininity will make an excellent choice. Pair our plain scoopneck T-shirt with our vibrant check print jersey skirt and matching double layered scarf for an effortless look.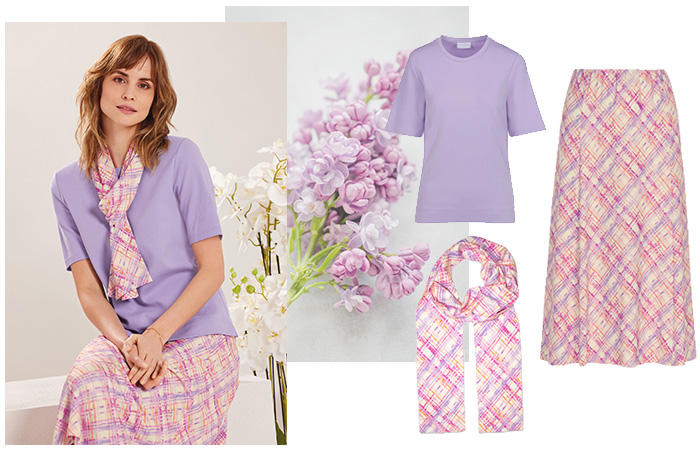 Aqua:
Reminiscent of nature and water, embrace our aqua coloured matching set including a printed Austrian jersey skirt and scoopneck T-shirt to bring a feeling of calmness and peace into your wardrobe.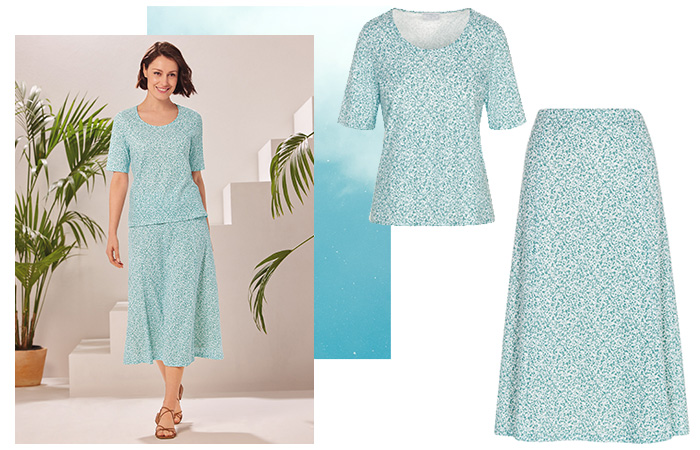 Raspberry:
The beginning of June marks the arrival of the raspberry season. Grace this elegant shade with our fabulous cotton interlock dress. Designed in an unlined pull-on style, with top-stitched seams, shot sleeves and in-seam pockets.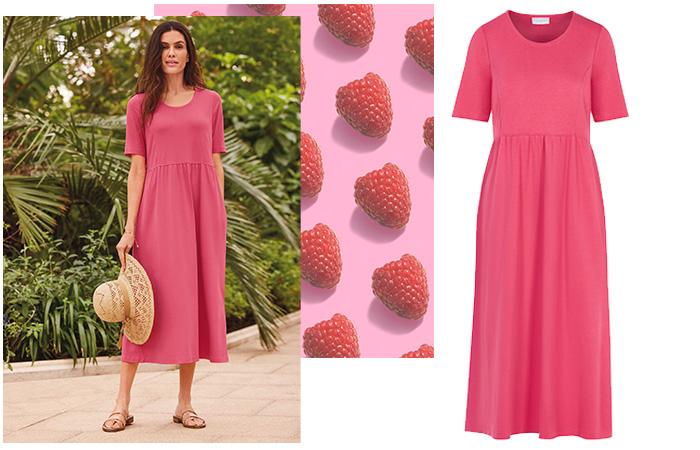 Sage Green:
Connect with nature in this calm and feel-good sage green top. This stunning blouse with a cheerful abstract print can be a refreshing addition to your wardrobe. Wear yours with our natural-coloured textured trousers with an elasticated waistband and self-fabric ties.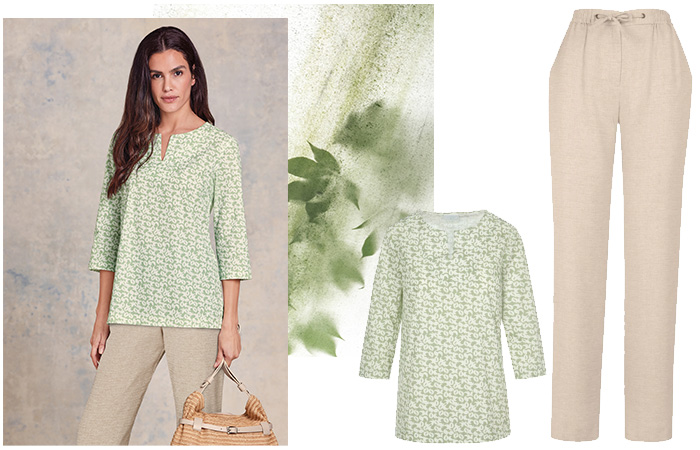 Which colour option will you choose? We'd love to know! Leave a comment using the box below.
For more interesting updates and special offers, sign up for our email newsletters here >